Hey there, long time, no hear!  Turns out when my daughter is on summer break I can get basically nothing done!  Thus I've been a little MIA so far this summer.  Hopefully I can find some motivation, carve out some kid free time, and get back in business.  I have so many ideas and no time to tell you all about them.
Today's idea hit me when I was trying to come up with a runner to use for my daughter's upcoming fourth birthday.  You'll get to see that in a few weeks, and it's going to be a good one!  You can see some of her previous birthdays here, here, and here.  So, I wanted a fun runner to use on the dessert bar and then started thinking of all the things you can use for a tablecloth or runner instead of an actual tablecloth.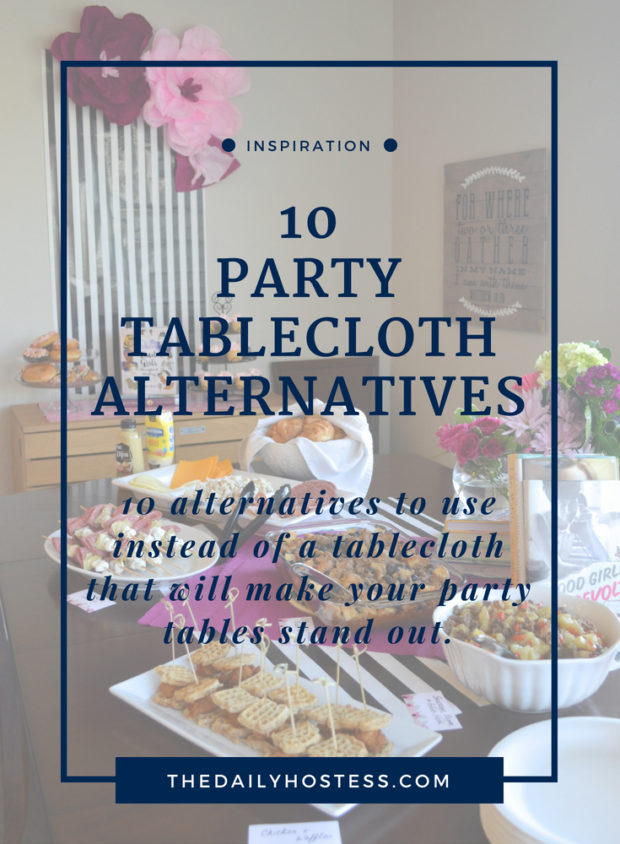 I rounded up some great alternatives to using tablecloths on your table and found some amazing inspiration and links so you can get them for yourself.
10 Tablecloth Alternatives
1. Rugs
First up is rugs.  Yep, not just for floors, throw them across your table and bring the pattern and sturdiness of a rug to your party.  Bonus, is that some rugs would make clean up a breeze!  I love how Boho Beach Bungalow used these little faux fur rugs from Ikea on her chairs, but I say toss them across the table for a winter cocoa party and they'll look great!
2. Scarves
Next, scarves.  I actually don't really own any pretty or dressy scarves.  Just warm ones, hello Colorado.  But a silk scarf across a table or tied to a serving tray would be so pretty.
3. Sheets
If you have a large table to cover, but not a large tablecloth, use a sheet.  Yes, a bedroom sheet can cover a huge area and they can be fairly inexpensive.  Plus, there are a ton of colors and patterns to match any party.  Here are a few fun options!
*Affiliate links used above.  By clicking on an image I may earn a commission at no charge to you.
4. Wrapping Paper
Wrapping paper is one of my go to ways to cover a table or decorate a party.  It makes a great table runner and you don't have to cut it down, just roll it across the middle of the table and you're done!
5. Balloons
I've used balloons as a table runner before.  See how I did it here.  I love this inspiration.
6. Kraft Paper
Kind of like wrapping paper, but kraft paper or butcher paper is another option to use instead of a tablecloth.  It's great for a rustic look, or when you want your guests to help decorate the party.  Just provide some crayons, markers, or pens and let them get to work.
7. Burlap Coffee Sacks
I was recently at an antique store with my sister-in-law who is a great treasure hunter and party thrower.  See one she did here.  At the store we found these old burlap coffee sacks and both agreed that they were so cool, but had no idea what we'd use them for.  After a little thinking, they would make a great tablecloth for a party or a coffee station at a party.
8. Shower Curtains
Shower curtains are another way to cover a large table inexpensively.  They make great tablecloths and photo booth backdrops too because they already have the grommets in them!
9. Blankets
You can never go wrong with using a blanket as a tablecloth.  I mean they are so closely related.  Plus you can use a blanket for a lot of different parties.  Christmas blankets around the holidays, your favorite sports team's blanket for a boys birthday, a picnic blanket for a summer bbq.
10. Lace
Lace is so pretty when thrown over a table because you get to see some of the table peeking through. This wedding photo is amazing!!
The major thought process is that if you don't have what you may think is the perfect thing to host with, use something else.  Don't let not having hosting gear hold you back from opening your home and inviting others in.
Who knows, the alternative may be even better than what you had wanted for the original?