How was your weekend?  I thoroughly enjoyed mine mostly because my husband had a four day weekend this weekend, but also because we did so many fall activities.  We went apple picking, picnicked, and picked out our pumpkins for the year (how do you like that alliteration?).  It was a lot of fun; it only could have been better if it weren't 90+ degrees outside, but eventually fall temperatures will get here….maybe…..I'll believe it when I feel it.
I hope you're prepared for a lot of fall themed photos because today's post is a Fall Home Tour.  So, go get a cup of hot apple cider, grab a cozy blanket and enjoy!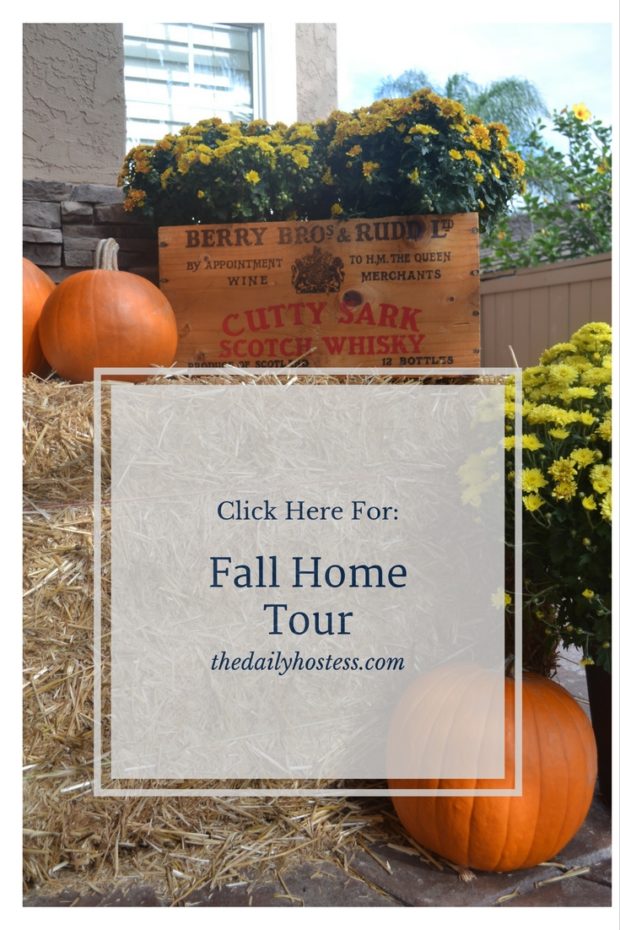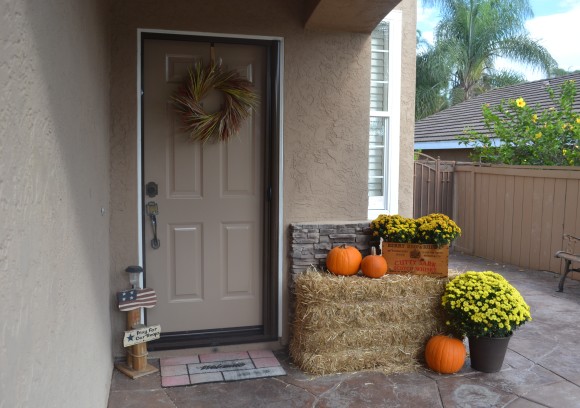 Welcome to our front entry!  I think this set up just screams fall.  How funny is it that our door mat is the same one that was here when we first moved into this house five years ago?  You'd think that I would have replaced it with something that represents us a little better.  I've looked at door mats in the past, but just haven't found one that I love, and at this point, if it isn't broken don't fix it.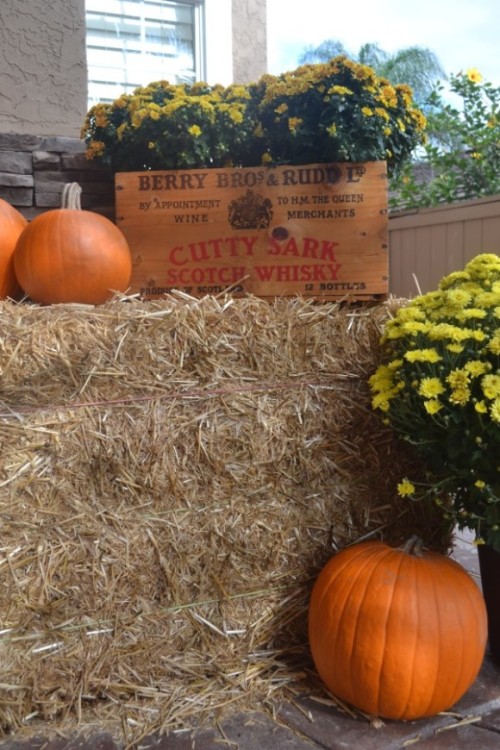 I purchased the mums at Lowe's and got them in colors that would coordinate with our fall wreath on the front door.  Hopefully they last through the entire season.  I would be remiss if I didn't tell you how passionately my husband feels about knowing the difference between hay and straw; and how quickly he corrects me if I mix the two up.  We are using a straw bale that our local pumpkin patch was selling, either will work for a set up like this.  As they say though, "hay is for horses," because hay has nutritional value for horses to eat and straw is the stalk of various grains and has minimal nutritional value.  I guess you get passionate about these things when you grow up on a farm.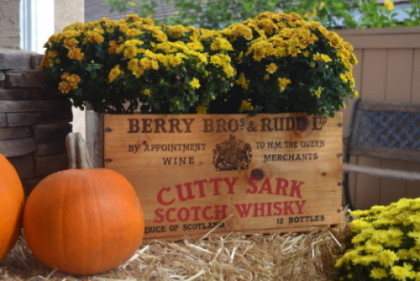 This cute little wooden box was found during a Saturday morning garage sale session.  I knew I wanted an old box like this but didn't have a specific idea for it and this fall set up is the perfect place to use it.  My husband sprayed it with a little Thompson's water sealant to help keep it protected.  Don't forget to spray the inside of the box too, to protect it from potential water damage when watering the flowers inside.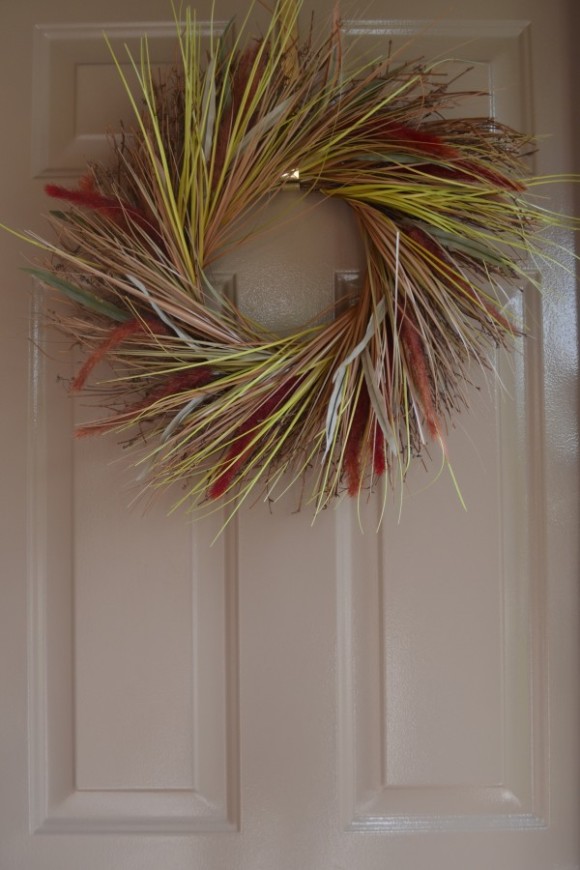 Once you enter our house you are directly in the living/family room.  I've added small touches throughout the room to spread the feel of fall.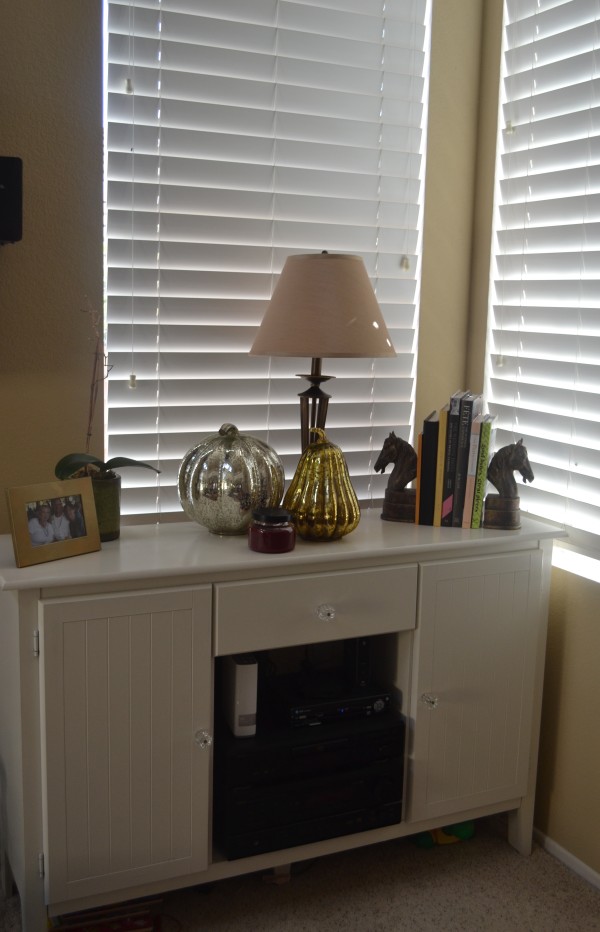 I love these mercury glass pumpkins and gourds, which I think I found at Marshall's a couple years ago.  They add a touch of fall with quite a bit of a shine factor. 

We don't have a lot of wall space in our house, which is a catch-22, because I want to hang things up, but love all of the natural light we get from the numerous windows we have.  To create a gallery wall effect without an actual wall, I use this bookshelf.  By placing our photos and treasures up and down the shelf it's like a vertical gallery wall.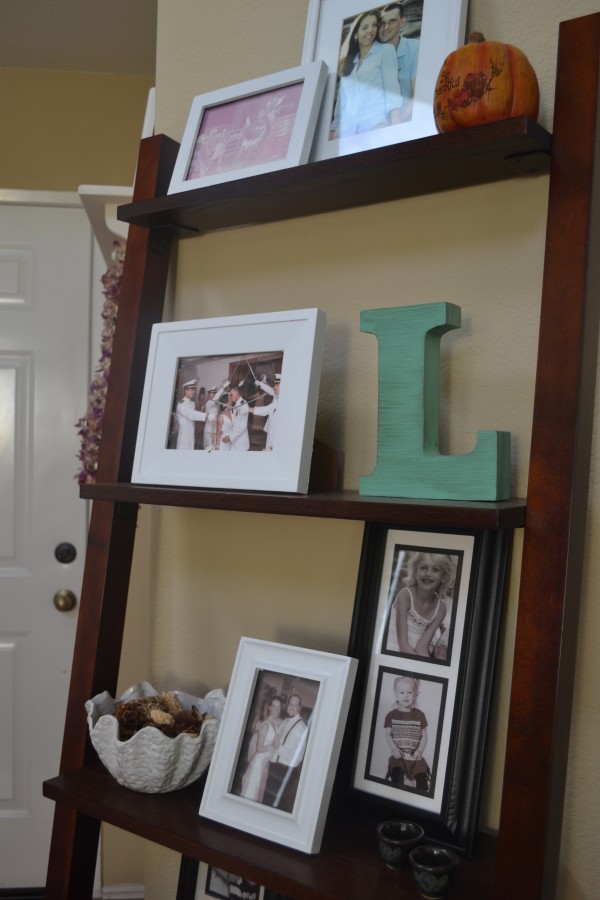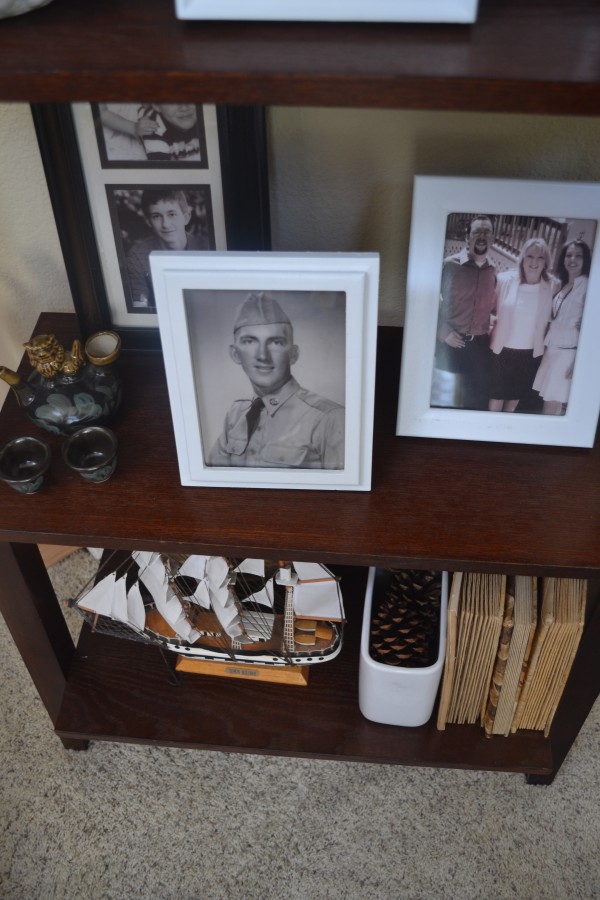 To bring fall to the bookshelf I used pine cones and a fall scented potpourri.  We are lucky in that our neighborhood has a ton of pine trees so we get free decor anytime we take a walk outside.  I used this tutorial to make all of our collected pine cones smell like cinnamon.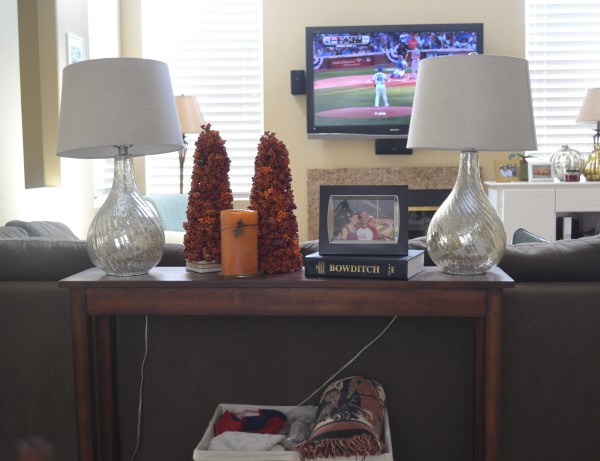 I also used some fall decor on our sofa console table.  Disregard the baseball game on the TV and the amount of cords hanging down under the table.  Here is a great way to hide cords if you need to.  This table usually holds our remote controls and coasters for drinks, and the lamps add some much needed light in the evenings.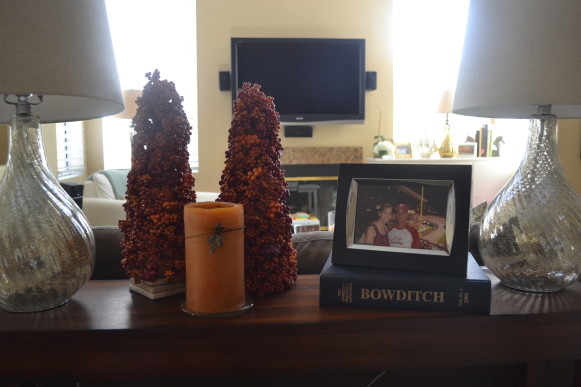 In case you're wondering Bowditch is a really motivating nautical book.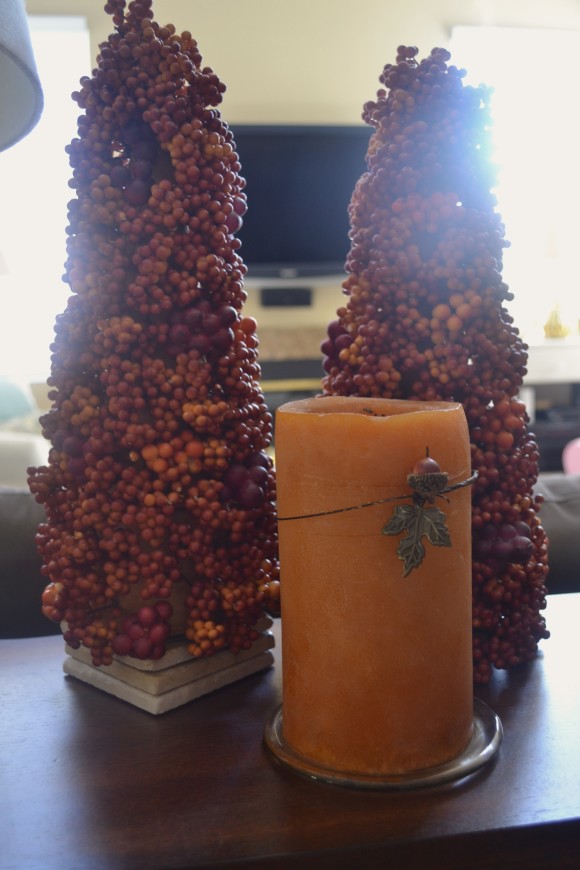 To offset the height of these fall topiaries I propped one on top of some ceramic coasters to raise it up a bit.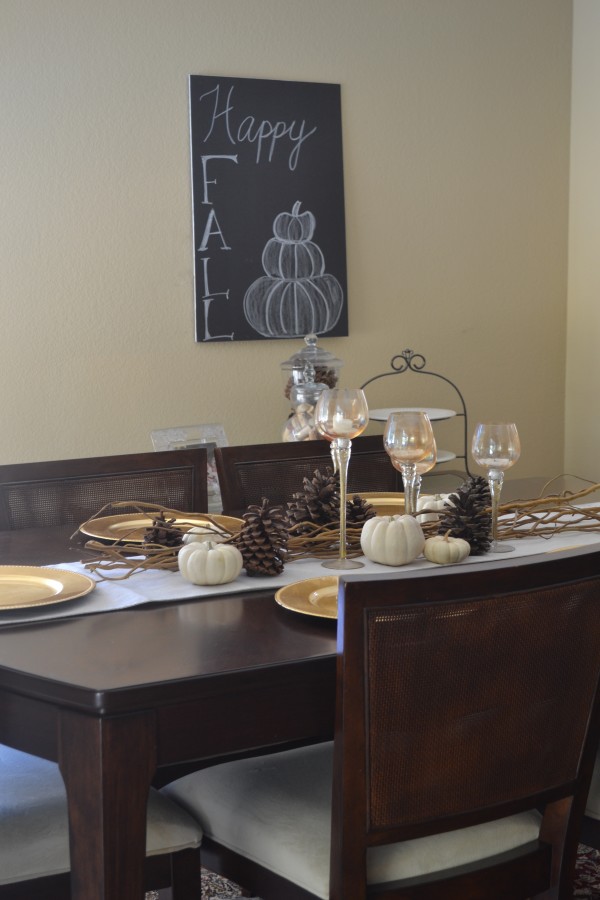 If you've been following the blog recently these dining room pictures will seem familiar.  Check out how to make that "fake" chalkboard here.  Again, I am using free pine cones as part of the table scape.  I love the neutral and gold themed fall table.  Using natural elements like the pumpkins and pine cones makes the whole thing feel a little more authentic than faux colored leaves or decor that is too seasonally specific.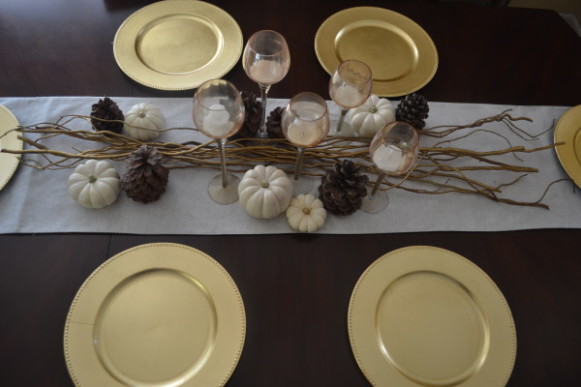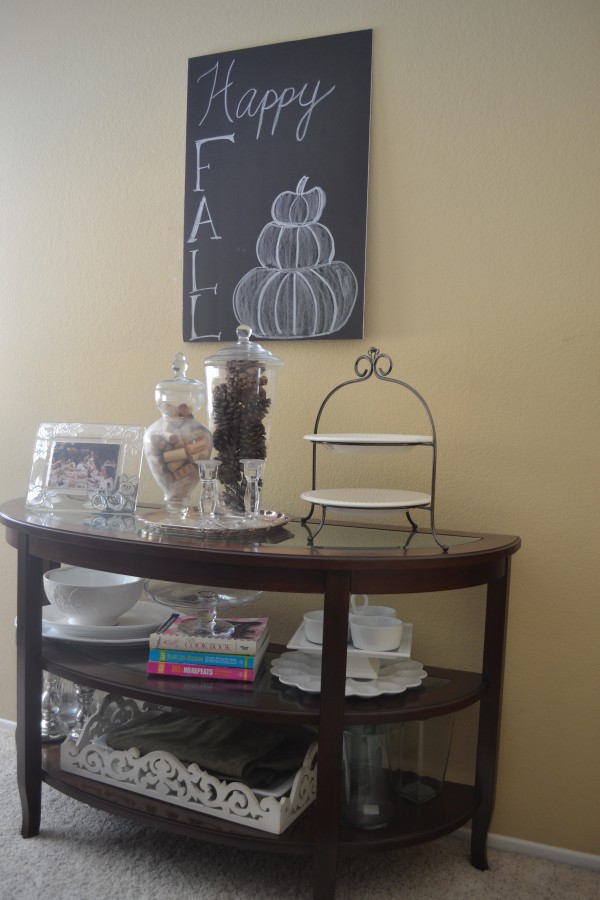 I even brought in some touches of fall in the kitchen, again using natural elements like pumpkins and apples.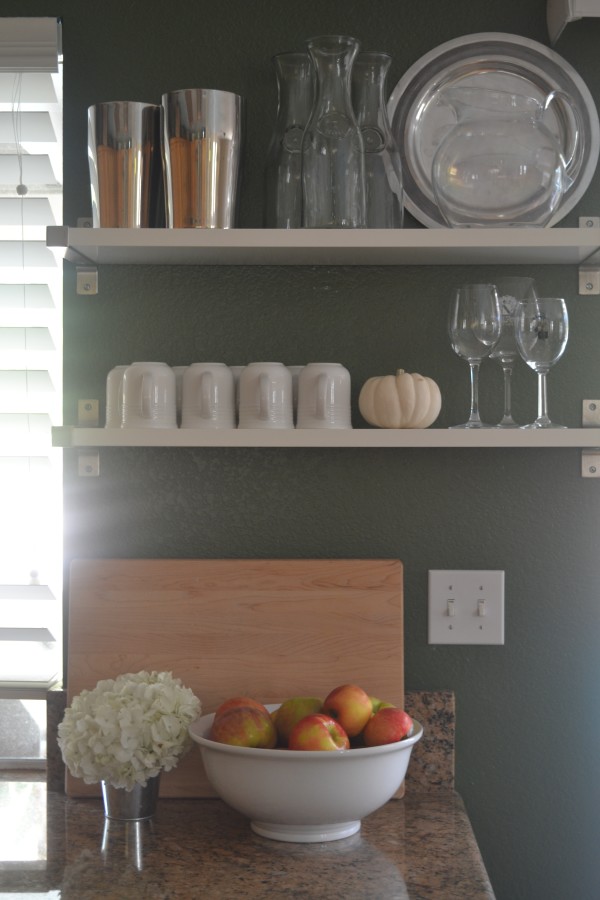 I love the look of these IKEA open shelves.  They not only look great, but provided us with some much needed storage.  Before we put them up this wall was bare, these shelves definitely better utilize the space.  I sporadically take everything off and dust them, but they actually don't get too dirty.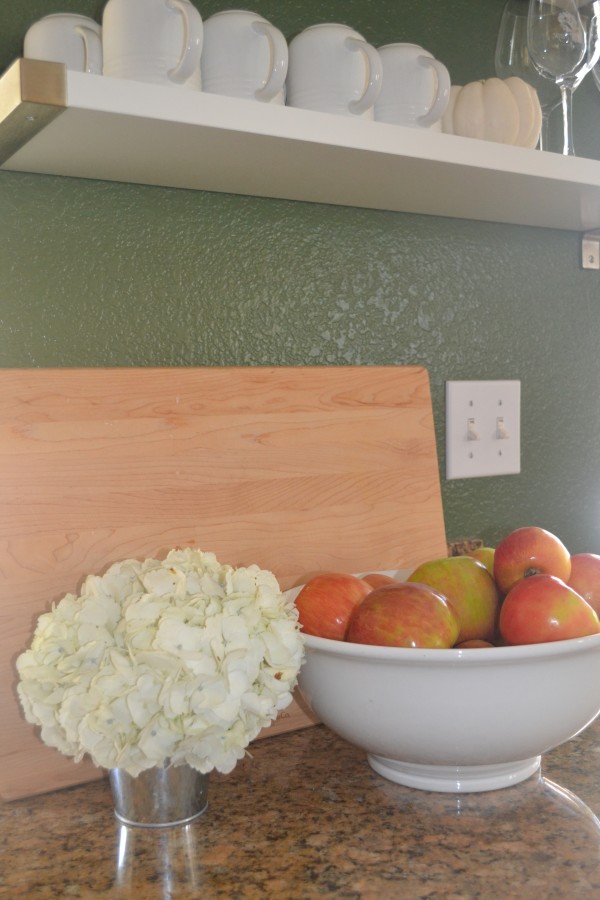 That's a look around our house decked out for fall, thanks for stopping by and taking a look around.  I just love this time of year, don't you?  Have you gotten your pumpkins picked out yet?  Not to freak you out, but since it's fall that means that Thanksgiving and Christmas aren't too far away.  Is your heart beating faster just thinking about that?  Mine is, yikes!
I've linked up to the Pretty Preppy Party hosted by Life on Virginia Street, 11MagnoliaLane, Being Bianca, Less Than Perfect Life of Bliss, and Southern State of Mind to show off our pretty and preppy projects.  Be sure to take a look at all the awesome projects this month.