Although it's only been a few months, living in Denver has made me really excited for the summer. After moving from San Diego where it's always warm and the weather is nice enough to do whatever you want outside anytime of year, I think I'm really going to appreciate the summer here. That's why I want to spend the next few months really celebrating the nice weather by getting outside and doing all things summer.  I've created a Summer Bucket List to do just that!
The best news is that you can have it too!  There are about 20 fun things to try to fit in this summer, and space for you to add your own creative ideas to stay busy and celebrate the warmth and good weather summer has to offer.  Just click on the picture below to download and print out this year's summer bucket list, then start having a blast!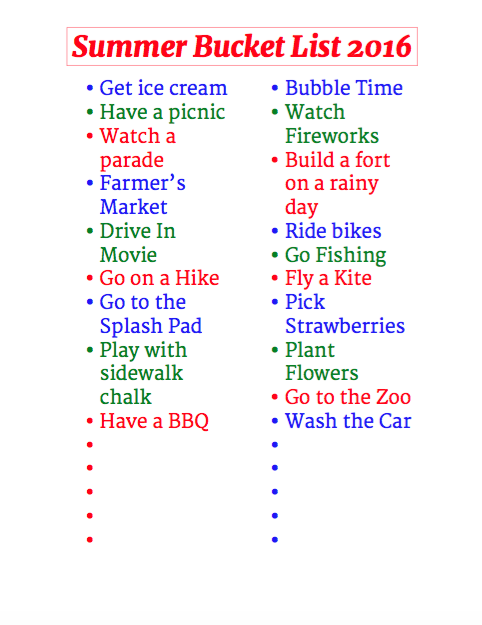 We've already done several of these things thanks to a fun-filled trip to see family and friends, but there's nothing holding us back from doing them again!  Check with your local Chamber of Commerce to see if there are any parades, festivals, or summer time activities in your area.  If you don't want to spend too much money on these activities, check with businesses to see if they offer a group rate, if so, gather together a bunch of your friends and their kids to spread out the cost.  Lots of museums, zoos, and water parks offer discount programs for military, AAA, or senior citizens.  If Grandma or Grandpa want to do something with the kids, ask them to use their senior citizen discount.  Your local library is another great resource during the summer, most offer summer reading programs, camps, and classes that are typically free, all you usually have to have is your library card.

Now that Memorial Day is over and summer has officially started, be sure not to waste any of that good weather and start having fun!  Make it a summer to remember with fun experiences, new traditions, and quality time together.  We've got a lot of fun things planned this summer and now that the Colorado winter is over (I think), we will definitely be enjoying the beautiful weather.  I'm hoping to have several parties this summer using our almost finished patio and backyard, so be sure to keep coming back all summer to see how we use our new space to celebrate.

Don't forget to click on the bucket list or here to print it out and use it all summer long.