Happy Friday!  Get ready for the weekend! It's been one month since I posted the tour of our new home with just empty room pictures, so today I thought I'd give you a look at how the rooms are currently.  We've been in the house for about six weeks now and we've made some progress getting settled in, but we definitely have quite a way to go to get to any sort of finished.  Take a look and let me know what you think!
Downstairs Office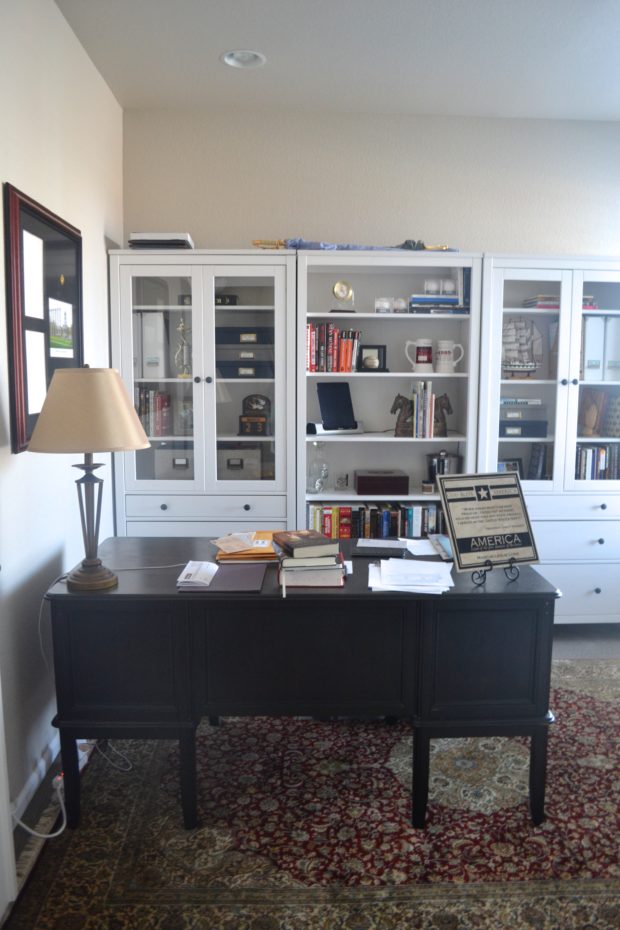 My husband is so glad to have his own office and reclaim some man space.  The office is at the front of the house and one of the first things you see when you walk in, as it's just to the right of the front door.  We found the desk on Craigslist and purchased the cabinets and bookshelves from IKEA.  We still need to get a lot of things up on the walls and get him a desk chair.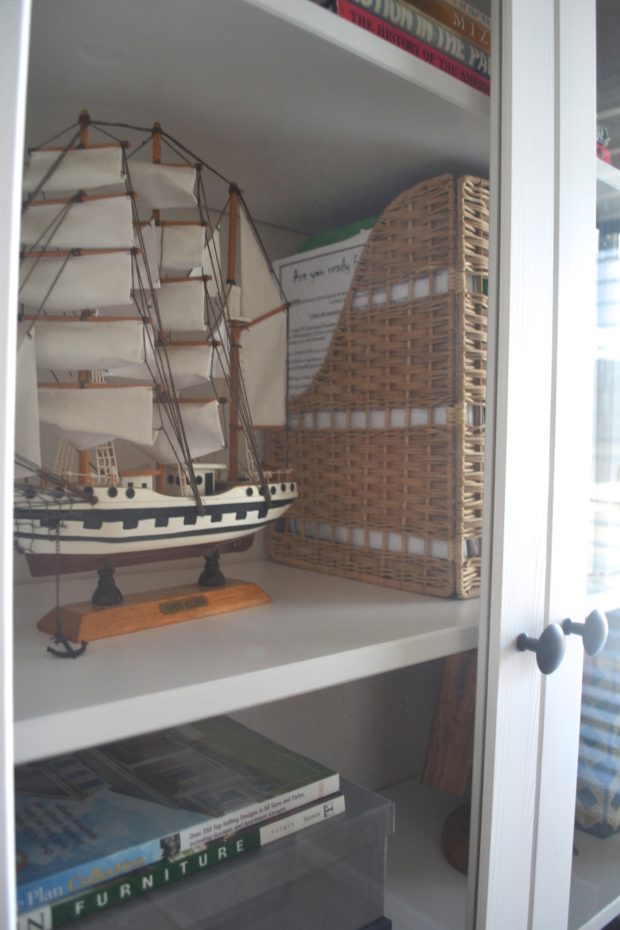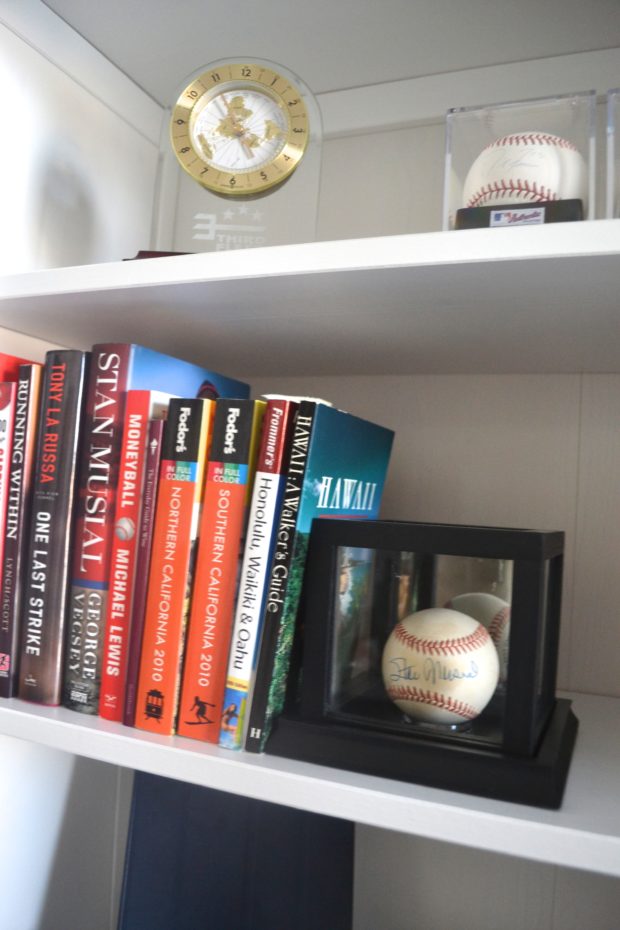 One of my husband's prized possessions, a Stan Musial signed baseball gifted to him by an amazing friend.
Front Entry/Half Bath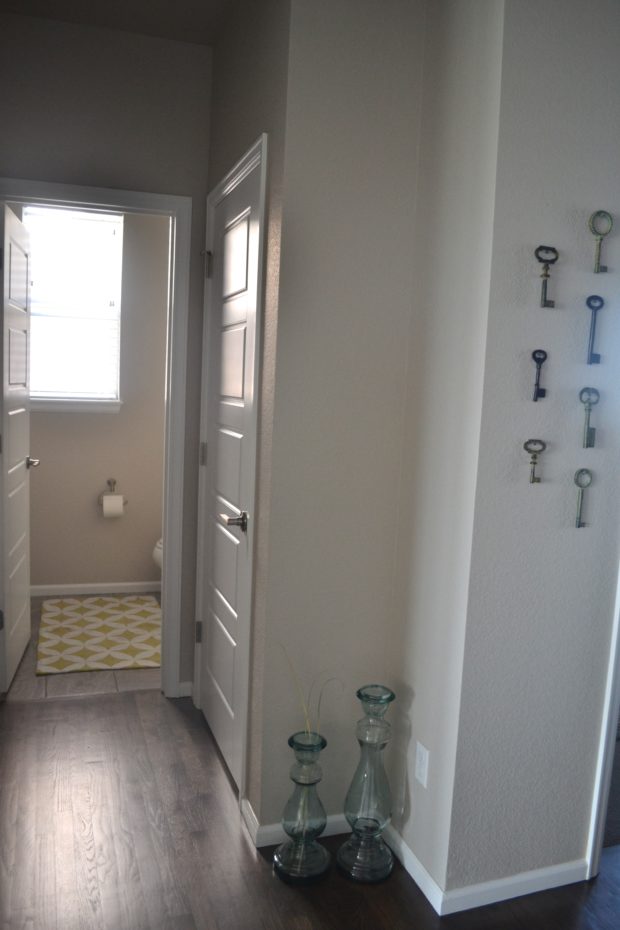 This is part of the front entry and the hall into the half bath.  Other than putting a rug down in the bathroom, we haven't done much of anything else in there.
Living Room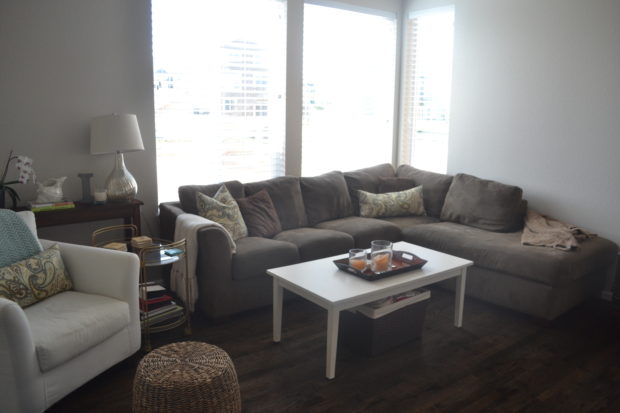 Our living room is pretty spacious and full of light, but difficult to photograph because of the window placement.  There are two huge walls in here that are going to be getting some awesome framed nautical charts, but they are at the framers right now.  I've also ordered rugs and are waiting for them to arrive.  It will be nice to have something a little cushy under our feet eventually.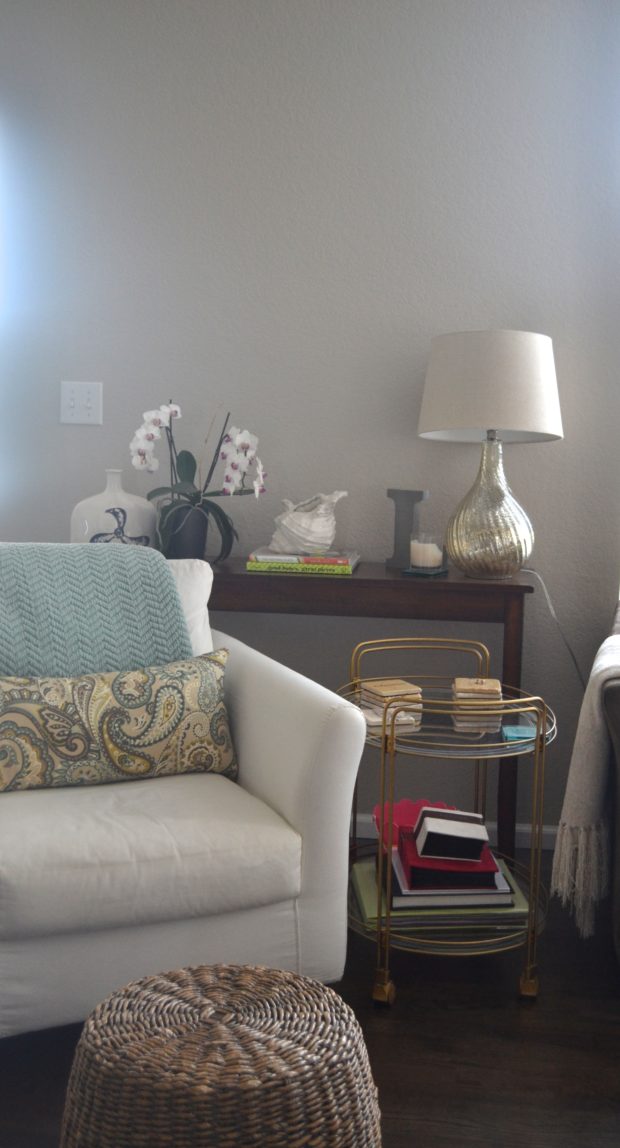 You've already seen this little area of the living room in this post.  I'm still loving the location of that console table.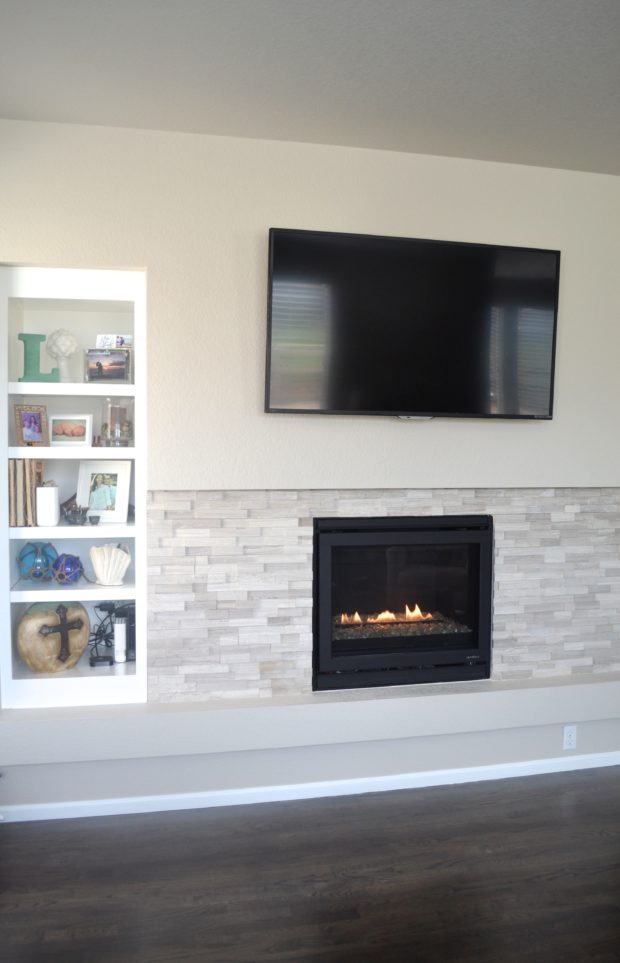 We plan to get a really chunky, reclaimed wood mantle to put above the fireplace, think Fixer Upper style.  It is going to bring some warmth and rustic-ness that this room really needs.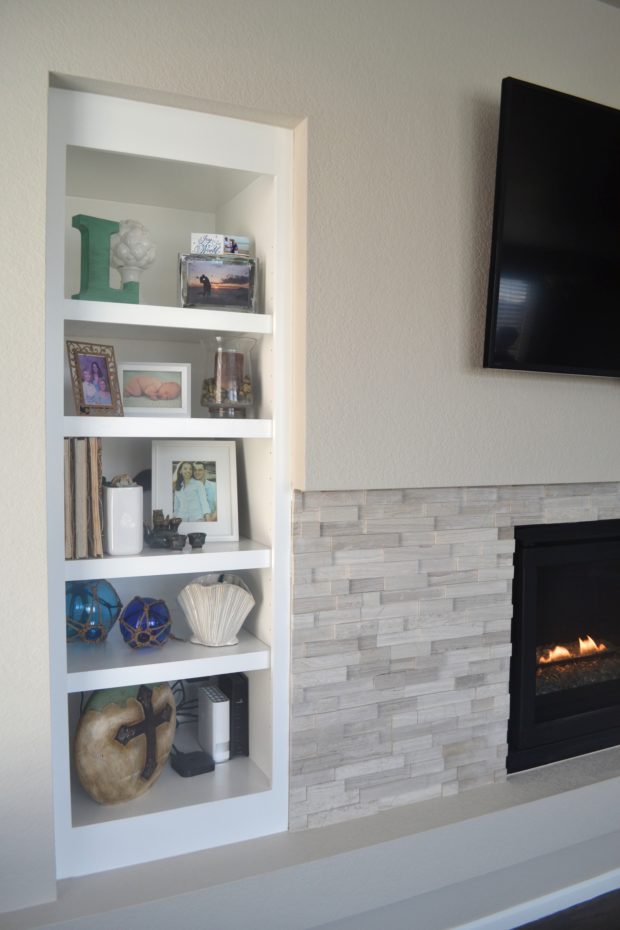 Dining Room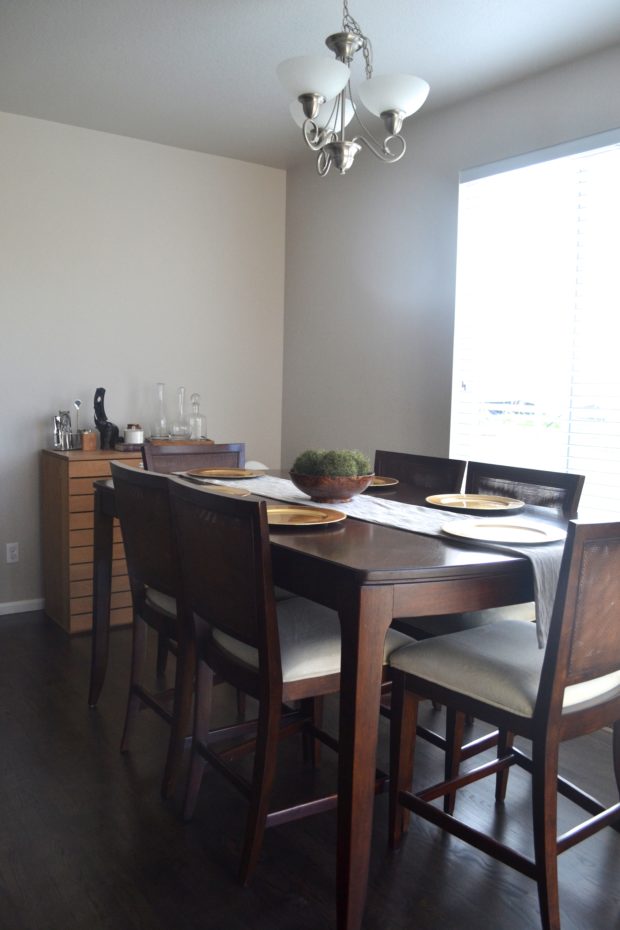 Not much has been done here except putting our furniture in place and making those mossy balls.  Our bar is pretty much set up the exact same way it was in San Diego, it's like we picked it up and put it right here. I still plan to get a rug and some curtains for our sliding doors eventually, but I want to take a little time to figure out the right color scheme.
Kitchen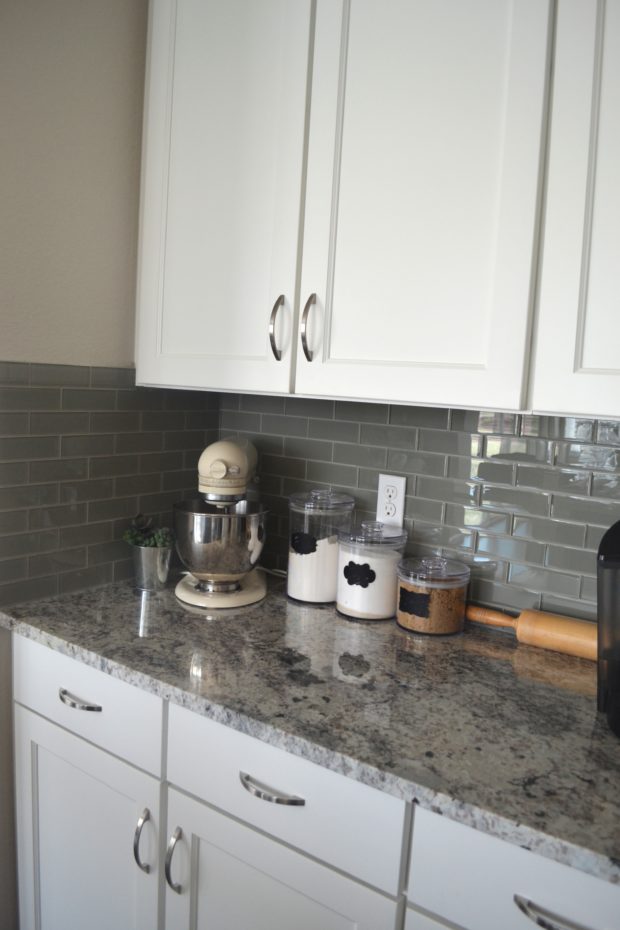 One little part of our kitchen, that houses a small baking station and my husband's coffee bar.  It's so nice to have so much cabinet space.  I don't have to cram and stack everything to get it to fit.  There is still a whole drawer that's empty and one upper cabinet that barely has anything in it.  There is however, a lot of organization that still needs to be done in all the cabinets and drawers.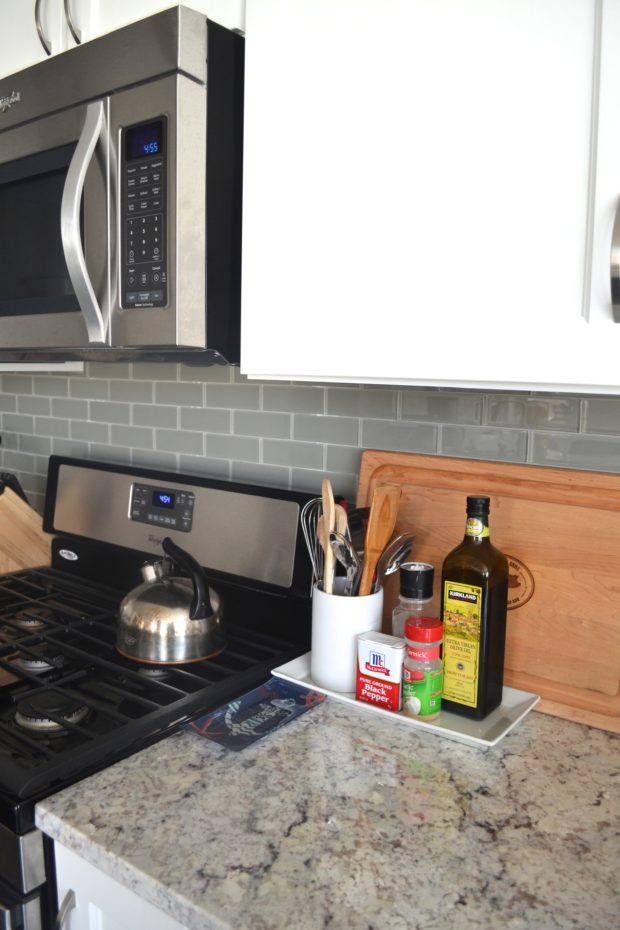 I also purchased a runner for the floor between the stove and our island.  I'm excited for it to get here and give this area a dose of color!
Pantry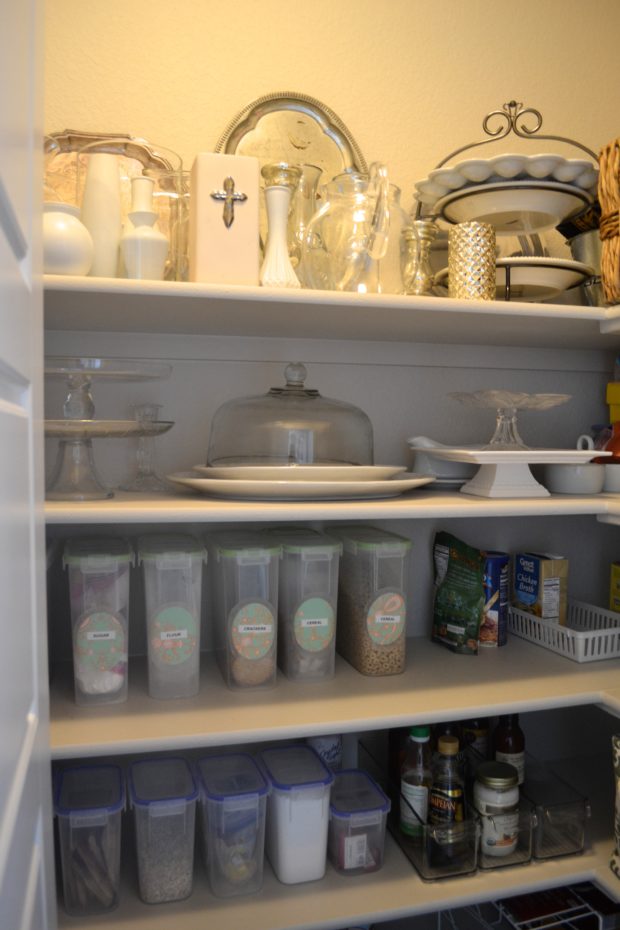 It's difficult to photograph the pantry because there isn't much natural light flowing in.  I'm able to store all of our dry food, shopping bags, some dining room decor, and most of my serving ware in here which is great.  I do want to relabel the containers and add some organizational methods.
Mudroom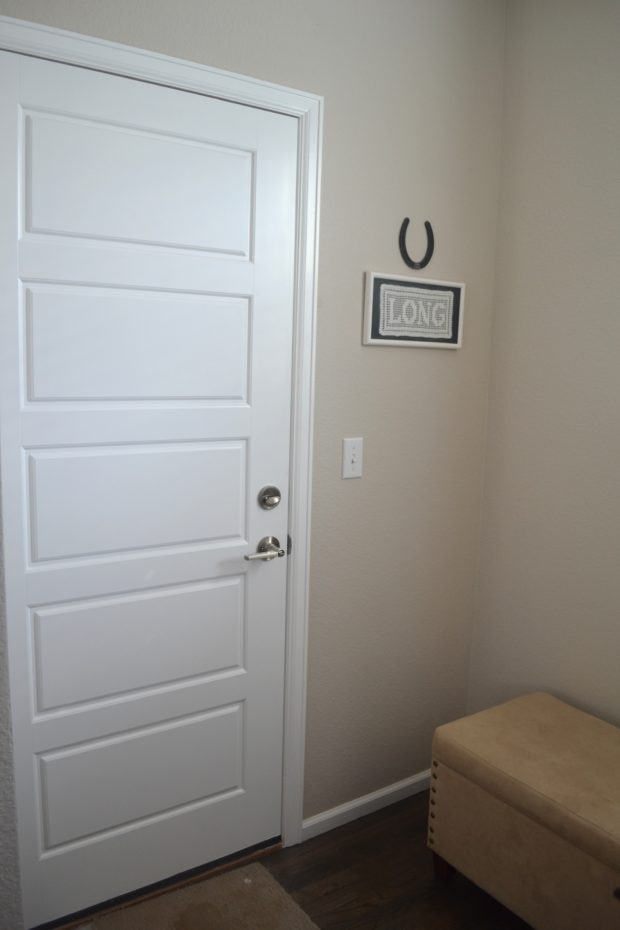 Our mudroom isn't huge, but it's nice to have an area to transition from the garage to the house, especially now that we have to deal with snow boots, rain boots, and all other kinds of boots.  I'd love to eventually add some built in cubbies, but our storage bench works great for keeping all of our scarves, hats, and gloves out of the way.  We also have a little table with storage for keys, wallets, and a charging station for phones.
Upstairs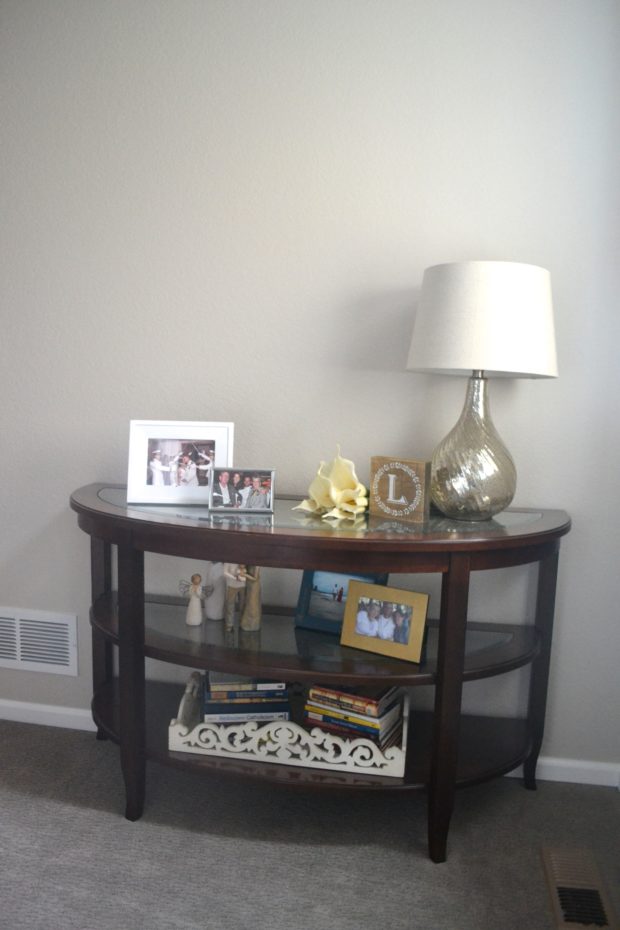 The landing at the top of the stairs is a great place for this table and little vignettes.  Eventually I'd love to find some abstract art to put above the table.
Hall Bathroom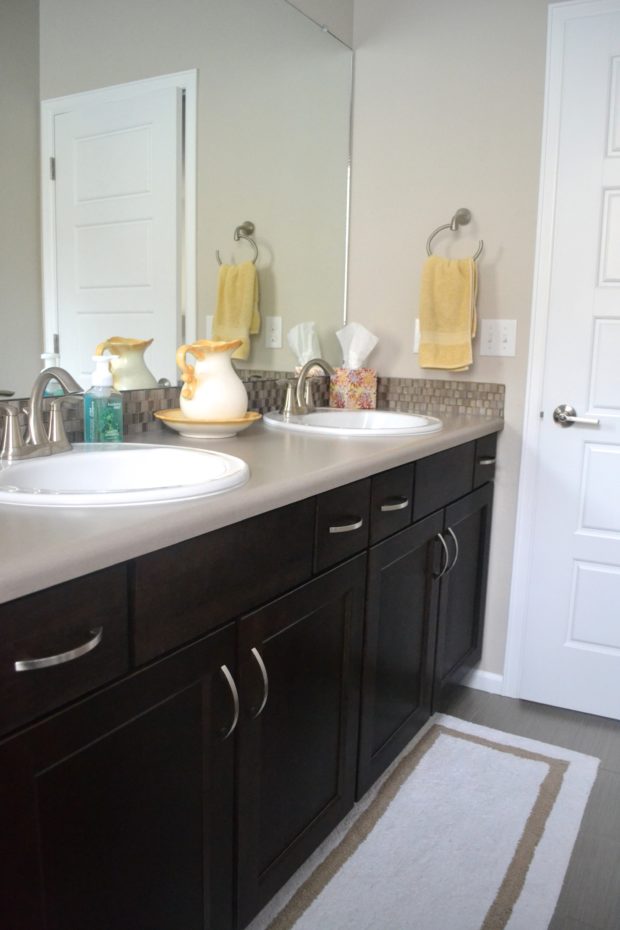 This is the bathroom used by my daughter for baths and potty training (ugh!).  Other than a rug, shower curtain, and a little decor, we haven't done much.  I do plan to find some cute bathroom art to hang in here.  You know something like "Wash, Brush, Floss."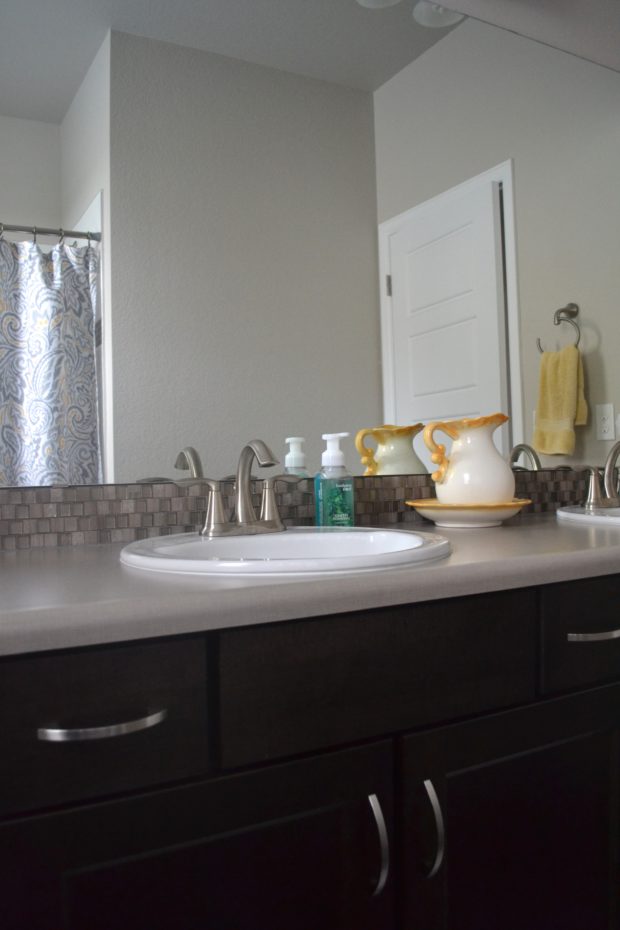 Loving the extra does of pattern the shower curtain adds.
Master Bedroom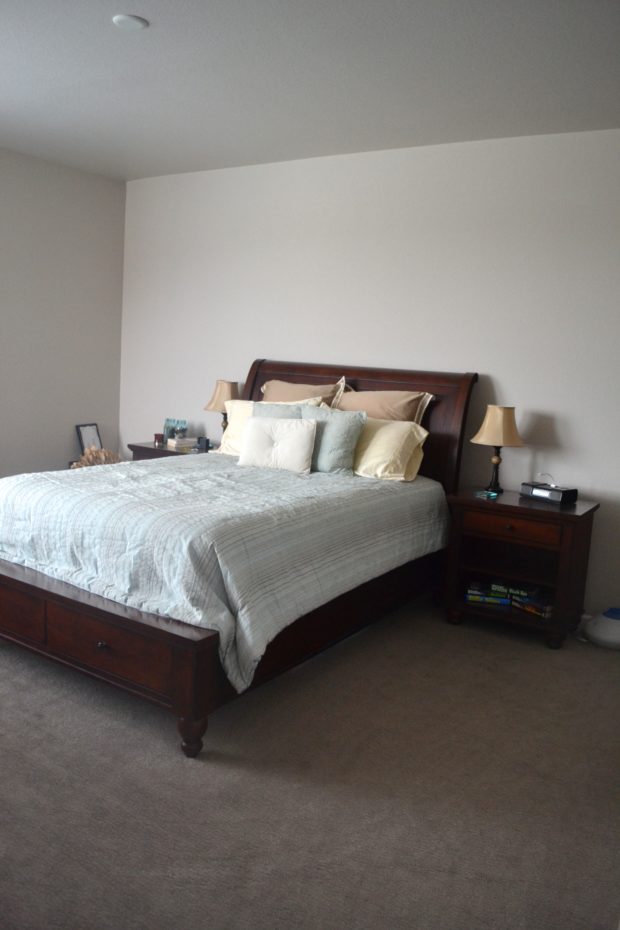 Again, we've basically just put our furniture down and still need to hang things, find an over head light/fan, and figure out decor.  My favorite part though is being able to walk around our bed without banging my knees on the corners because there is plenty of walking room.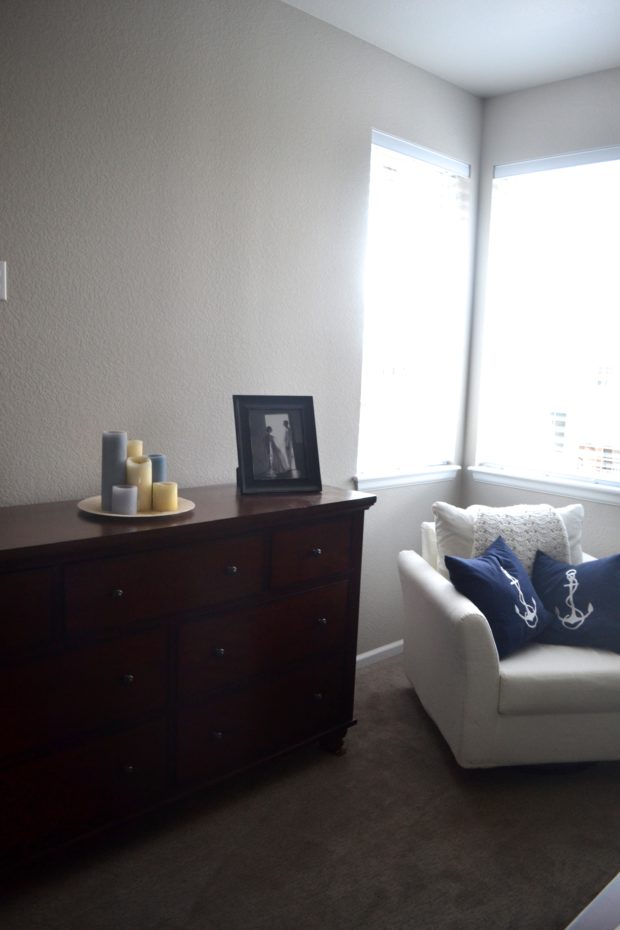 Master Bathroom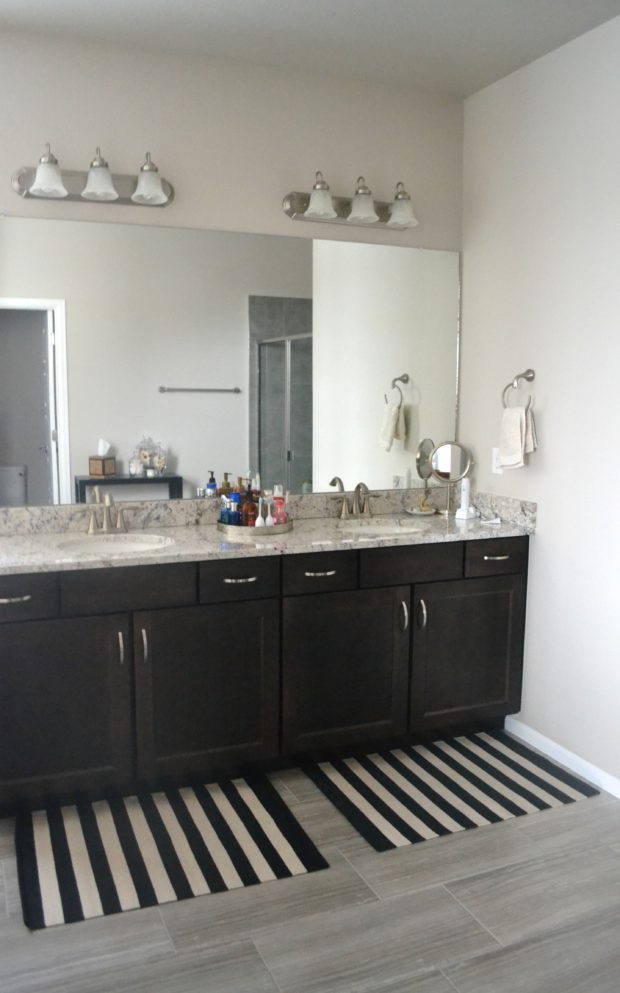 I was able to find a matching rug for in front of our vanity.  We had one from Crate and Barrel that I purchased several years ago and got lucky that they still carried it.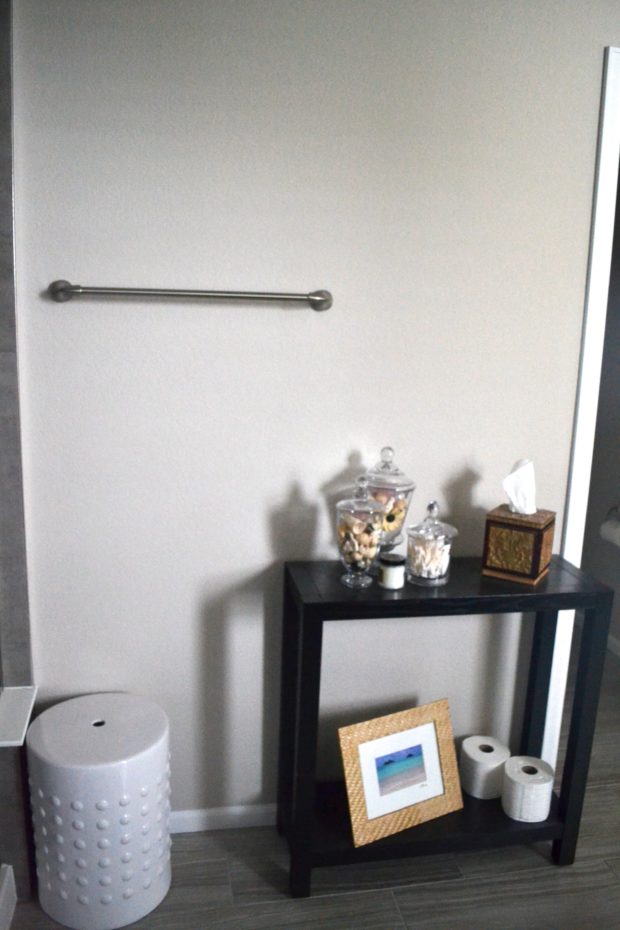 That towel bar outside our shower is in such an awkward place.  Eventually I think I'll change it out for hooks so we can center the table on that wall.
Master Closet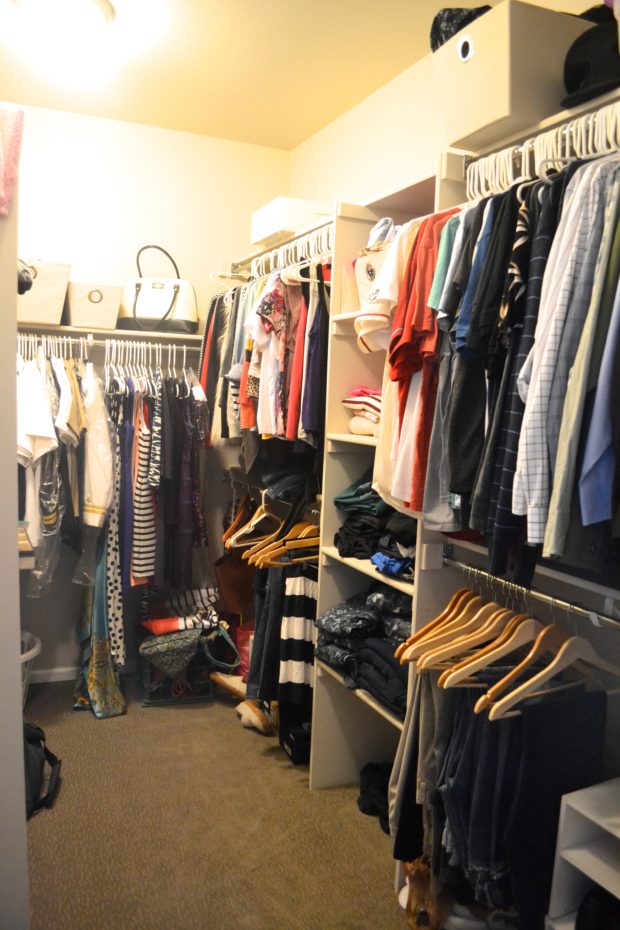 I absolutely love the size of our closet, and that we each have our own little areas.  I hate that uniforms take up so much room and aren't the prettiest.  Eventually, I want to make this space even cooler by glamming up my side and adding some fun sports and man themed decor and organization to my husband's side.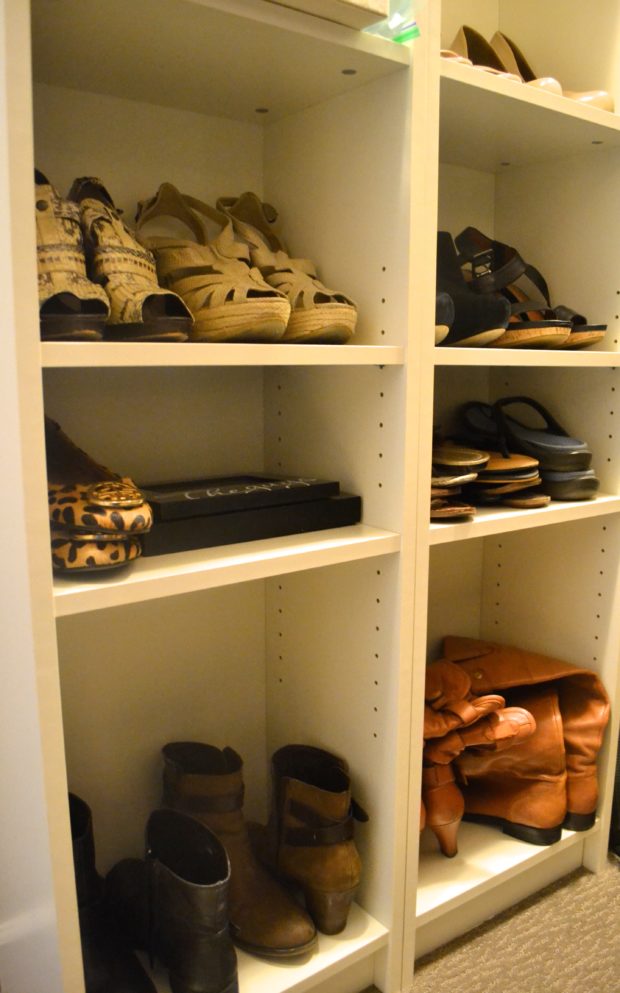 I was able to add some IKEA billy bookcases to the closet for shoe, jewelry, and bag storage.  Again, this area is definitely going to get glammed up!
Well, that's a look at where we stand right now.  In a couple weeks you'll get the full reveal of my shared office and playroom that I'm working on in the One Room Challenge, and as time progresses and we make updates, I'll be sure to feature the rooms as they're completed.  Have a great weekend, we're getting more snow 🙁

Also linked up to: Decor to Adore, Poofing the Pillows, At Home with Gemma, and White Spray Paint