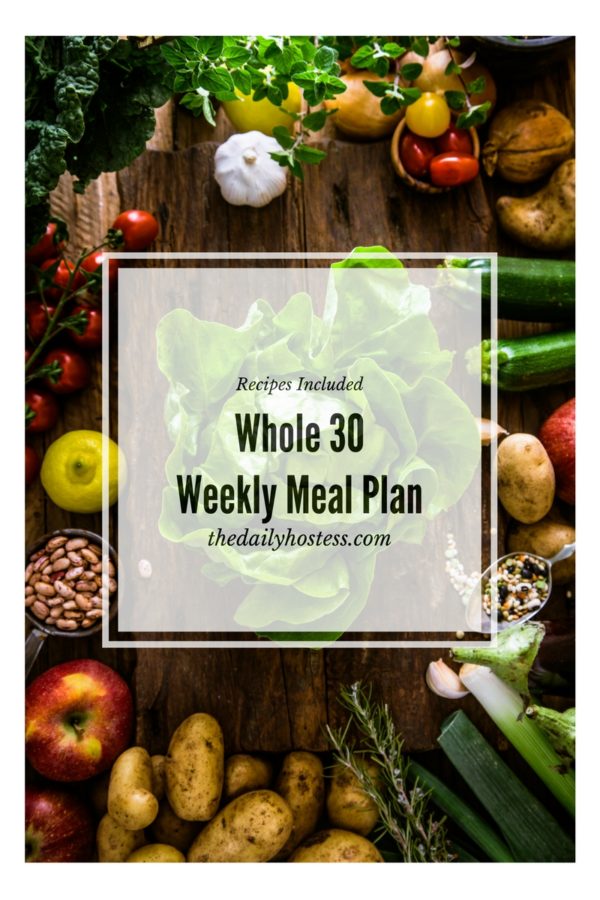 Well we're on to week 2 of Whole 30, and I'm just going to preface this entire post with the fact that I obviously have issues with wasted food.  Pretty much every meal my daughter ate this week she either didn't eat everything or in typical two year old fashion changed her mind and decided not to eat what she asked for.
Consequently, instead of saving it for later or throwing it out I ate a lot of random things off of her plate.  Most of them were not Whole 30 compliant.  In the end, I'm eating way more healthy than I have been.  Plus the non-compliant things I have been eating are pretty minimal.  I know that's not following the Whole 30 rules, but I'm still better off for doing this.
Friday
Breakfast: Cereal (oops)
Lunch: Turkey burger, avocado, carrots
Dinner:  Crockpot Moroccan Chicken
Saturday
Breakfast: Scrambled Eggs with Roasted Broccoli
Lunch: Italian Chicken Sausage with Peppers, Cucumbers
Dinner: I'll preface this by saying we had dinner at our Church's Fall Festival, so options were limited and I didn't plan ahead. I tried to choose the most Whole 30 compliant option, but then temptation got me! Grilled Chicken Sandwich (even the bun, oops!), a handful of chips and popcorn
Sunday
Breakfast: 1/2 an avocado, peaches with coconut milk (this is like peaches and cream, delicious!)
Lunch: Chicken salad on a bed of spinach and arugula
Snack: Grapes
Dinner: Cedar plank grilled salmon and green beans
Monday
Breakfast: Peaches and coconut milk
Lunch: Turkey lunchmeat (I finally found some that doesn't have a ridiculous ingredient list!), homemade mayo, pickles, a little leftover chicken salad
Snack: Almonds
Dinner: Beef Szechuan
Tuesday
Breakfast: Avocado toast (yep, I ate bread) with tomoatoes
Lunch: Tuna on a bed of spinach and arugula, avocado
Dinner: Rotel turkey tacos on a bed of spinach with avocado and tomato.  Just add a can of Rotel to some ground turkey and it's the fastest way to make spicy, flavorful "tacos"
Wednesday
Breakfast: Peaches with coconut milk and macadamia nuts
Lunch: I can't remember for the life of me.
Snack: Spinach banana muffins (made with flour, so they aren't Whole 30 compliant). These are great to get your kids to eat some vegetables though!
Dinner: Kale, Italian sausage, and potato soup
Thursday
Breakfast: Fruit, kale, and almond milk smoothie, two over easy eggs
Lunch: Leftover kale, italian sausage, and potato soup
Snack: Ugh, this gets ugly, two mini Hershey's bars, some crackers
Dinner: Cracklin' chicken thighs (basically fried chicken with no breading, yum!), roasted broccoli (you know I love it!)

1. If you have an immersion blender, it makes making smoothies incredibly easy.  Just throw everything into cup, stick the immersion blender in, and in about 30 seconds you're smoothie is perfectly done.  It's also great for making your own mayo.  Just add 2/3 cup avocado oil (or any other light flavored oil) and an egg in the cup, blend, and you have your own mayo.

2. Print out the Whole 30 rules and put them in your kitchen, on your fridge, or in your pantry for a quick reference and reminder to stay on track.

Now it's on to week 3, and I think I'm really going to kick it into high gear and stop cheating!  When I linked the Whole 30 rules above, I read most of them again as a review and it really put things into perspective.  This is only 30 days, I choose what I eat, no one is forcing me, and I'm an adult, I got this.  But most of all, there are so many harder things than eating real food for 30 days.

Halfway there!  Let's do this!  Who's doing it with me?  Comment below with your favorite Whole 30 meal.  Bonus points if it can be made in under 30 minutes in one pan!