Whew, we made it to the end of the week and through all of the balloon related posts this week.  In the final post, I'm showing you how to make a balloon arch without using helium.  It's all thanks to one little party decor gadget that has made all of these balloon posts possible.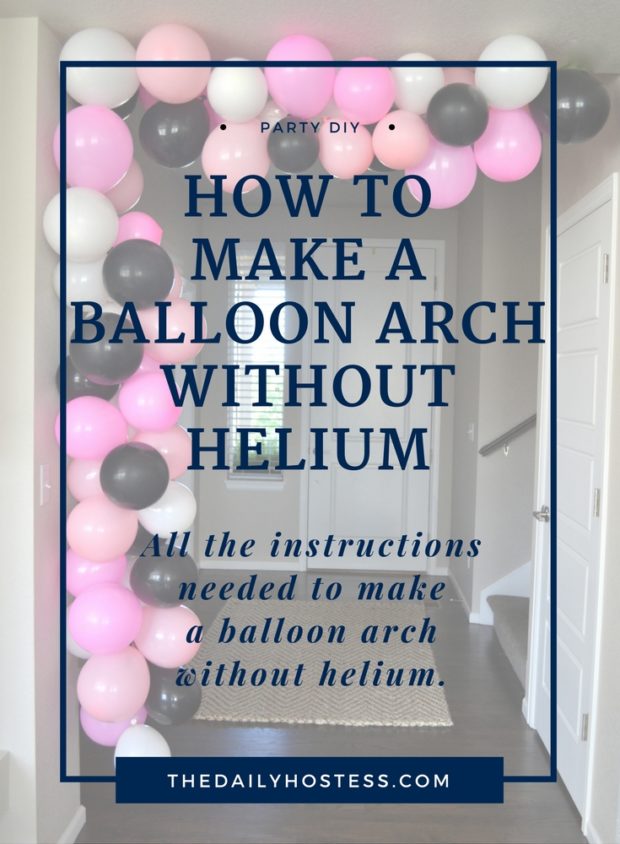 I recently hosted a #girlpower themed baby shower and wanted to make a fun statement piece, so I thought an arch would be perfect.  But have you priced a helium balloon arch?  They are expensive!  So this is a great alternative to shelling out so much money.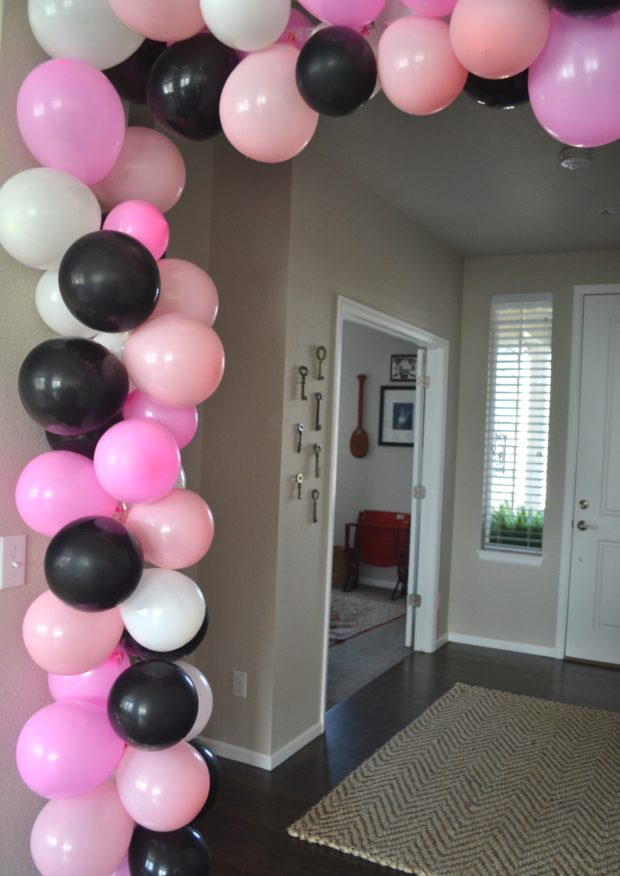 First I blew up balloons in various sizes, in various colors matching the party theme.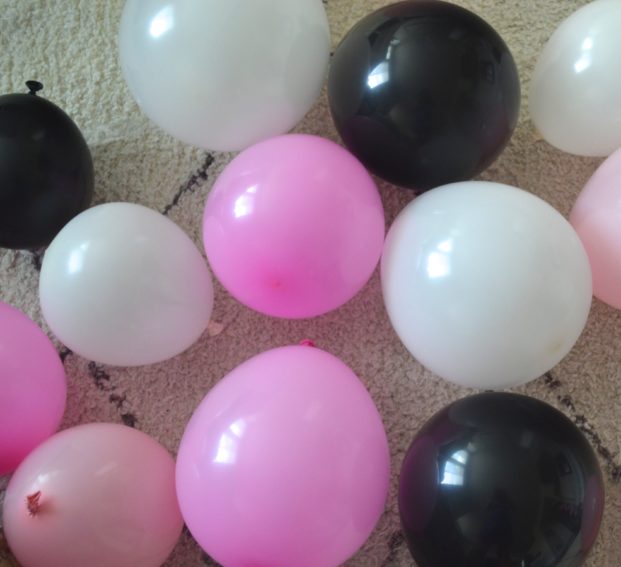 Here are all the supplies you need.
Next I used the balloon decorating strip and popped the tied end of the balloon through the holes. I promise, this balloon decorating strip is a game changer when it comes to doing anything with balloons.  This next picture isn't great, but you can see how the tied end of the balloon goes through the holes in the strip.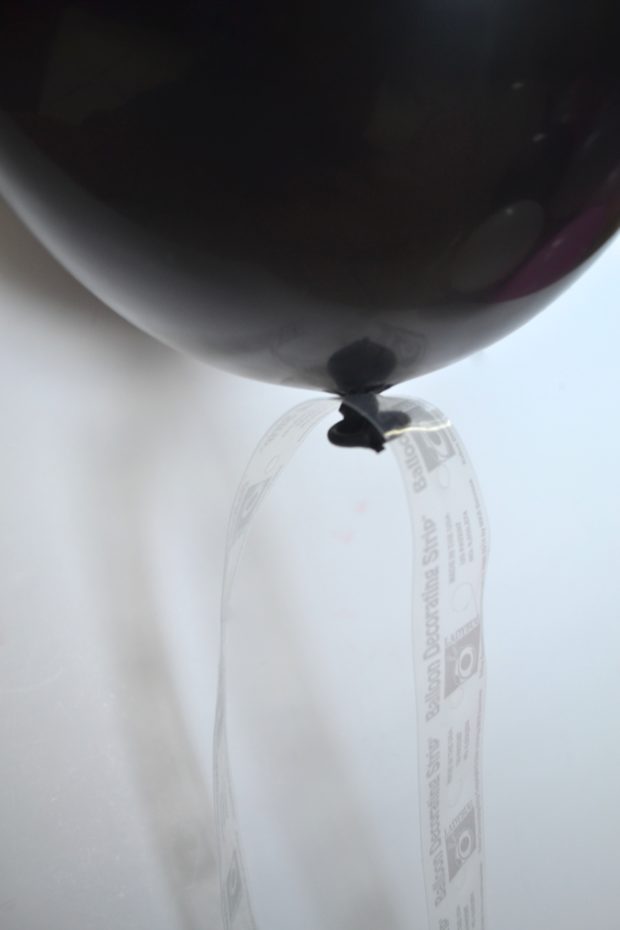 Just start popping them into the strip and fill in as necessary.  Then find a doorway to hang the balloons up.  I just taped the strip to the wall and ceiling.  You may have to adjust a few balloons once it's hanging to get the fullness you desire.  If spots look a little bare, just blow up another balloon and pop it through the hole.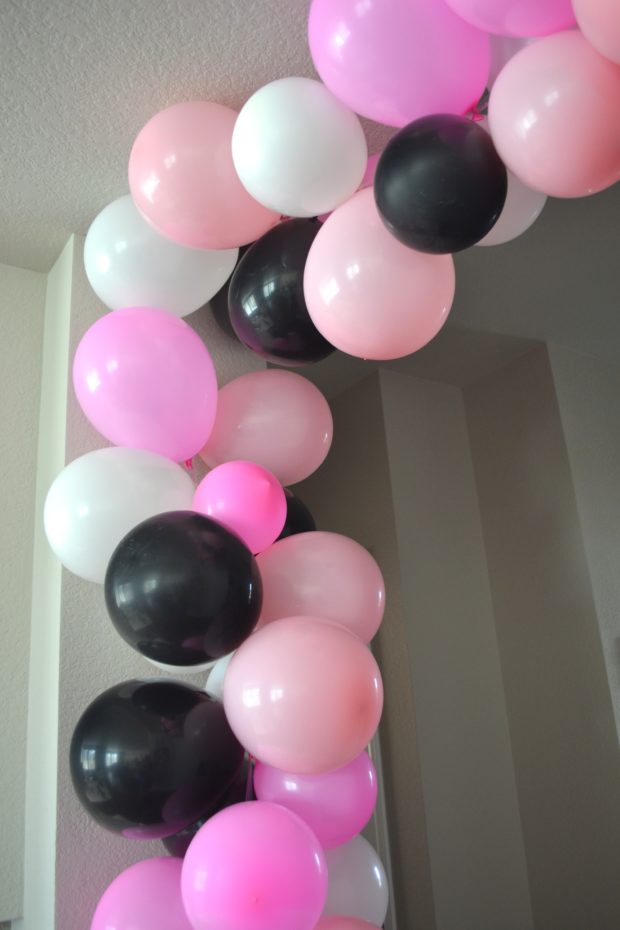 It makes a great entrance or backdrop to any party.  And all you have to spend out of pocket is about $8 between balloons and the decorating strip.  Although if you don't have strong lungs you may want to purchase a pump to blow up the balloons.  It only took me about an hour to make this whole arch.  So for not a lot of money and not a lot of time you can have a great statement piece at your party.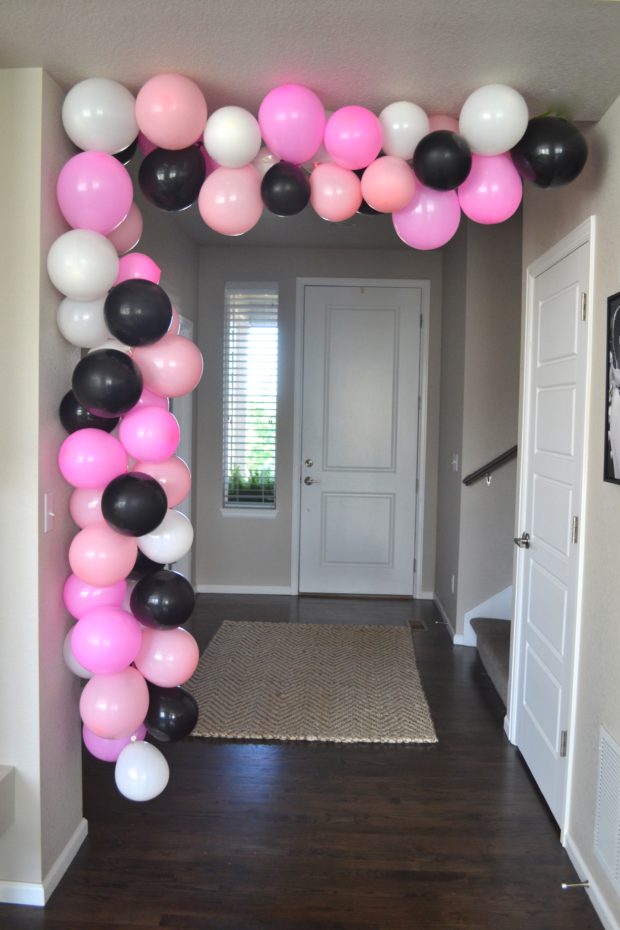 I was pretty surprised at how well the balloon arch held up too.  I finished the arch and hung it up about a week before the party and it was still holding up great the day of the party.
There are so many ways to use this method when decorating for a party.  Make an arch like I did, attach the balloon garland to stair handrails, hang a bunch from the ceiling to make a balloon filled background, or attach them to the front of a buffet table.  It would also look great if you tucked other things in between the balloons.  Flowers, streamers, leaves, or garland would look great and fill in any bare spots.
You can bet that I'll be having a lot more balloon arches and garlands at my upcoming parties, that's for sure.  Happy 4th of July weekend, be safe and eat a lot of bar-b-que.  If you need some last minute decor inspiration, don't forget to check out my patriotic front porch.

If you loved this simple DIY party decorating idea, take a look at a few others that are just as easy!