It seems like literally everyone I know is pregnant right now!  At least it seems that way when I'm practically past my due date and this baby won't evacuate!  I digress, to celebrate one of my friend's new baby girl, I recently hosted a baby shower for her.  I wanted to do something a little different since my friend is such an advocate for women's rights.  So this #girlPower themed baby shower came about.  Keep scrolling to get all of the details.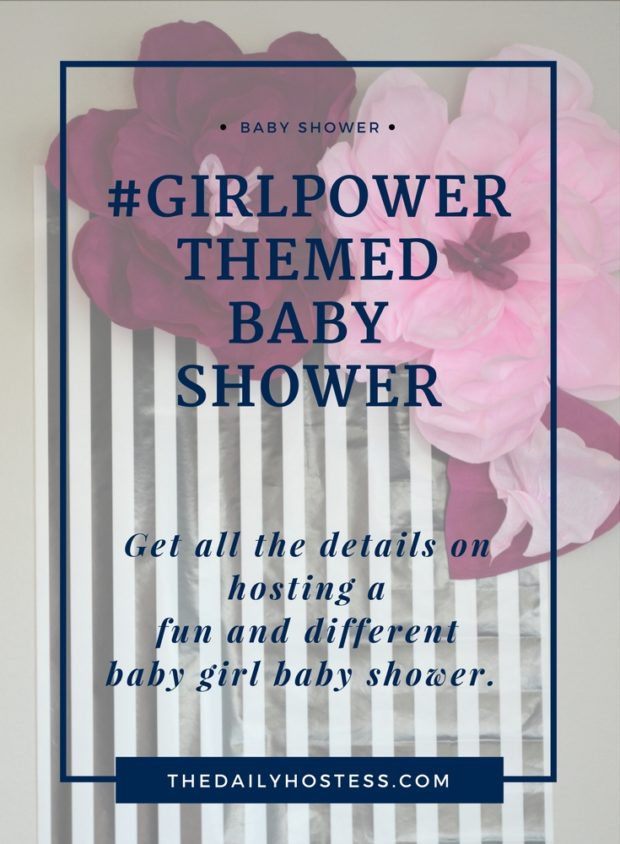 Like I said, the guest of honor at this baby shower is a great friend and one of the qualities that always stands out to me is her passion for women's rights and equality, but yet her femininity.  I wanted to incorporate a pretty, feminine element of a typical baby shower while also showcasing a powerful woman.  I tried to do so through lots of florals, a pink, black, and white color scheme, and female empowerment books.
#girlPower Party Decor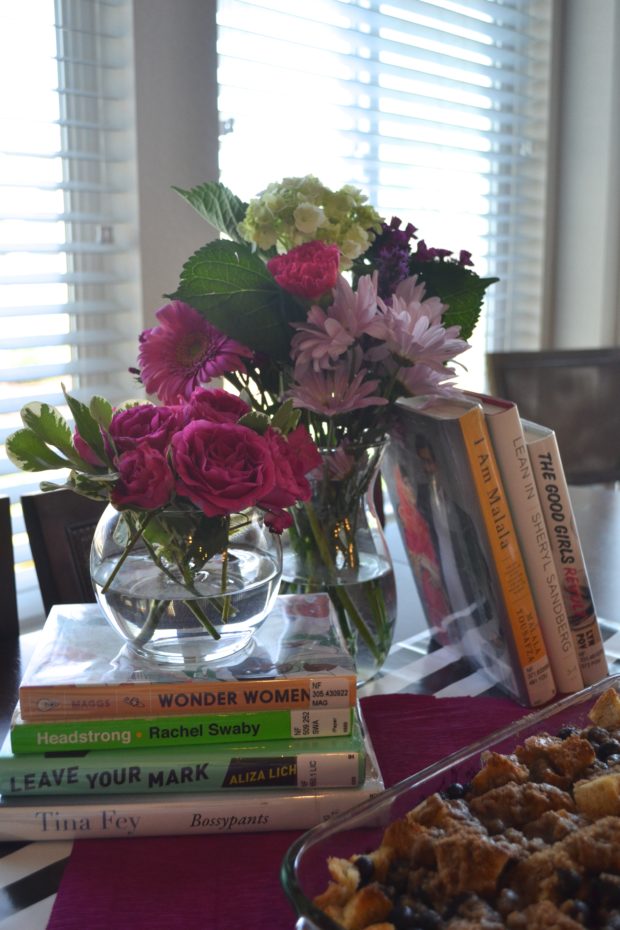 The tablescape centerpiece is the perfect example of using flowers and women's books to set the theme. I used my favorite floral source, Costco, and was able to make four floral arrangements out of two bunches of flowers.  Two arrangements sat on top of female authored books with empowering messages.  I also used some #girlpower onesies for baby shower decor.  It became a great focal point while our guest of honor opened gifts.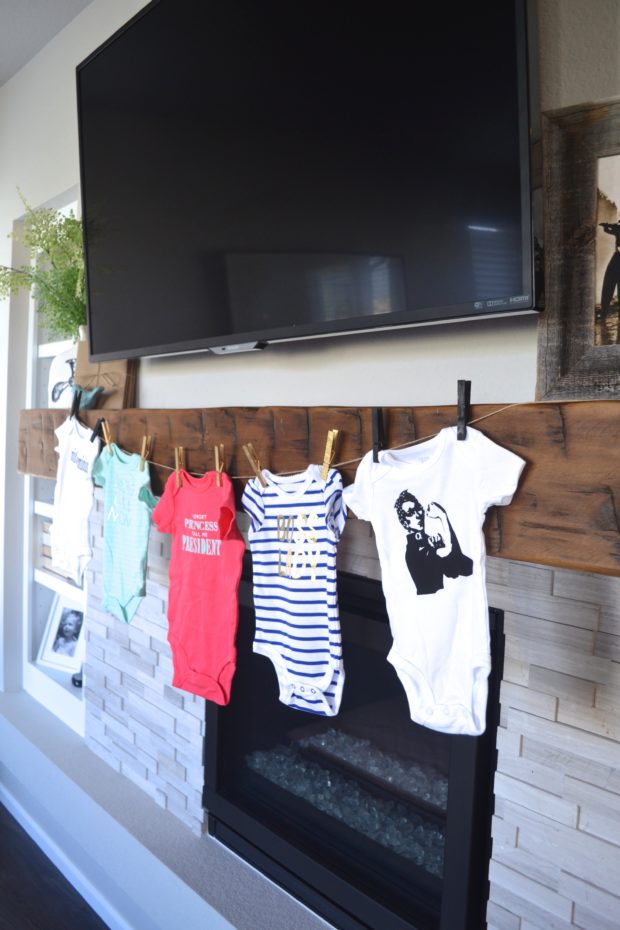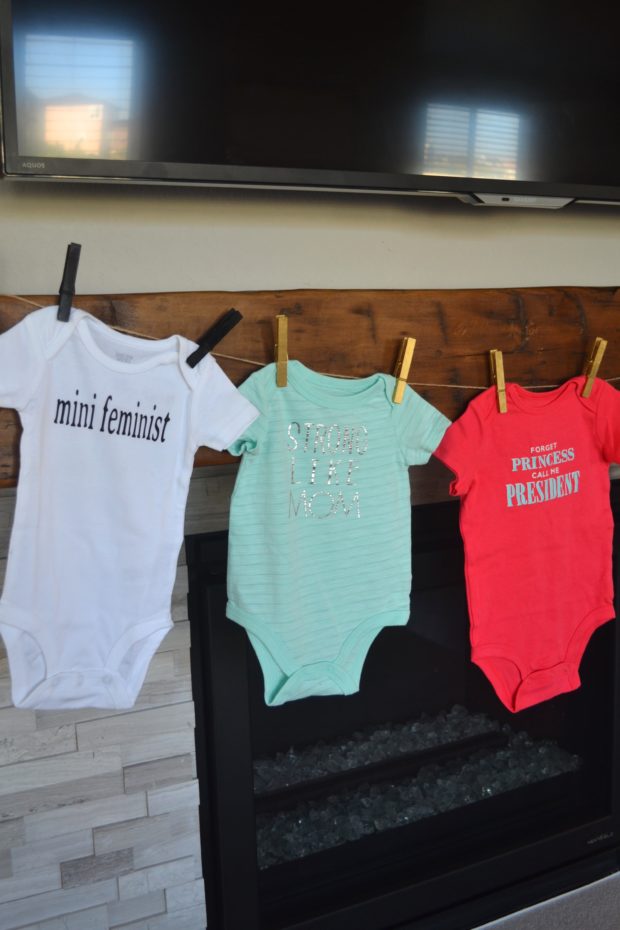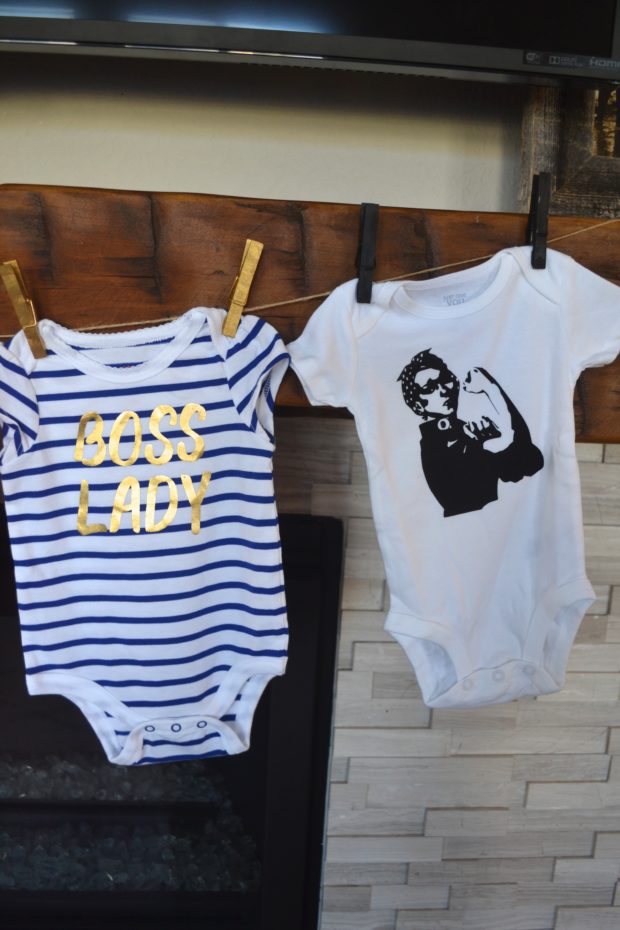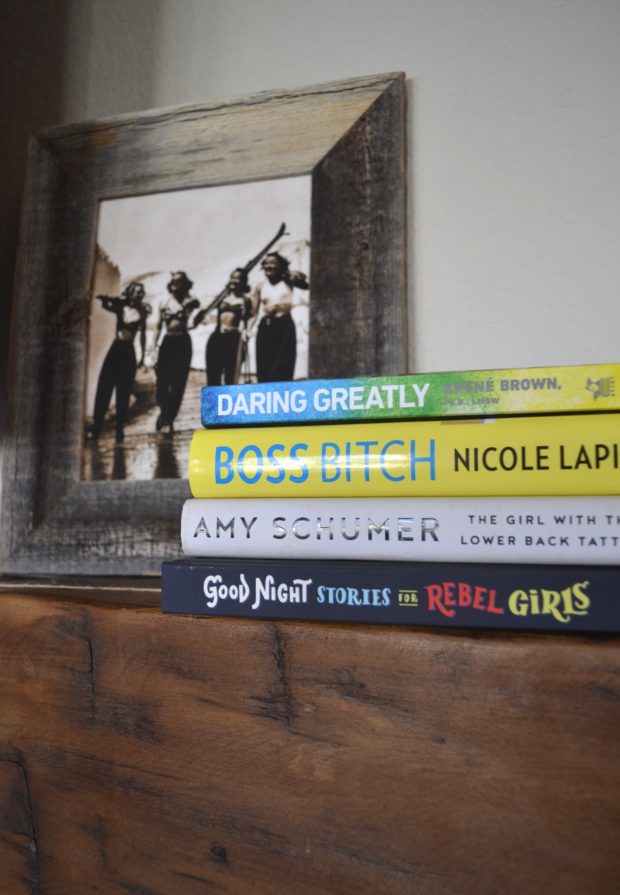 Here's the full backdrop and special chair for our guest of honor.  I will recommend that these large balloons are fun, but the weight of the tassel garland kept pulling the balloon down.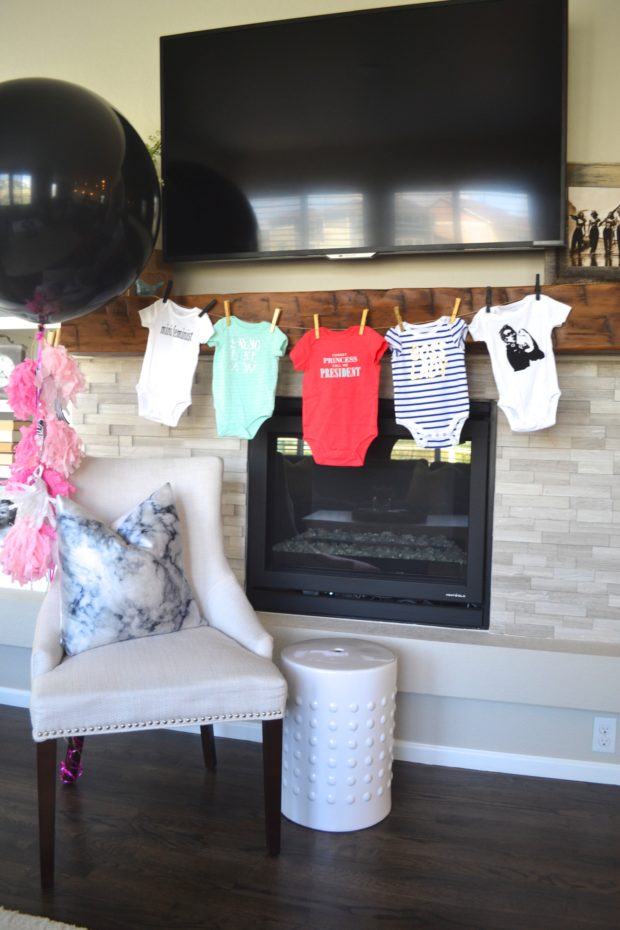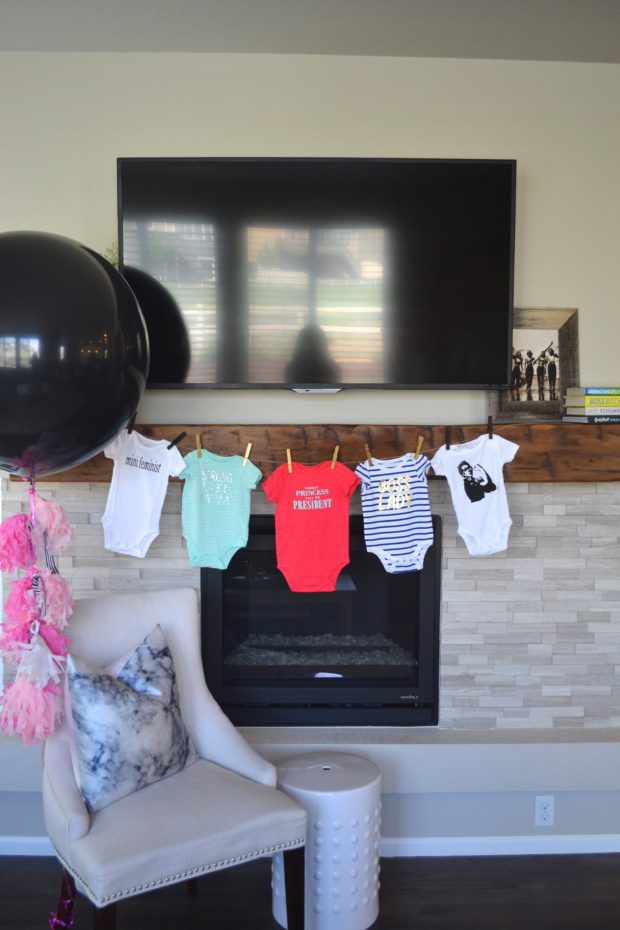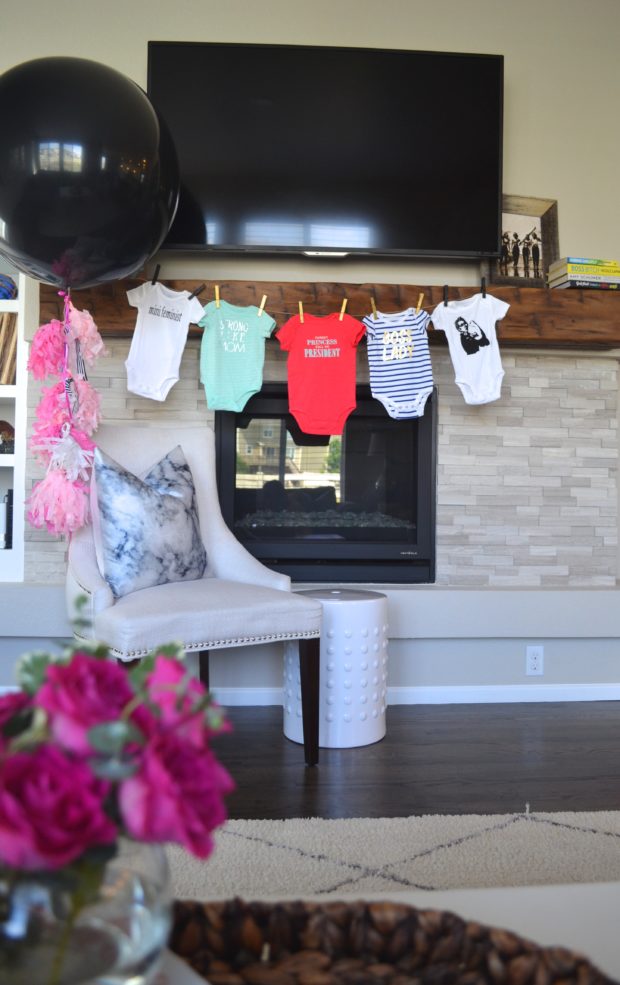 It's so easy to decorate for a party when you use things that you have from around your house.  This chair came from my husband's office and the garden stool from my master bedroom.  I challenge you to look around your house and think of things outside the box to use at your next party.
I set up a welcome station for guests' to write a note to the baby girl in a copy of Dr. Seuss Oh The Places You'll Go.  It was a great memory for the expectant mom to take home and I know the baby girl will love reading encouraging notes from her mom's friends about how capable and empowered she is.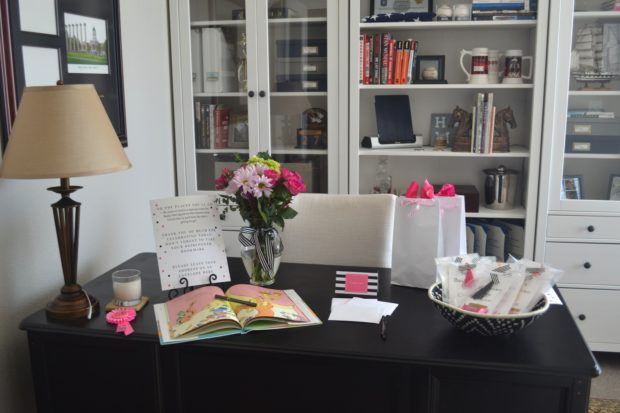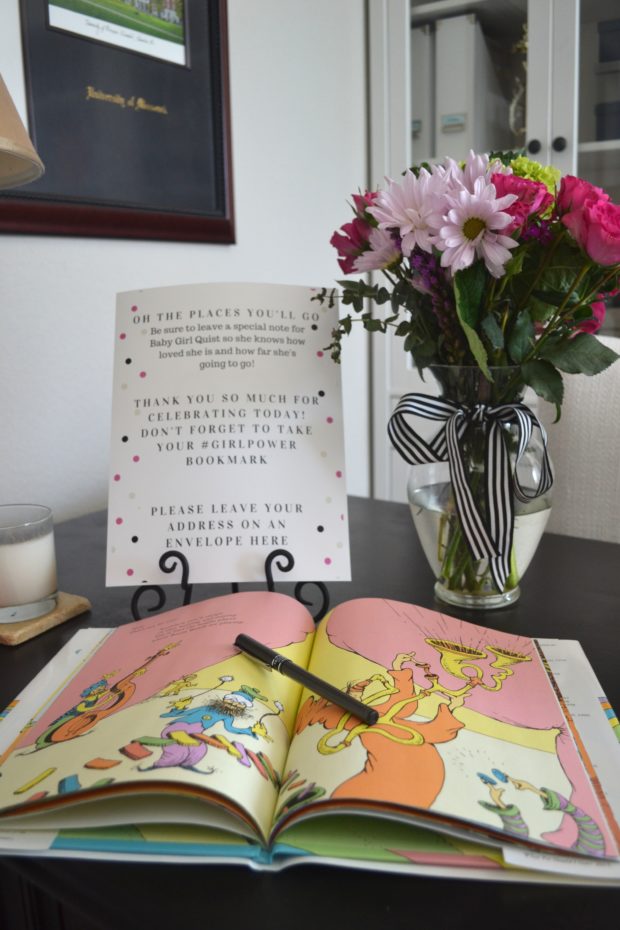 This was also a great place to set out party favors which were #girlpower themed bookmarks and chocolates.  The bookmarks said, "She Believed She Could So She Did."  I don't know a woman that doesn't love an inspirational quote and chocolate?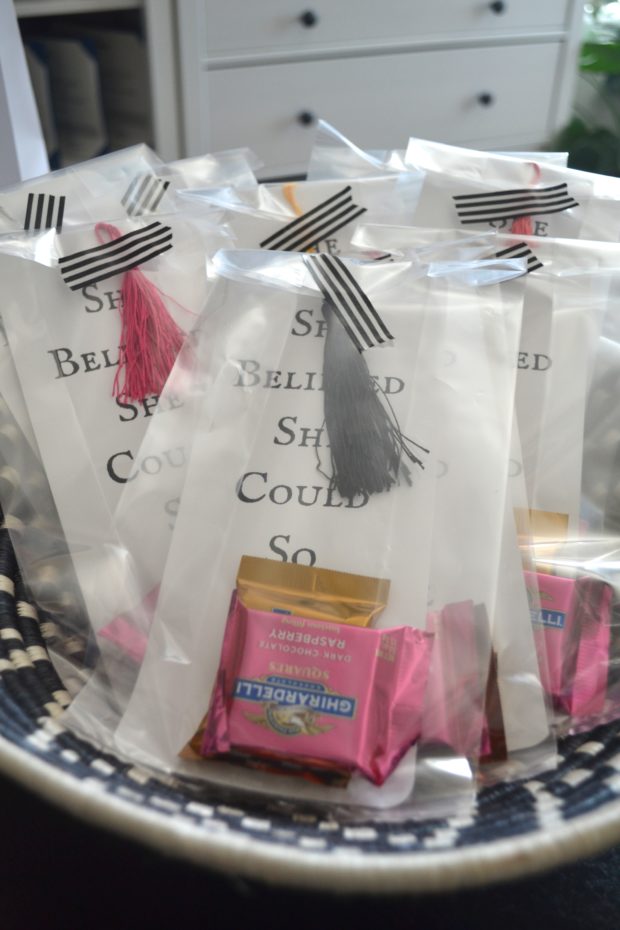 You can also see the balloon arch I made.  I made it for the baby shower, but it was the finale of balloon week here on the blog too.
#girlPower Baby Shower Menu
I stayed pretty true to a typical baby shower when it came to the menu.  The shower was hosted at brunch time, so there were typical brunch foods provided.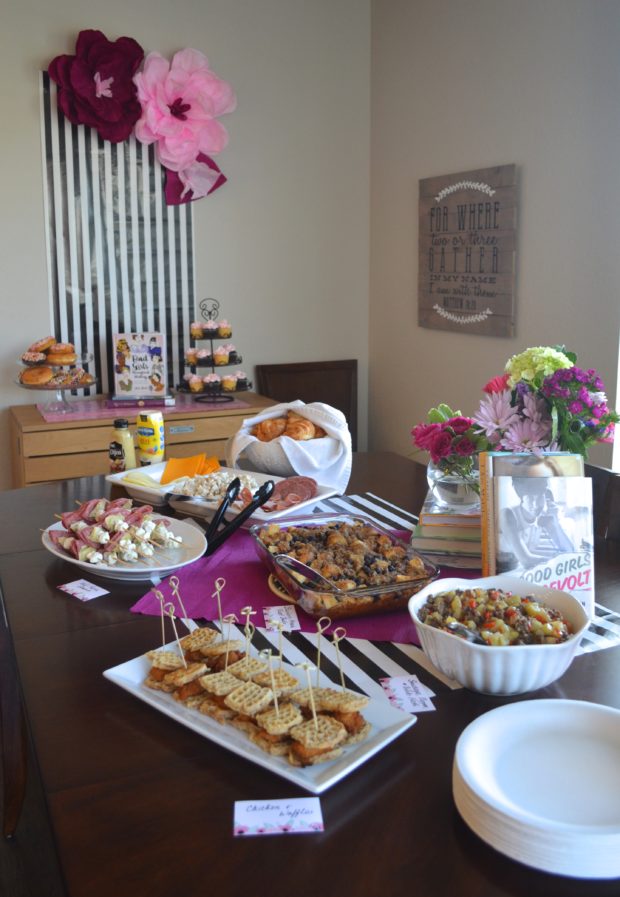 For the breakfast portion of brunch I made a french toast bake, sausage and pepper hash, and the cutest mini chicken and waffles.  Everything was delicious!
All you have to do to recreate these mini chicken and waffles is to use some frozen waffles that break apart and some chicken nuggets.  I used some nuggets from Chick-fil-A.  Just toast the waffles and pop the nuggets between two waffles.  Simple, cute, and yummy!
For the lunch part of brunch I set up a sandwich bar with lunchmeat and chicken salad.  I also made some anti-pasta skewers.  I highly recommend assembling the skewers a day in advance to save yourself time.  Or enlist the help of a friend, spouse, or child to help you make them.
#girlPower Dessert Bar
No party is complete without a dessert bar, am I right? I love using the bar in our dining room to set up a dessert bar.  It's the perfect size and the blank wall behind it allows me to make a large focal point.  The dessert bar was the perfect place to showcase the party's color scheme of black, white, and pink.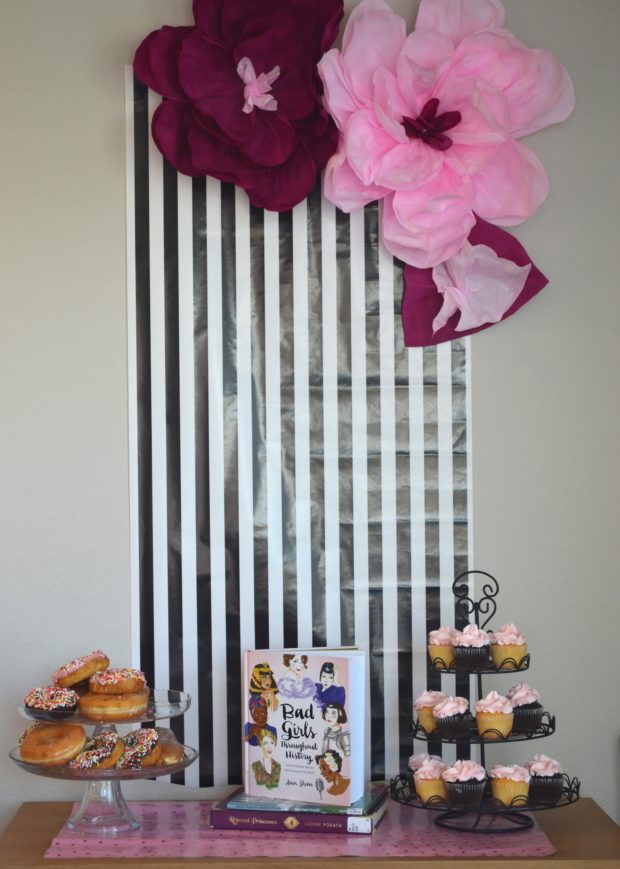 We had chocolate and vanilla cupcakes and I couldn't help but incorporate a donut tower since we were having brunch. I diyed the large crepe paper flowers and absolutely love how they turned out.  I used this tutorial to help me make them.  It didn't take too long and they make a big impact.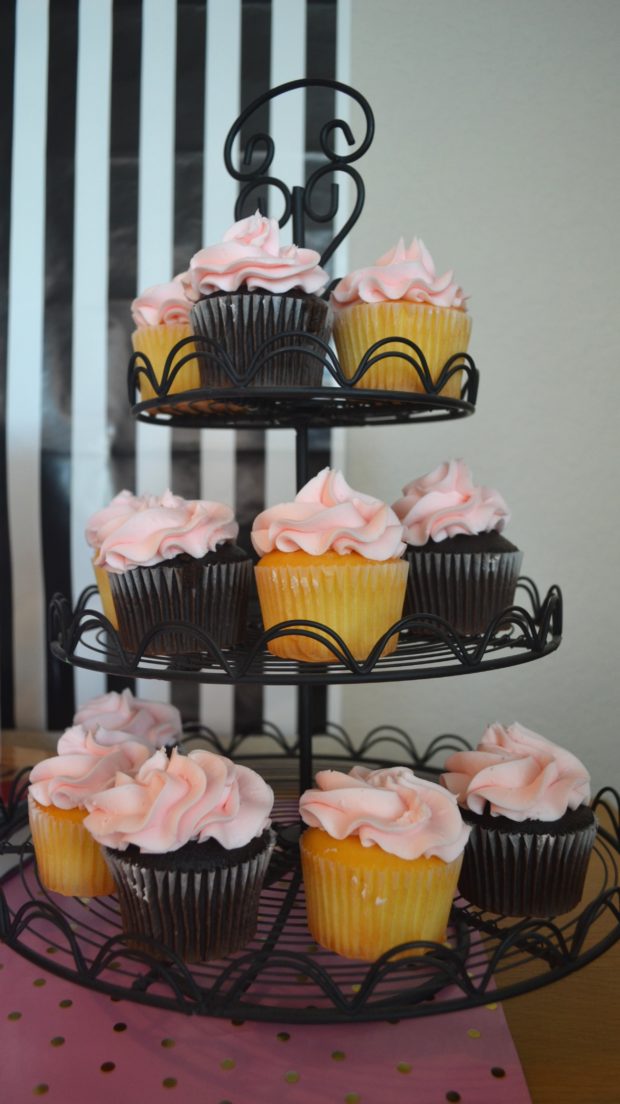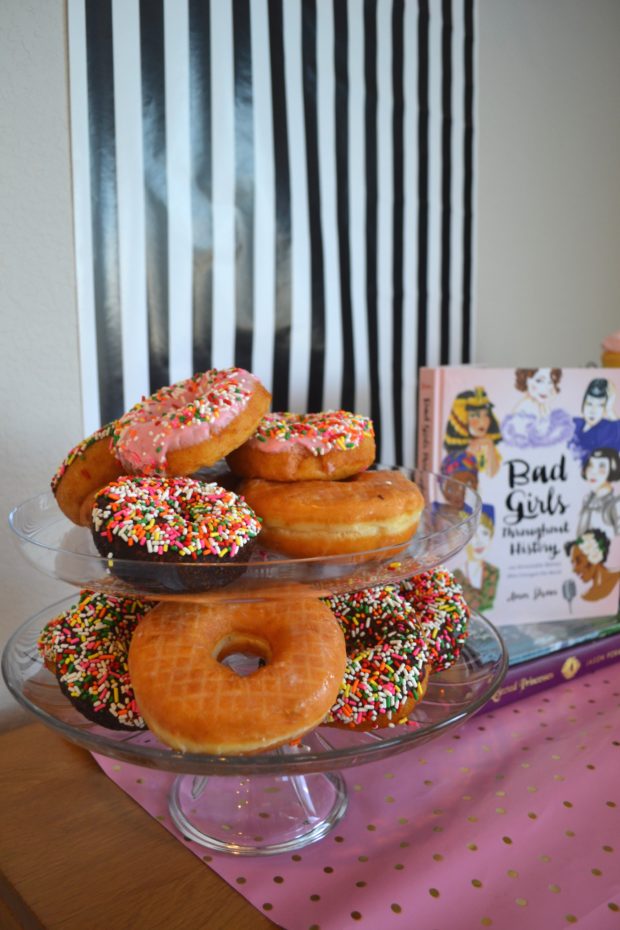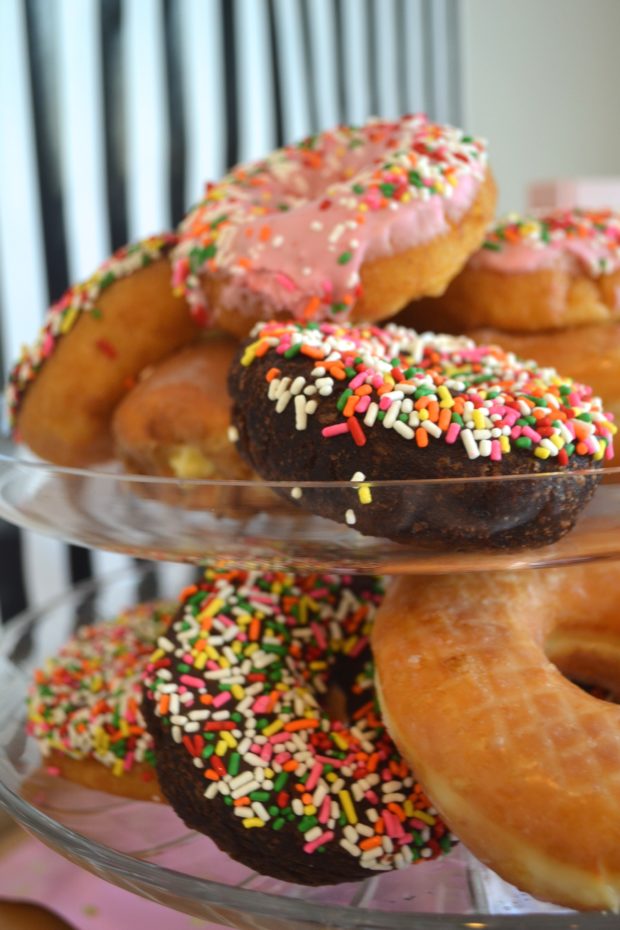 What I would give for one of those donuts right now!
I also set up a great little beverage station.  Too bad the majority of the drinks were alcoholic and almost everyone at the shower was pregnant!  Literally 7 out of 10 guest were pregnant!  That's crazy.  If you know someone that's pregnant, check out this post and send them a little care package.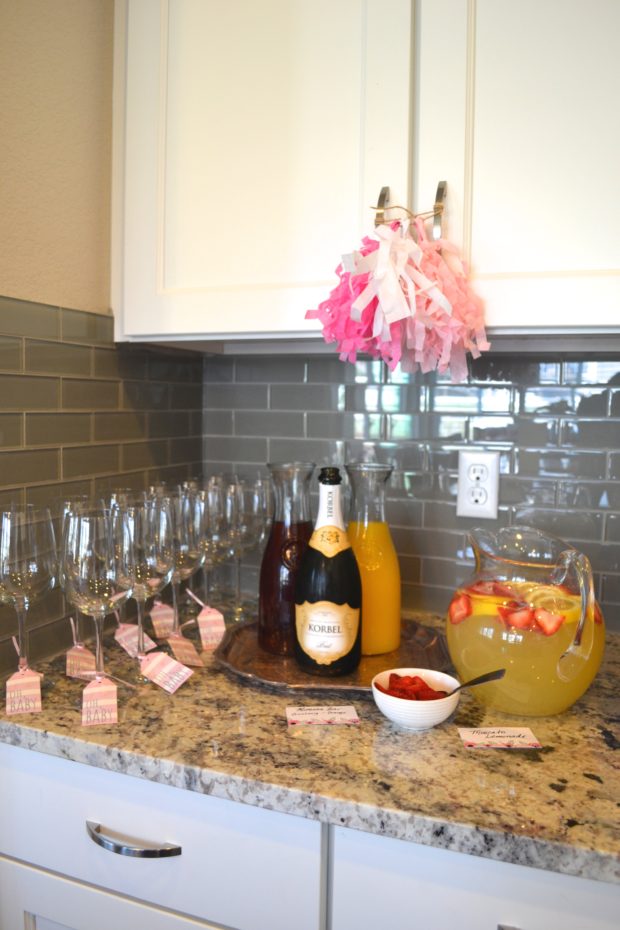 The Moscato lemonade I made was delicious!  I may have taken a sip, don't tell my doctor.  Get the recipe here.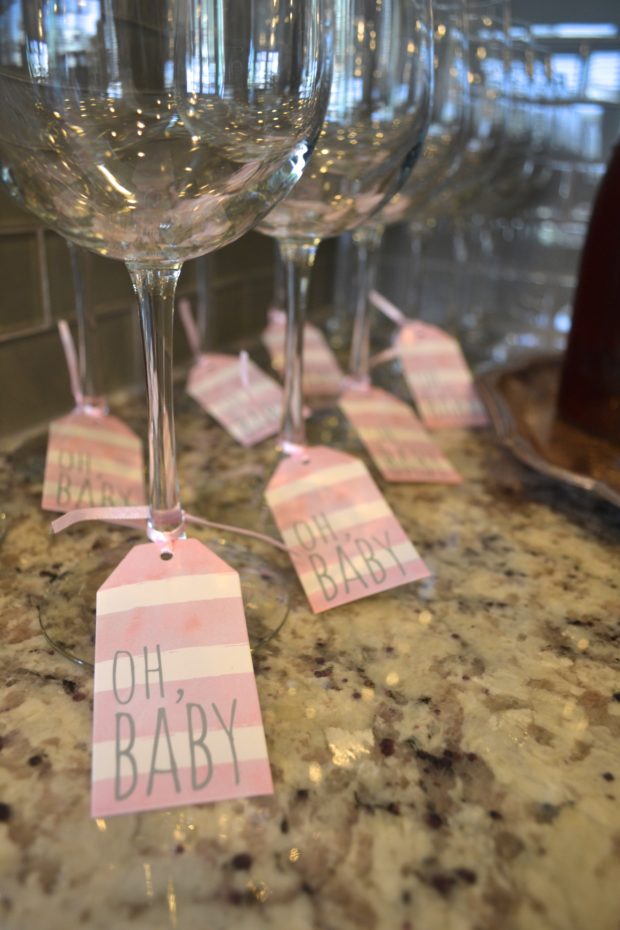 What was your favorite part of this party?  Did you like the somewhat unconventional theme?   I enjoyed picking out the empowering books used in this party.  

Have a happy weekend, and the next time you hear from me on the blog, I'll probably have a new baby myself!  Fingers crossed!