Congrats!  It's Friday and you made it to the weekend!  Today is another Party Color Scheme post.  I have been so hot being pregnant in the middle of summer, so thinking about the desert was natural for me.  This copper and green themed desert party color scheme is so great for this time of year.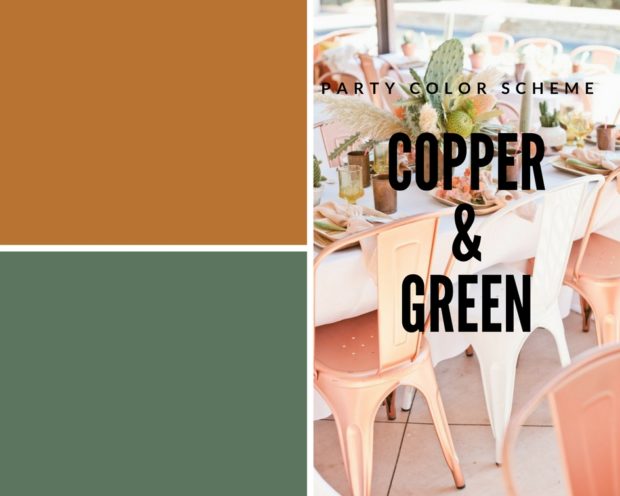 I've included an inspiration party and some ideas of how to incorporate the colors into whatever kind of party you're planning to throw.  This color scheme would work for so many things.  A dinner party, a birthday party, a baby shower, an end of summer party, or a business luncheon are all great ideas to incorporate these colors.
Copper and Green Party Inspiration
This desert cactus bridal shower is the image of perfection when incorporating the copper and green color scheme.  Be sure to click the link above and check out the entire party.  It's pretty amazing.  Those copper chairs are seriously swoonworthy.  I also love the floral arrangements and how even with using cacti they seem soft and pretty.
The key when using metal as the primary color in a color scheme is to mix various shades of the color.  The chairs, glassware, vases, and napkins are all in the copper family, but not exactly the same.
Here's another great way to incorporate this color scheme.  Do it in cake form!  This cake is so pretty dripping in copper frosting.
Just be sure to remove the cactus before biting into this beauty.
Copper and Green Party Decor and DIYs
If you're looking to incorporate these colors in a super simple decor DIY, try using this copper vase.  The tutorial is super easy, but it's so chic.  I'd venture to say you'd want to leave the vase out long after your party.
Make several of these in different sizes and group them together in the center of your table or run them the length of your table.   It will look awesome.  To bring in the green all you really need is some leafy branches, a great way to forgo getting flowers for your party.
This is the perfect idea to incorporate copper and green into your party favors.  Terra cotta pots work so well as the copper, add in some green ribbon or even a small cactus, and you're set.
You could even use terra cotta pots as your centerpiece and decor.
Now here are some resources to round out your party color scheme.  Simple ways to bring in the copper and green without being too over the top.  Try using these utensils, these straws, or these napkins.
If you want to recreate the look of copper chairs, but don't want to splurge on renting actual copper chairs, try a diy.  Use this ribbon and tie it to the back of your chairs.  Use the below picture for some inspiration.
Is this a color scheme you can see planning your next party around?  If so be sure to tag me on Instagram or Facebook with #thedailyhostess
I hope you have a great weekend and do something to beat the heat.  I'll be pulling together my husband's birthday party with a fun guy's only theme that you'll get to see next week so stay tuned for that.