Have you ever known exactly what you wanted your party invitation to look like, but just couldn't find the one?  I'm not a fan of those pre-made invitations at the store either.  You know the ones where you just enter the who, what, when, and where.
I've always felt that invitations were one of the most important parts of the party.  It's the first thing people see.  It tells the story of what the party is going to be like.  Not only through the words used, but the design of the invitation, colors used, and how it feels.
I've found a great resource within the past year or so that is excellent for making your own invitations.  I've been using it for a while, so I feel like I know how to use it really well and I want to share some tips and tricks with you.  The program is called Canva.  There is a free version which can accommodate pretty much everything you would need to do.  There is a paid version, but I haven't felt the need to use it (or pay for it) yet.  It's an online program with pre-made and do it yourself graphic designs.
Here are a few of the invitations I've made for my own parties and others using Canva.  I've blurred out some of the personal parts of the invitations.
Custom DIY Invitations
I love the variety of templates that Canva has to use.  Plus, it's really easy to customize the colors, fonts, and most other parts of the invitation.  Below is a quick tutorial on how to make your own custom invitations using Canva.  Just go to canva.com to get started.
Step 1-Find your invitation template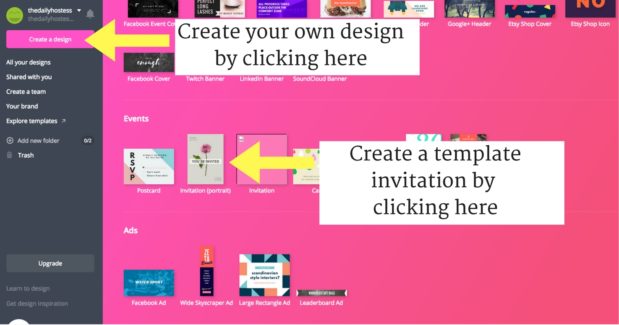 After going to canva.com, you can click on "create a design" to create a one of a kind design for anything you may need.  Canva specifically has invitation templates you can use by clicking on the invitation option under the "Events" section.
Step 2- Choose an invitation template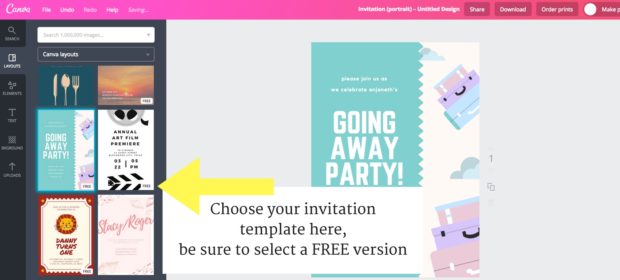 Scroll through the pre-made invitation templates to the left of your screen.  There are a ton of options for all kinds of parties and celebrations.  Just be sure to select an invitation that has the little "free" sign in the bottom right corner, otherwise you'll have to pay a small fee to download your invitation once you've completed it.
Step 3- Customize your invitation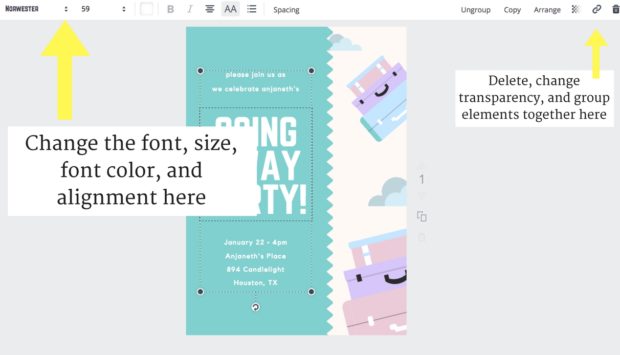 You can customize the invitation you chose by clicking on any of the elements within the invitation.  Feel free to change the font, font color, size, alignment, background colors, design colors, and position of most elements.
You can also delete anything by clicking the little trash can in the upper right hand corner.  Other options like grouping elements together, changing the transparency or moving elements in front or behind each other are available.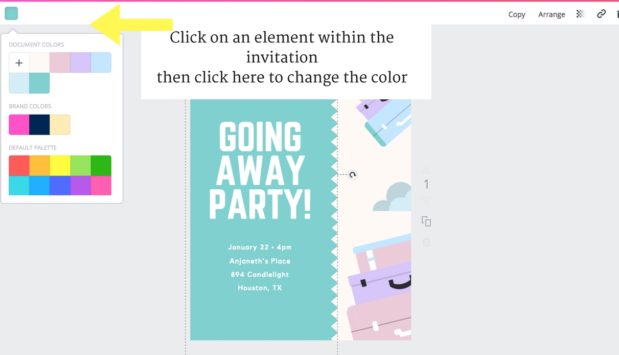 You can even create custom colors with hex codes by clicking on the "+" sign in the color section.
Step 4- Download your invitation
This program is super easy to use.  A little clicking around and you'll be making your own invitations in no time. Once you've created the exact invitation you want click on the download button.  Once it's downloaded you can print the invitations our at home or send them to a printer.  One trick I like to use is downloading the invitation as a JPG then having them printed at Costco.  Printing the invitations as pictures that are 5×7 is only a few cents per invitation.
Need Another Shortcut?
If you don't want to hassle with creating invitations yourself you can always ask me. I'll need a few details to start, then I'll give you an option of three different invitations to choose from.  Once you decide which invitation you like, I'll send it to you to download. All you have to do then is print them off at home or send them to a printer, stuff some envelopes, and send to your guests!
I'm excited to offer this new service and hope that it can help take some of the stress away from your party planning. I love playing around with invitations and am excited to make something beautiful for you!  Email thedailyhostess@gmail.com for pricing and invitation details.