Welcome back from Thanksgiving friends!  I hope you had a great day filled with family and food!  Now it's on to Christmas!
This time of year is so busy with holiday parties, seasonal to dos, and getting ready for Christmas.  So, if you have something else to celebrate, a birthday perhaps, but no time to prepare for it, today's post is just for you.  How would you like to learn how to make a party perfect banner in about 5 minutes or less?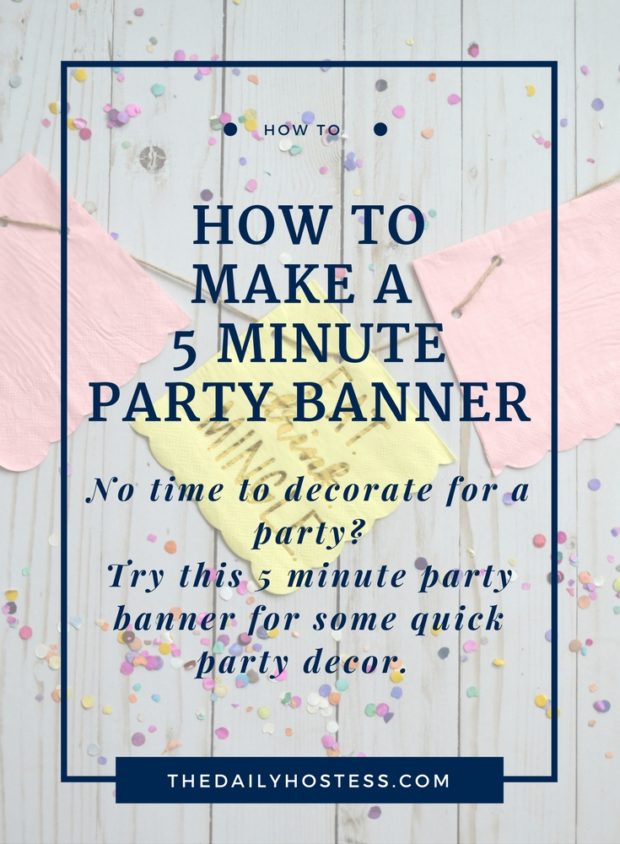 5 Minute Party Banner Supply List
It's so simple and you probably already have all of the materials on hand at home.  Here's what you'll need to make this 5 minute cocktail napkin party banner.
Cocktail Napkins
Twine
Hole Punch
Scissors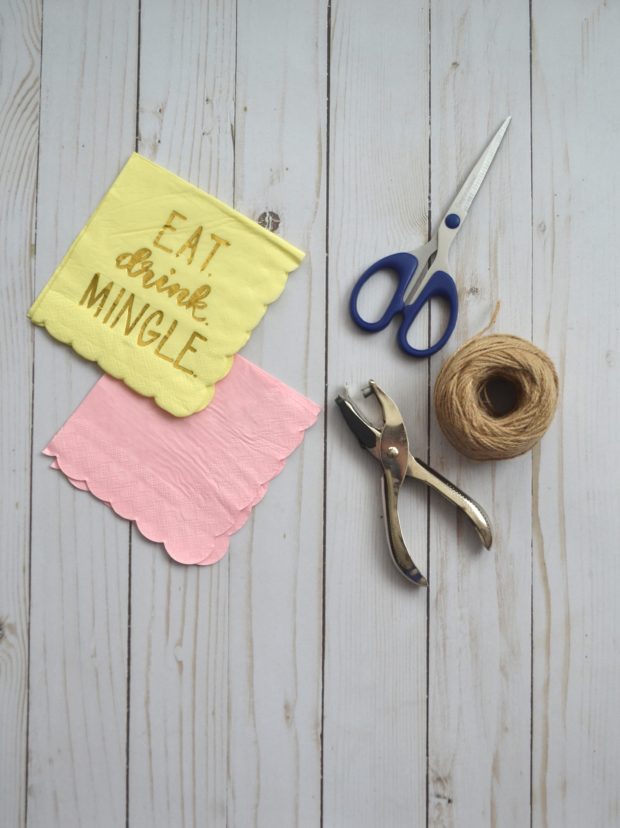 Try picking cocktail napkins that match your party.  Either use some in the color scheme of your party or with pictures, patterns, or words that go with your theme.  I love finding super cheap and fun cocktail napkins at places like Marshall's, TJ Maxx, and Homegoods.  They always get me in the check out line by putting the cute, inexpensive stuff there, so it usually ends up in my cart.
5 Minute Party Banner How To
First you'll need to punch holes in your cocktail napkins.  There are several ways to to this depending on how you want your napkins to "lay" when hung up.  I've done it at the corner and across the top to get different looks to the banner.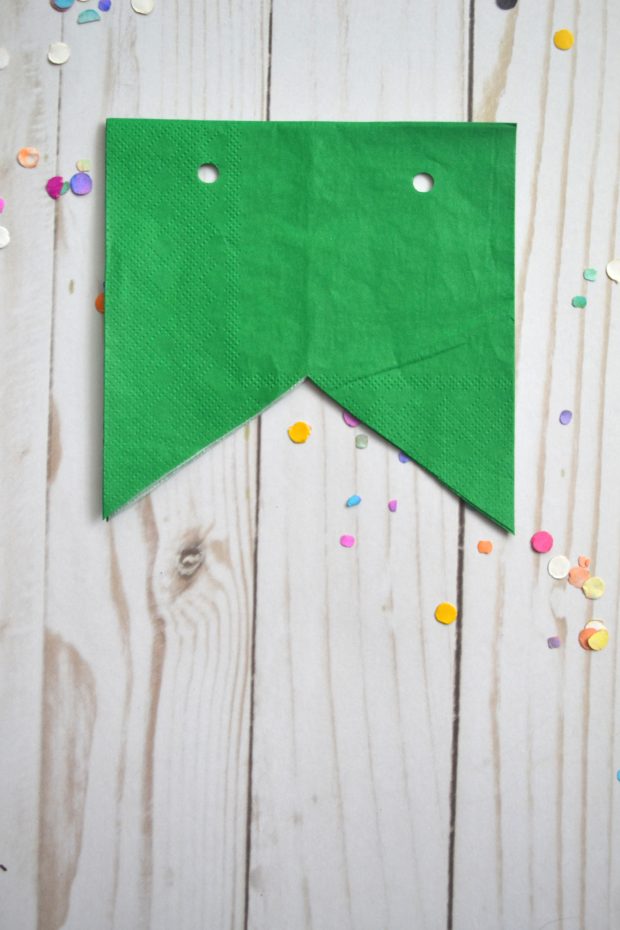 Next, you can cut the napkin to make it into a pennant shape if you want.  To make the green pennant above I folded the napkin in half and cut on the non-folded side.  I just cut a diagonal and it makes a symmetrical cut out on the bottom of the napkin.
Then, just string the napkins onto twine, string, or ribbon through the holes you punched out and hang up your banner!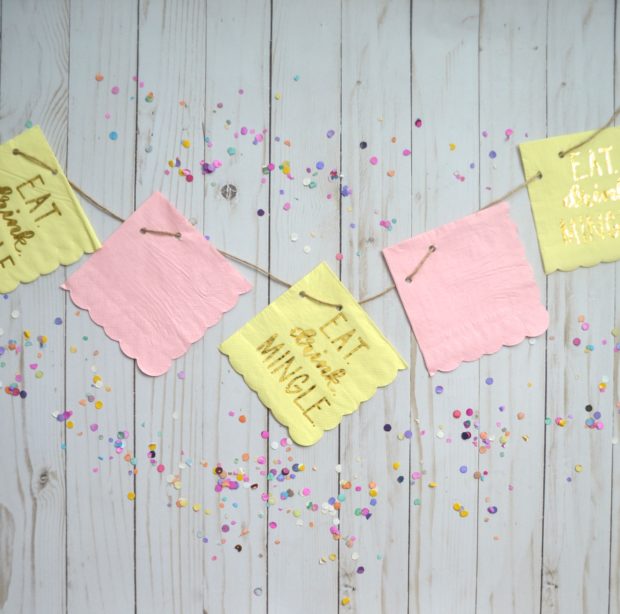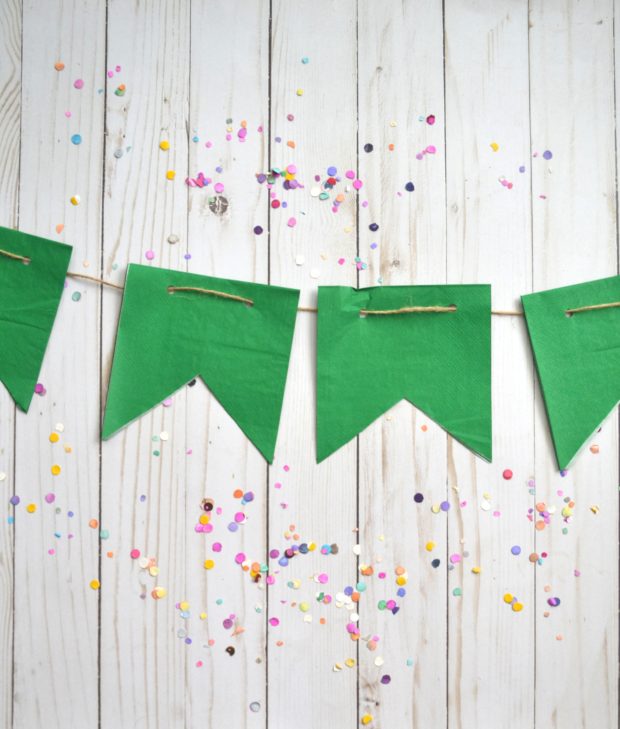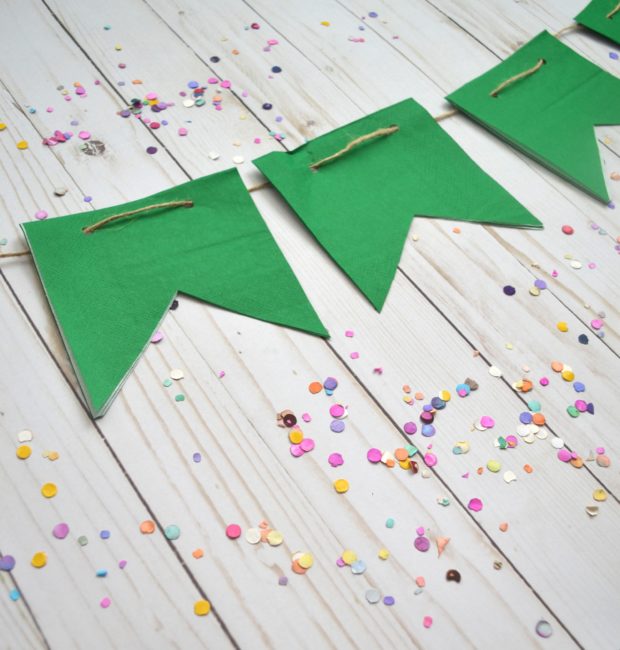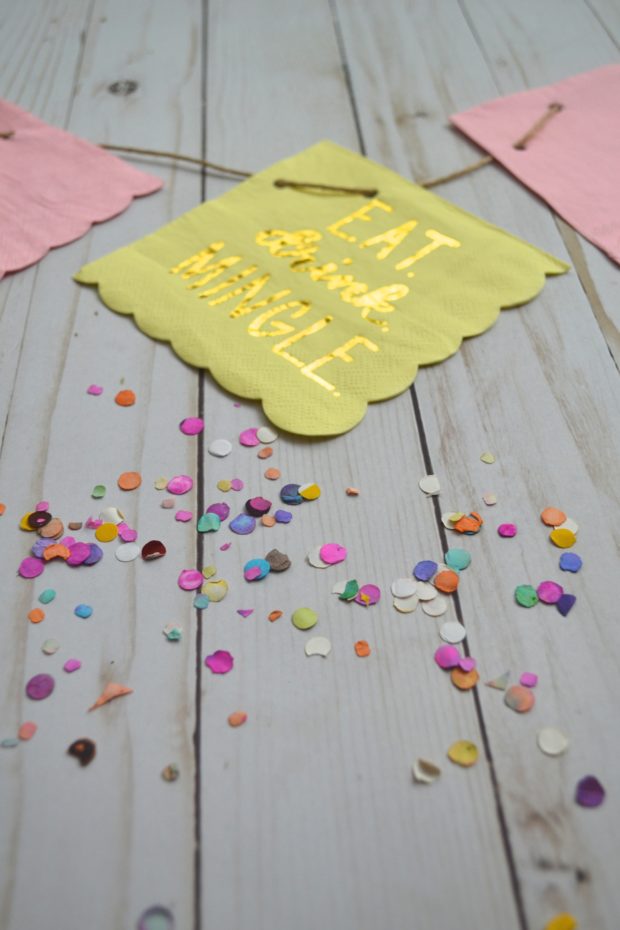 I promise this will only take you around 5 minutes to make a party banner that is about 5 feet long.  Super easy and quick, which is perfect this time of year when no one has any extra time.
Party Banner Ideas
This party banner is so versatile too!  Mix it up with different cocktail napkins, different colors, or fun sayings.  I'm loving those "Eat. Drink. Mingle" napkins!  It would be really fun to mix up the pattern of the napkins as well.  Alternate two or three different colors or patterns for your party.
Try using this quick banner to help someone celebrate all kinds of things.  Hang it in your teenagers car for their birthday.  Use it to decorate your co-workers cubicle when they do a great job at work or get a promotion.  Welcome home celebrations, a birthday party banner for Jesus on Christmas, the options are endless.
Use white cocktail napkins and have your party guests decorate each napkin with drawings, notes, or signatures.  Kind of like a party guest book.  This would be a great idea for a going away party, graduation party, or retirement party.  Instead of storing the napkins and notes after the party, just take a picture of each napkin note and compile the pictures into a photo book.
So many uses for this simple party decor.  Party banners are definitely one of the things that I think are essential for any party!