Hi everyone!  I hope you all had a great Memorial Day weekend and remembered those that gave the ultimate sacrifice for our freedoms.  Because Memorial Day is the unofficial start of summer and kids being out of school I wanted to help with some ideas to keep the kids entertained all summer long.  So I rounded up 13 weekly toddler crafts that are perfect to try this summer.
More time during the summer means more time to celebrate the season and do things you maybe wouldn't normally do during the school year. I definitely am not thinking about crafting with my toddler throughout the school year, are you?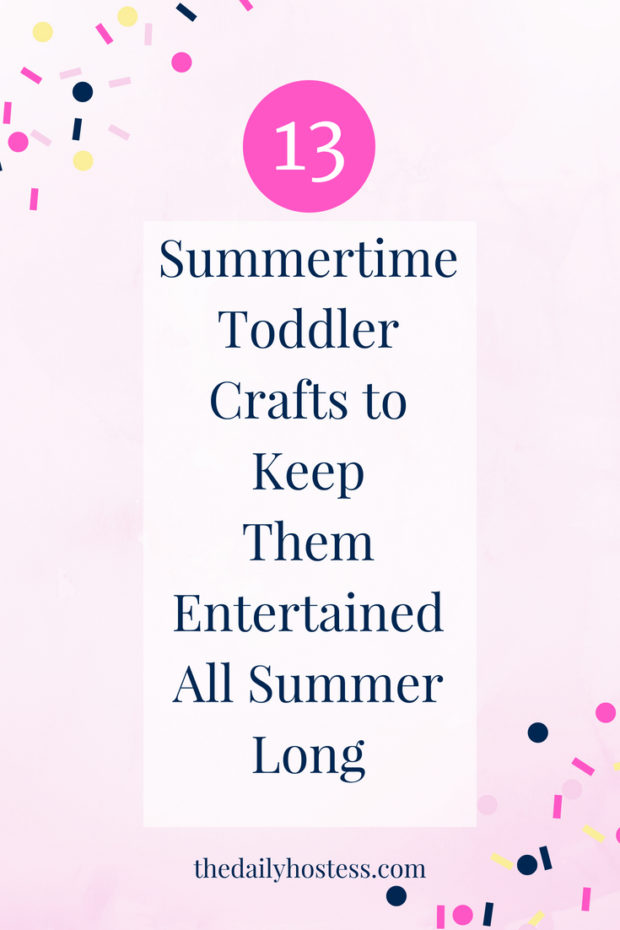 While I only have a toddler and baby, my toddler still gets bored throughout the day. Without a plan, I have no ideas on how to entertain her.  There is only so much coloring she can do right?
So I decided to make a plan!  There are 13 weeks between her last week of preschool and the start of another school year.  I found 13 toddler crafts that will help to keep her occupied and give us some time to work on a project together.
I enlisted her help (and Pinterest) to find 13 toddler crafts that would be fun, age appropriate, maybe educational, and uses things we already have at home.
I definitely didn't want to have to go to the dollar store and buy a bunch of stuff in the hope that we may use it one time for one craft.  Although the dollar store is a great place to pick up some of the items needed for these crafts.
I figure I'll let her decide which craft she'd like to do each week and we'll figure out a day that makes sense to sit down and do it.  And full disclosure, we're already behind.  This is a no judgement mom zone, so if we don't get to them all that's totally fine.
Most are pretty easy and don't take too much time to set up or make.  Some will need supervision while others are a do what you want kind of thing (aka, go play while I get something else done!).
13 Weekly Toddler Crafts to Last All Summer
1. Paper Plate Ring Toss
Found at A Little Learning for Two, this one is a simple set up and hopefully a game that will entertain for longer than a few minutes. Plus, my toddler could always use some help with hand eye coordination, or just coordination in general.
2. Cupcake Liner Fish
Found at I Heart Craft Things, these fish are cute and a good way to use up random cupcake liners.  I love how they are layered to give the fish dimension.
3. Pouring Station
We've done this pouring station before and it makes for a great activity on a hot summer day.  Learning how to stop pouring before spilling is a skill we're still working on. Find it at Busy Toddler.
4. Painting with Pom Poms
We have so many pom poms, this will be a great way to use them up so I don't keep finding them all over the house!  Find out how to do it at Crafty Morning.
5. Shaving Cream Colors
My daughter has been into knowing what colors mixed together make, so this is the perfect, and even better, mess free, activity to learn color mixing.  Find it at Best Toys 4 Toddlers.
6. Firework Painting with Toilet Paper Rolls
We've actually done this project once before and it turned out super cute!  The perfect thing to do around the 4th of July. Find it at Happiness is Homemade.
7. Sticky Paper Mural
I'm excited to see if my infant can play along with this craft.  I did have to go out and buy some contact paper. It's a huge roll though so we'll get to do this activity again and again! Find it at I Can Teach My Child.
8. Paper Plate Masks
These will be fun when my daughter decides she's a scary bear, or a fast cheetah! Find it at Learn Create Love.
9. Ice Cream Math
Thought I'd throw in a purely educational craft also.  Find this one at Fun-a-Day.
10. Paper Bag Pinatas
To be honest, this craft may be more for me than it is my daughter because it just screams it's time to party.  But she'll get the candy once she breaks it open. Find it at Somewhat Simple.
11. Popsicle Stick Ballerinas
My daughter loves to do ballet so these little sticks are perfect to dance around with her. Find them at New Young Mum.
12. Paper Bag Jellyfish
Another paper bag craft because we already had those on hand! Find these jellyfish at No Time for Flashcards.
13. Handprint Color Mixing
Lastly, I included another color mixing craft, but this one is a lot more messy.  It uses multiple people to mix the colors, but I figure I'll just have my daughter put one paint on one and another on her other hand then mix the paint together between her hands. Find out how to do it at The Simplicity of Learning.
There you have it!  A round up of 13 fun crafts to do all summer long.  Celebrate those slower days and fill an afternoon with a project that may just teach you or your kids something!  Which will you do first?