It's Tablescape Tuesday!  One of my very favorite series around here.  It's a chance to show party centerpieces, dessert tables, styled coffee tables or gift tables.  Today I'm giving you three different fall coffee table ideas.  They range from simple to elaborate, and I hope you can get some inspiration from at least one of them.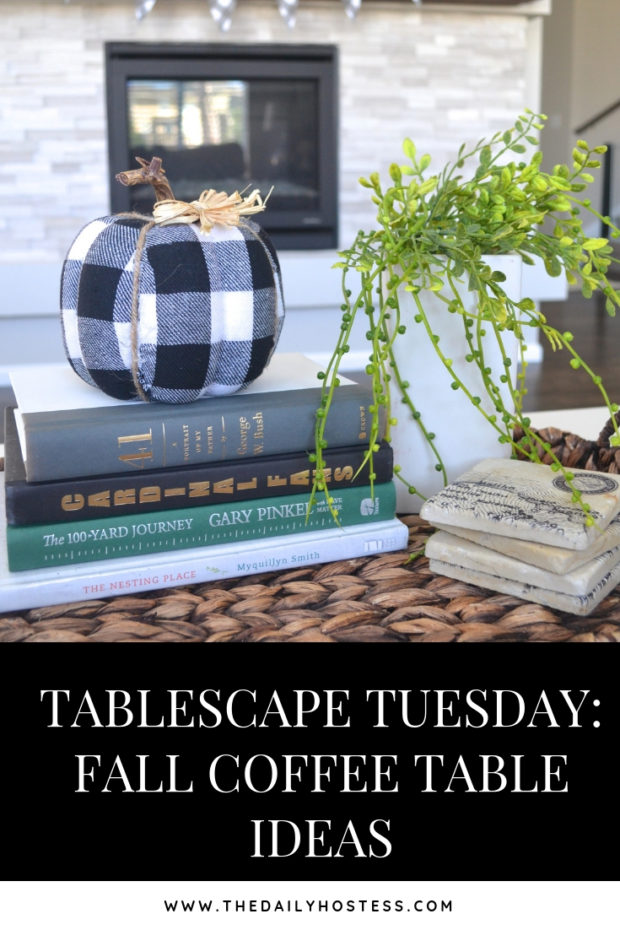 Simple Fall Coffee Table Ideas
I don't think you can get more basic and simple than by putting a few pumpkins on your coffee table.  I used these black and white buffalo check pumpkins in a group of three.  Simple, but their bold pattern makes a big statement.  I also think putting them in an odd numbered group like three or five makes a bigger impact.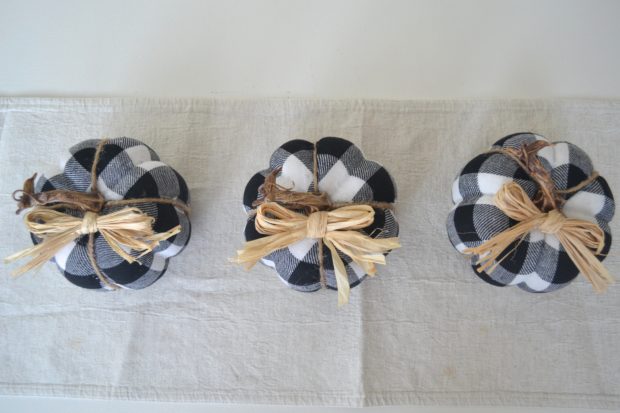 Easy Fall Coffee Table Idea
Next up is a coffee table tablescape that's a little more involved.  It uses things you probably already have on your coffee table though, so that's easy.
Just mix your typical books and coasters in with some more natural fall elements like pine cones.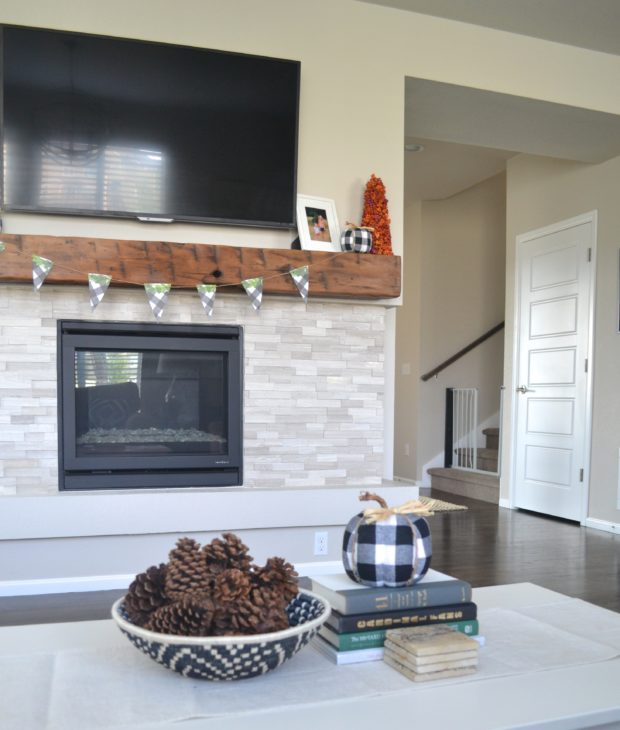 I used a black and white Ugandan made basket to tie into my fall color pallet of black and white.  I also removed the covers of the books to keep them more in line with my color scheme.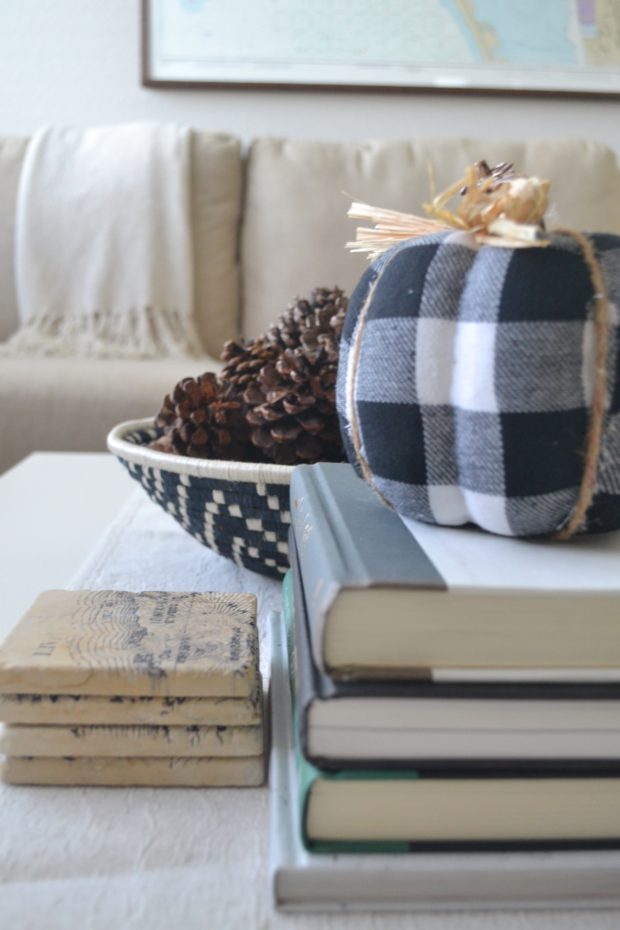 Another way to use natural elements is to collect twigs, branches, or even weeds to put into a vase on your coffee table.  It will bring the outside in and bonus points if they are fall colors!
Advanced Fall Coffee Table Idea
This last fall coffee table look is more advanced and involves using several different accessories.  Plus, it's a mix and match of the previous two looks.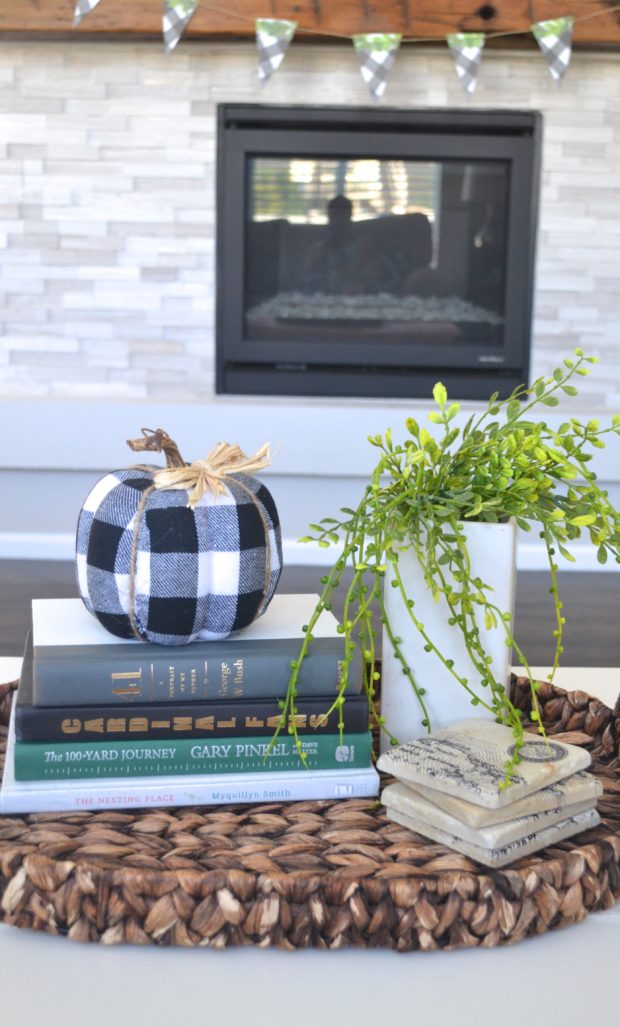 I took the same book stack with a pumpkin from the second look and added in some greenery.  With everything corralled on a whicker tray this fall coffee table look is all contained in one area.
I love the texture that the whicker tray provides and the life that the greenery gives. I do plan on switching out the greenery for some eucalyptus leaves a little further into the season.
Which is your favorite look?  Do you think any of them are too difficult for you to replicate?  Did you gain any inspiration from them?
It feels like because we have little kids people are always surprised we have a coffee table, let alone stuff on it.  But I think because I've never changed my decorating style since having kids, they are just used to it.  Neither of them bothers the things I have out.
That is until I change things up.  When I switch stuff out for the season the first couple days they tend to explore things a little more.  But then, like usual, they get used to it and lose interest.
What's typically on your coffee table?