Happy Friday!  Who is gearing up for alllllllll the Halloween parties this weekend?  We have several to go to, but it should be really fun for the kids, so I'm looking forward to that.  Now to finish (aka start) my son's Olaf costume.  His big sister is Elsa, so by default he gets to be Olaf.
If you wait until the last minute like I do for costumes, then you will love how fast all of these costumes are today.  Earlier this week I had you covered with a fast and easy appetizer and fast shipped party decorations.
Between all of these quick Halloween ideas, you'll be ready for the big day before you know it!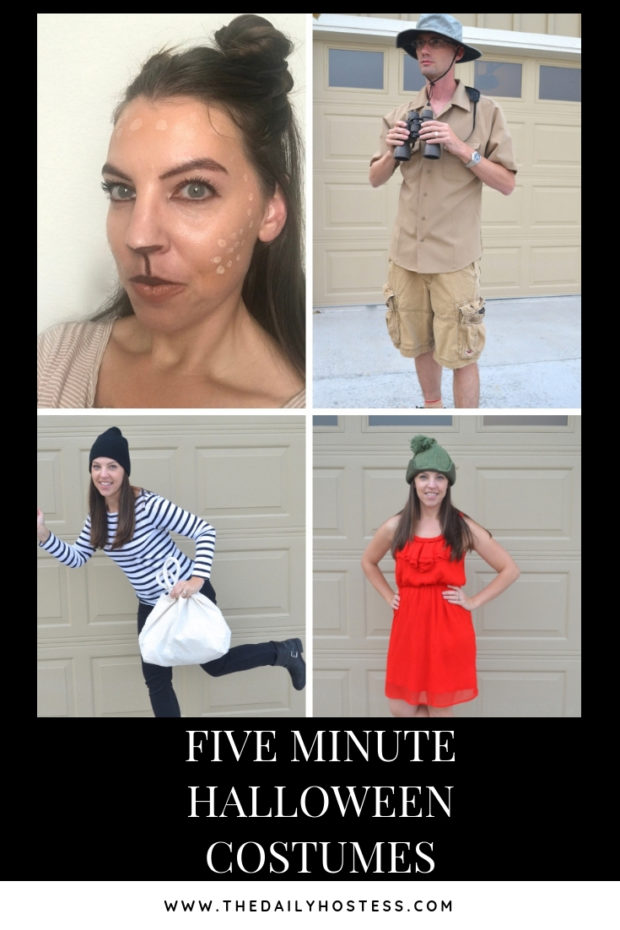 Five Minute Halloween Costumes
I have five different costumes for you today that are so simple there's no reason you wouldn't want to dress up this way.  Especially if you're not that into Halloween.
The best part of all of them is that I had all of these things already in my house.  And I'm sure you do too.
Striped Shirt + Black Pants + Hat = Robber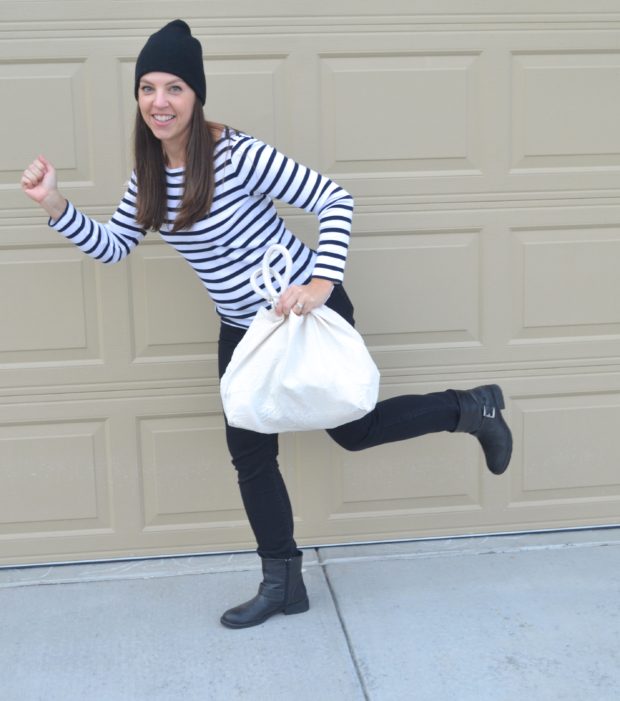 This one is super easy and is just putting clothes on.  Find some black or dark pants, add a striped shirt, and a stocking cap.
Bonus points if you can also use a bag stuffed with "money."  Just grab any bag from around your house and put random things in it.
Khaki Cargo Shorts + Khaki Shirt + Hat + Binoculars = Safari Guide
I even convinced my husband to get in on the quick costume train.
Again we just raided the closet for this safari guide look.  Find all khaki, tan, brown, or even olive green and dress head to toe in it.
Add boots and a safari hat.  Or any hat with a brim.
Bonus points if you have binoculars.  And if you don't just add a name tag with Steve Irwin and call it good.
Red Dress + Green Hat = Strawberry
I love this option because of how colorful it is.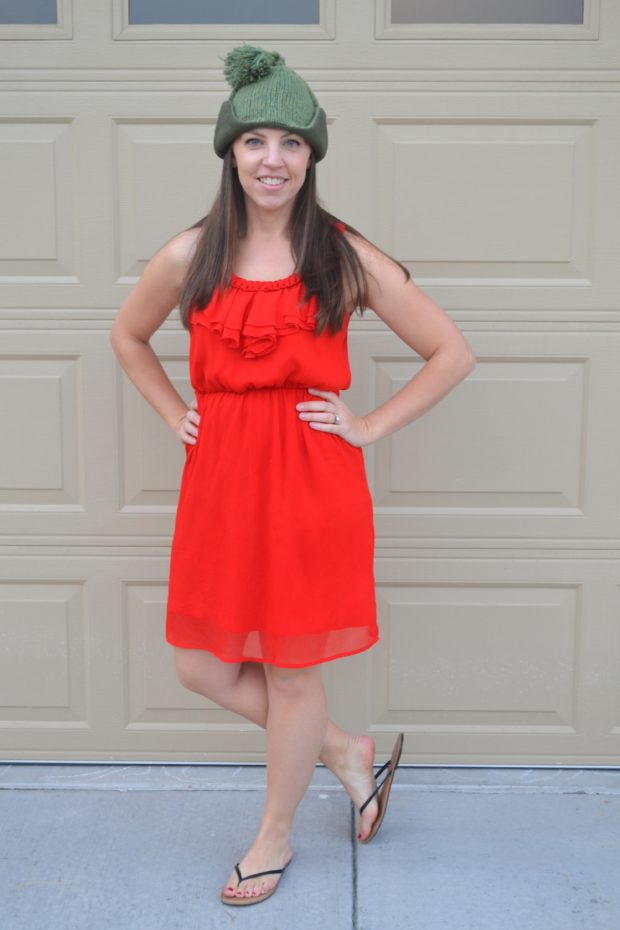 Super easy to just color block any kind of costume.
Wear all yellow and be a banana.
Wear all purple and be a grape or eggplant.
There are so many food options, haha!
Robe + Head Scarf + House Shoes = Old Person
This wins the award for most comfortable.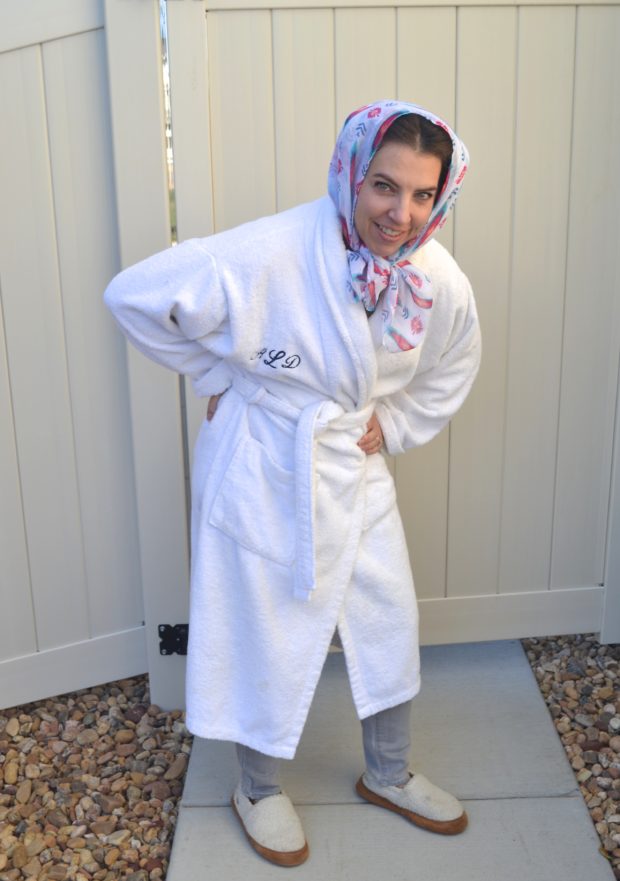 Throw a robe over whatever you have on, add some house shoes or slippers.
If you're a woman, adding a head scarf over our hair or curlers in your hair takes this to the next level.
Bonus points if you have a cane or glasses on a chain.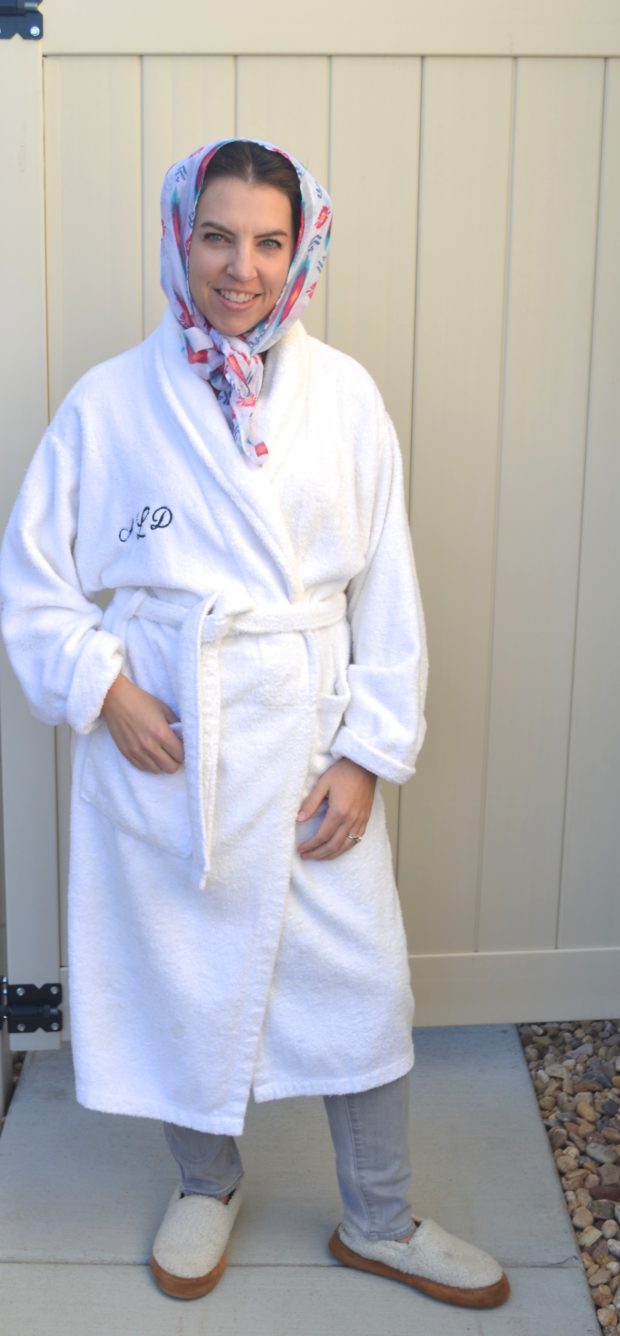 Radiant Defense + Tan Shirt + Antlers = Bambi
This may be one of the most fun costumes!  Who doesn't love Bambi?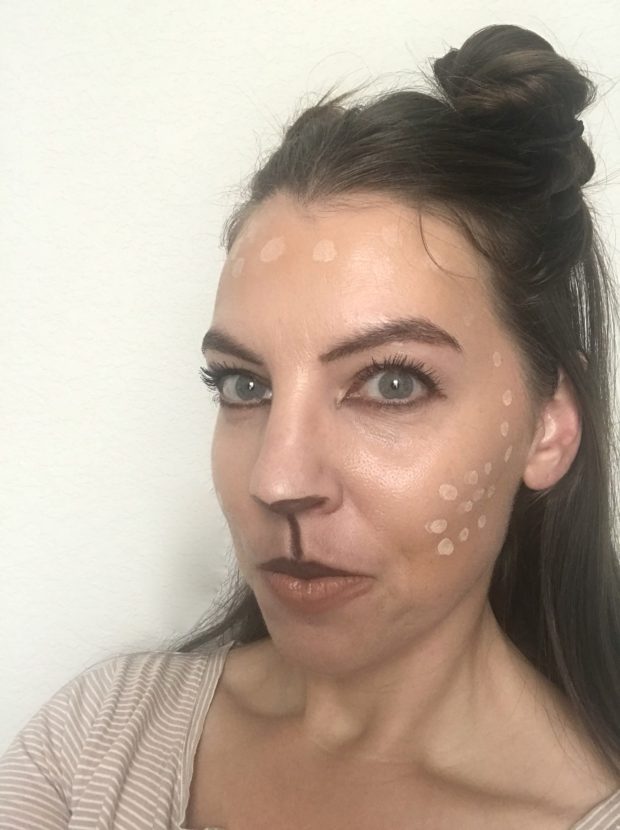 I used my company's newest product, Radiant Defense, to create a full face Bambi look.
I used multiple shades to create darker spots, and those cute light colored Bambi spots.  A little eye liner in particular areas created enhanced eyes and nose.
I added a tan shirt and if you have khaki pants, you're all set.
The concept of using make-up or products you already have to create a fun look is easy and focuses just on one area, your face.
What I love about Radiant Defense, besides that there are six shades to achieve multiple looks and they are super blendable, is that it's good for your skin.
It doesn't clog pores or cause breakouts, but actually improves skin.  Protecting your skin's moisture barrier from environmental aggressors, and has an SPF 30.
This is especially important to me when I put so much of it on my face to create this Bambi look.
You can get your own Radiant Defense here and figure out what shade is right for you here.
Although it may have taken just a bit longer than five minutes to do, it took less than five minutes to take it all off with these.
Five Minute Costume Key Points
Quick costumes when you're not feeling like dressing up or just aren't into Halloween boil down to two things.
Color blocking and focus.
You can create a ton of different costume ideas just by color-blocking.  Figure out what you want to be then pick the main colors of that idea.
Focusing on one area, like your face, or hair, or just your shirt will reduce the amount of time and thought that goes into a costume.
I hope some of these ideas are super helpful or inspirational for you to put a costume together quickly this weekend and next week.
Be sure to let me know what you're planning to dress up as this Halloween!

**Affiliate links are used in this post.  No purchase is necessary.  But if purchases are made, I make a small commission. Thanks for supporting The Daily Hostess