I'm back spreading more fall cheer today!  I think since I started this blog, I've always shared my fall front porch, so I couldn't let this year go by without doing it again.  So let's take a quick tour today!
You can see past fall front porch tours here and  here.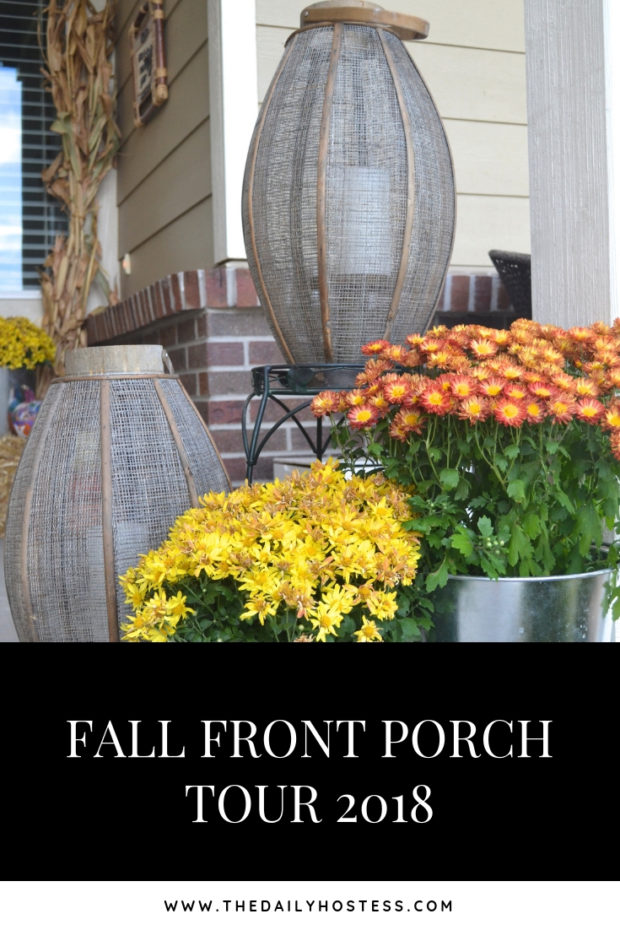 Even though I went more neutral and black and white in my house for fall this year, I couldn't help but add some fall colors to the front porch.
It's funny looking back on the last two years' front porches and seeing how things are similar, but colors have changed a bit.  I always seem to incorporate these lanterns into the fall front porch decor.
I love how neutral they are.  They add that rustic, brown element during the fall.  But they also work great in the summer time as a light addition to summer hues too.  I got them at Crate & Barrel years ago and can't seem to find anything similar to link to for you.  I'll keep checking though.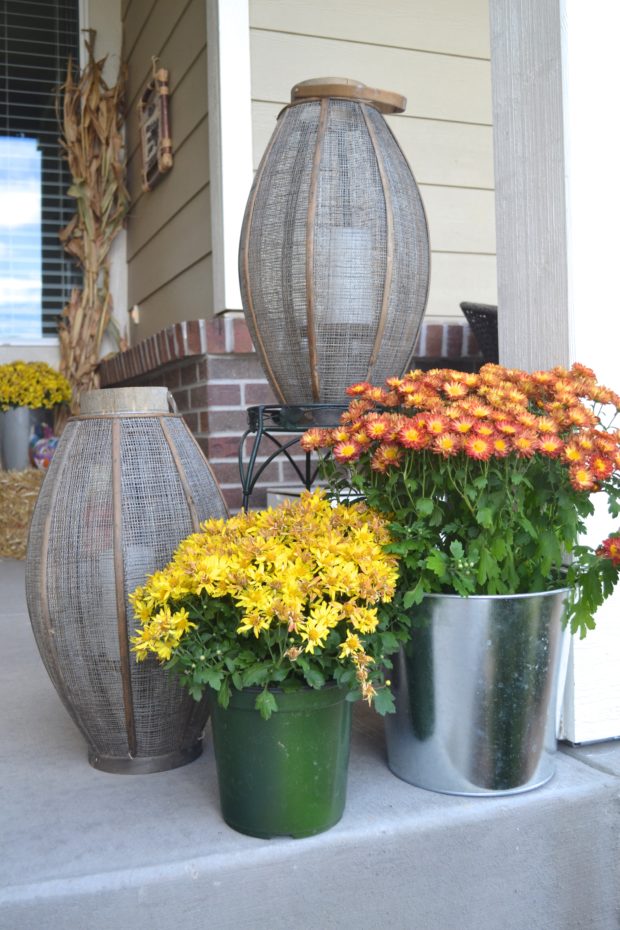 Mums are always a must for my fall front porch.  In years past they've been orange and purple, but we went with yellow and that burnt orange color this year.  Thankfully, I had a couple metal pails to use as pots to hide the plastic container the mums come in.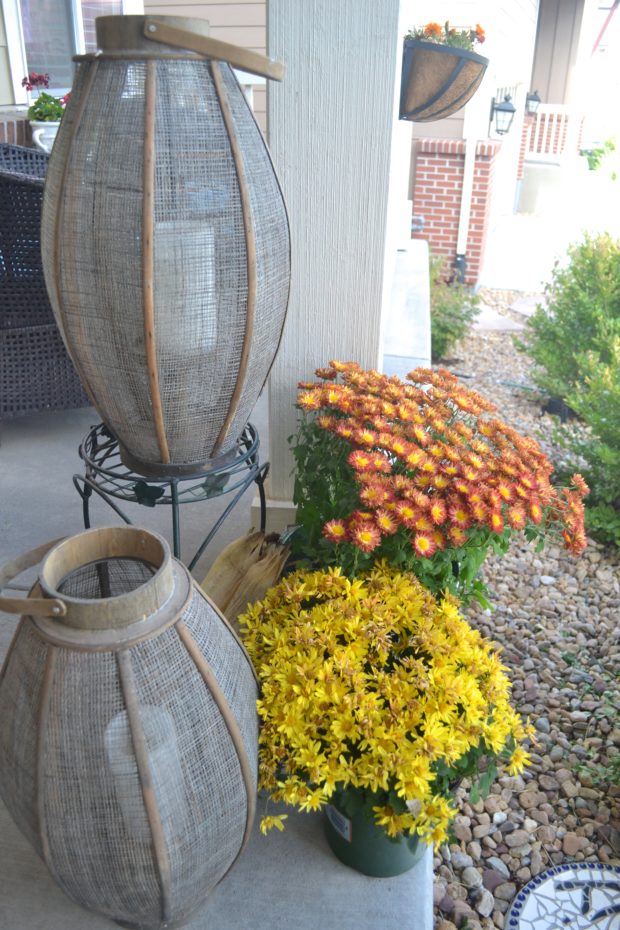 I also changed out the flowers in the railing pots.  Everything I planted there this summer basically died instantly.  So I'm hoping these orange marigolds last a little longer.
Side note, I would love to be an accomplished gardener when I get a little older (read more time when my kids aren't tiny).  I'm talking I want to be on the same level as Joanna Gaines and her garden house.  I want garden beds, potting tables, sinks, all the gardening tools, a chicken coop, flowers, flowering trellis'. I want it all.
But, I have a long way to go before achieving that considering I kill succulents (very hard to kill plants) like it's my job.  Maybe after doing some research, getting a gardening education, and some trial and error I'll be able to do it?  Do you have any gardening book suggestions?
This fall wreath always makes an appearance on my fall front porch too.  I like that it has a lot of different fall colors in it so it can go any direction I decide to lean each fall.
And let's just talk about those corn stalks.  I've been wanting to incorporate corn stalks on my porch for years.  But every time I go to the store they are sold out.  Last year, I went to three different stores to try and find them.  So when I saw them this year I snapped them up! Well, my husband did.  I didn't want to try and fit them in my car, but he was able to.
I also used some straw, but don't even want to tell my husband how much that little bale cost.  See, he comes from farming country where you can literally just go out to the field or barn and get a straw bale three times the size for free.  But living here in the suburbs, you have to pay for these things.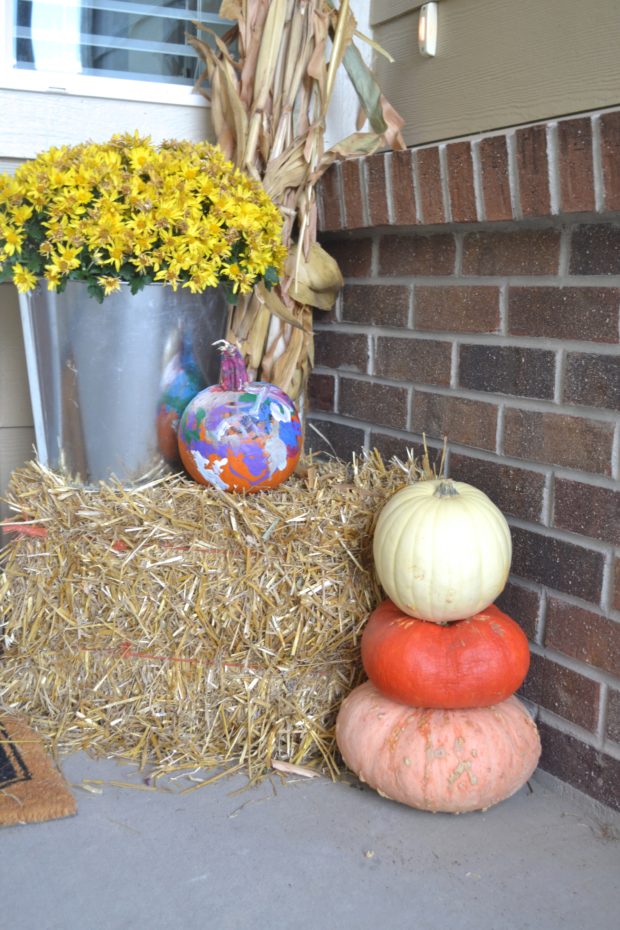 I'm so proud of my little pumpkin topiary!  All real pumpkins, and I used power tools to put them together!  I'm going to show you how on my Instagram stories.  So go there later today to check it out.  It turned out so cute!
My daughter also insisted that she get a pumpkin to paint when we were buying everything else for the front porch.  I think she did a great job mixing the colors.
Having kids has really taught me that it's ok not to have a perfect looking house, porch, car, etc.  And it's ok to incorporate their (usually primary colored things) into our decor.  It's great for them to see that we care and appreciate the things they make enough to display them.  Do you display your kids' creations or hide them away because they don't go with your decor?
That wraps up our front porch tour.  What was your favorite part?  Mine is the topiary!
I'll add a few spookier things right before Halloween to scare the trick or treaters!