There are just some things that are essential to fall like pumpkin spice lattes, bonfires, and boots.  But I think there are also some very essential fall entertaining items that are a must this time of year.  Here's a round up of eight things that will make any party feel more like fall.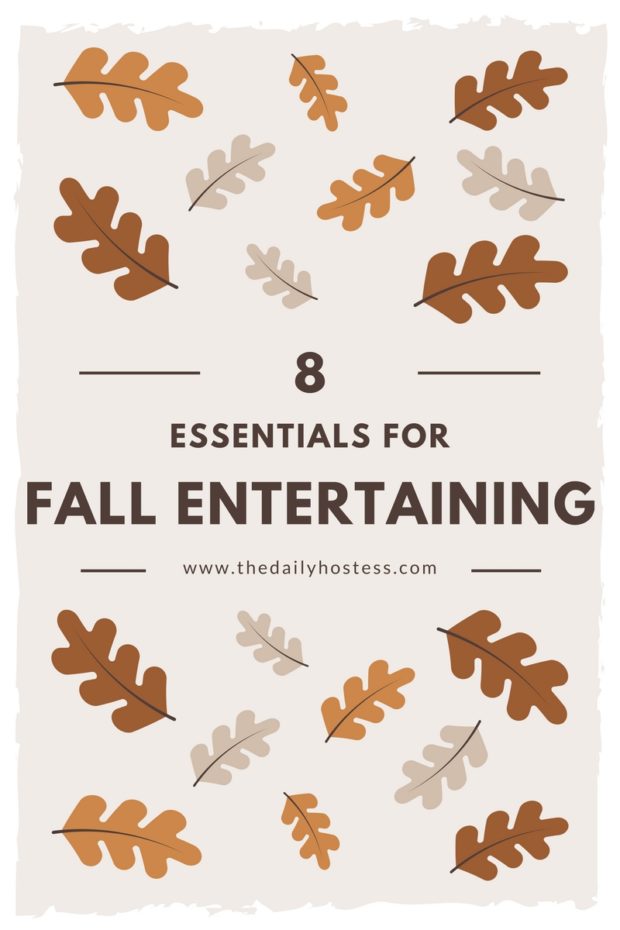 1. Copper Mugs
This is a great fall choice for drink ware.  You can use it for the classic moscow mule, hot chocolate, or apple cider.  Plus the copper color really goes with the season.
2. A great Fall Drink Recipe
Apples are all the rage this season so why not use them in a great drink recipe?  These two apple recipes are easy to throw together quickly for an impromptu fall party.  You just need two ingredients for this apple cider mimosa, and only a couple more to make this apple cider sangria.
3. S'mores
It's not fall without a fire.  Be it a bon fire, fire pit, or the fire on your stove, s'mores and fire just go together.  We absolutely love using our fire pit to make s'mores.  So much so that I have to have an endless supply of s'more ingredients stocked in the pantry.  It's a great activity to do with guests young and old.
4. Cozy Throws
Using throws around your house throughout the fall really amps up the coziness factor.  When entertaining try using them in unexpected ways.  Use a buffalo check throw as a photo backdrop, or a fury throw as a table cloth.  Using throws unpredictably makes your fall party so much cozier.
5. Adding in Wooden Bowls
Wooden bowls add a ton of warmth to any space, countertop, or coffee table.  Fall is all about warmth, so wooden bowls are perfect for this time of year.
Talk about loving this amazing wooden centerpiece bowl!  I have been wanting a long wooden bread bowl, and this fits the bill perfectly.  Try using it in the middle of a table as a centerpiece.  How great would it look filled with gourds, pumpkins, and apples for a modern cornicopia look?  I also found some at Ballard Designs that I might like even better!
Love the gold details on this wooden bowl from target.
6. Seasonal Scented Candles
Who doesn't love the smell of a great candle burning?  It can make your whole home smell like you just baked a pumpkin pie!
The design of this candle from Anthropologie really amps up the feel of fall with not only the smell, but also the look of the candle.
7. A Great Chili Recipe
This time of year is perfect for a nice warm bowl of chili.  You have to have a go to chili recipe and I highly recommend this one.  I made it last week while doing Whole 30 and ate it for breakfast, lunch, and dinner!
8. A Fall Wreath
Lastly, a fall wreath is very necessary and versatile.  Try using it for a backdrop to your fall dessert buffet instead of just on your front door.  One year, I even used our fall wreath as a centerpiece on our dining table.  Here are several that scream fall.
World Market also has live wreaths which I'm sure smell lovely.
That's it for my Fall Entertaining Essentials, what are yours?  Do you have something that you just have to have during fall?  Or something to do during fall?  Share it below in the comments!