As you all know, we're moving, really soon, like next week soon!  Agghhhh!  Cue the freaking out!  Before we leave, we wanted to celebrate one last time with all the friends we've made over the past five years.  Moving is also a great excuse to clean out your refrigerator, liquor cabinet, and party supplies while partying with your friends.  Because we were trying to get rid of a lot of stuff, there wasn't a particular theme to this party other than hodge podge, with a little Dr. Seuss thrown in, you'll see what I mean shortly.
To plan for this party, I could have used this little tool, or this one, but it was pretty easy to know what we wanted to do.  After talking to my husband we decided to cater most of our food so we didn't have to worry about cooking anything and could use the time to enjoy with our friends.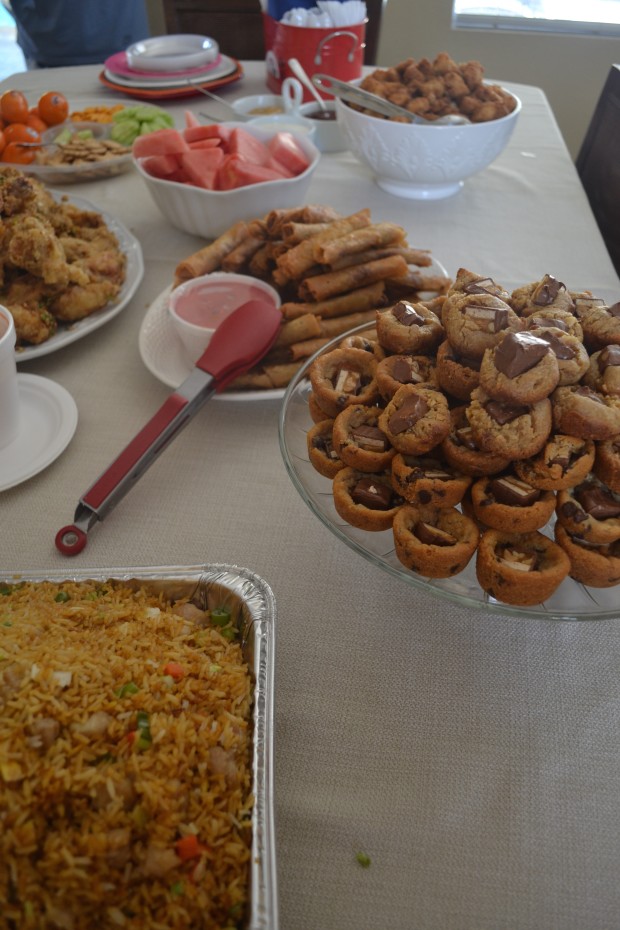 If you're ever in San Diego, you must go to basically any Chinese restaurant and get salt and pepper wings, their also known as "crack wings" because you literally can't stop eating them.  They aren't healthy at all, but they are so delicious!  Our buffet was a mix of Asian food, fried rice and lumpia, and also toddler friendly food like chicken nuggets and animal crackers.  My how parties change after having kids.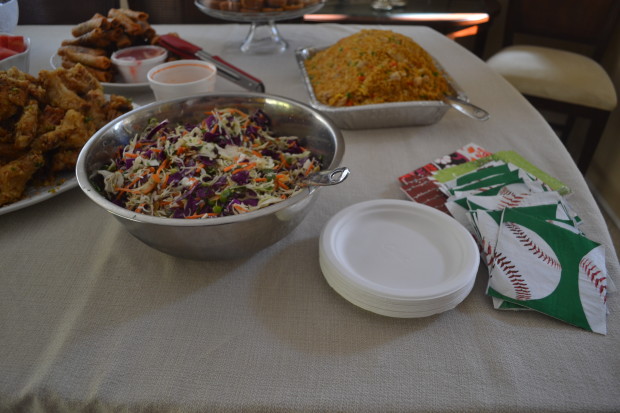 I did make an Asian Slaw using this recipe that turned out really good, and it added some much needed color to our table.  You can see that we were cleaning out party supplies because there is a slew of random napkins and plates being used.  Baseball, Christmas, and a multitude of other colors.

When you're using a large buffet table be sure to places napkins and plates at both ends of the table so people can get to everything and there isn't a back up of people waiting to get a plate.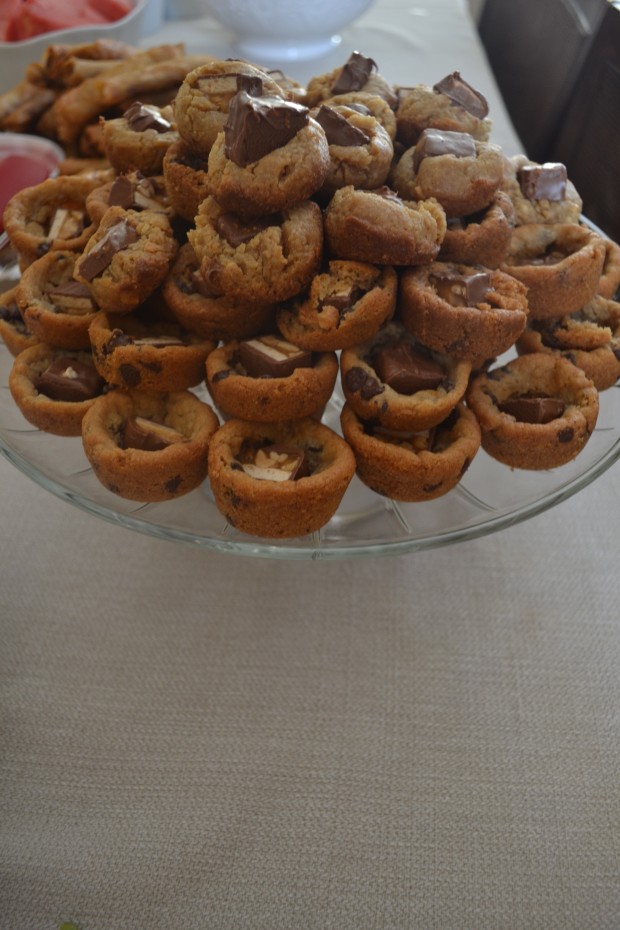 These candy cookie cups were a huge hit!  There weren't any left at the end of the party.  I used this recipe to make them, but didn't add the frosting because I just didn't feel like putting that much effort into them, but they were still really tasty.  Two rolls of cookie dough made a ton of them, around 60.  They are also the perfect size, about two bites, which was a great little treat after all of the salty wings we were eating.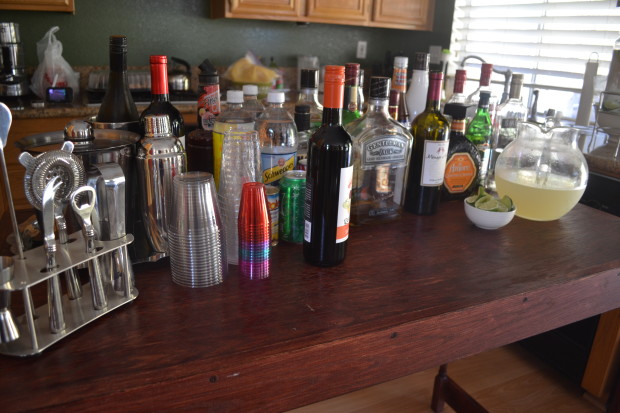 We are lucky enough to have a moving company do all of our packing for us, but they won't pack opened liquids, which makes sense because who wants soy sauce spilled on everything and leaking through a box?  Anyway, in order to get rid of a bunch of opened liquids we cleaned out our bar and asked our friends to make as many drinks as possible.  We were able to clean out quite a few things that way! I also made a pitcher of margaritas to use up some tequila we had.

It helps to have a couple easy cocktail recipes memorized or even displayed so your guests aren't intimidated to mix up their own cocktail. I had this French Kiss cocktail at the ready, and was able to clean out a couple bottles of champagne with it!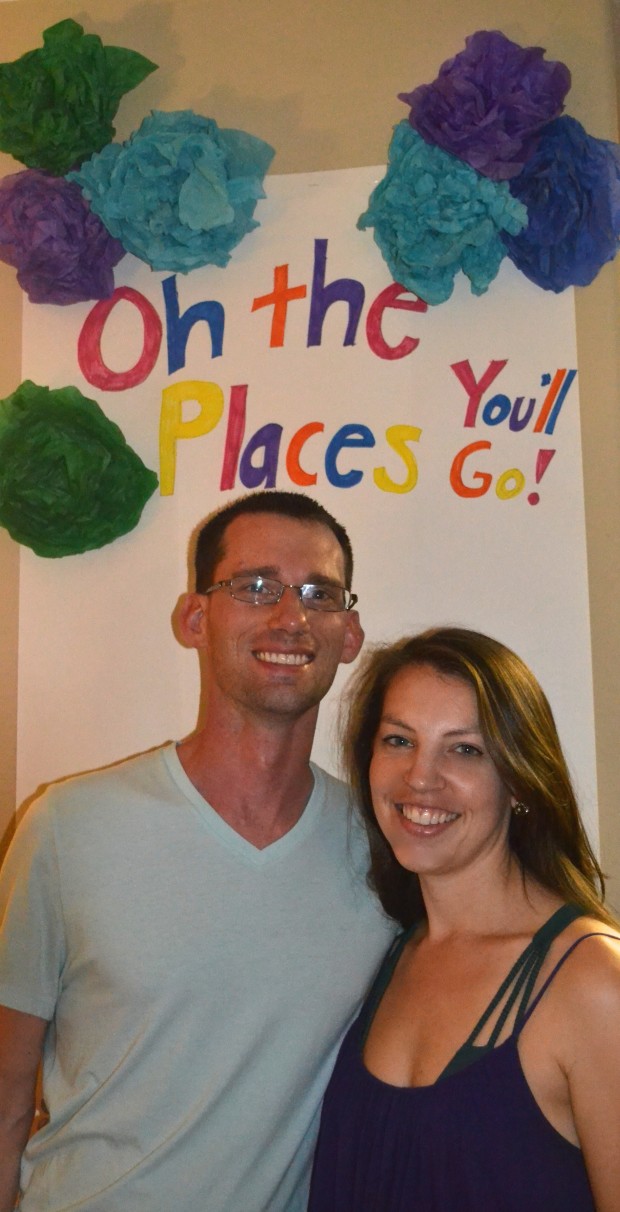 Remember how I said there was a little Dr. Seuss thrown in?  Well, I made this little backdrop for us to take pictures with all of our friends.  I thought it was an appropriate saying for a going away party.  It could also work for a retirement party, graduation, or even a baby shower.  I whipped it up using some white butcher paper, a few colored tissue paper poms, and free handed the letters.  It's not fancy, but it allowed us to get people together in one spot and get some good photos.  Who knows when we'll see our friends again, so I'm glad we have so many pictures with them.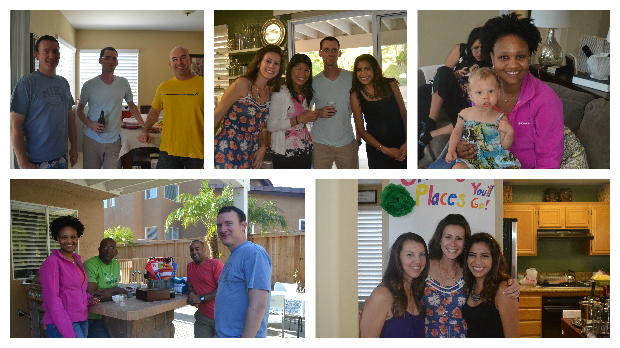 Thanks to all of our friends that came to say goodbye and send us off in style!  We are going to miss them dearly, and can't wait for them to come visit us in Colorado!