Good morning, and I hope your week is starting off on the right foot.  If not, be sure to whip one of these up for happy hour tonight, or for your next bachelorette party, bridal shower, or girls night!  Which brings me to today's post, we're continuing in our mini-series about hosting bachelorette parties, for this post we are talking about welcome bags and survival kits.
Anytime you walk into a party, attend a wedding, or go to a conference doesn't free swag just make the whole thing a lot better?  So why not apply the same principle to bachelorette parties?  Getting a welcome bag with necessities that are going to get you through the weekend or the morning after is just plain helpful!  Below is an example of a welcome bag I put together with a lot of great ideas for other things you can include.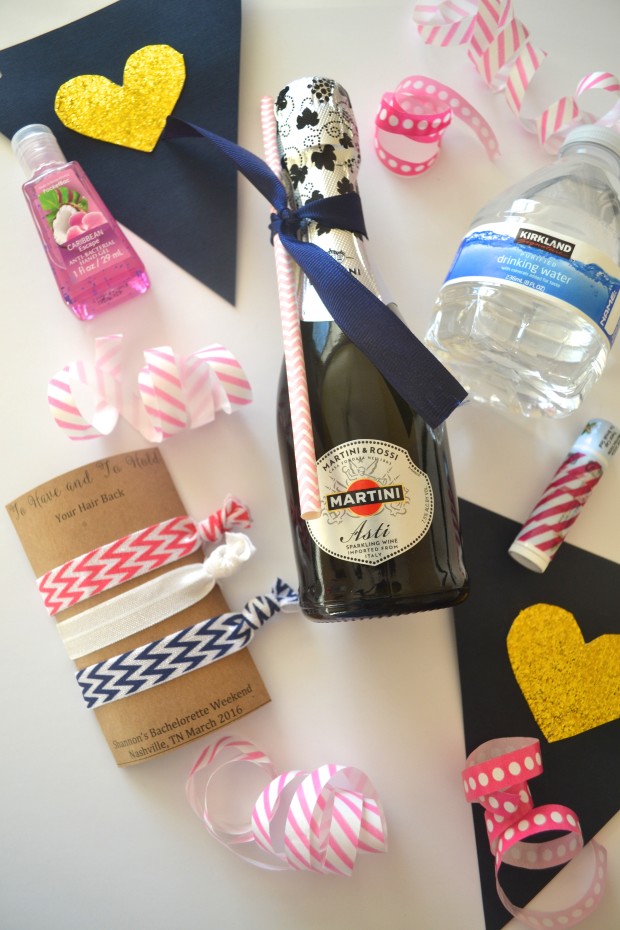 Everything is always better with champagne in my opinion, so including a mini bottle in your welcome bag is a great way to get the party started!  And to stay hydrated a bottle of water is absolutely necessary.  Other things that are helpful for a bachelorette weekend with a bunch of girls is definitely hair ties.  You can never have too many of them, right?  Bonus points to the hostess if they are color coordinated with the wedding!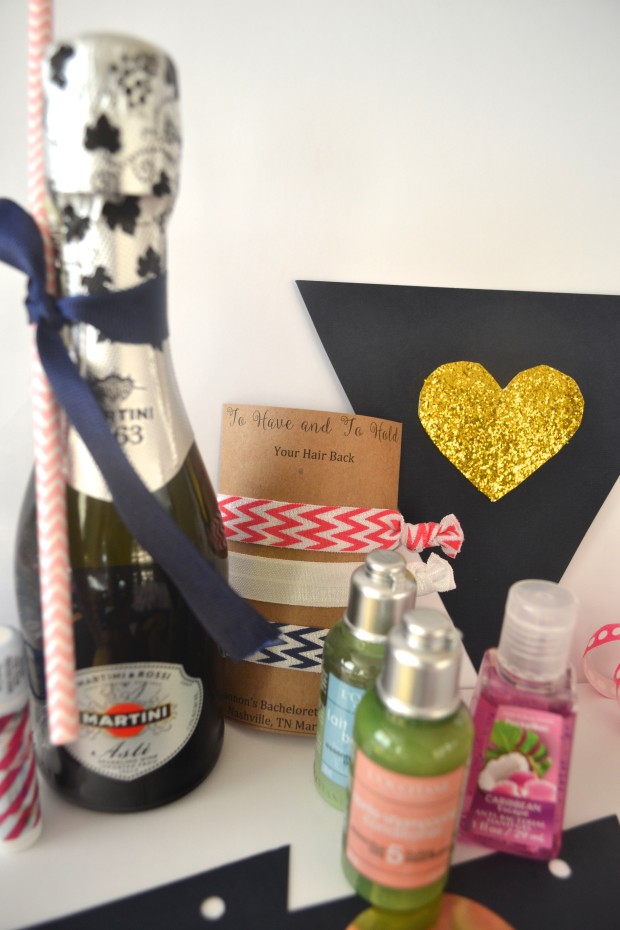 Chapstick, hand sanitizer, shower gel, shampoo, and lotion are all great additions to a welcome bag for guests at a bachelorette weekend away.  Plus if guests are flying, it helps to cut down on the things they have to bring with them.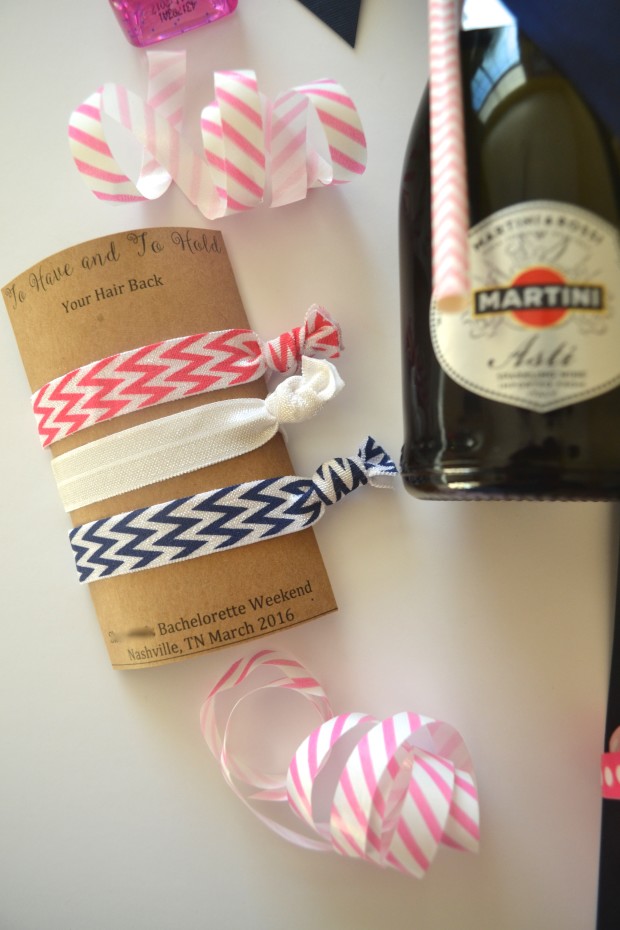 To make the hair tie holder coordinate with the theme of the weekend I added a little saying, "To Have and To Hold Your Hair Back" onto some card stock and then slid the hair ties onto the paper.  Such a cute way to add a special touch to something that's so ordinary.
Of course you need a great bag to hold all of your goodies for your welcome bag, for the upcoming bachelorette weekend I'm hosting I chose a tote bag that will help us remember the fun city we visited long after we leave.
,
There are a ton of options that would be great to corral the swag in your welcome bag.  A fun gift bag with some tissue paper is perfect or a beach bucket if you'll be by the shore for your weekend.  Keeping it consistent with where the party is or the theme of the weekend or even the wedding really shows that extra touch of thoughtfulness.
So many things would be great in a welcome bag for a bachelorette party or weekend away:
Snacks (granola bars, trail mix, crackers)
Gum or mints
A coozie to keep your drinks cool
A beer bottle opener if your bride is into craft beers
A wine bottle opener, especially if you attend a wine tasting or host the party in wine country
If you want to help avoid anyone having issues from partying a little too hard, be sure to include water and some headache or pain relieving medicine in your bags as well.
Stain removing pens
Band-Aids, or a mini first aid kit
A T-shirt from the area you're visiting
A luggage tag, perfect for a weekend away where guests are flying, or for a bride that loves to travel
A map of the city, or schedule of events for the weekend
Welcome bags and survival kits are a great way to give something back to all the ladies that are coming to honor the bride, and there are so many ways to make them personal and useful.  Plus, again everyone likes swag!  What would you include in a bachelorette weekend welcome bag?  What's your favorite free swag to get?