Happy Friday, it's almost the weekend!  I'm looking forward to it, because we're supposed to have awesome temperatures in the mid 70's this weekend.  Perfect to get outside and do something fun!  Today I'm starting a short series about bachelorette parties.  I'm hosting my best friend's bachelorette weekend away in a few weeks and thought I'd share some hosting tips.  I haven't seen her in about nine months so it's going to be a really fun filled weekend.  Today I'll just be discussing general plans when it comes to a bachelorette weekend away, things like what to do and where to eat.  Over the next month or so we'll specifically talk about flirty cocktails, welcome bags, brunches, and getting to know everyone attending.  I'll plan to do a recap of our weekend afterwards as well.
Bachelorette parties and weekends away are a great time to get together to celebrate the bride, but also to enjoy some girl time.  In the hustle and bustle of everyday life, it's nice to step away from that stressful job, your toddler, or life requirements and surround yourself with fun, encouraging, women.  You want the bride to feel special, so doing a few things just for her really make the weekend about her.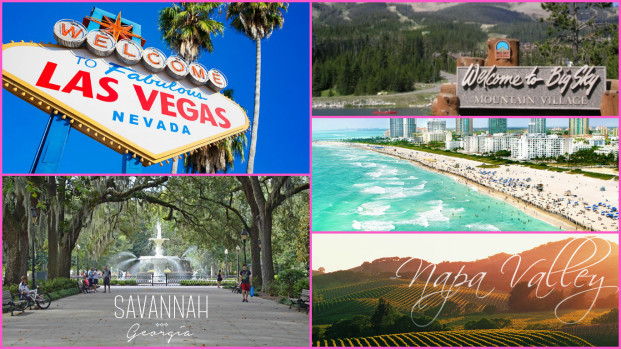 There are so many fun areas to spend a weekend away with your closest gal pals.  For my friend's upcoming bachelorette weekend, I'll be making the trek to a popular bachelorette destination, Nashville, TN.  I'm really excited to visit the city as I've never been before and it looks like there are a ton of fun little neighborhoods, great food, lots of honky tonk bars, and of course tons of music.
There are so many fun destinations for a bachelorette weekend.  Keeping in mind what your bride likes, price, and amenities you could literally go anywhere.  How about Savannah, GA, I hear it's gorgeous.  If you're looking for a beach get away with a party atmosphere try Miami, FL.  If your bride loves a good bottle of wine, you could go to Napa Valley, CA or find a local winery to spend a day.  If you want to get away from everything, try a resort in Big Sky, Montana.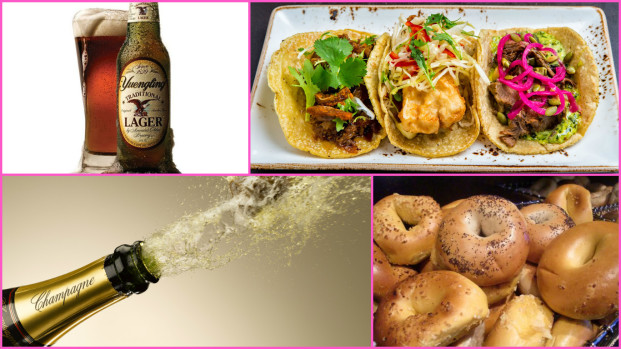 There is nothing better than gathering people around a table and breaking bread.  This is especially true if you're with a group of girls that don't all know each other very well.  It's so easy to bond when you're sharing food around a table.  Plus, everyone has to eat, right?!  To really enjoy the destination of your bachelorette weekend try to find local restaurants with dishes the area is known for.  Things like fried chicken and grits if you're in the south, tacos in Southern California, bagels in New York, or crab cakes in Maryland.

My biggest hosting tip when it comes to a weekend away, is to ensure there are enough snacks to keep everyone happy.  There's nothing worse than someone getting too hungry in between planned meals.  Arrange to have granola bars, fruit, or chips and dip available if anyone needs to fuel up throughout the day.
As far as drinks go, you can't celebrate a bachelorette weekend without champagne, so be sure to stock up on plenty.  It's also nice to try regional drinks, IPA beers on the west coast, Yuengling on the East Coast, Sweet Tea in the south, or a Manhattan in New York City.  Maybe purchase a few bottles of local wine to sample together.  Be sure everyone in your group is drinking plenty of water to avoid any hangovers!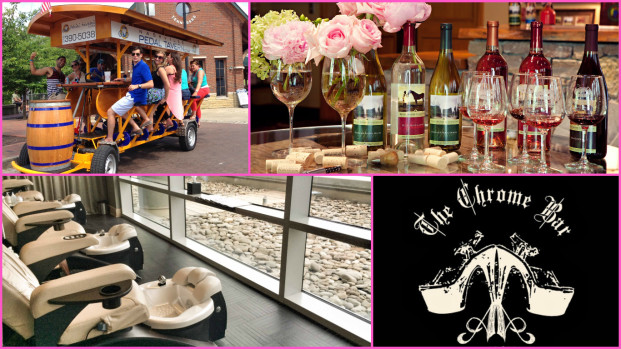 For girls' trips I think activities are a little more important than what guys do on their trips.  I'm pretty sure guys don't care if they do anything as long as they have beer and can watch sports, right.  For a girls' weekend though, it's fun to actually do things.  If you want to explore the city you're in for the weekend find a local tour group company to learn about the city's history, cool spots, and hang outs.  In case you are trying to relax, book a spa day for facials and massages, or even just go get a manicure and pedicure with your group.  If anyone in your group likes crafts or is artistic join a painting class which are becoming super popular.  Say your group is into fitness, take a group fitness class or see if there is a 5K in the area you could all run together.  To fulfill your ideas of a "typical" bachelorette party your group could take a pole dancing class, they are becoming fairly popular and seem to be a good workout disguised as fun!
These are just some general ideas to help get a jump start on planning a bachelorette weekend away.  I'm really looking forward to the one I'm hosting soon because we will be doing a lot of the things listed above and I'm so excited to meet some amazing women!  Don't forget to come back over the next few weeks to see all of the bachelorette series.  If you're already married, what did you do for your bachelorette party?  Is it even appropriate to share?  Have a great weekend everyone!
Also, I will be announcing the winner of the Marshall's, HomeGoods, and TJMaxx gift card on Monday, so be sure to enter before it's too late.  You can enter once a day here.