Well, I'm back after having a baby and taking a few weeks off.  It was nice, but I missed blogging more than I thought I would.  I especially missed the routine I had gotten into before having the baby.  He's adorable and cuddly, so I'm enjoying that too!  Check out my Instagram Stories to see a sneak peak of the little guy.
I know most kids have started going back to school, at least they have where I live.  However, my daughter doesn't start pre-school until August 21st, so I still have time to put this back to school checklist to use and I hope you do too.
I've compiled a few items that I think everyone probably needs to think about right before school starts.  I'm sure there are many more that aren't included on this list that are specific to your school or grade of your child.  If you know of a really good one that we could all be reminded of be sure to leave a note in the comments for us to benefit from.
Click on the picture below to download and print out the checklist to use before school starts!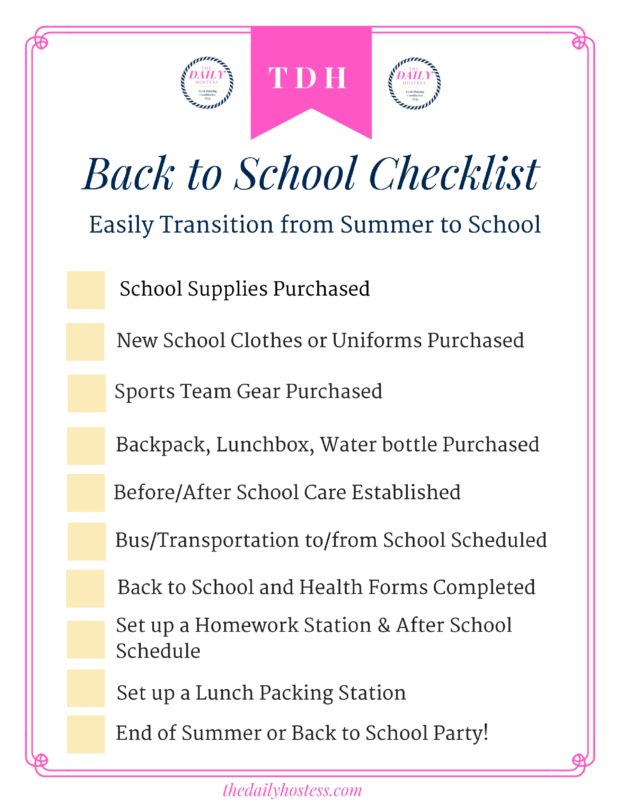 Some things like school supplies are a no brainer when getting ready for school, but others may need reminding.  Have you gotten all the forms filled out and turned in that are required before school starts? Why are there so many forms?  What about figuring out the routine of before and after school?  I'd recommend doing a dry run before school starts just so everyone in the family knows what they need to do.
Did your homework station survive over the summer?  Does it need a little effort into setting it up again?  Doing so will mean once the kiddos bring home homework they aren't stumbling looking for a pen or a quiet place to read.
Take some chaos out of the morning shuffle by setting up a lunch packing station in your refrigerator and pantry.  Encouraging your kids to pack their own lunches will also cut down the time to get out the door in the morning.  Having easy snacks, lunches, and drinks on hand and available to throw into a lunchbox will make it much more likely that the kids will do it on their own.
My personal favorite on the checklist is the last item.  I love the idea of hosting a back to school party or an end of summer soiree.  A simple neighborhood ice cream social or a back to school breakfast with a few friends is a great way to celebrate the anticipation of a new school year.  Here are a few parties that do a great job celebrating back to school.
Don't forget to click on the checklist above and have a handy reminder of all that needs to be done before school starts.  And be sure to leave a comment with your best back to school reminder for us all.   Or let me know what you're looking forward to the most this school year.