It's an exciting day here today.  My daughter starts full day Pre-K in uniform today!  Unfortunately I'm out of town for work so I didn't get to do the whole first day of school pictures in person.  Thanks to technology though I was able to Facetime with her this morning.
Because school is starting I wanted to share an easy way to organize all of those school papers, projects, notes, and homework that are about to start coming home. A simple mailbox in a useful and functional space is a great way to corral all those items.
Who better to help me with this project than the little lady that is going to be using it the most?  It's always kind of fun to do crafts like this together.
Back To School Mailbox Materials
This back to school mailbox is super easy to make using things that you probably have around your house already.  Here are the things you'll need to make your own school mailbox.
Cereal Box
Wrapping Paper
Scissors
Tape
Glue
Stickers, Markers, Pom Poms, Confetti, Gemstones, anything kids would like to decorate with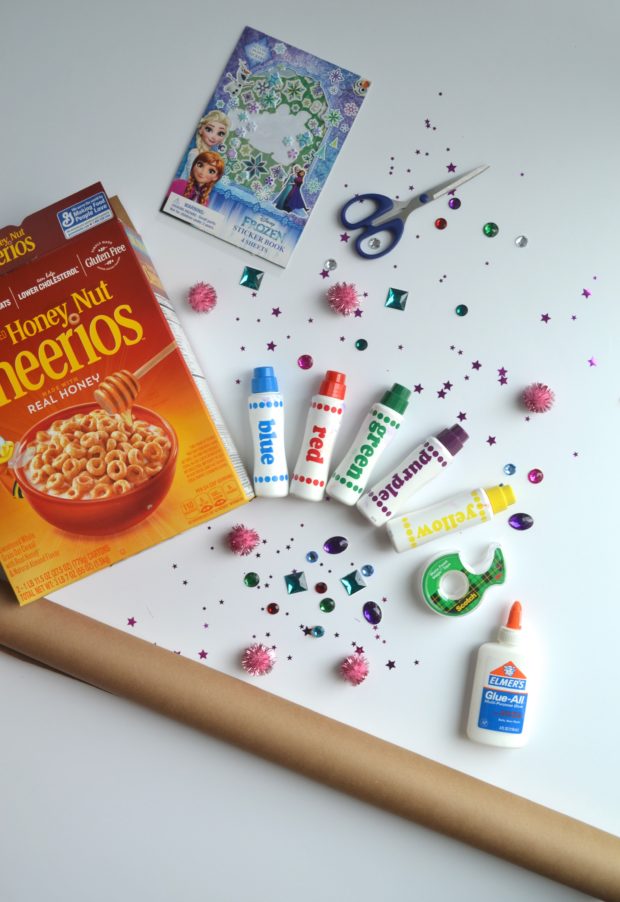 I used brown craft paper but it's pretty thick and somewhat difficult to wrap very tightly.  So I'd recommend using traditional wrapping paper in a neutral color if you want the decorations to stand out.  Or use a fun patterned wrapping paper and add minimal decorations (perfect for a tween or teenager).
DIY Back to School Mailbox Instructions
1. First you'll need to cut down your cereal box.  Cut the flaps off the top then make angular cuts on the small sides.  This allows the front to be shorter than the back.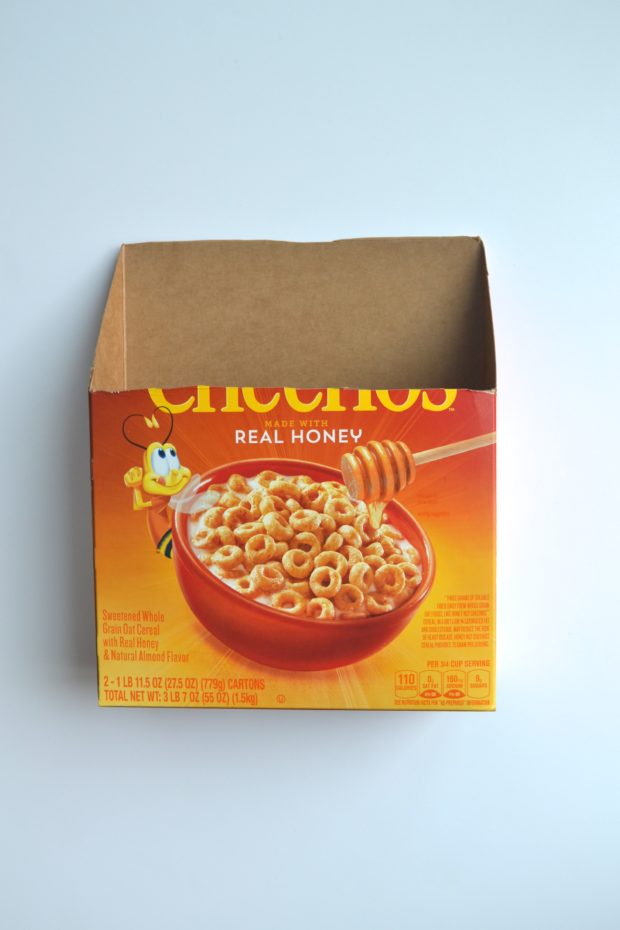 2. Next you'll wrap the cereal box.  I found it easiest to wrap the box as if you were wrapping a normal square box.
3. Then on the top or open side of the mailbox you'll need to cut down into the corners of the box so that you can fold the paper over into the mailbox. Like the picture below.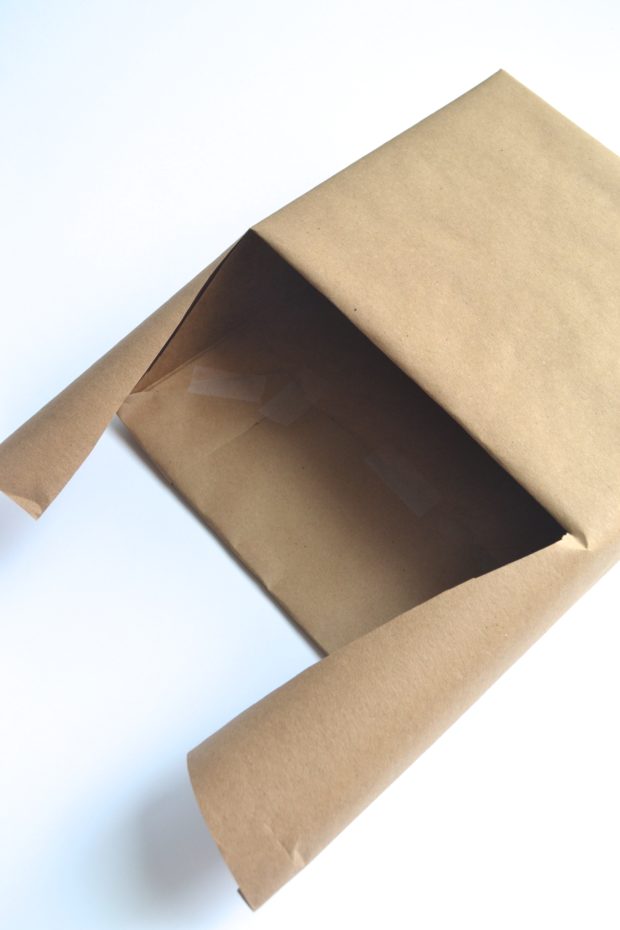 4. Once you've done that, fold the paper over into the box and secure with tape. Once it's wrapped all the sides and most of the inside will be covered in paper.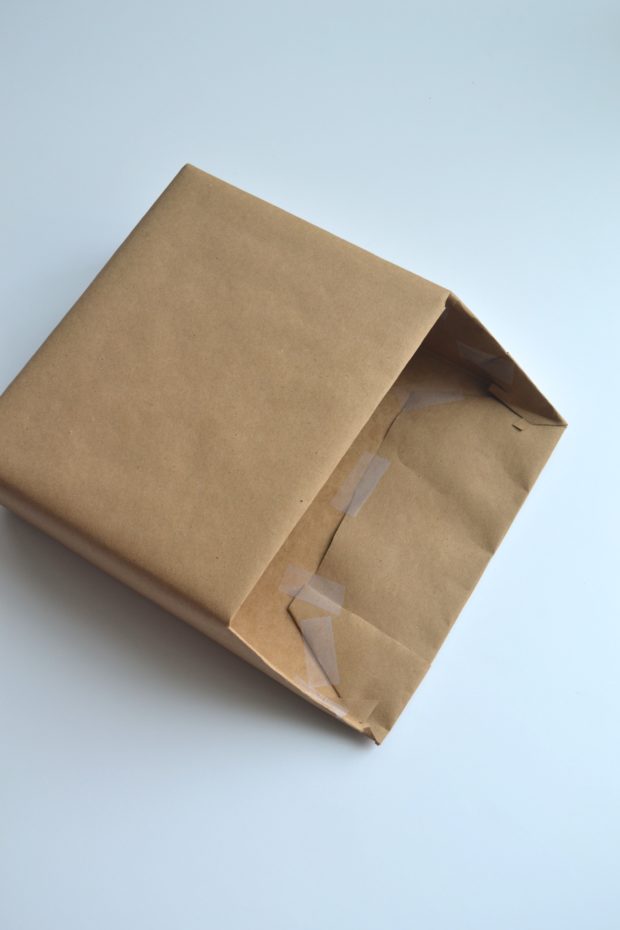 5. The fun part starts now!  This is where your little helpers can use their imagination to decorate the mailbox however they'd like.  We used a combination of Frozen stickers, markers, gemstones, pom poms,  and confetti.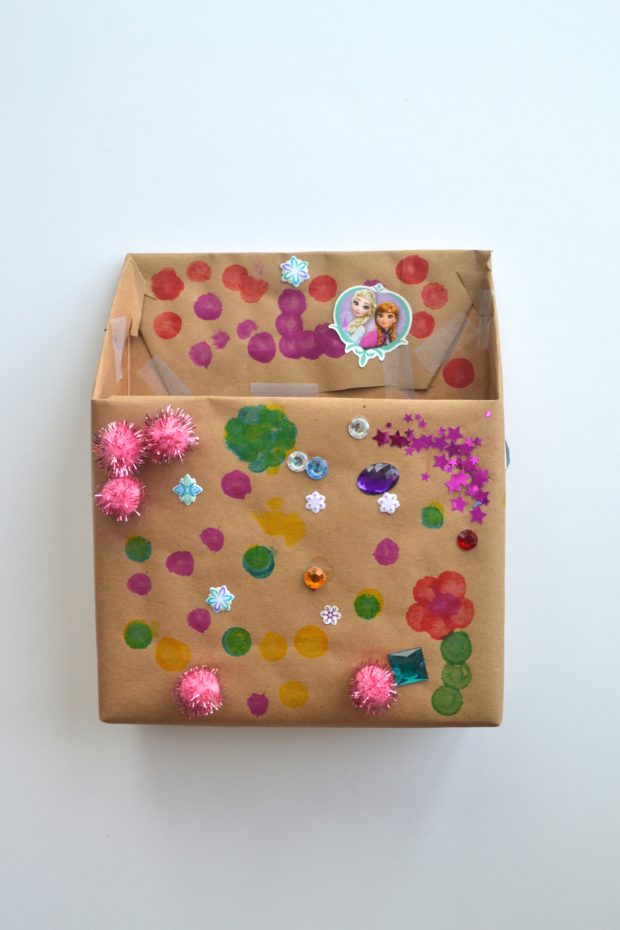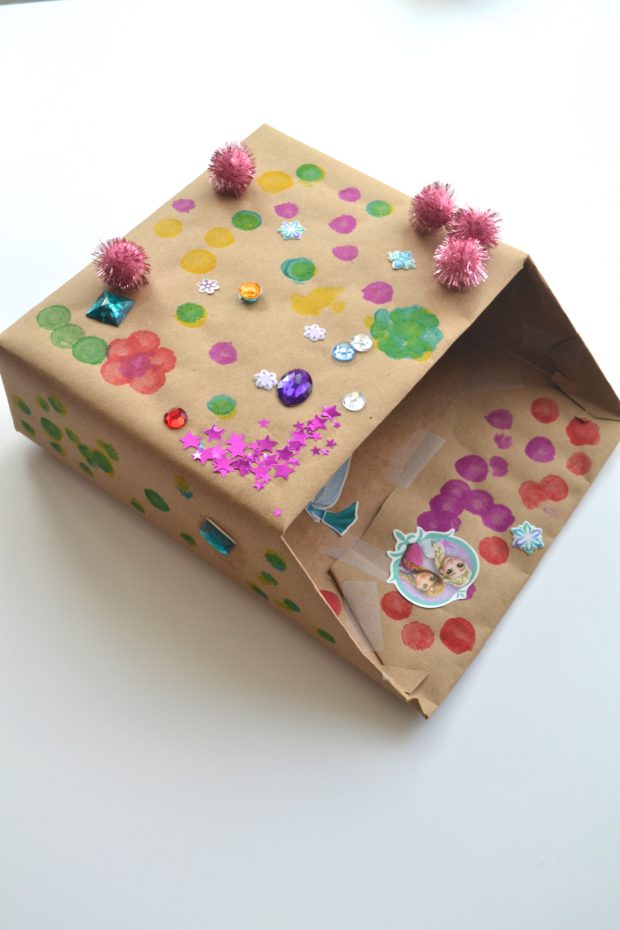 Once it had dried, because preschoolers use A LOT of glue, I put it in our mudroom.  This is the space where I'm hoping right after getting home from school, she'll put all of her things away.
Her papers will go into the mailbox and she'll unload her backpack into the closet and lunchboxes will go back in the pantry.  Here's hoping!
This summer I really tried to work on my daughter's independence.  I've been trying to get her to clean up her place after meals.  And now she'll have putting her school things away on her list of "chores."  Do your kids have chores?  What age did you start introducing chores?
I hope this helps keep you organized at the start of school and all through the school year.  And I'm sure your kids will have fun decorating their little hearts out!
Here's to back to school!