Recently I got to attend my sister's super casual backyard wedding.  It was a great day filled with close friends and family celebrating a couple that was just so happy to be together.  I keep telling everyone that asks how the wedding was, that I was so amazed at how laid back the couple was.  It just goes to show that when all you care about is getting married at the end of the day, the little stuff just doesn't matter.
I was honored when my sister asked me to help her decorate and set up for the backyard reception.  It was so fun getting emails and texts in the months leading up to the wedding discussing decorating details.  She had a great general theme and color scheme to work with.  She also diyed a lot of decor so there was a lot to work with.  I mostly did some space planning, set up, and decorating.  All things that I love to do.  I also had a lot of help from my sister-in-law that has an amazing eye for pulling parties together.  See her backyard BBQ here.
Today you get to see a bunch of reception decor and how her theme was carried out throughout the space. Are you ready for picture overload?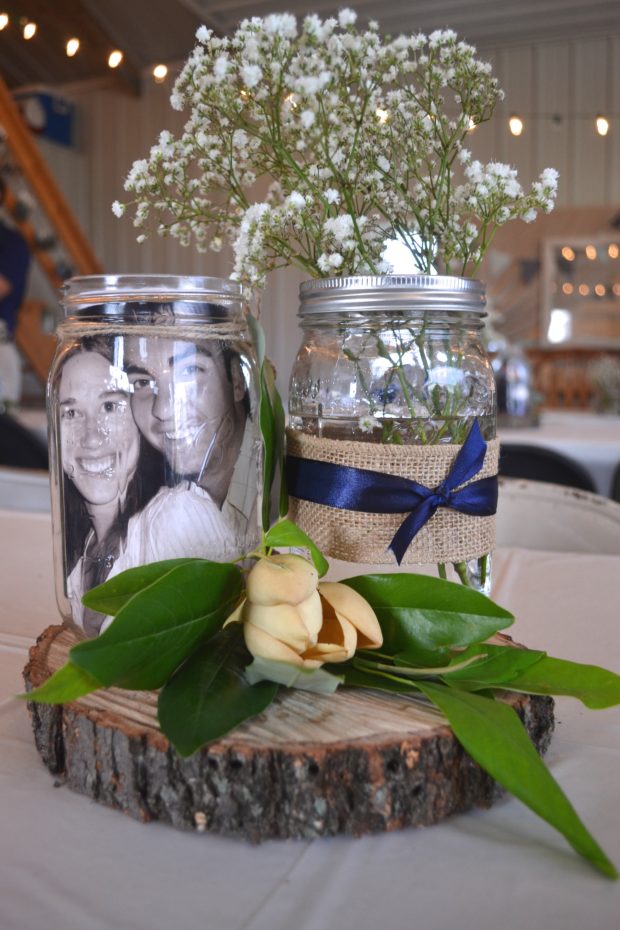 The general theme was rustic with a sense of adventure in a navy blue, mint and gray color scheme.  Using mason jars, baby's breath, wood slices, and a few magnolia leaves we created a simple, but rustic centerpiece.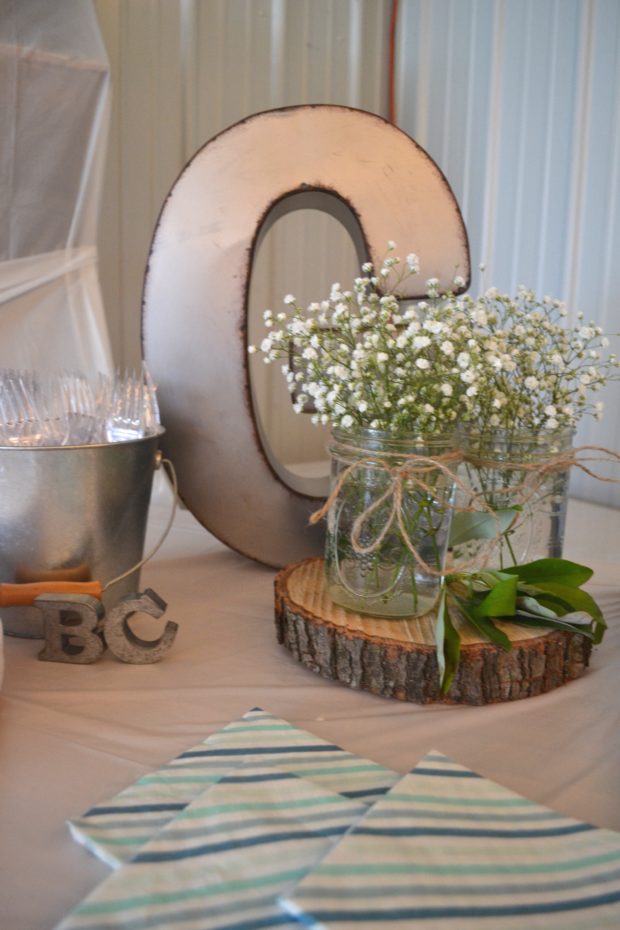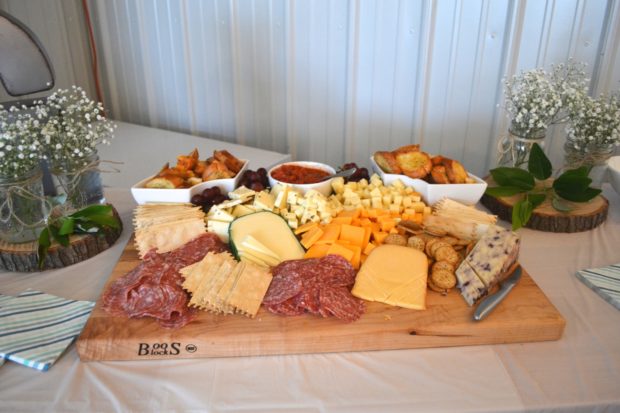 The abundant charcuterie board.  My sister-in-law is a genius when putting these together. I didn't think to take any pictures of the food and dessert tables, but it was all delicious.  Because it was such a small wedding it was almost pot luck style.  My brother-in-law roasted pork loin, my mother-in-law made a side dish as well as the groom's mom, and the dessert was all made by the grooms sister.  It was quite a family affair, but everything was tasty and homemade.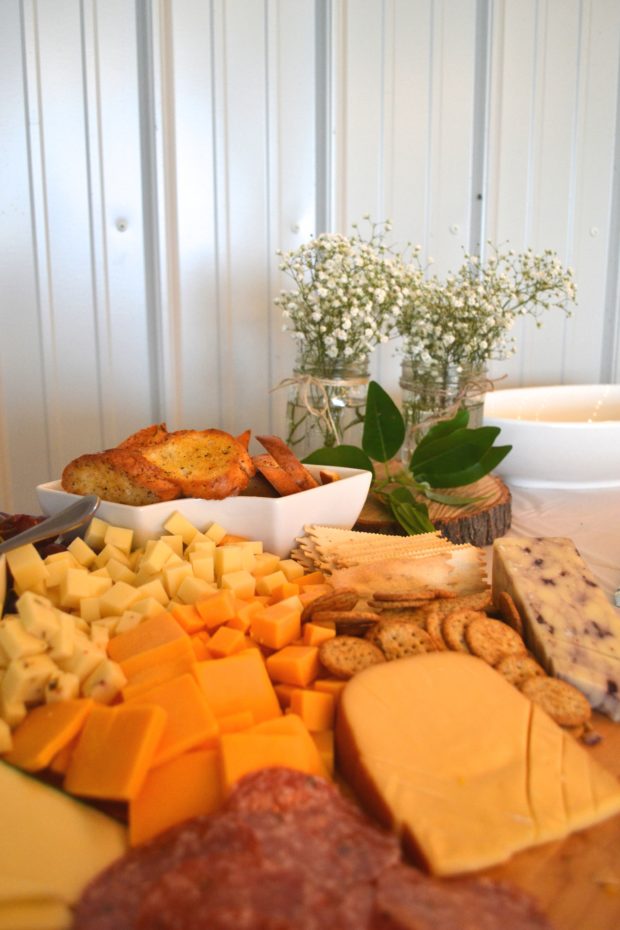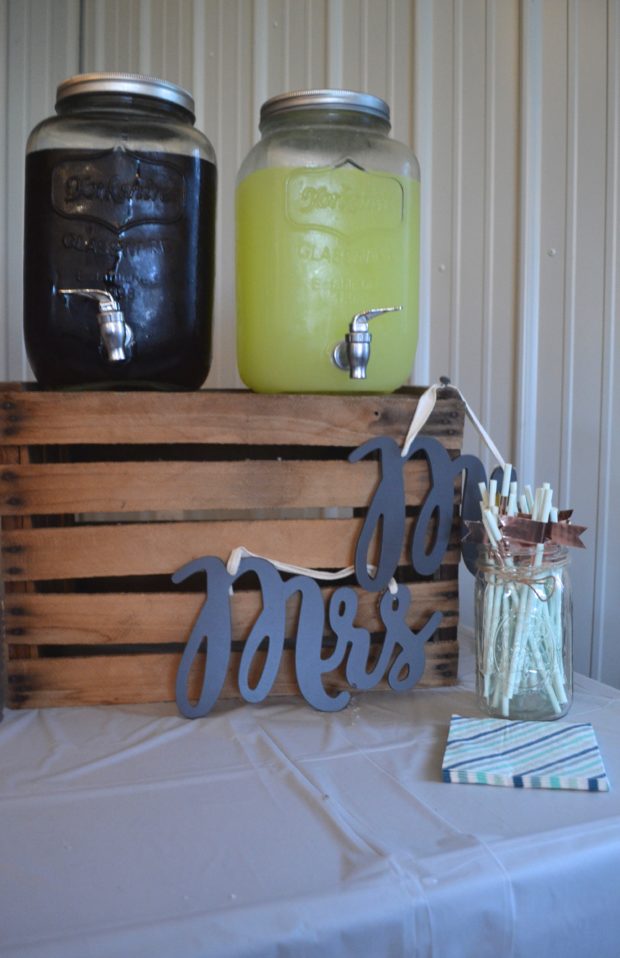 The drink station.  I love the idea of using an old crate to lift the beverage canisters up.  It really brings in the rustic feel.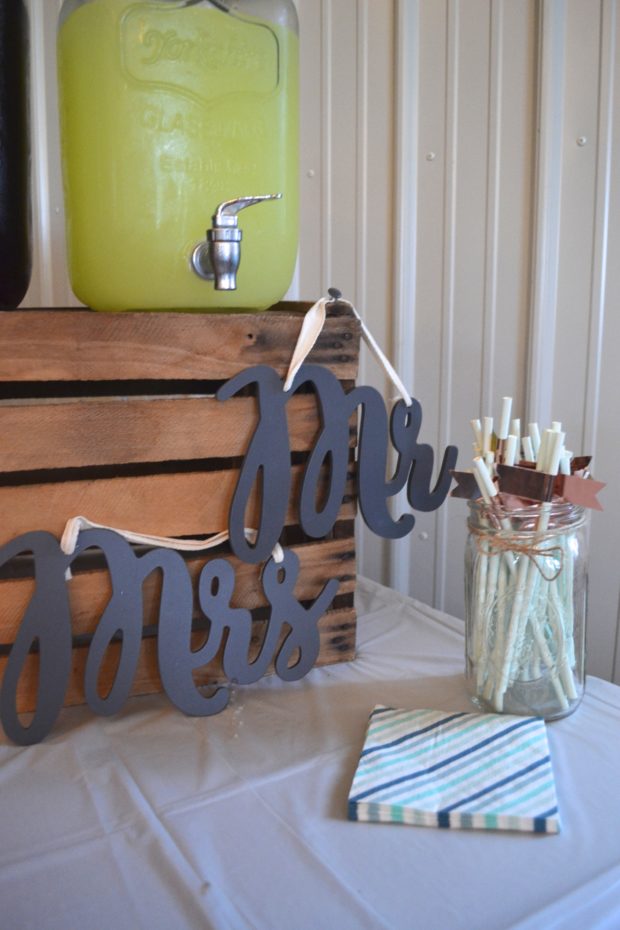 Probably my favorite area of the entire reception was the head table area.  My sister initially wanted a photo booth area, but because of possible rain, we opted to put the photo booth backdrop behind the head table and it really made a great backdrop to the newly married couple.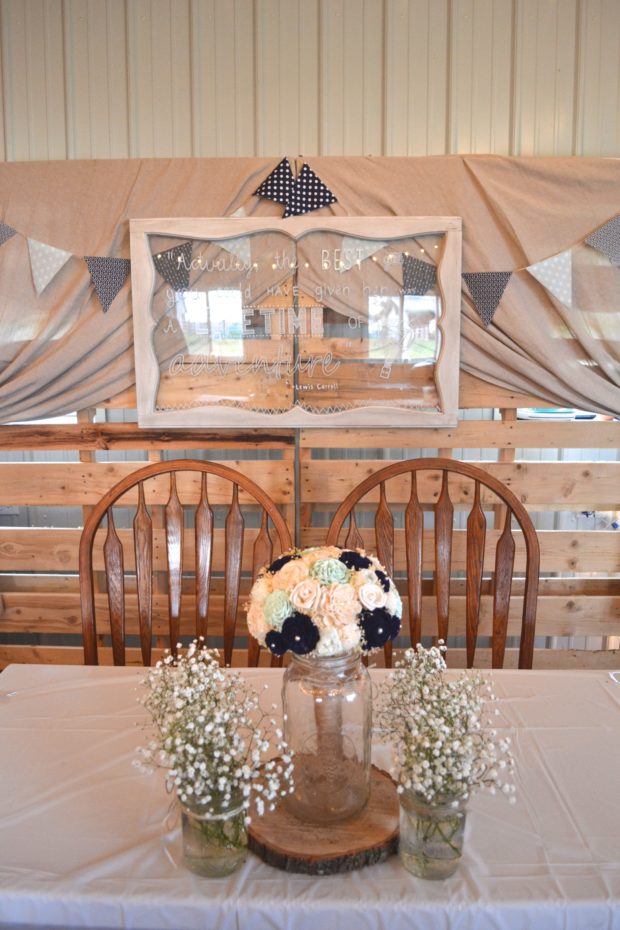 The backdrop was built by the groom using pallets and decorated with burlap style curtains and color coordinated pennants made by the bride.  The part I love the most is the vintage window hanging on the backdrop.  The window was found on the family farm, and my sister-in-law refinished it.  Then the bride's talented friend hand lettered a wonderful quote on it.
"Actually, the best gift you could have given me was a lifetime of adventure." -Lewis Carroll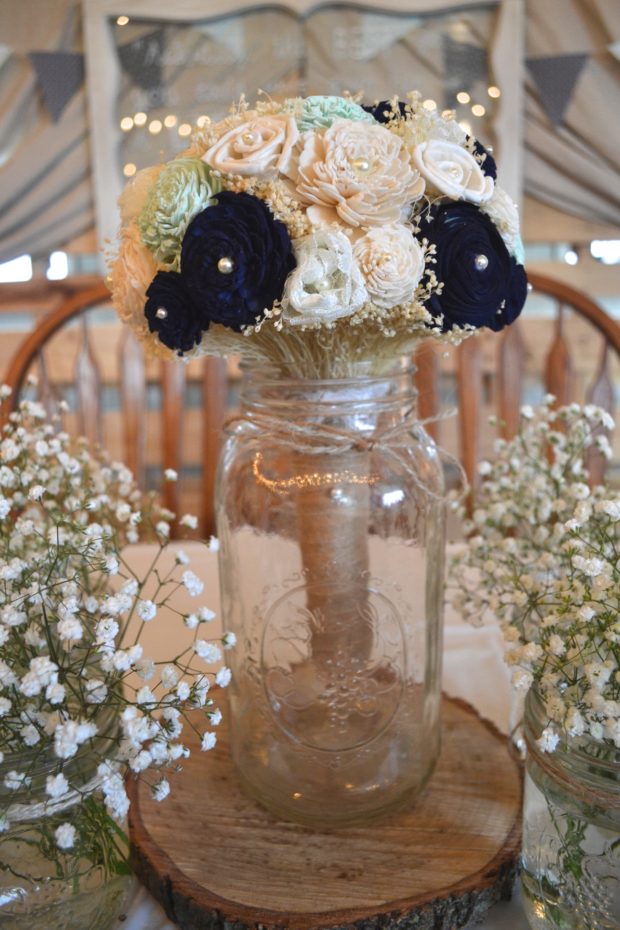 The bride's bouquet was found on Etsy here.  I love that it's something she's going to have forever because it's made of fabric and wood flowers.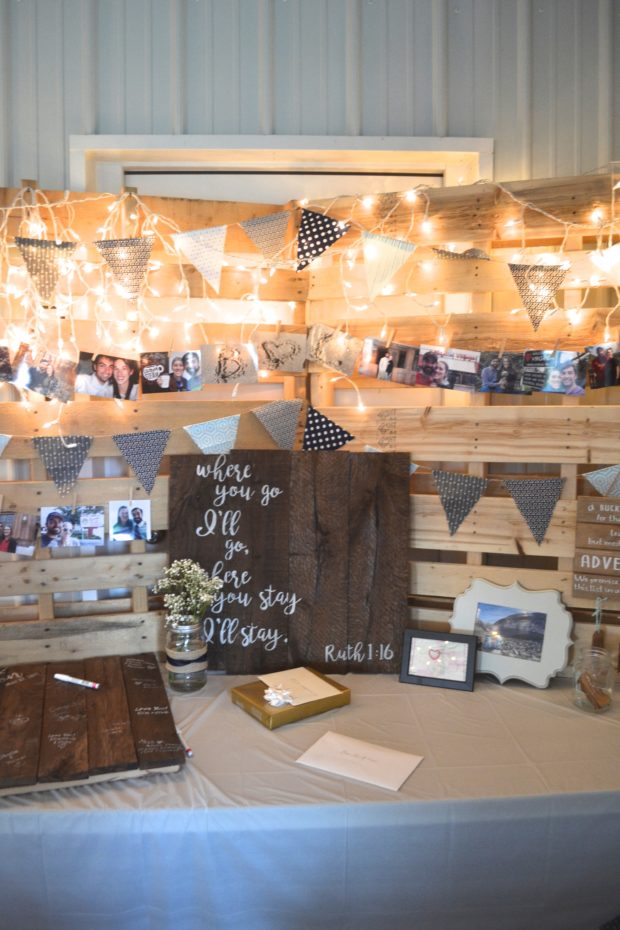 Another super on theme area was the gift table and guest sign-in area.  This couple has some amazingly talented friends who made these awesome signs.  Something they'll have forever. The backdrop was made using pallets, pennants, and meaningful pictures of the couple throughout their life.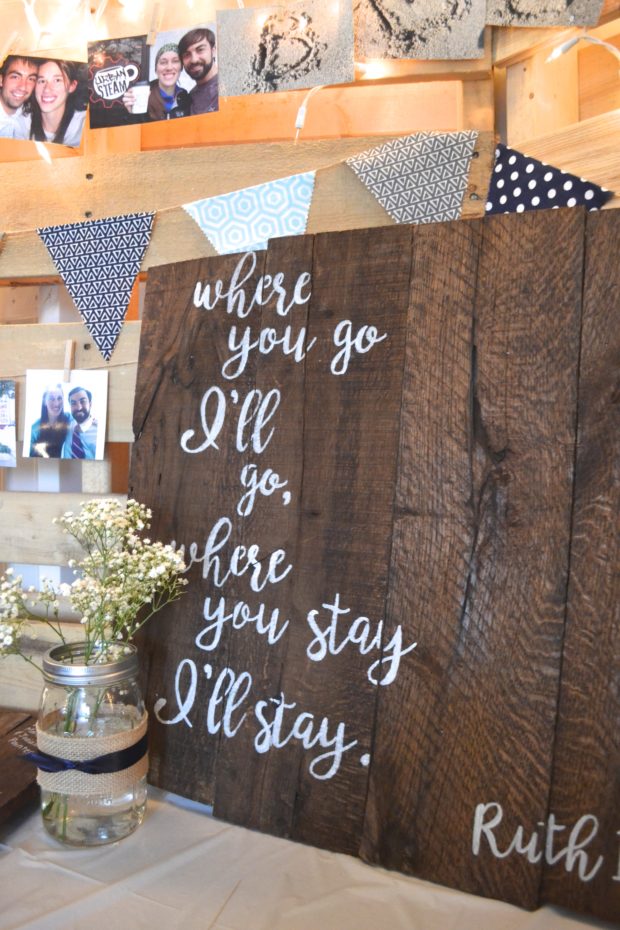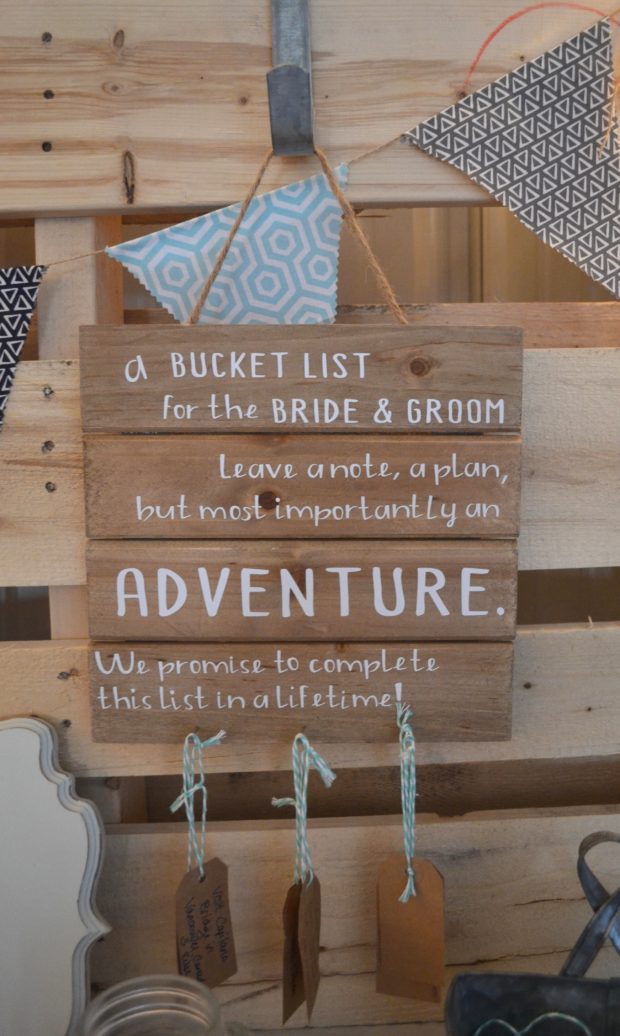 Another great idea was having guests leave notes for the couple with suggestions of adventures they should go on.  There were some pretty challenging adventures suggested, like finding Wonderland, but this adventuresome couple is up for the challenge I'm sure.
I didn't think to get any pictures of the lawn area, but after a short storm passed, we busted out lawn games.  Games included cornhole, washers, and a giant tic-tac-toe game made from a pallet and large X's and O's.  The wedding was such a nice, intimate, family filled gathering.  Proof that it's not necessary to spend a lot or have a large production just to get married.
Here's to a lifetime of adventures and happiness for the bride and groom!  What was your favorite part of this adventure themed wedding?