Hey friends!  How is your holiday season going? I think I'm in denial because I've been working one of my other jobs and have had a nasty cold that took me out for a few days.  I'm hoping today's chat about bakery holiday gifts gets me back in the spirit though!
I was so lucky to get to work with Safeway on this post and bring you so many different ways to use bakery items as holiday gifts.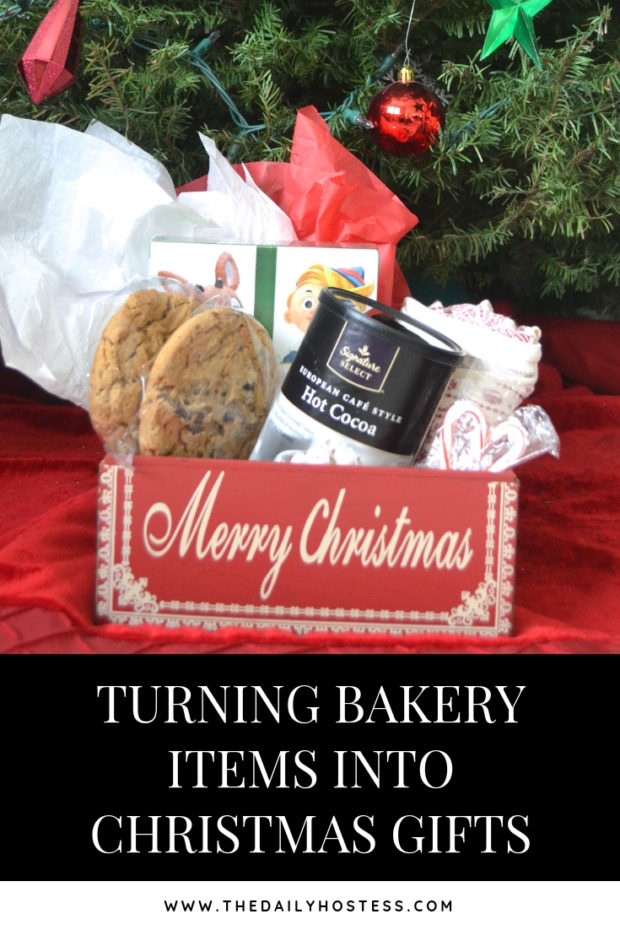 I know what you're thinking, I don't want to buy something from the bakery because I really enjoy holiday baking.  Well, let me just get real with you for a minute.
Doing ALL of your own baking ALL season long is a big task.  Combine that with holiday parties, gift shopping, wrapping, Christmas programs at school and church, holiday traditions, etc.  you might just need a little help!
The bakery at Safeway has definitely got you covered. From cakes and pies to cookies and holiday fudge, it's all there!
Let's dive into how to use Safeway bakery items as a gift or part of a gift.
Bakery Gift Ideas from Safeway
Hostess Gifts and Neighbor Gifts
There are so many parties this time of year it's almost a requirement to have a hostess gift ready at any moment.
The good news is if you don't, just stop by your local Safeway on the way to the party and you can put a hostess gift together all in the store.
For this example, I used a wine bag, a rolling pin, and some thumbprint cookies from the bakery.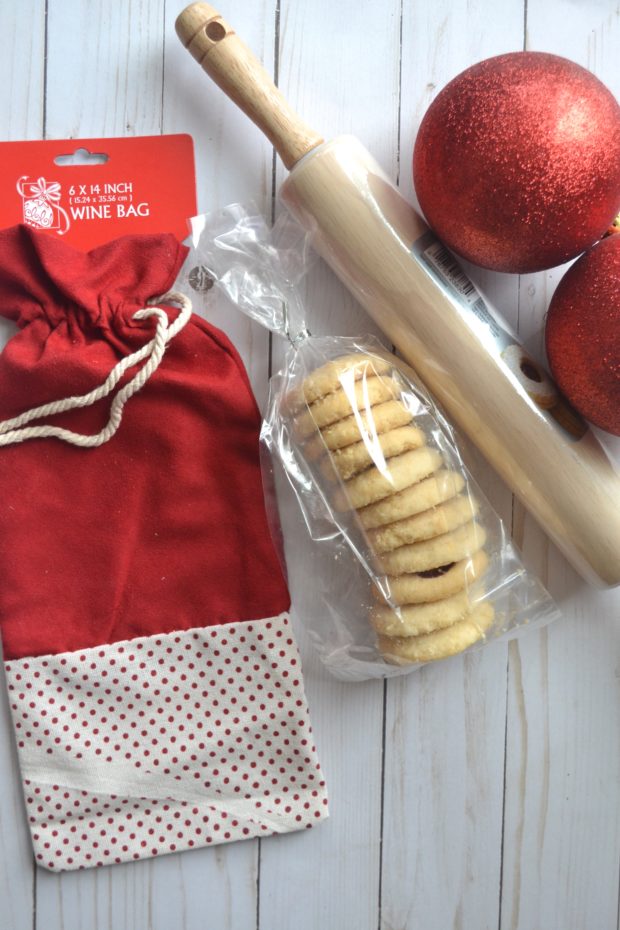 Stacking the cookies gives an illusion of a bottle of wine, but the host will be happy to see a delicious treat instead.  Adding the rolling pin is a great way for your host to remember you and your gift for years to come.
It's the time of year when everyone enjoys receiving a baked good as a gift. But, I think you can really add a little something extra to the gift and make it even more special.
The next holiday season when they are using the rolling pin to make their own holiday baked goods, they'll fondly remember your gift.  Plus it's nice to add that little something extra, instead of just more cookies.
This is a great idea for neighbor gifts as well.  Buy a bunch of pre-made bakery cookies and tie them up with a spatula, mixing spoons, or cookie cutters and your gift will take no time to put together.
If you are asked to bring something to a holiday party, Safeway has the cutest custom cakes all ready for you.  They are so on theme with snow men, reindeer and Santa cakes.  Add a cake server tied to the cake and you've brought your dish and a hostess gift all in one!
Adding Bakery Items to Holiday Gifts
Another easy way to turn up the volume on a normal wrapped gift is to tie a little something extra to the front.  In this case, fill a bag with some bakery made fudge and tie it to the front of any gift.
It's a yummy little treat the recipient can eat while unwrapping or checking out the gift you give them.
I remember growing up that my mom always used to make fudge during Christmas.  It was never something that I liked all that much, so I haven't really ever tried making it myself.
This is where getting something from the bakery that you know others will like, but maybe you aren't great at making is a huge win.
Kid's Christmas Eve Box
How many people have a tradition of opening a gift on Christmas Eve?  Growing up, I remember most years being able to open one gift on Christmas Eve. My mom always got to choose it, so it was usually something like a small toy or pajamas.
We've started letting our kids open their box of new Christmas pajamas on Christmas Eve.  And I love the idea of making it a whole box of goodies.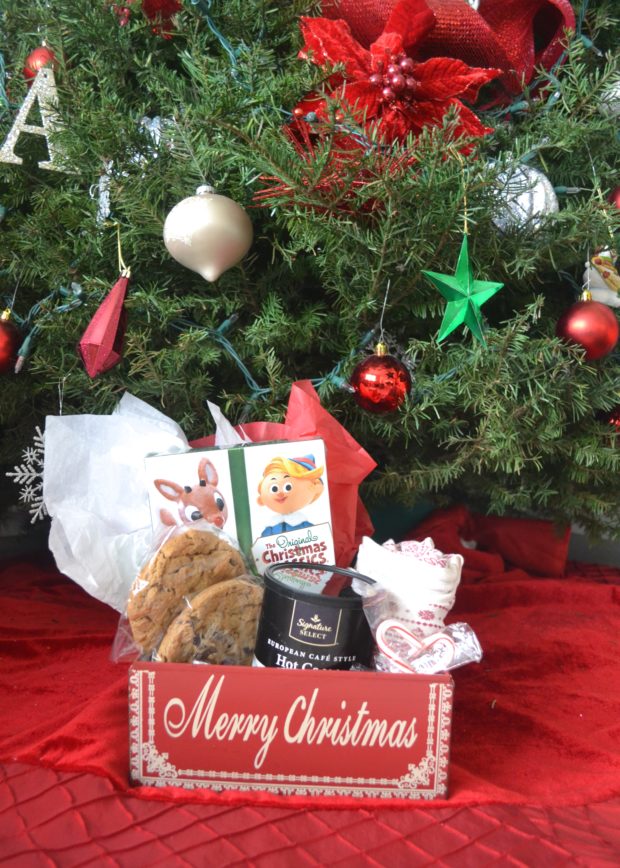 Throw in some big, specialty cookies from the bakery with pajamas, a Christmas movie, and hot cocoa for a memory that will last a lifetime.
Make the whole thing a big production and enjoy the evening snuggled up with your family enjoying the movie!
Which one of these ideas would you want to use your bakery to help with?  I know it seems like a great ideas to do all the baking yourself, but it's just nearly impossible anymore.
Ease the burden just a little this holiday season by using Safeway's bakery for all of your gifting treats.  I always use their cupcakes for birthday parties because they have the best value.  But now I'll be turning to them for other celebrations as well!

**This post was sponsored by Safeway.  I received product in exchange for my opinions and ideas.  But I totally think it's a great idea to use Safeway for quick holiday treats this season.  Thanks for supporting The Daily Hostess sponsors!