This past weekend, we hosted a very special celebration.  We got to find out if our next baby is going to be a boy or a girl!  Yep, that's right, I'M PREGNANT!  I decided on a baseballs or bows themed gender reveal, and you'll see at the end of this post what we're going to be having.
I'll let most of the pictures do the talking.  We hosted the party on Saturday morning at 11 am, so I offered a light lunch and dessert.  Obviously, everyone, including us were mostly excited about the big reveal.
I made a table runner out of white craft paper and just drew navy blue baseball stitching on the paper.  Then added a few extra pink bows around the table.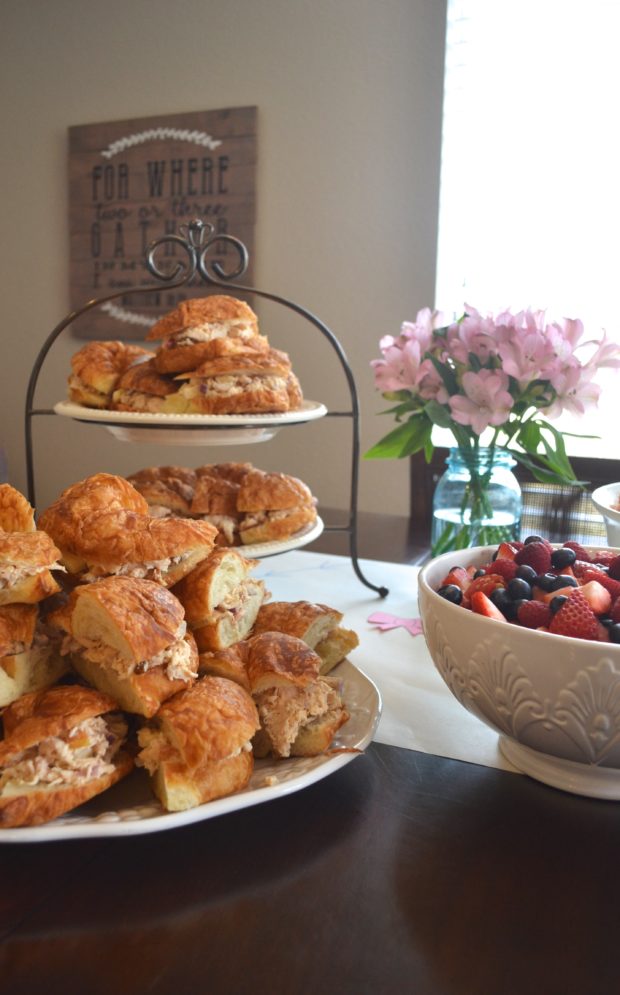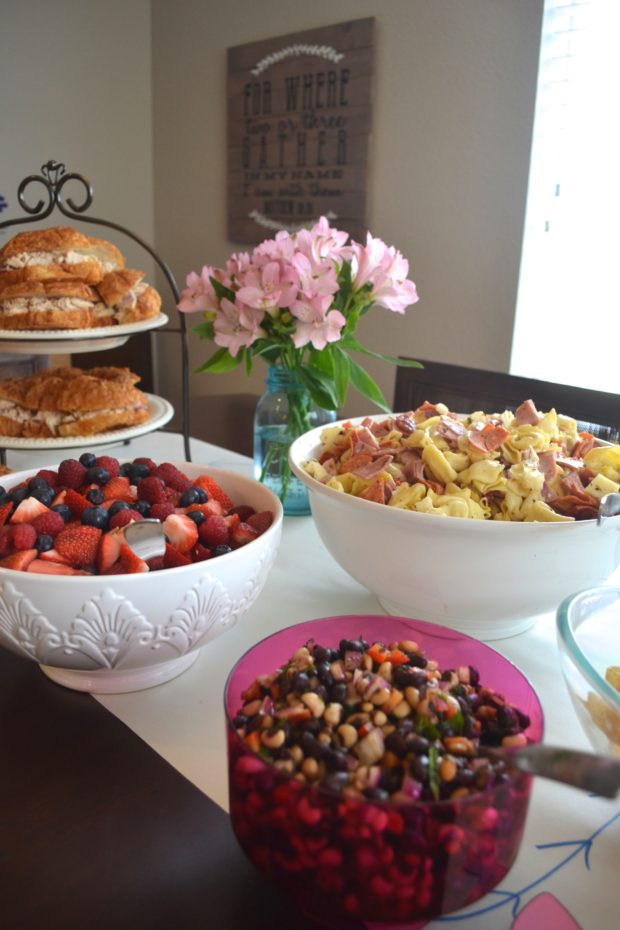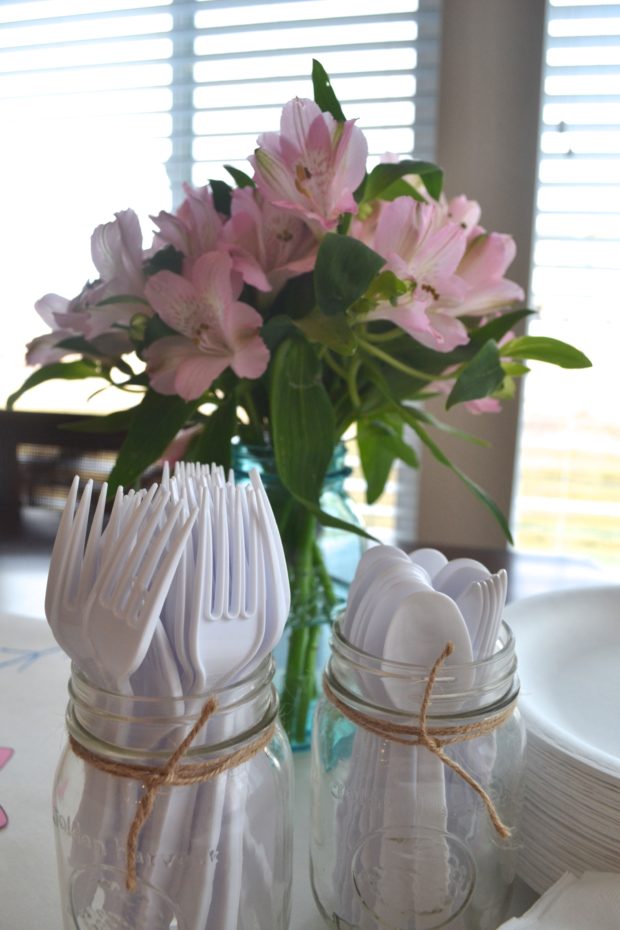 Some simple pink flowers in blue Ball mason jars added a floral element to the table without having a large centerpiece.  I know most are over the mason jar trend, but I use them all the time at parties.  They are so versatile.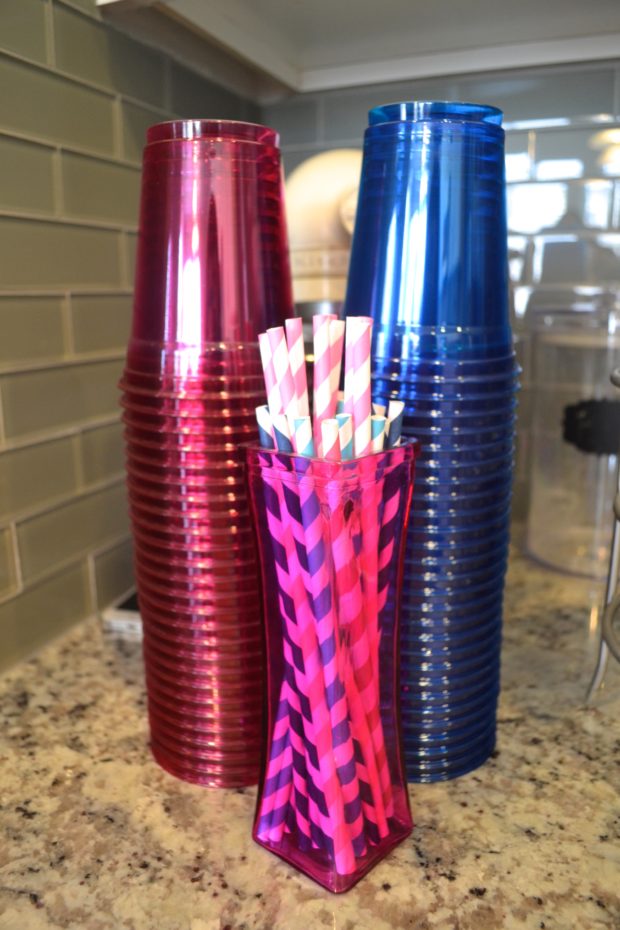 It is so easy to incorporate a pink and navy blue color scheme into a gender reveal party.  Our drink station was adorned with cups and straws in coordinating colors.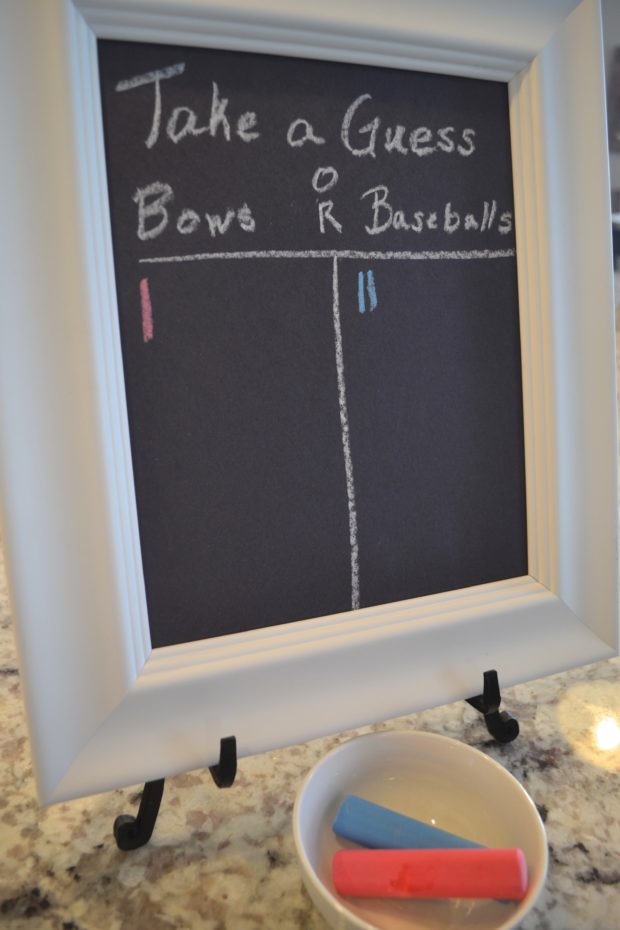 I set up a "fake" chalkboard using a piece of black construction paper for our guests to take their guess at what the baby was going to be.  At the end of the party, I glanced and the baseball column had an overwhelming number of votes.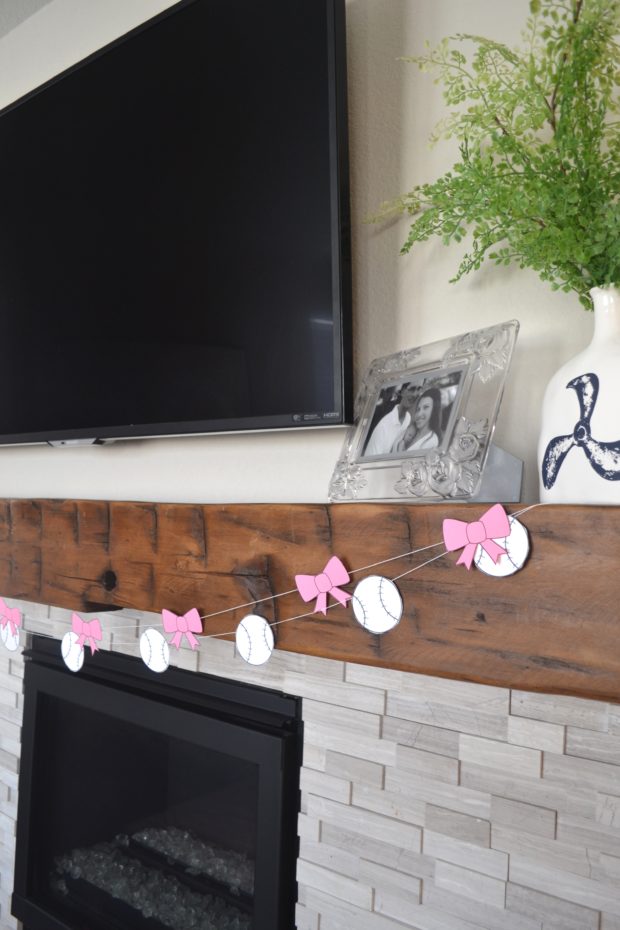 For decor I made some baseball and bow garlands that were added to our mantle and on the dessert table backdrop.  I did learn after cutting all of the bows and baseballs out by hand that it's about time to get a Cricut machine.  I could have saved so much time using it instead of scissors.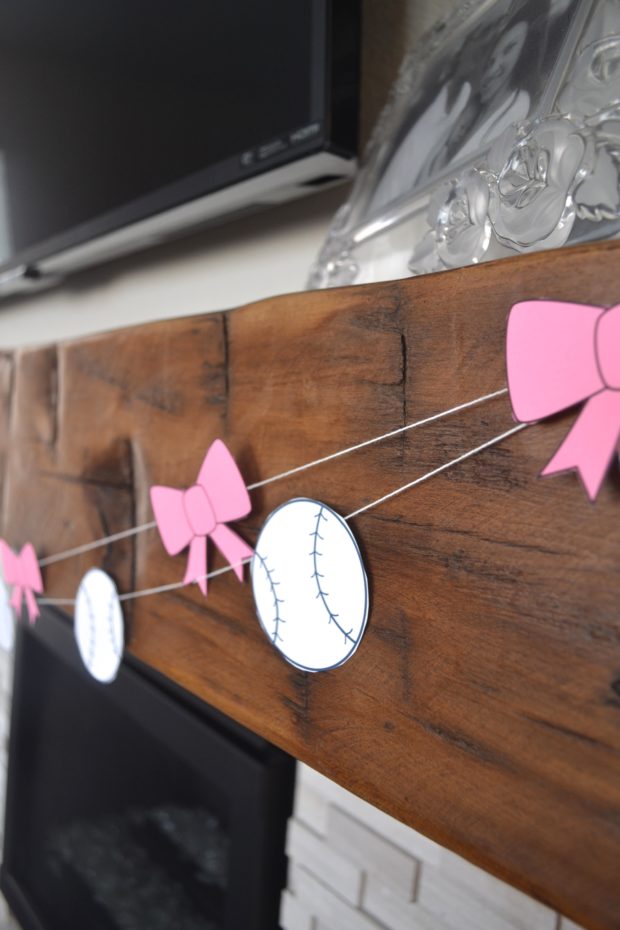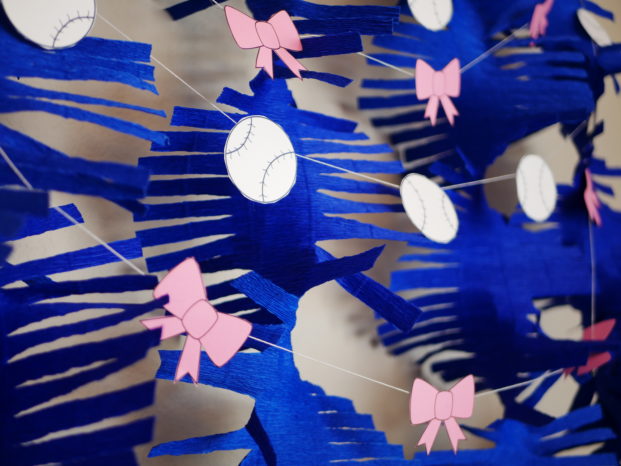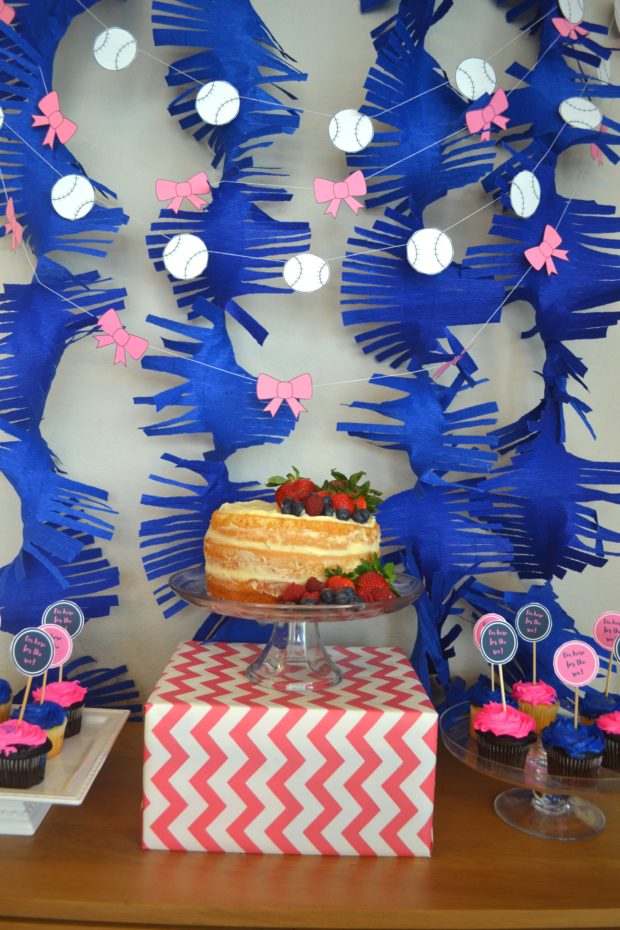 I was absolutely in love with our gender reveal dessert table and backdrop.  The fringed crepe paper turned out awesome, and my first attempt at a naked cake turned out almost perfectly.  Use this tutorial if you want to make a fringed crepe paper background.  I have a couple pointers for you below to check out before you make some for yourself.
First, measure how long you need the streamer to be before cutting your fringe.  I made four reeeeeaaalllly long streamers and only ended up using two of them because I could just cut them in half.  Now I've got some leftover streamers that haven't been used, but are fringed.  Also, the fringe comes off the wall quite a bit.  This protrusion made us have to bring the desserts to the front of the table and have a little less space for dessert.  Just be aware that they won't lay flat against the wall.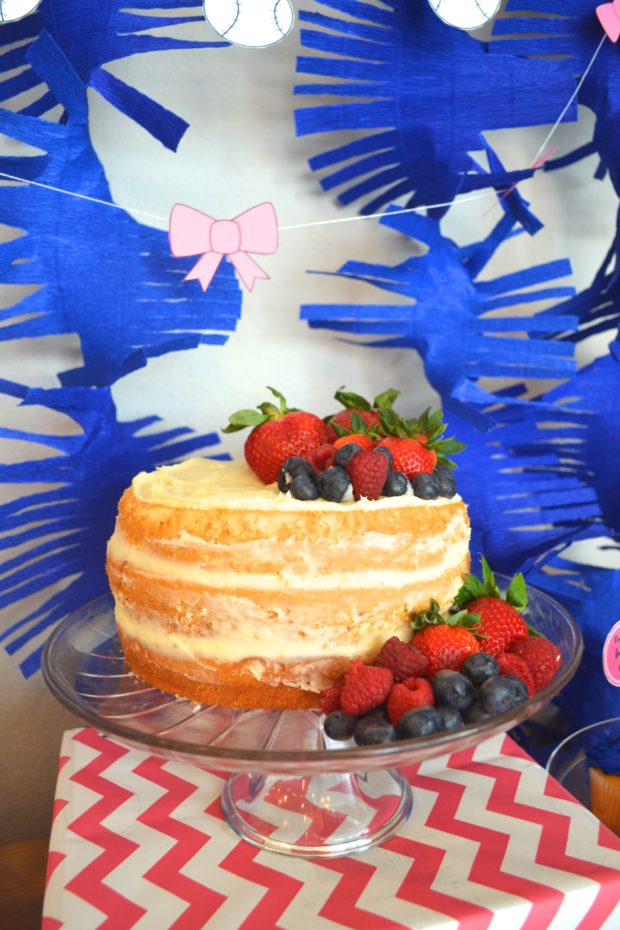 This is a better angle of my naked cake.  I used a boxed white cake mix, this buttercream recipe, and also added a berry compote between the layers.  It turned out so pretty, just a little lopsided.  I torted the top layer and ended up taking a little too much off of one side.  I'm not afraid to say that I am so proud of myself and how this cake turned out.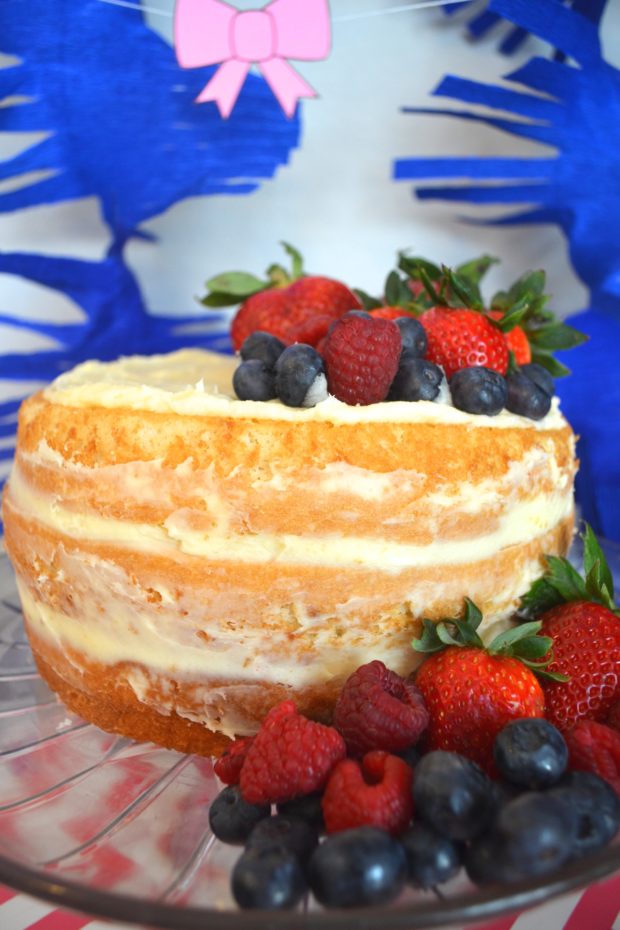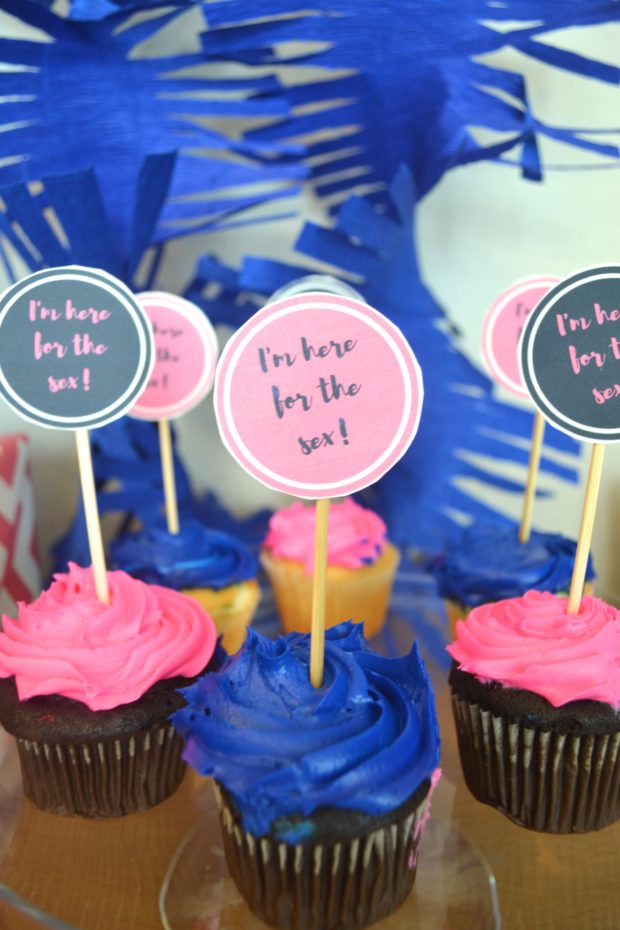 We also had cupcakes and baseball and bow iced sugar cookies to round out the dessert options.  I quickly made the cupcake toppers and thought the wording was just too funny!  Especially, if you know my husband.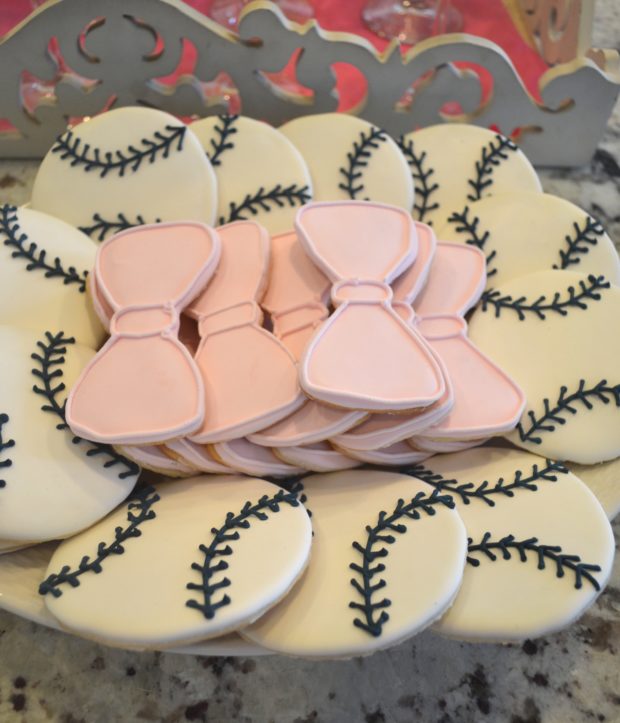 A friend of ours was the only person who knew the gender of the baby and prepared the cutest confetti poppers that worked perfectly with our theme.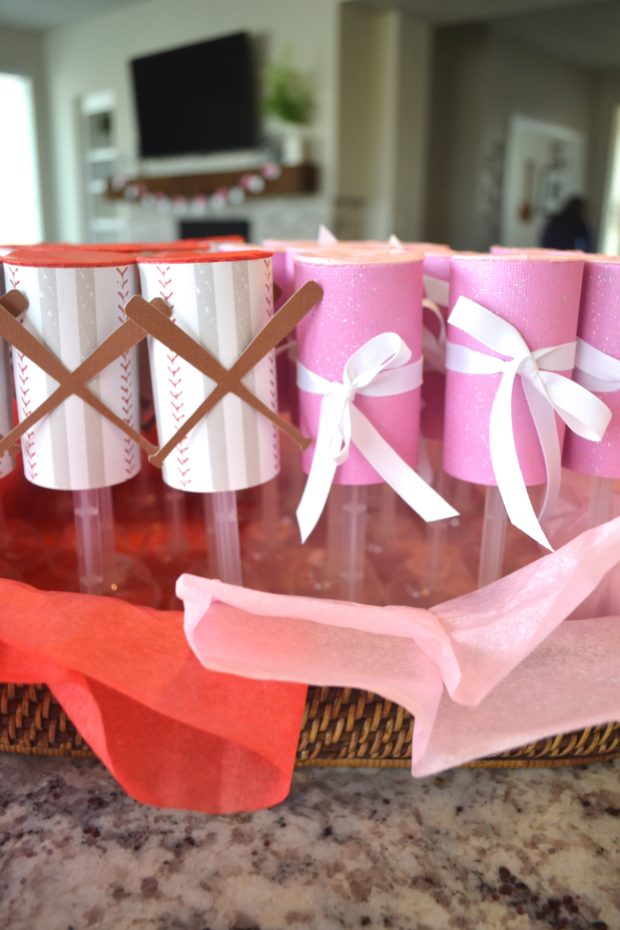 It's so nice having talented friends that are willing to keep a big secret from you!  Are you ready to see what we're having?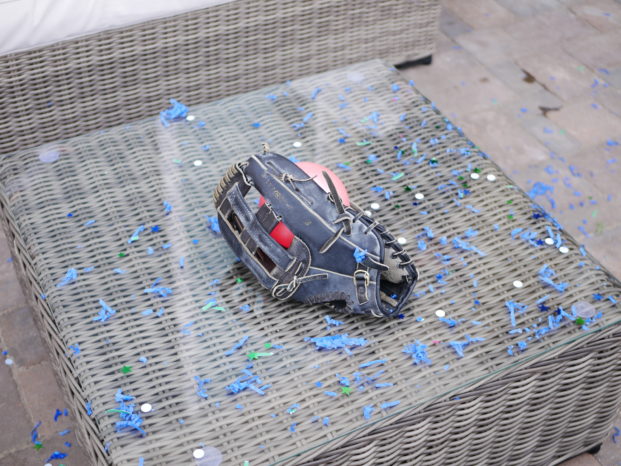 It's blue confetti!  You know what that means?!  It's a boy!
What was your favorite part of this gender reveal party?  Do you have any baby boy advice for me?  Check out the list below for more party details.
Gender Reveal Party Menu
Chipotle Chicken Salad Sandwiches on Croissants
Guacamole, Cowboy Caviar, and Chips
Italian Tortellini Pasta Salad
Mixed Berry Fruit Salad
Free Party Decor Printables
Click here for a set of printable bows, just download, print on whatever color cardstock you want, and cut out!
Click here for a set of printable baseballs, just download, print on whatever color cardstock you want, and cut out!