It's time again for one of my favorite series here on the blog, tablescape Tuesday.  In this series, I give you inspiration and tips on setting up and designing all kinds of tables around your home.  Dining tables for dinner parties, like today's post, or coffee tables, end tables, and party tables.
If you were around a month or so ago, you saw that for Lent I tried to have a different family over for dinner every week.  This tablescape was for one of those dinner parties.  I got so much pleasure out of putting these dinner parties together.  Some of the tablescapes, this one included, are some of my favorite I've ever done.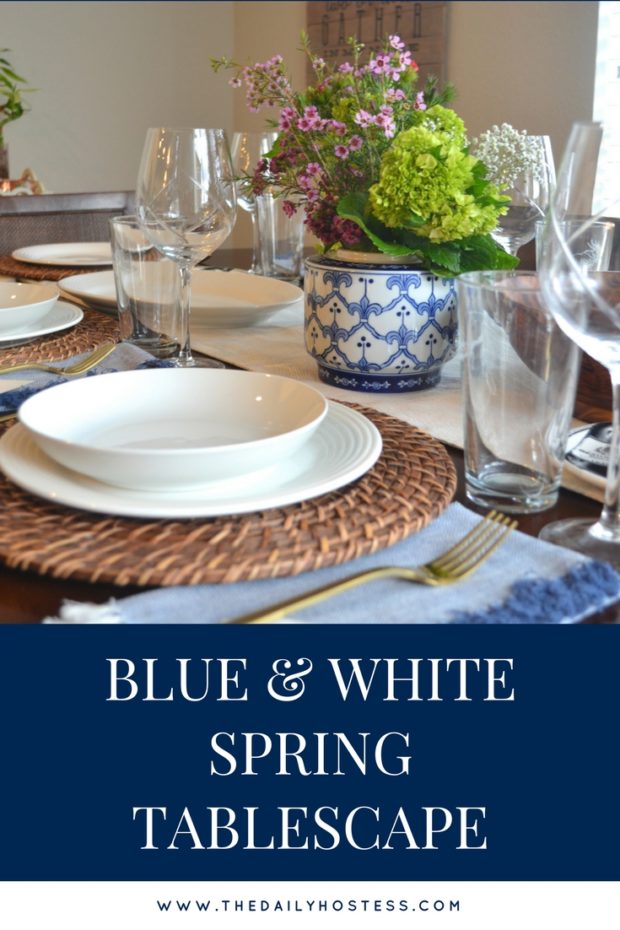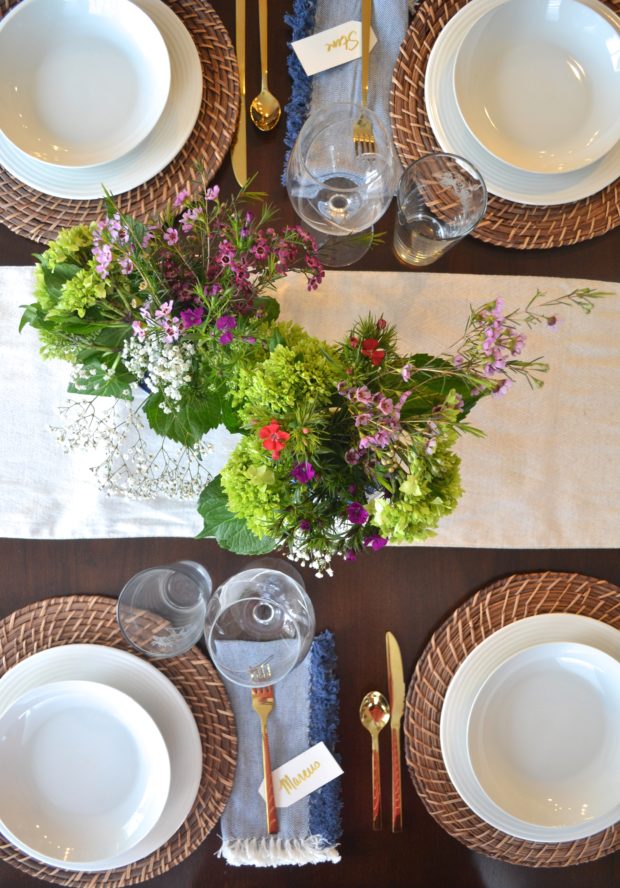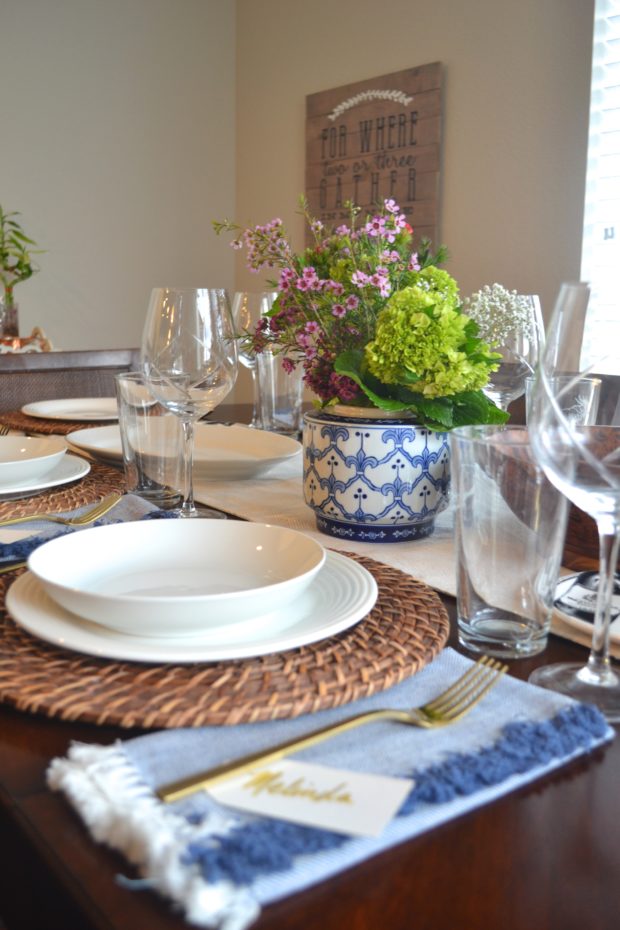 I used my super clearanced ginger jars as vases for a spring mix of flowers.  I loved how the blue and white ginger jars tied into my new blue cloth napkins. The napkins are from Homegoods.  It's a great place to find quality cloth napkins at reasonable prices.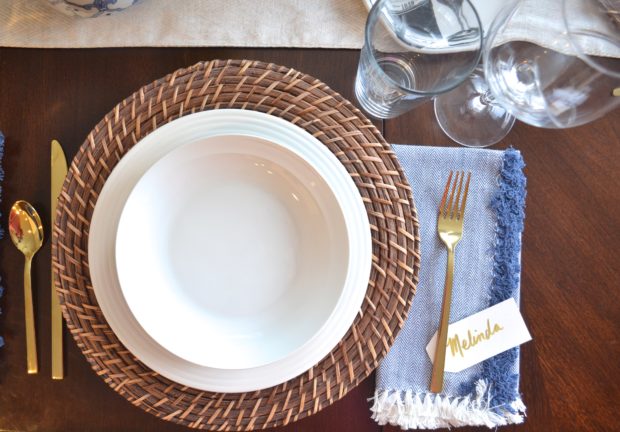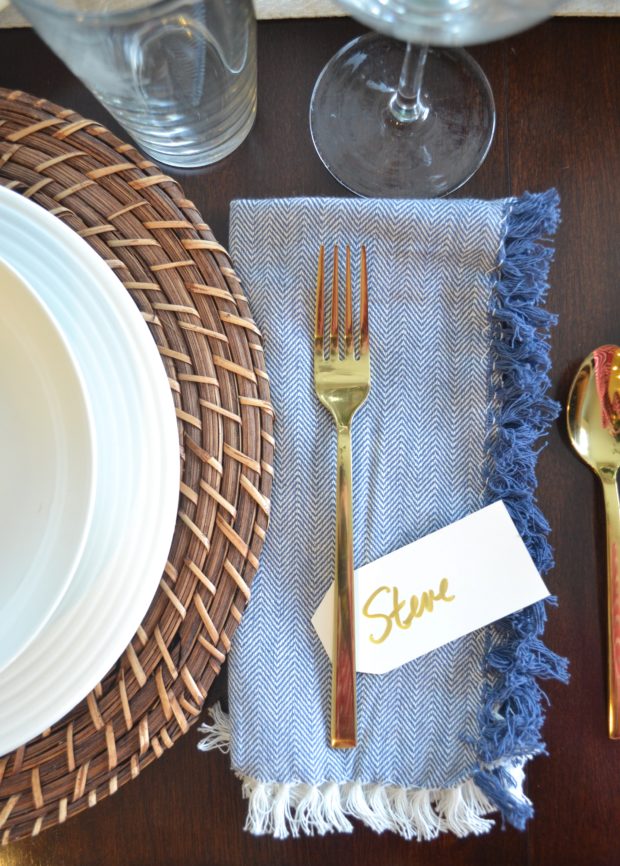 Place cards don't have to be anything fancy.  A simple tag with some nice handwriting is all I used for this dinner party.
I definitely think when having people over for dinner that haven't been to your house before it's a really good idea to use place cards.  Place cards help alleviate that awkward dance around the table where people are trying to figure out where to sit.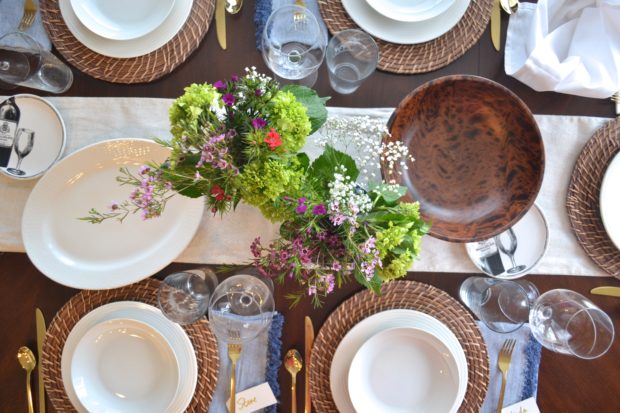 I always like setting out serving dishes on the table before any food is done. This helps me to make sure I know how all of them will fit on the table.  It's a great way to plan out your tablescape.
One of my best tips is to do this and add post-its to the platters.  Labeling the platters like this lets anyone know where to place food or dishes as they are brought to the table or eating area.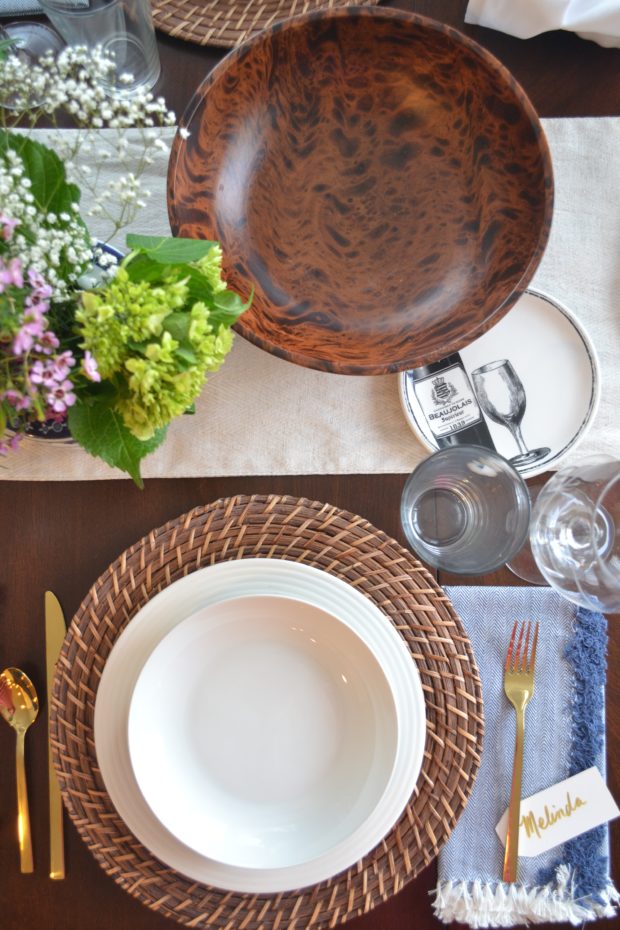 I was inspired by the menu to make the tablescape my version of what I thought a Tuscan table would look like in spring.  Blues, whites, and texture with wicker.
For dinner I made a beef ragu that cooked in the crockpot all day.  It was so tender and delicious.  I put it atop papparadelle pasta, which is so pretty I'm shocked I haven't used it before.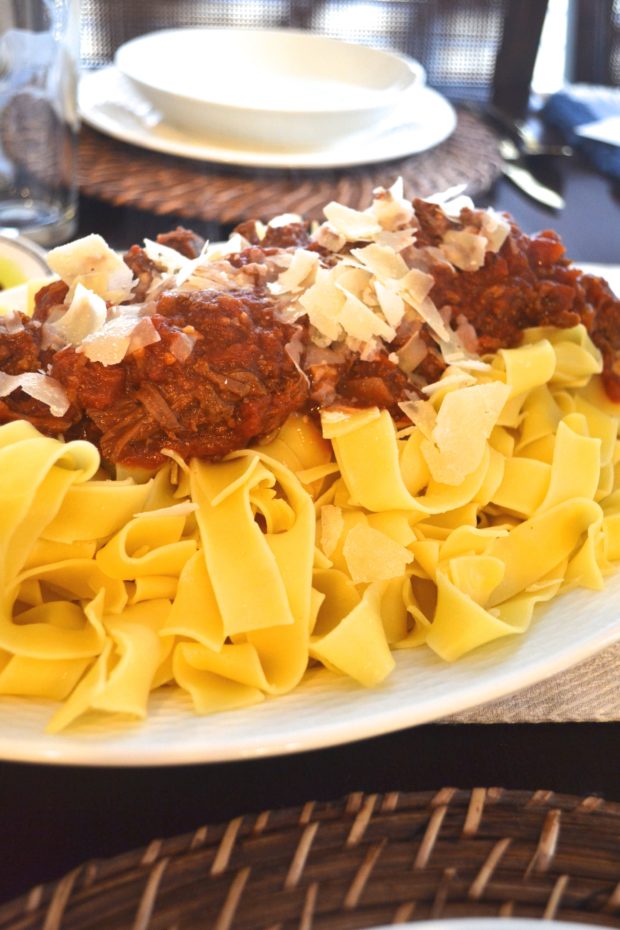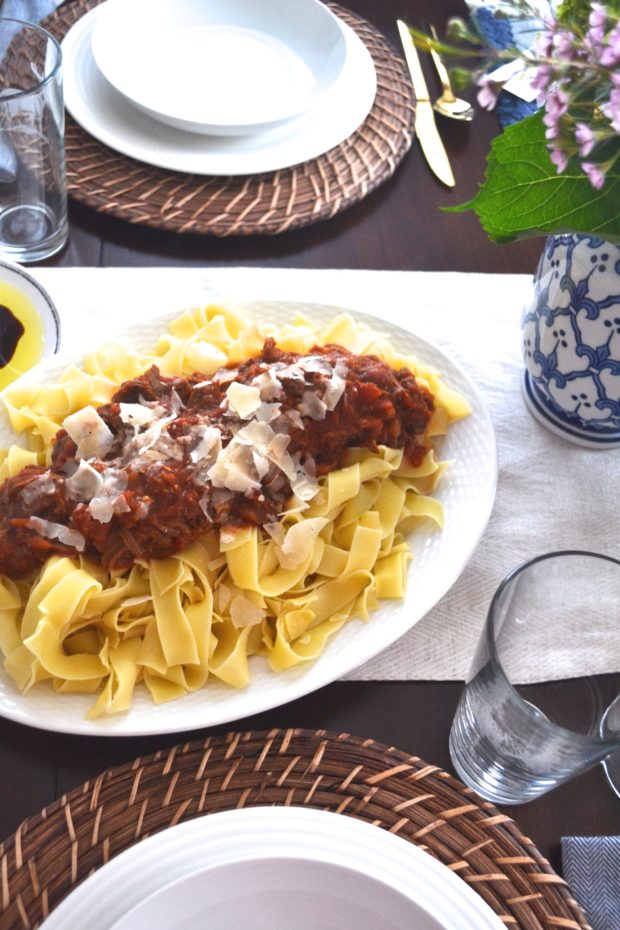 You can find the recipe for the beef ragu here. It was pretty easy to put together too, plus it looks so pretty on a platter.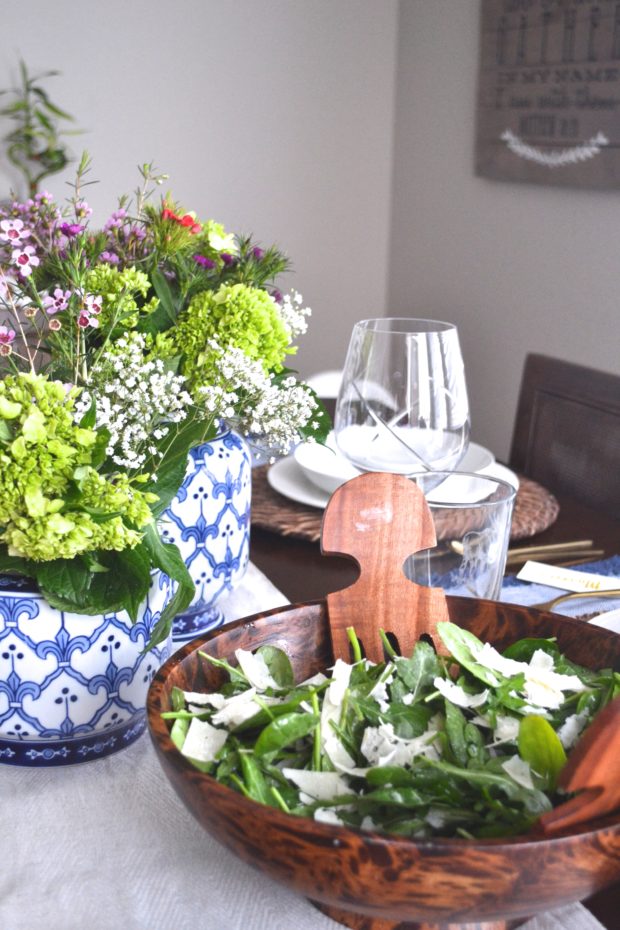 I added a super simple arugula salad and some crusty bread to round out the menu. I love how the green of the salad and the green in the florals make the blue and white ginger jars pop even more.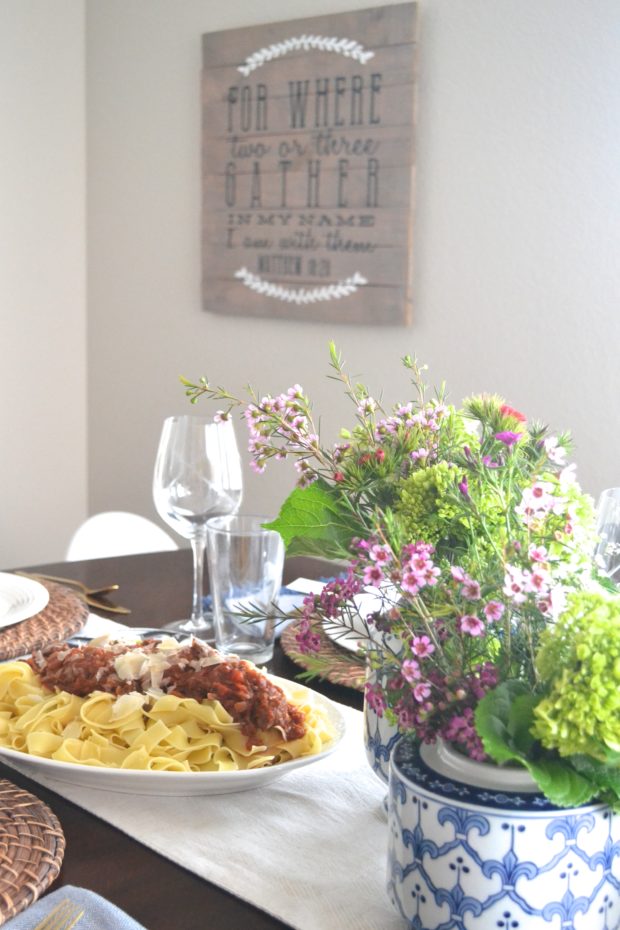 My goal with a lot of these posts is to inspire you to take something from what I've done and have your own celebration.  One easy thing you can take from this post to use at home is to serve dinner from a platter with your family gathered around.
Wouldn't it be nice to take your typical spaghetti dinner and serve it from a platter around your dining room table?  If you want to add in a nice place setting, centerpiece, and place cards that's even better.  I hope you feel inspired to do just that the next time you have spaghetti!