I keep seeing an article floating around the mom circle about how it's so much nicer for kids to receive experiences instead of gifts.  I'm totally onboard with this idea because I'm somewhat of a minimalist and just don't want a bunch of toys at my house.  I even requested no gifts at my daughter's fourth birthday.  FYI, she got a bunch of gifts, haha!
However, we can't expect grandparents and friends to get them experiences if we're not willing to also.  Because let's face it, grandparents are probably going to buy the kids whatever it is they want anyway.  Even after asking you what to get them, #amiright?
So how about giving your kids an experience during an everyday event instead of just at birthdays and holidays?  You can do so through your menu and tablescape decor at meal time.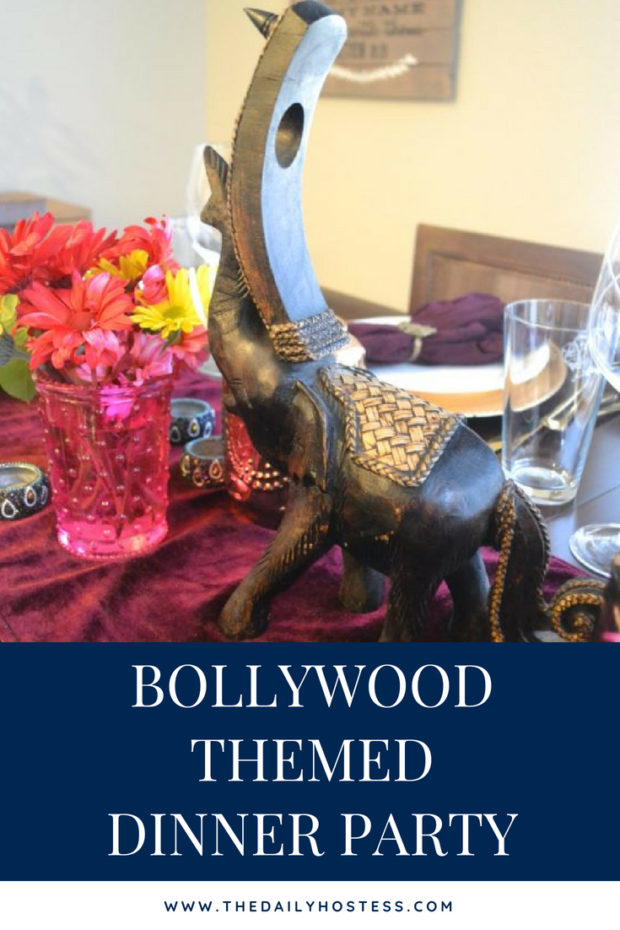 I'm certainly not advocating doing so every night for dinner.  I'm right there with you moms that are struggling to get dinner on the table while the baby is crying and the toddler is having a melt down over not getting yet another snack.
But every now and then don't you think they'd remember a really special dinner table?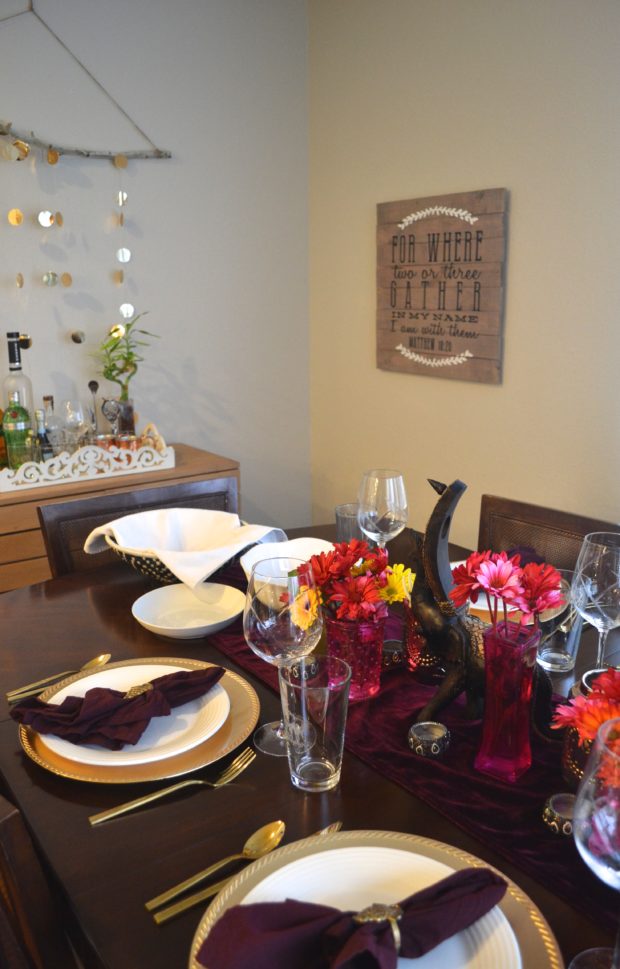 What's even more memorable is when the menu pairs with the decor.  It can kind of be a learning experience for everyone. You can enjoy a cuisine of a different culture and be surrounded by the colors and decor of that culture.
This past Easter season we tried to host a different family for dinner every week.  I tried to make them fun themed dinners.  You can see one here and another here.  Today's tablescape Tuesday is a Bollywood themed tablescape and dinner that we hosted during Easter.
I wanted to make an easy crockpot meal and love this **chicken curry dish**, so the only thing that made sense was making a Bollywood themed tablescape to go with our Indian meal.  This meal is a big crowd pleaser when served over rice and with naan.  I love this naan that I get from Costco.
Thankfully, I used things from around our house to put this tablescape together.  The only thing I had to get were some flowers from the grocery store.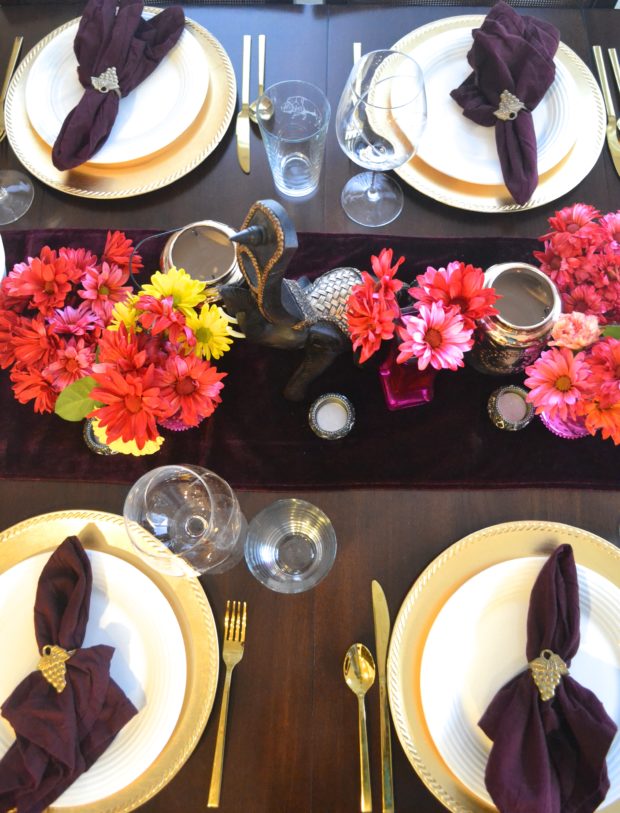 The colorful tablescape is sure to make a memory for our kids.  What kid doesn't love pink, red, and orange flowers with a big elephant in the middle of the table?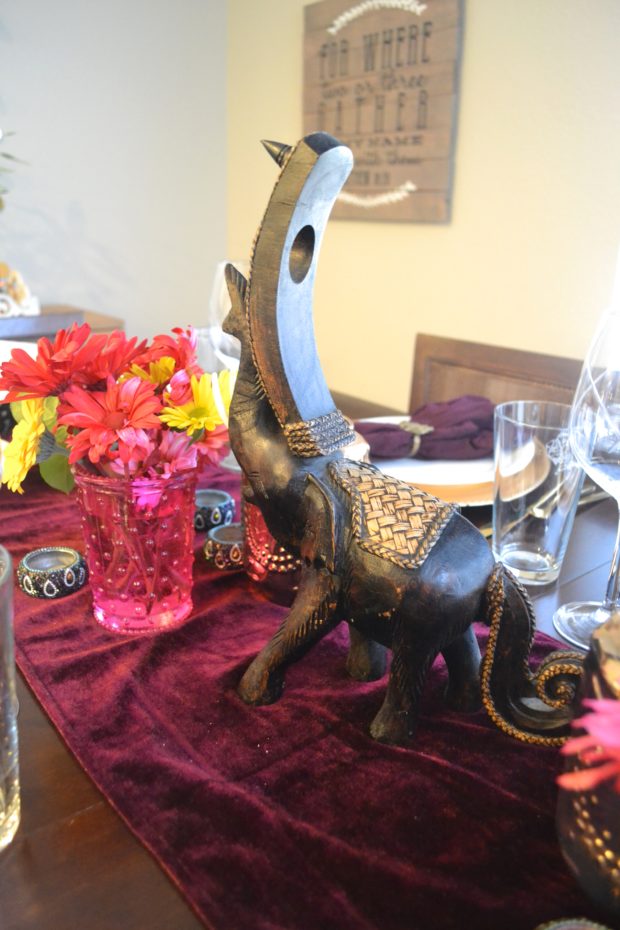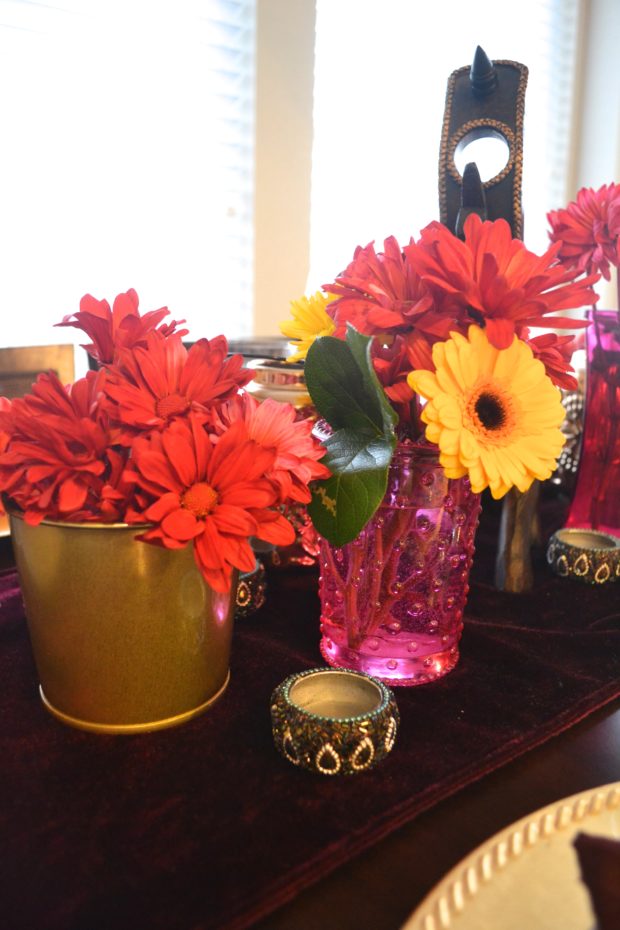 I used traditional deep saturated colors with gold and sparkle.  The elephant in the middle of the tabel is a treasure picked up from Thailand during a Navy deployment.  It holds a wine bottle, so it's a great idea to display your wine for the dinner party right in the middle of the table.
I had some gold buckets from the Target dollar spot that I used as vases for the grocery store flowers.  I also dispersed some glitzy tea light holders throughout the middle of the tablescape.
The place settings were made using my go to combination of gold chargers + white plates + gold flatware.  I added in some deep purple napkins and gold napkin rings.  The napkins almost match the table runner perfectly.
Bollywood is all about the glitz, glam, jewels and color.  I think this tablescape totally embodies that.  It would be fun to add in lanterns or pillows to a Bollywood dinner party.  Or even have someone giving your guests henna tattoos.
The colors and taste of this meal are sure to leave a lasting impression on your guests and your kids.  And how great that you can give your kids an experience without even leaving your house?!
Who is with me to start making experiences at home during meal times?  What are your thoughts on toys versus experiences for kids?