Welcome back everyone!  I hope your week is off to a great start!  I'm so excited to share this gold and white gender neutral baby shower with you today.  It means that we're getting closer to a new niece or nephew!  Recently, my sister-in-law asked if I would help host her baby shower.  I, of course said yes!
It was a bit of a challenge because it was located about 12 hours away from me and it was a gender neutral.  I'm so impressed that they have made it thus far without finding out the gender of the baby.  I am such a planner (shocker!) that I would have to know beforehand.
Because I'm a little particular about parties and how they look (again, shocker!), I ended up taking a lot of party decor with me across three states, haha!  For the other things that I didn't take or couldn't fit in my car I ordered through Amazon prime and had them sent to the party location.  What did we ever do before Amazon prime?  And I apologize to my sister-in-law who had to deal with a ridiculous amount of boxes coming to her house before the shower.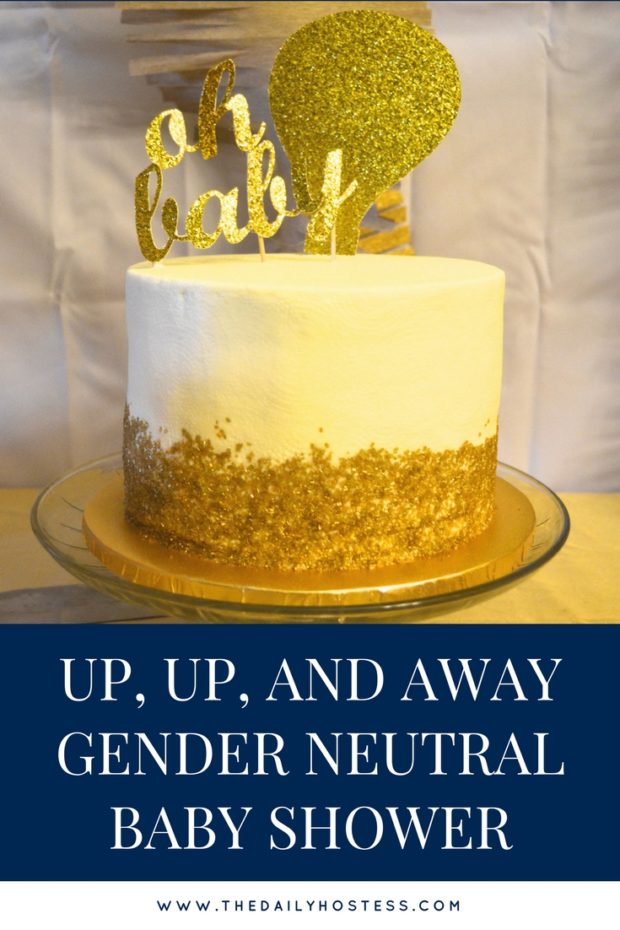 So I really wanted to focus on a fun gender neutral theme for the party.  My sister-in-law and her husband love adventure and exploring.  You can see their wedding here.  I decided to go with an Up, Up, and Away theme hoping that it kind of tied into their love of adventures.  The main colors were a very neutral white and gold.  Plus, gold let me add a bit of sparkle 😉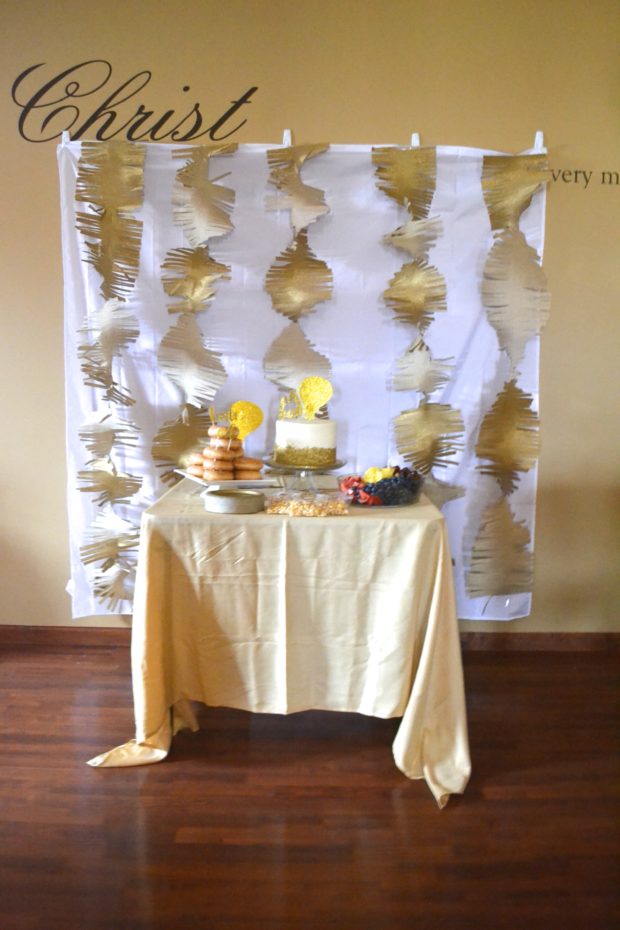 Decorating for a party at someone else's house also proved a little challenging.  Thankfully having been to my sister-in-laws house plenty of times, I kind of knew where I wanted to set things up beforehand.  I did a large backdrop in front of the dessert table.  Using Command Hooks to hang a shower curtain made taking the decor down a breeze without damaging any walls or putting anything permanent up.
I then made these large fringed garlands to hand in front of the shower curtain.  You can see where I made blue ones in this post.  I found a great three pack of large crepe paper at a decent price so I had to share it with you.  You can find it here.  The colors are a true gold, silver, and copper.  I'm excited to use it for other projects too.
Thankfully a friend let me make this "Oh, Baby" cake topper on her cricut machine.  It turned out so cute.  I just hot glued it to some skewer sticks and popped it into the cake along with a hot air balloon cut out.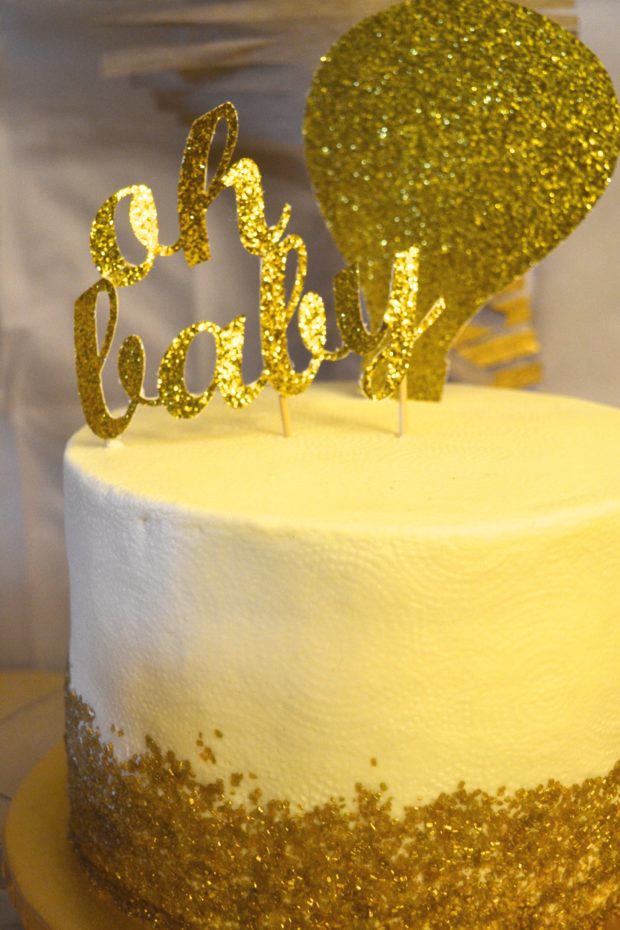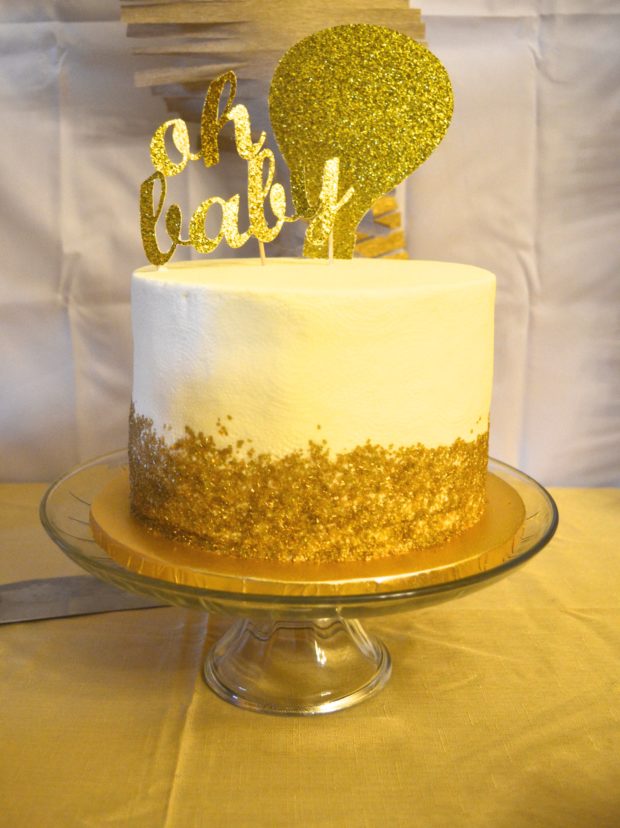 Thanks to some Pinterest inspiration, the cake turned out great.  It was three layers of delicious chocolate and covered in gold sugar.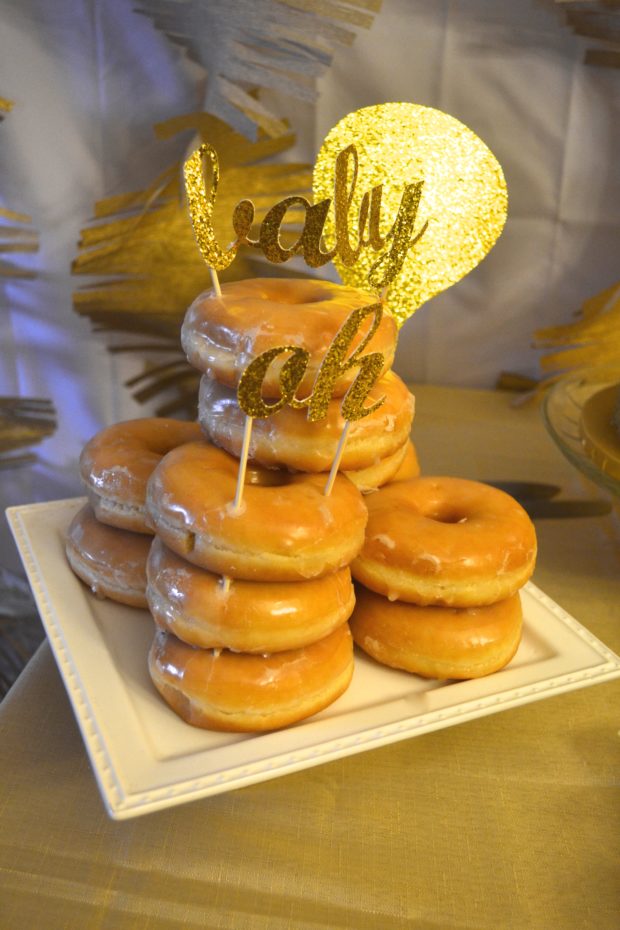 You can't go wrong with a donut tower at any kind of party.  But especially for a brunch, they work perfectly.
Up, Up, and Away Themed Baby Shower Brunch Menu
Speaking of brunch, we had a great spread of food.  Lots of great breakfast options and lunch options.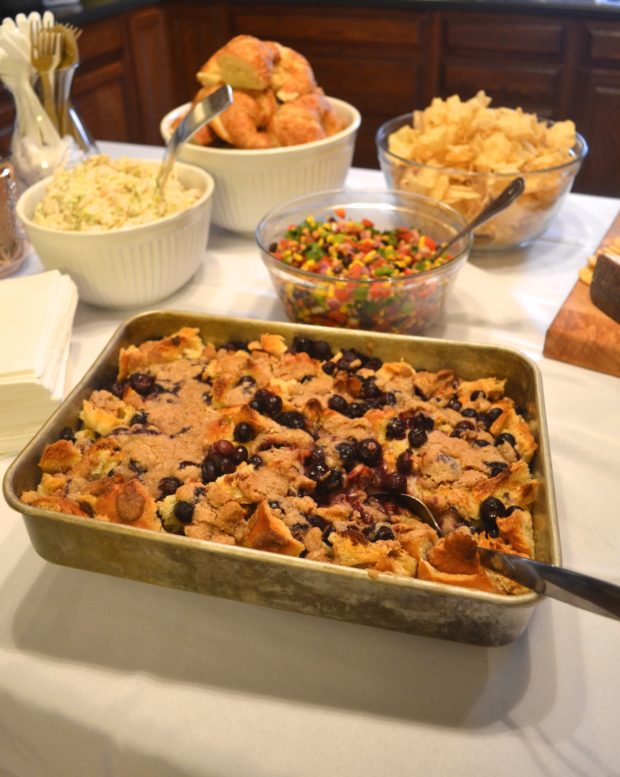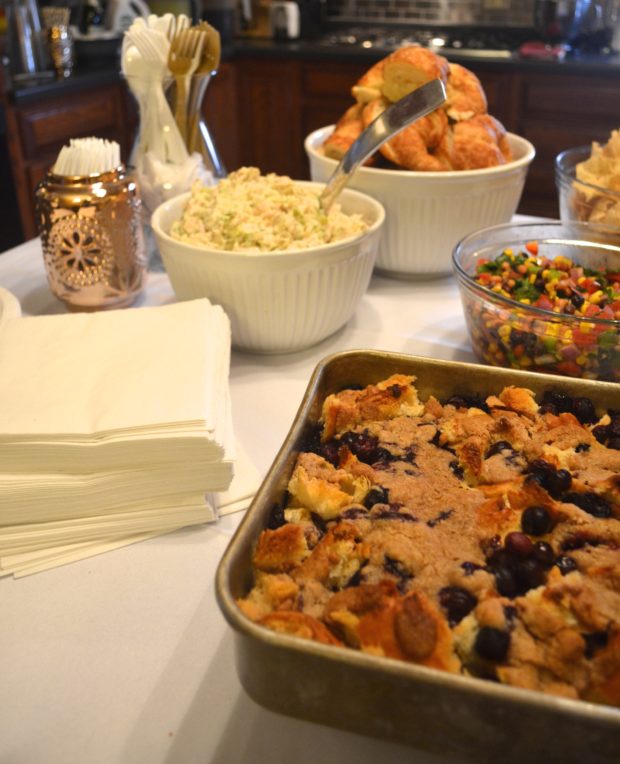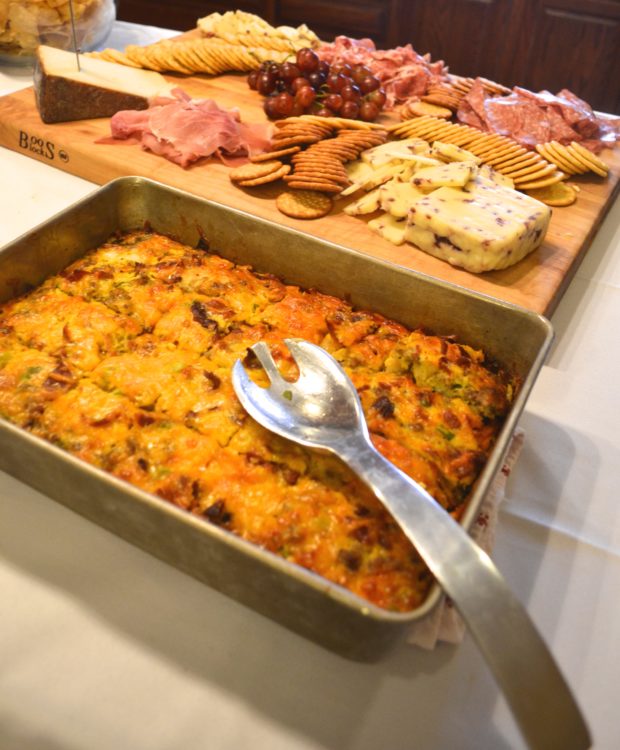 You can find the links to make these yourself below:
Plus I added in some store bought chicken salad, croissants, and my other sister-in-law is the charcuterie master.  She knows how to set out meat and cheese like no one else!
No brunch is complete without mimosas.  I set up this little drink station and it just goes to show you that you may have to think outside of the box when party planning.  Without an ice bucket we got creative and used a pretty silver bowl to keep the champagne on ice.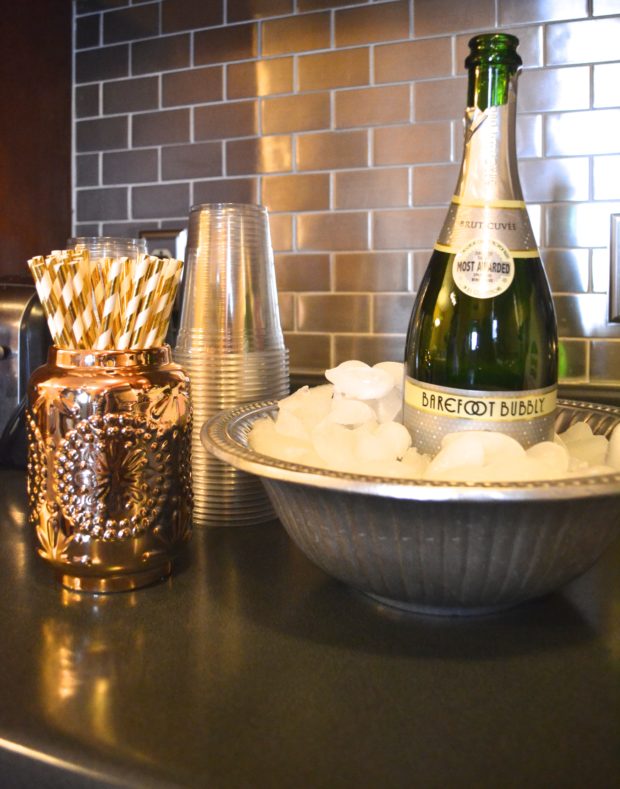 Gender Neutral Baby Shower Decor and Favors
I added some hot air balloons throughout the party to tie into the theme.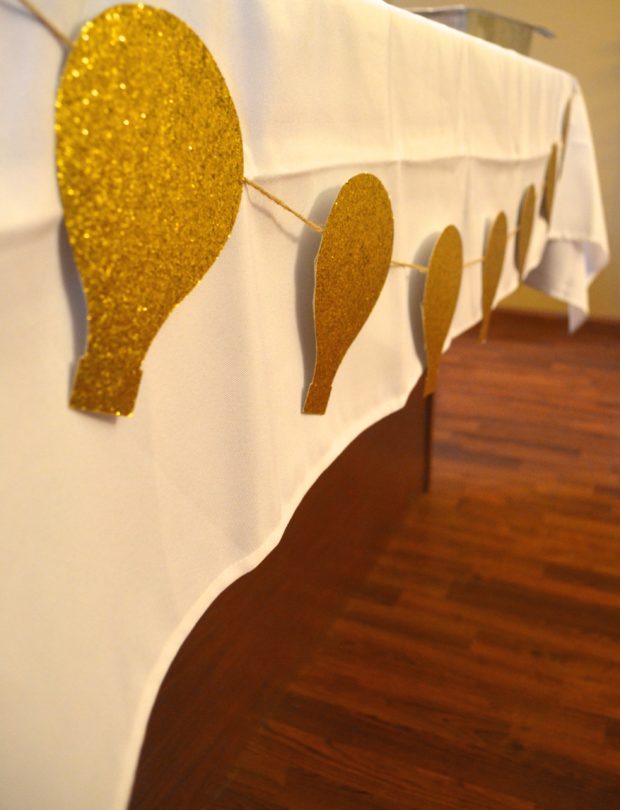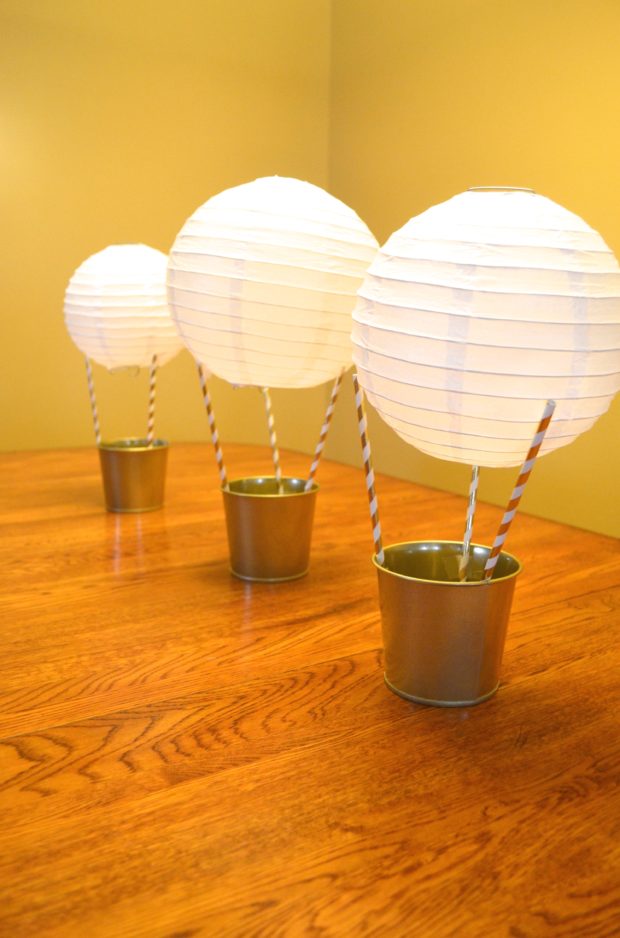 This centerpiece was super easy to make with some gold tins I already had and taping some gold straw to white lanterns.  I meant to get flowers to put in the tins, but totally forgot when I was at the store.
I highly recommend setting up a gift station/favor takeaway area/guest book situation for any kind of party that people bring gifts to.  It keeps everything in one spot.  Having it at the entrance of the party tells people what they are supposed to do with gifts.
The table near the front door was perfect for everyone to leave gifts, sign the guest book, and take a fun caramel popcorn favor for the road.
That wraps up this gender neutral baby shower. Now we just have to wait about another month to get to meet the little guy/girl.  I was so excited to do this party for my sister-in-law and know that this baby is going to be so loved (because it already is!).

Shop the party here!  Just click on the links to take you to the same products I used, no cost to you. *Affiliate links used.