Welcome back from the weekend!  First, I want to give a quick plug to my Rodan and Fields business and the awesome promotion I'm running until Tuesday.  Click here to hear all about it, and here to see what skincare would work best for you.
Now that that business is taken care of, let's talk about probably one of the most important parts of parties, get togethers, and celebrating.  The Thank You card!  It's so important!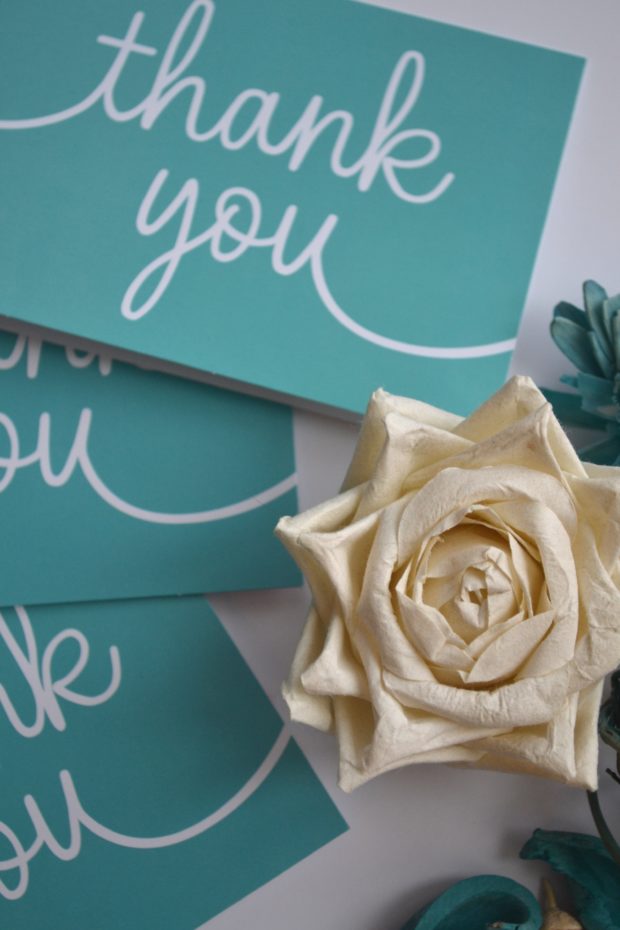 I think it's a bit of a lost art in this high paced, technology filled world, but getting that hand written thank you note makes you feel so good, right?
Below are a few of my tips and a template to help you write the perfect thank you card.  Using the template, you'll be a thank you card master able to whip out a bunch of amazing thank you cards.
Thank You Card Tips
Emily Post says that the two most important things when writing thank you notes are sincerity and promptness.  So my first tip is to try and write the thank you note within a week of the event or receiving a gift.  Using the template I've provided it won't take any time at all to write.
As far as sincerity goes, it's best to add some sort of personal flair to your card.  Definitely mention the gift giver by name, but also talk briefly about them or your relationship.  Something as simple as, "It was great to celebrate with you," or "I loved catching up with you at the party" work fine.
One of my biggest pet peeves is when the thank you note doesn't specifically reference the gift given.  You should mention the gift specifically, like "thank you so much for the decorative vase," not "thank you for the gift."  I'll be honest and say that I'm pretty judgemental when I get a thank you card and it doesn't reference the gift specifically.  Not my best quality I know.
Write the thank you note as if you were speaking to the person directly.  Use your normal tone of voice, but be sure to be positive, it's great that someone gave you a gift!  Just try to keep the note on the shorter side, it isn't supposed to be a novel.
If someone gifts you money, be sure to tell them what you plan to use the money for.  Don't say "thanks for the money." Instead, say "thank you so much for the generous gift, I plan to use it to purchase a new coffee table for my apartment."
It's a great idea to give a thank you note or card not just for gifts, but lots of other occasions.  Be sure that if someone is hosting you for dinner, or overnight you write them a quick thank you.  Also if someone is hosting a party or gathering in your honor, you want to make sure to thank the host specifically.
Thank You Card Template
Now that you have a bunch of tips to make your thank you card writing great, use this easy template to crank out the thank you's in no time.
Click the template I created for you below to download it. Keep it somewhere handy to reference while writing thank you cards.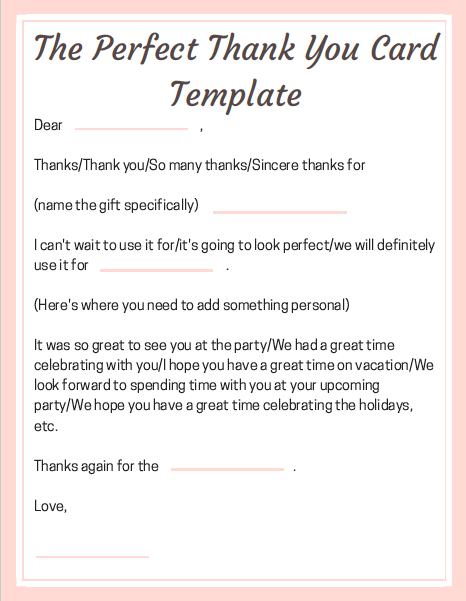 Here's a sample thank you note using the template above.
Dear Aunt Lisa,

Thank you so much for the thoughtful bottle of wine you brought to our dinner party.  We're looking forward to pairing it with a great steak in the future.  It was so great having you at our dinner party. Your dinner jokes really kept everyone laughing and having a good time.  Thanks again for the wine, and we're looking forward to spending time with you again around the holidays.

Love,

Amy
See how easy that was?!  Short, positive, named the gift, added some personalization, and wrapped it up.  You'll be writing perfect thank you cards in no time using the template above.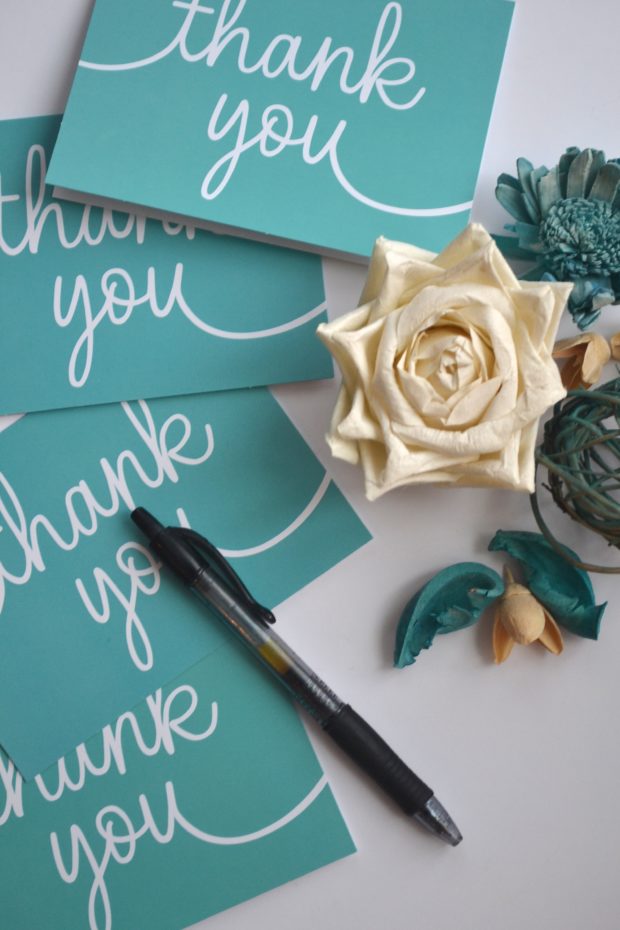 Now, tell me your tips for writing thank you cards.  Or have you ever gotten a really good, or really bad thank you card? I can't wait to hear all about it. There are a lot of Valentine's Day posts coming up over the next few weeks. Just in time to help celebrate the love in your life!