Happy Holy Week!  Easter is one of my favorite holidays.  Mostly because the weather is starting to get nice, the kids have fun activities to do and we always do a big brunch.
Brunch is probably my favorite meal of all time.  Do you love brunch?
You can't have brunch without a table to sit around, so today I'm sharing my Easter tablescape with you.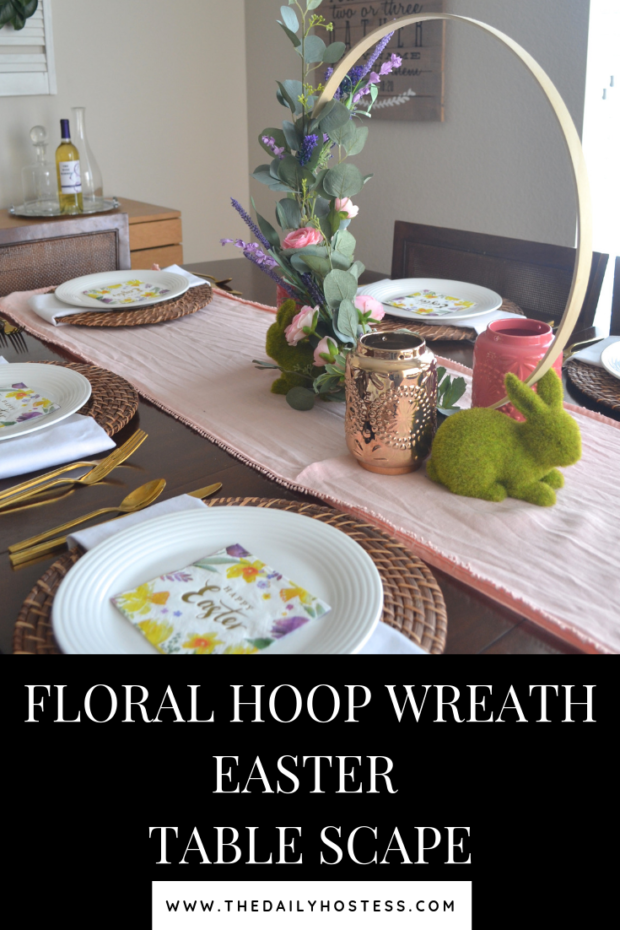 You (at least if you follow me on Instagram) actually helped me put this tablescape together.
Easter Tablescape Poll
Recently I asked on my Instagram stories for some help deciding on how to put my Easter table together.  I was having a hard time deciding on what to include on my table.
I broke it down into little categories then asked my followers to vote.  Do you love that little poll option on Instagram?  I think it's pretty fun.
I asked if I should go with a neutral or colorful color scheme and the votes were basically split.
Then I asked if I should go with a floral centerpiece or something unique.  This option leaned more in favor of something unique.
So I threw out a bunch of ideas to my husband who is so lucky to get to be my sounding board on things like this, haha.  I thought of using an umbrella, because it's springy or a wheel barrow.
But I ultimately decided on combining something unique with some flowers.  So I made a floral hoop wreath.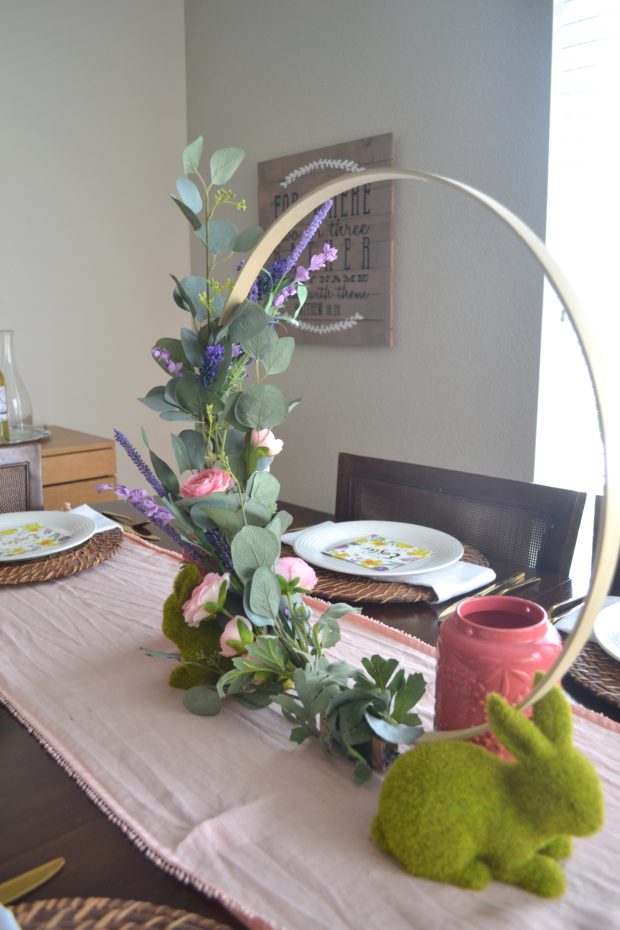 Although these hoop wreaths are kind of all the rage right now, I decided not to hang it, which is how it's most often displayed in parties or home decor, and instead propped it up right in the middle of my table.
It makes a fun statement and is a little different but still has that classic floral centerpiece vibe to it.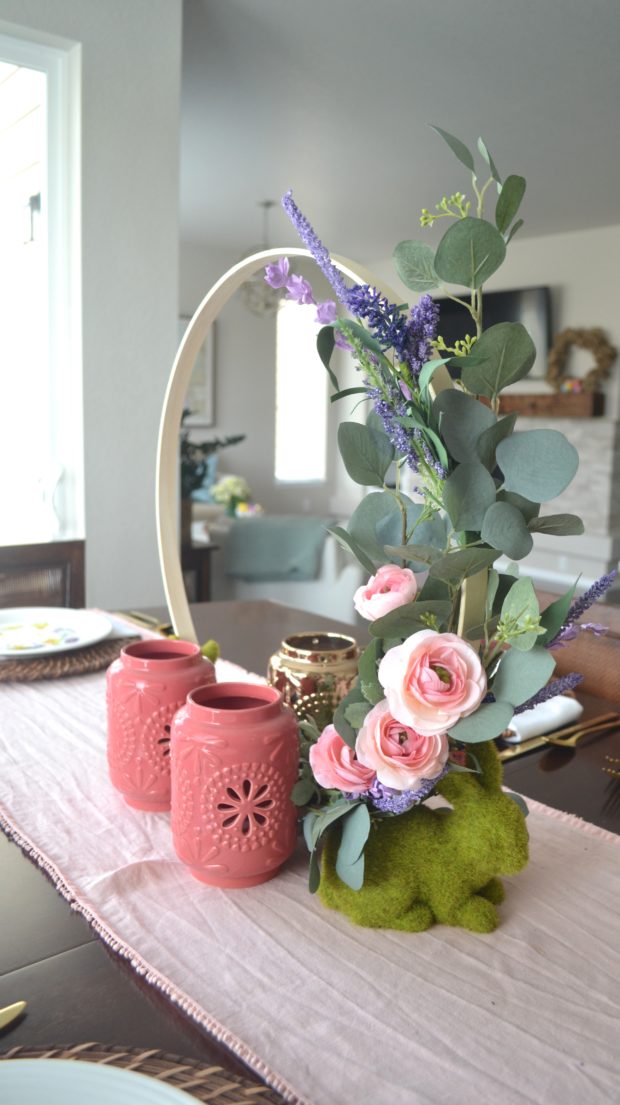 Floral Hoop Wreath DIY
Like I said before these floral hoop wreaths are pretty popular right now.  And for good reason they are super versatile.  They work great for a boho themed baby or bridal shower, a fairy birthday party, or wedding backdrop.
You can even make them unconventional and instead of using flowers use things like dinosaurs, balloons, or seashells depending on what type of party you're hosting.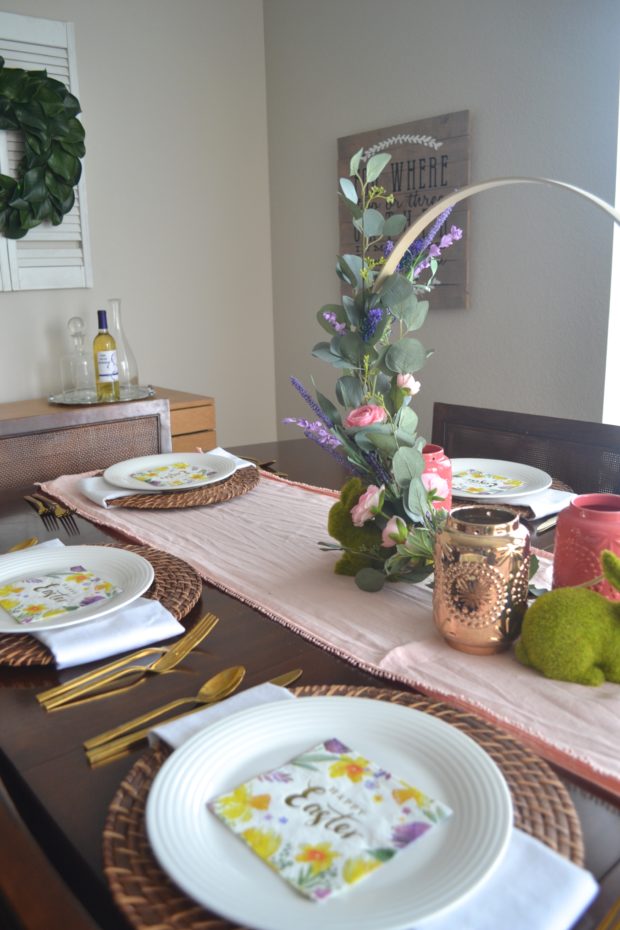 So I'll do my best to break down how I made this hoop wreath although I didn't take any pictures during the process.  I did do a time lapse video of me making the wreath.  Over all it too just over 15 minutes to make it.  So not long at all.  Scroll down to see that video.
DIY Hoop Wreath Supplies
You'll need the following supplies:
Embroidery Hoop (Always use your Hobby Lobby coupon!)
Artificial Flowers and Greenery
Floral Tape
Scissors, Wire Cutters, and Floral Scissors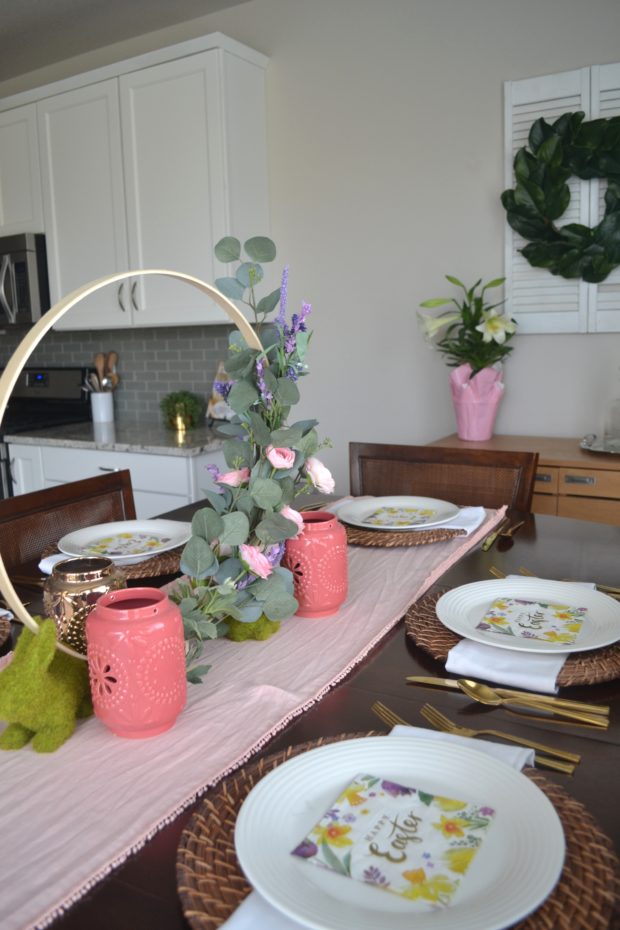 DIY Hoop Wreath Tutorial
This how to is pretty easy.  I started with the part of the embroidery hoop that had the block and screw on it in order to stand it up on that.  But if you're hanging your wreath, I'd used the simple hoop without the block on it.
Then I started by adding my greenery to the hoop first.  I secured it in place by wrapping floral tape around the stem of the greenery and the hoop.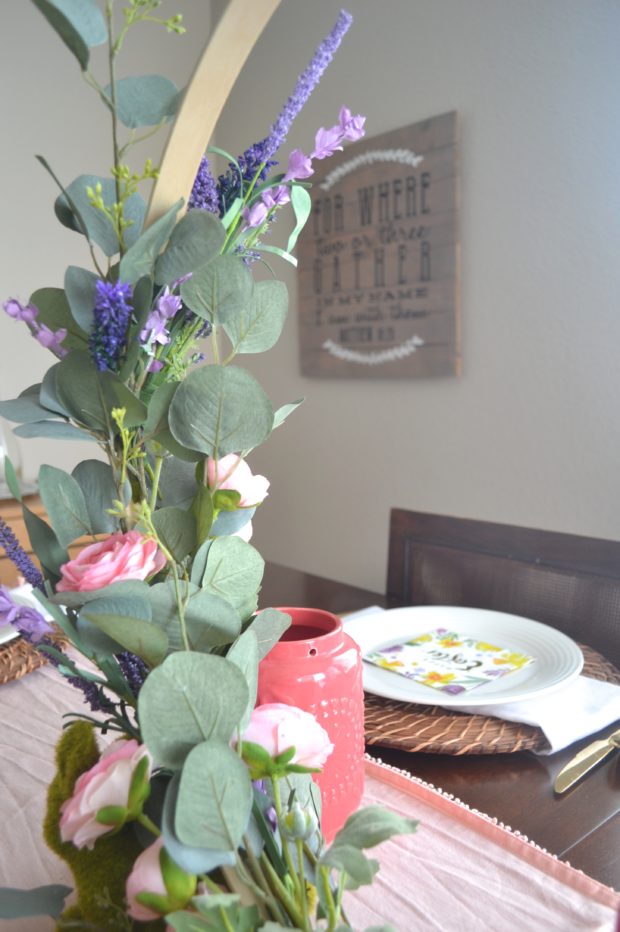 If necessary you may need to use wire cutters to shorten the stem of your artificial flowers or greenery.  I did that to all of the flowers I used on my wreath.
Then I used my floral scissors to cut the flowers off of the longer stem and tucked them into the greenery on the hoop.  There were a few pieces that needed floral tape to secure the flowers into the greenery.
As I built the wreath I would add flowers, turn the hoop around and check it from all angles to make sure it looked full enough on all sides of the hoop.
Once I felt it was full enough I just propped it in the middle of the table and used some moss covered bunnies to help hold it up.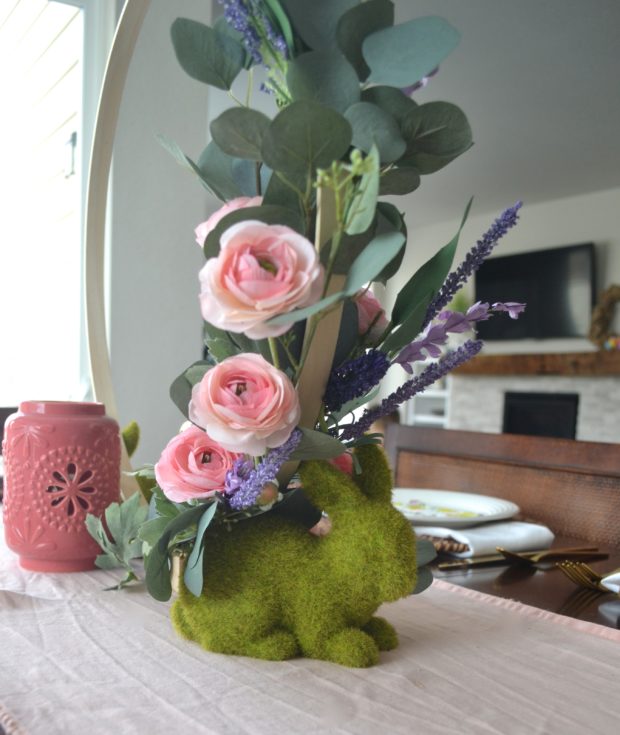 That last part sounds like a no brainer.  However, you should have seen how much time I wasted and frustration was had by trying to figure out how to get the hoop to stand up.
After adding the flowers and greenery, one side of the hoop was a lot heavier and kept making the hoop fall down.  I mean there was nuts, washers, play doh and boxes involved.
After lots of failed attempts I got so frustrated I just propped it up on the bunnies while I tried to figure out another way and it stayed upright.  Then I thought to myself "what an idiot." Why didn't I try the simplest, most common sense way the first time, haha!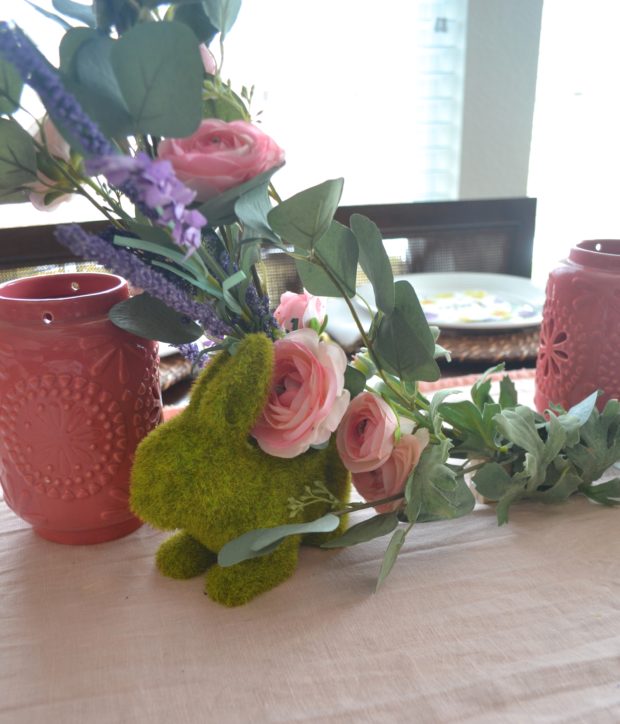 Anyway, it's still standing up even after kids have bumped into the table during dinner, so it's a pretty sturdy (yet simple) solution.
Watch below to see a sped up version of me making the floral hoop wreath.  I cut a few boring parts out and you might see me chatting with my husband while I was making this.
Easter Table Scape Details
Other parts of the table scape are made up of things I already had on hand.
I wanted to appease those Instagram voters and went with a more colorful pink table runner.  Whicker chargers add some much needed texture.
And moss covered bunnies do the same, not just hold up my hoop.
I incorporated some pink and gold lanterns in the table scape as well and plan to add some fresh flowers to them closer to Easter.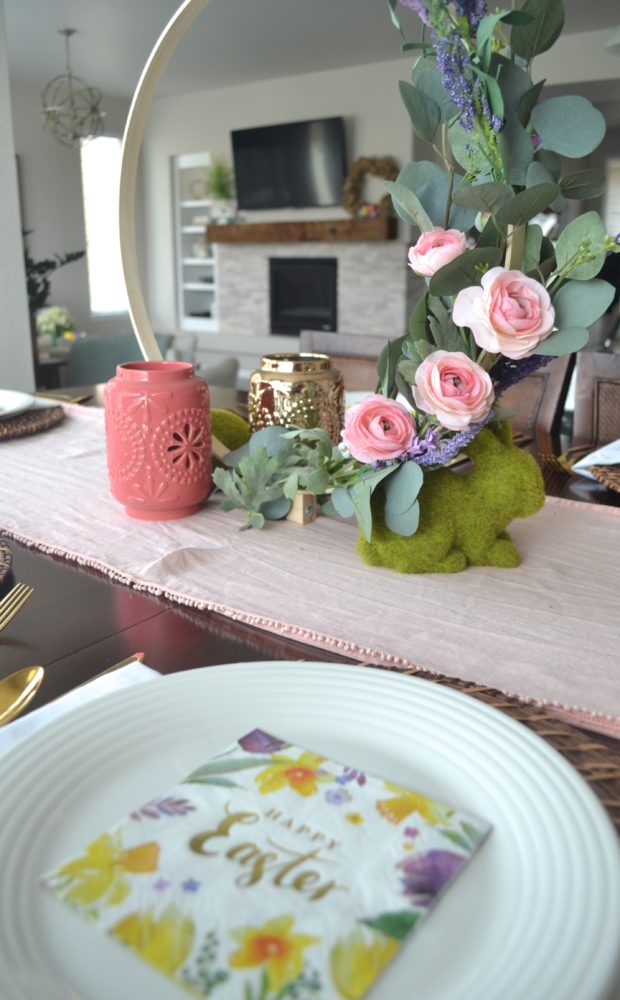 Plus, I rarely style a table scape without my gold flatware anymore.  I just love the richness it gives to practically every table design.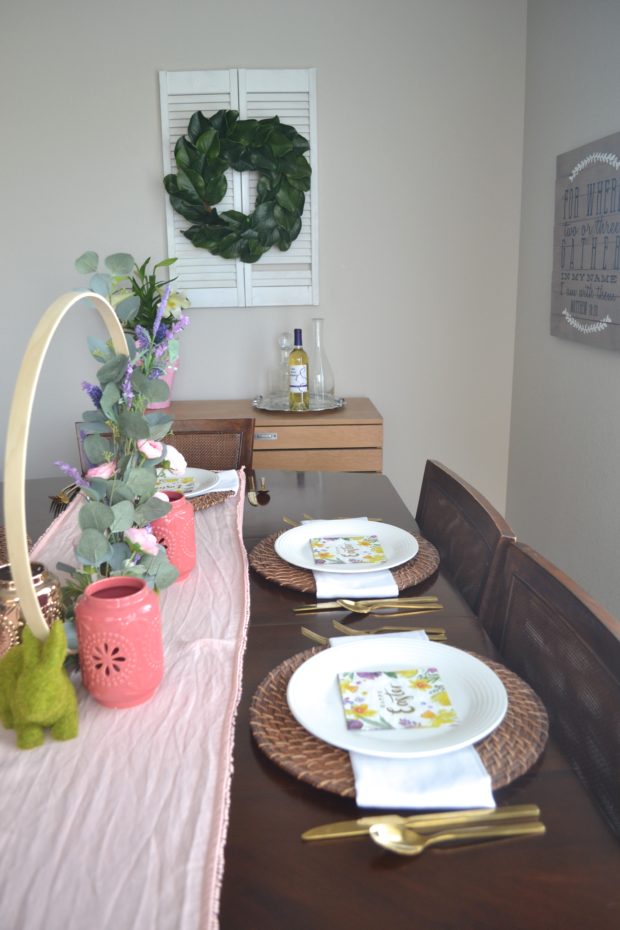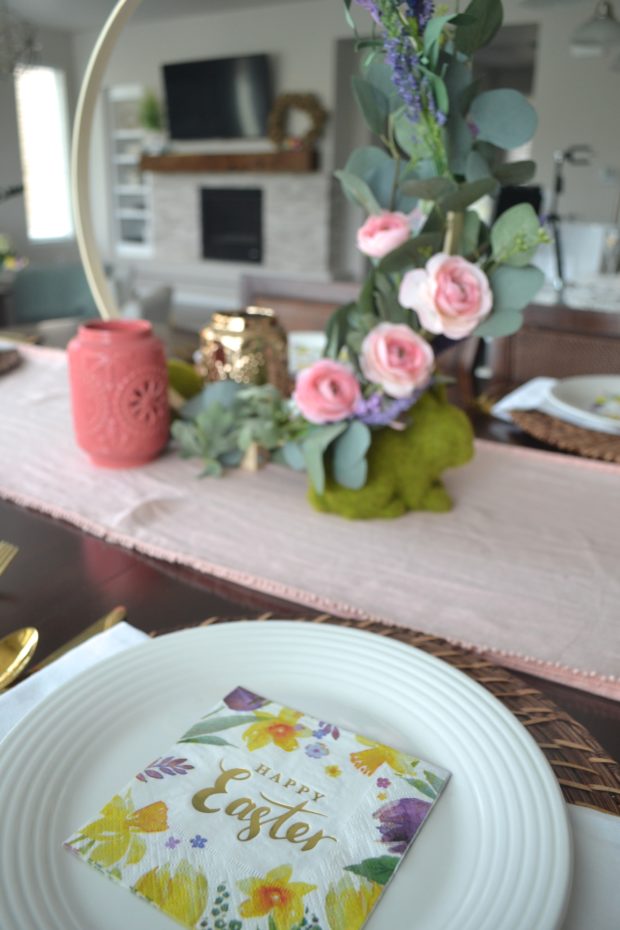 To add a little more color and fun I picked up some inexpensive "Happy Easter" paper napkins at Homegoods.  I just plopped them on top of the plates, but thought it could be fun to use a gold Sharpie to write names on them for place cards.
What do you think of wrapping the cloth napkin around the charger under the plate.  I think it breaks up the visual in a good way.  Ideally I'd use pink napkins, but you can only do so much with what you have on hand.
Shop This Tablescape
If you'd like to recreate a similar look for your own Easter table, just click on any of the images below to get similar products to the ones I used.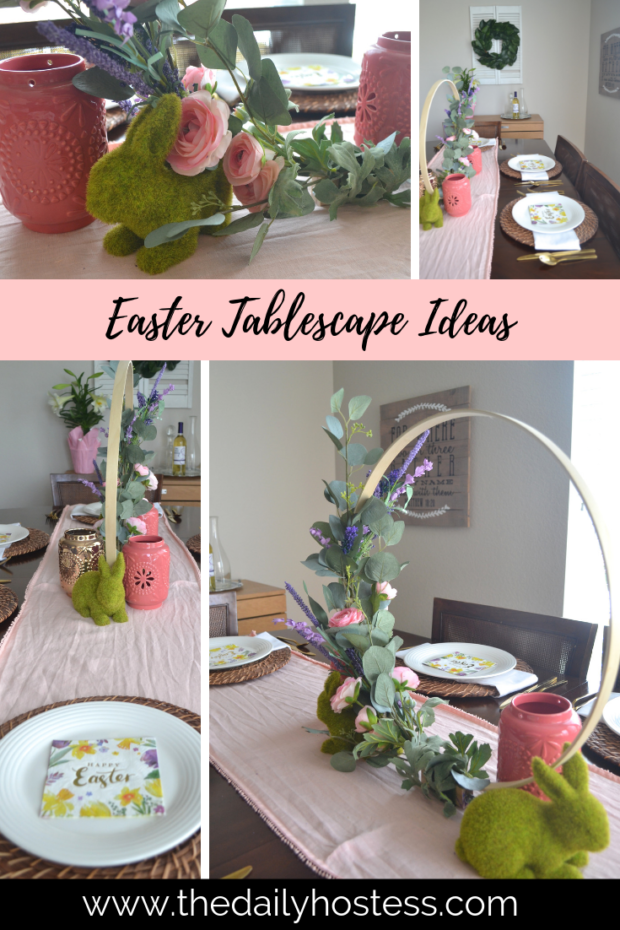 What's the most inspiring part of this table scape for you? Do you think you want to try your hand at making your own floral wreath?  If I can do it in about 15 minutes, I know you can too!
Happy Easter!  And may you be surrounding a beautiful table this Sunday with family and friends celebrating that we are saved and loved!