Welcome back from the weekend!  Did you do any fun fall stuff this weekend?  We went to a pumpkin patch and made this fun pumpkin themed cheese ball.
We had beautiful weather this weekend so it was nice to get out and enjoy it a little bit.  It's so fun watching my almost 15 month old experience things like hay and corn bins for the first time.
He had an interesting time trying to walk on hay covered ground around the pumpkins.  He started sort of scooting his feet, I think because he wasn't sure about crunching down on the hay when he stepped.
I was also super proud of our daughter for trying the mini zip line at the pumpkin patch.  It wasn't more than about 10 feet off the ground, but there weren't any harnesses, just a platform to sit on.  Kind of like on a rope swing.  So she had to hold on tight as she zipped down.
Thankfully, Daddy ran along next to her just in case.  She's become much more adventurous in the past few months.  That's exciting to watch!
Seasoned Moms: I need your advice!
Our weekend was also filled with kids' birthday parties.  I thought a few times this weekend, "is this what our life is going to become?"  Constantly attending kids' birthday parties?
Don't get me wrong, I like to celebrate, but I have a feeling our social calendar is going to fill up with 3, 4, and 5 year old birthday parties.
Can any of you seasoned moms tell me how you navigate this?  Do you attend all of them?  Get a gift even if you can't go?  Limit how many you attend?
It feels like there has to be a cutoff somewhere.  Where is that cutoff?
Either way, one of the birthday's this weekend was Halloween themed and the birthday girl wanted to dress up as a ghost princess and she was adorable!
Because of the Halloween theme, I couldn't think of a better appetizer to bring than this pumpkin shaped cheese ball.  Nope, it doesn't have pumpkin in it, it's just shaped that way.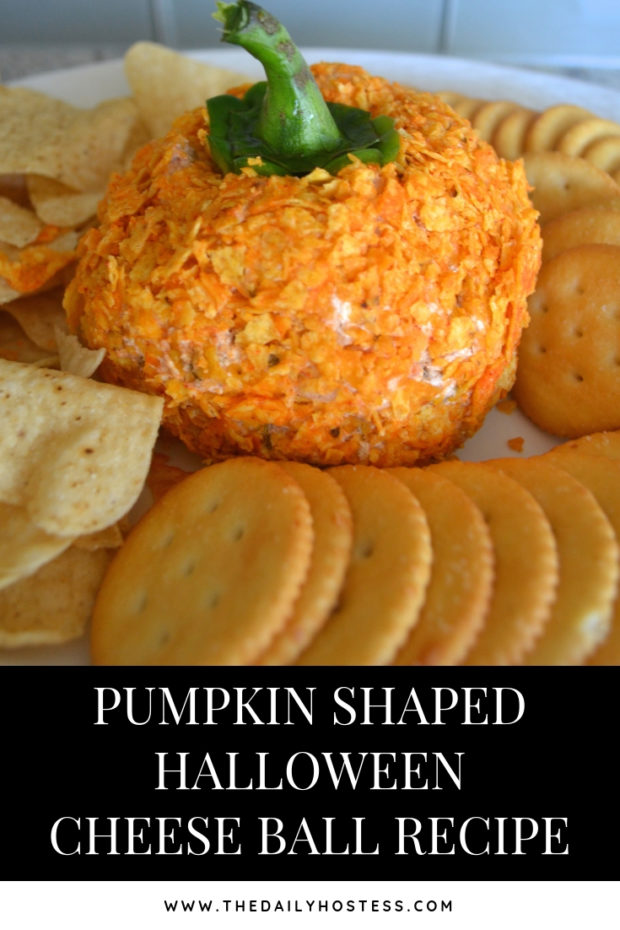 It's full of savory goodness that's spreadable on a cracker or easily dipped into with a chip.  It's a crowd pleaser.  I highly recommend taking it to any of the upcoming Halloween parties you may be attending.
Pumpkin Shaped Cheese Ball Recipe
Here's what you'll need.
Ingredients:
16 oz. cream cheese
2 cups shredded cheddar cheese
3 tablespoons salsa
3 tablespoons chopped onion
1 teaspoon cumin
1 top of a green pepper
1 cup crushed nacho cheese chips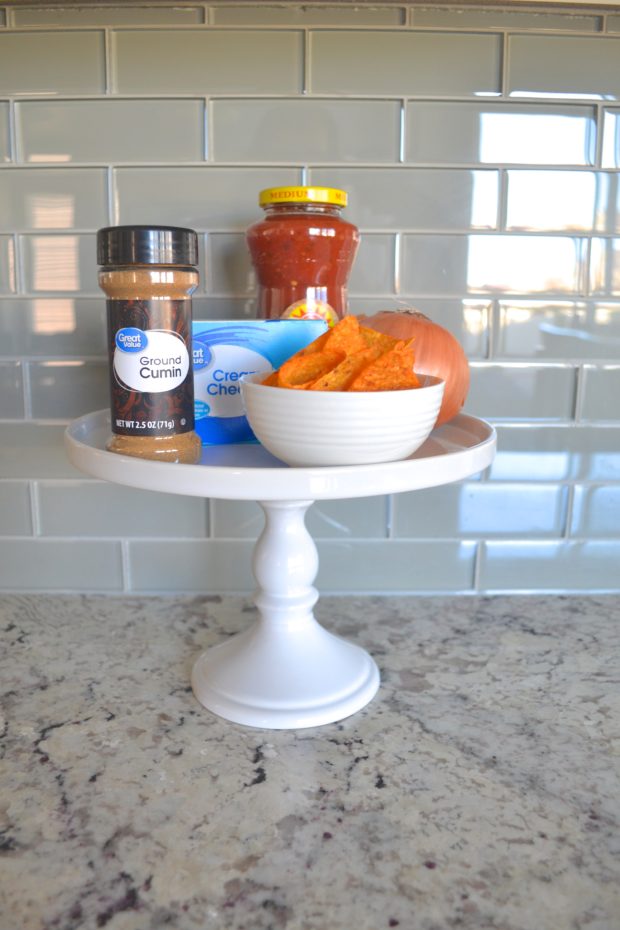 Here's what to do.  If you can mix a spoon you can do this.  It's super easy!
Directions:
Put first 5 ingredients in a bowl and mix together until blended.
Form into a ball on a piece of plastic wrap
Wrap plastic wrap around cheese ball and form into a ball, place in the refrigerator
Once chilled, unwrap plastic wrap and sprinkle crushed nacho cheese chips all over cheese ball until covered and ball is orange like a pumpkin.
Push top of green pepper into the top of the cheese ball to make the pumpkin stem.
The finished product is so yummy and a perfect make ahead appetizer for any Halloween or fall themed party.
This is such a great time saver too.  Make this a day or two before the party so you can use those crucial last minutes leading up to the party to focus on things other than food.
Add black corn tortilla chips for an even more on theme party dish!
Get ready for more Halloween inspired posts this week!
I'll have all of you Halloween procrastinators covered with a big Amazon Halloween haul and last minute costume ideas.  With Prime you'll be ready for Halloween even if you wait until the last minute.