This past weekend I had the privilege of celebrating the birth of my favorite person, my husband!  He's kind of funny when it comes to birthdays.  He's not like typical guys because he absolutely loves his birthday.
This year was kind of a milestone birthday (I'll keep his actual age to myself ;)) so I wanted to celebrate in a bigger way.  We had a fun guy's only bourbon and bar-b-q themed birthday.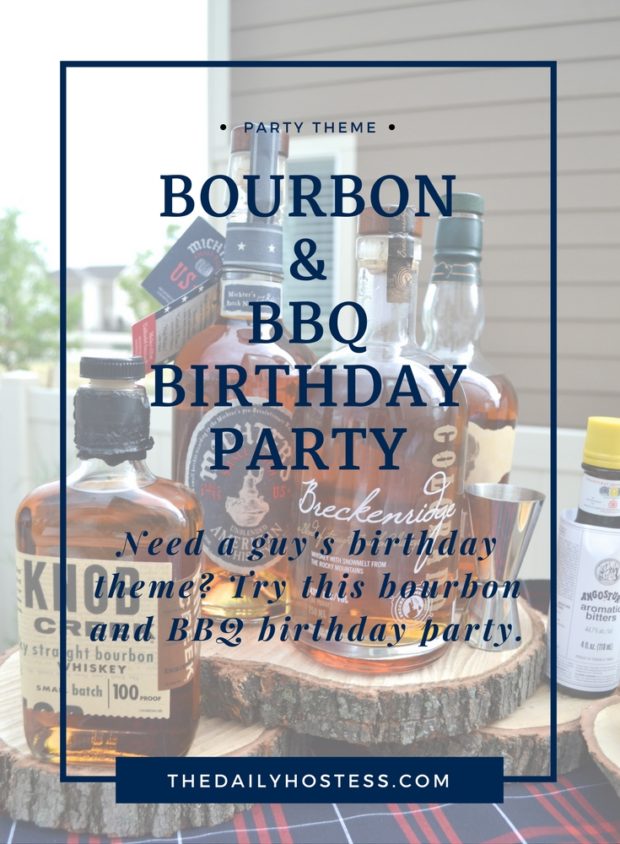 I took a lot of inspiration from this party that Pizzazzerie hosted.   Pizzazzerie's Father's Day party also gave me a lot of charcuterie inspiration.  My husband enjoys a good bourbon based old fashioned and more times than not he will order BBQ no matter what restaurant we're at.  So this theme was perfect for him.
I had planned on catering the food so all I had to do was set up the bar, make a charcuterie, and bake a pie, but then my husband decided he wanted to smoke a brisket and ribs for the party.  You can see how he does that here.  It required a bit more work, but he enjoys the process of doing it and it always turns out super tasty.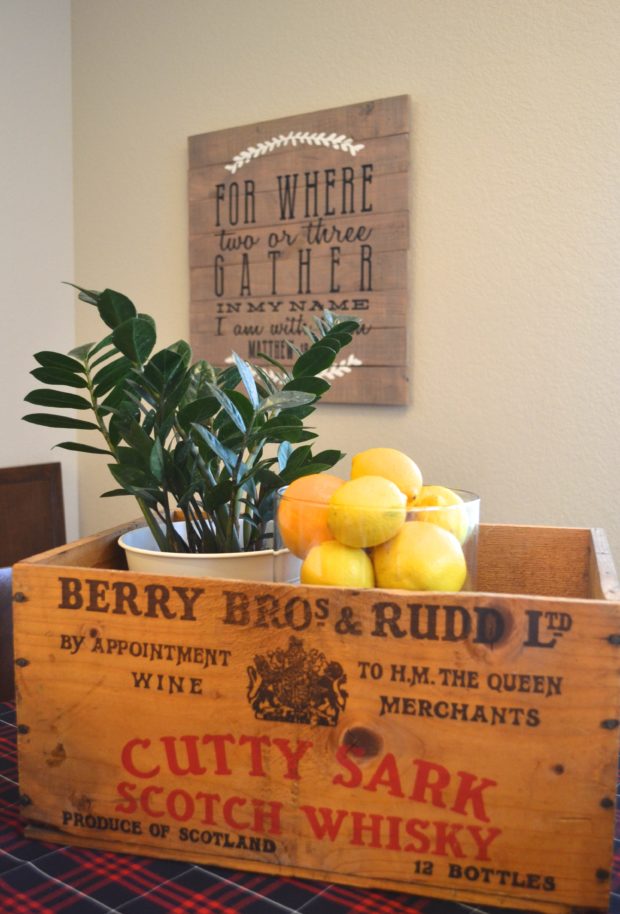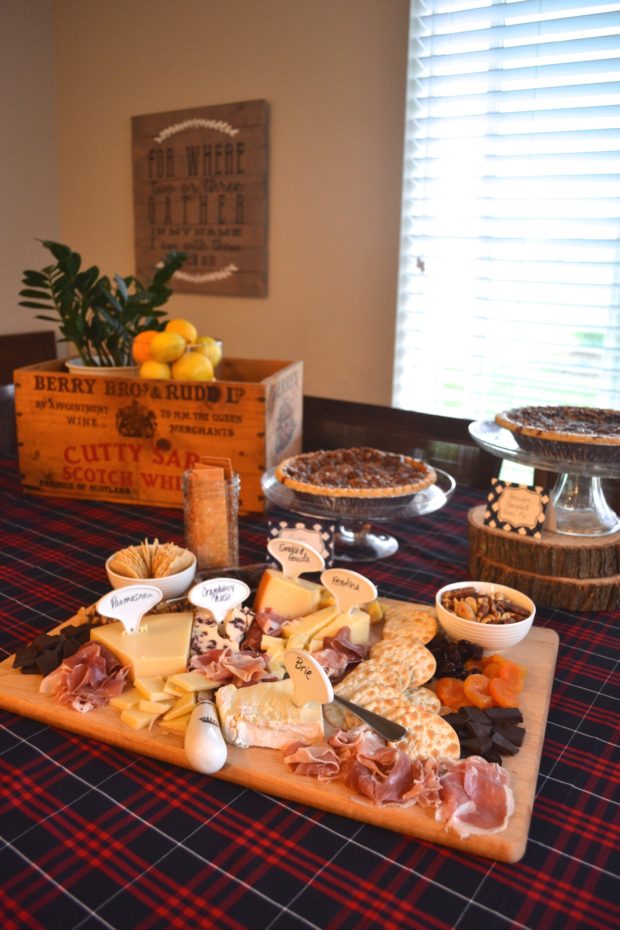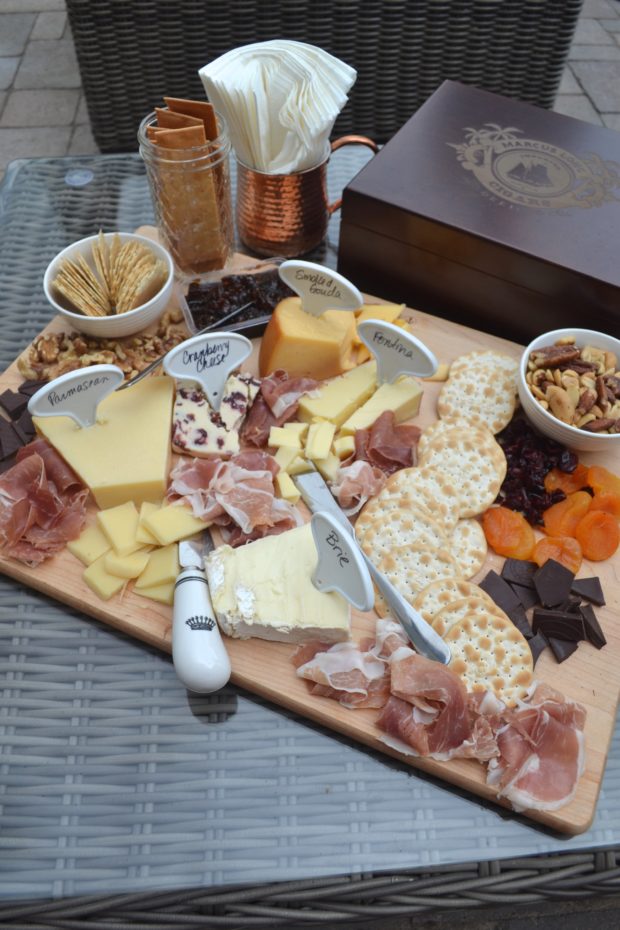 I started the party with this bourbon themed charcuterie board.  After a quick google and Pinterest search I found several items that would pair well with bourbon.  Things like walnuts, dark chocolate, parmesan, and dried fruit were best suited for bourbon.  This is probably one of my favorite charcuterie boards I've ever put together. Surprisingly, the guy's pretty much tore it up. I'll take that as a sign that it was good.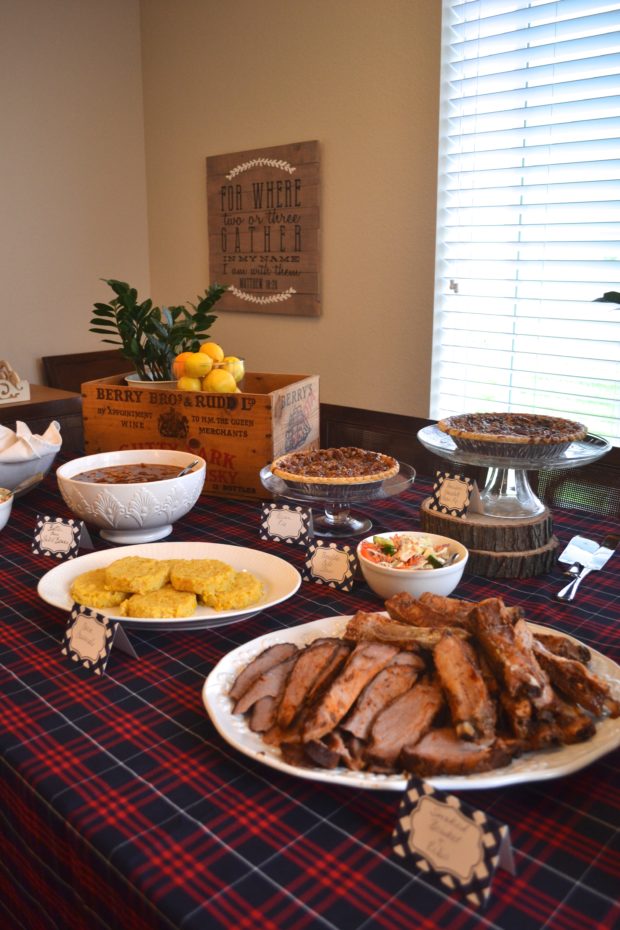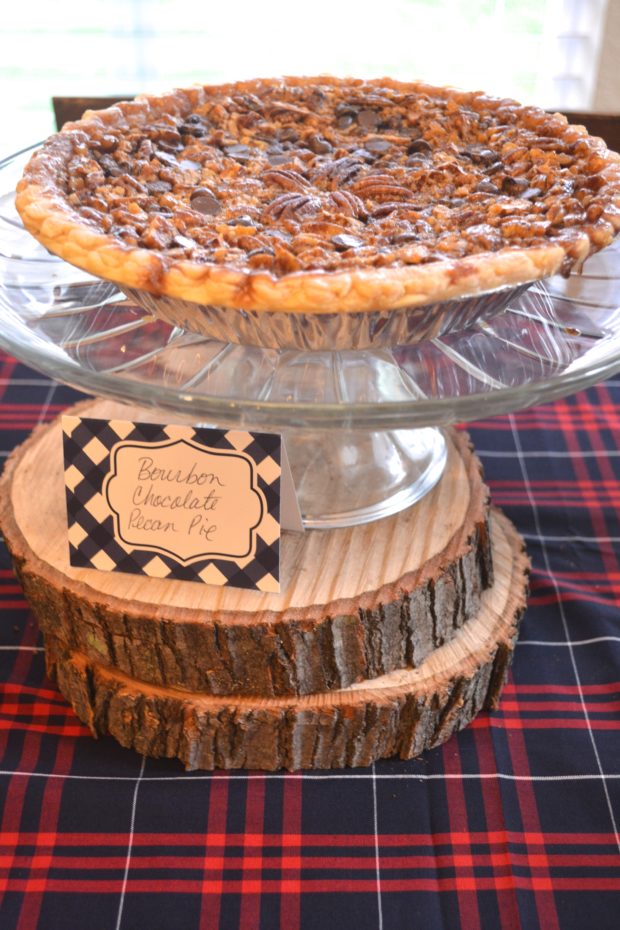 Unfortunately, the weather wasn't super cooperative and we had to move the food buffet indoors.  In the long run, I think it turned out for the best.  As I said earlier, my husband smoked brisket, ribs, and beans.  I rounded out the menu with a family favorite side dish of corn casserole and a couple cole slaws purchased from the deli department at my grocery store.
I also made my husband's favorite, pecan pie.  He'd eat that over cake any day.  This is probably one of our biggest areas where we don't agree, but if that's it, then I'll take it.
Adding in a few rustic elements like wood slices and an old whiskey crate made the set up more masculine for this guy's only party.  Using a couple leafy plants instead of flowers was a way to add some life to the tablescape without being overly girly.
I even found the exact fabric for the table as was in my inspiration party.  The classic red, white, and blue plaid will come in handy for a lot of different events throughout the year.
Bourbon Bar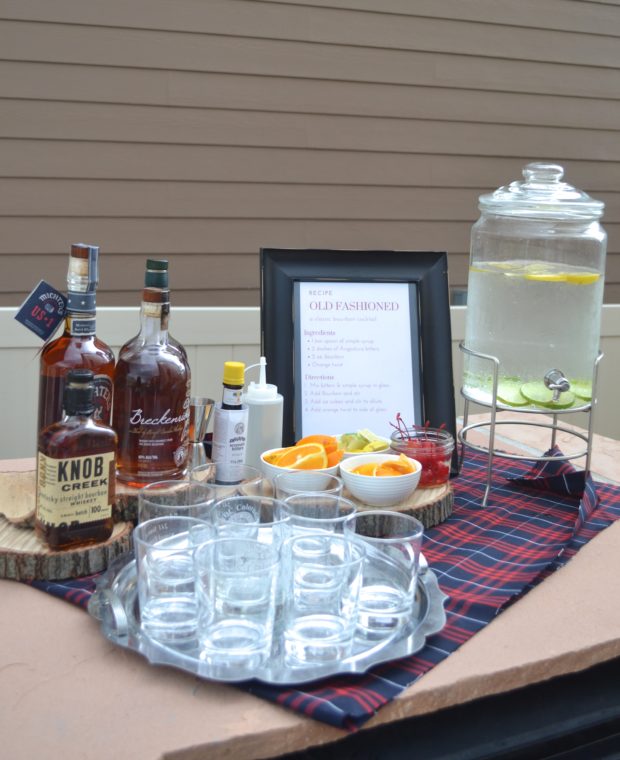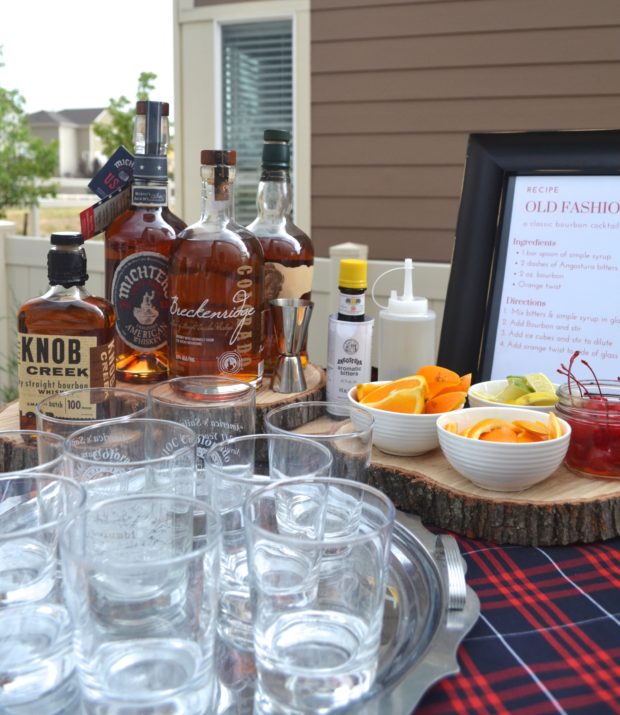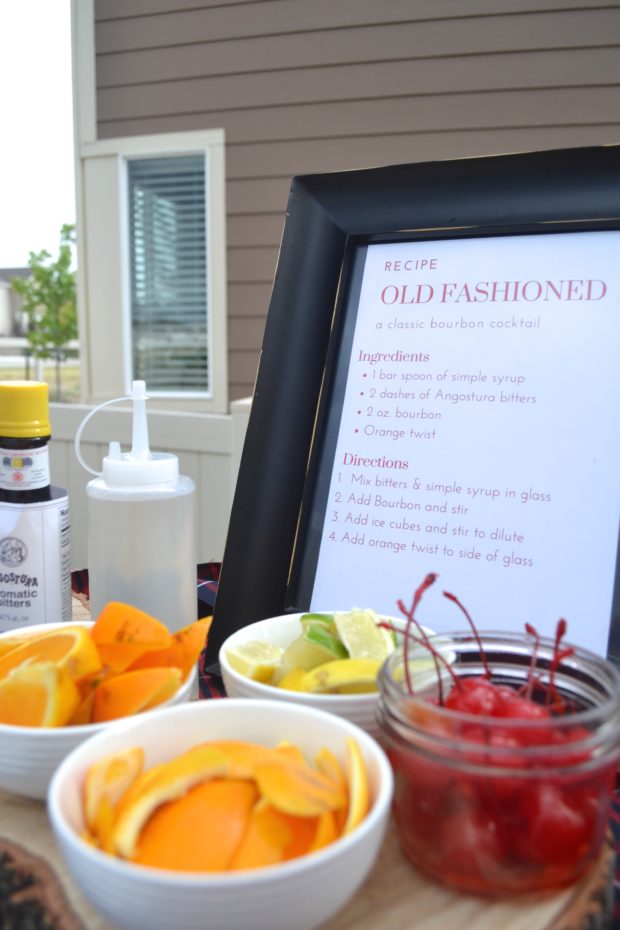 For the bourbon bar, I again used some wood slices to highlight the bourbon choices and included a garnish bar.  Including a recipe was helpful to the guests when they wanted to mix up the specialty cocktail.  You can get your copy of the Old Fashioned recipe card here, or by clicking the picture below and downloading it.  It makes a great addition to any bar.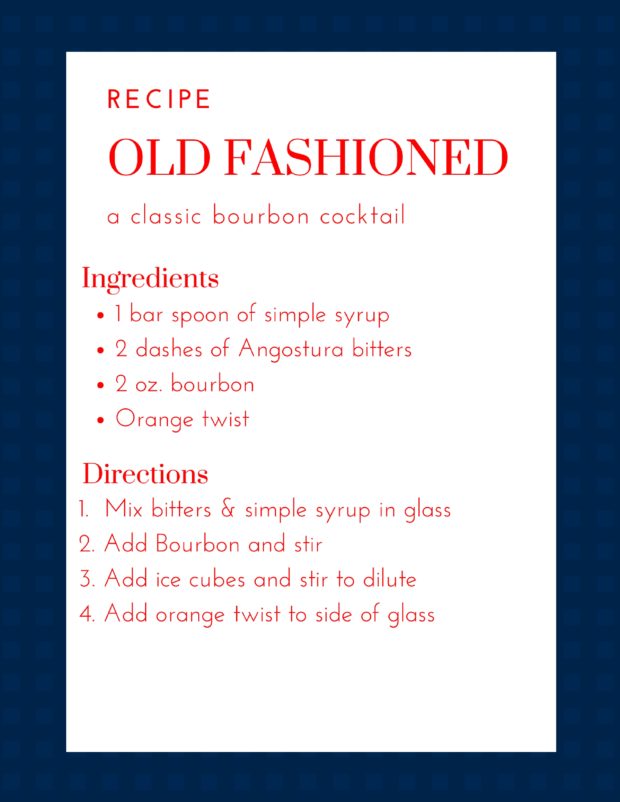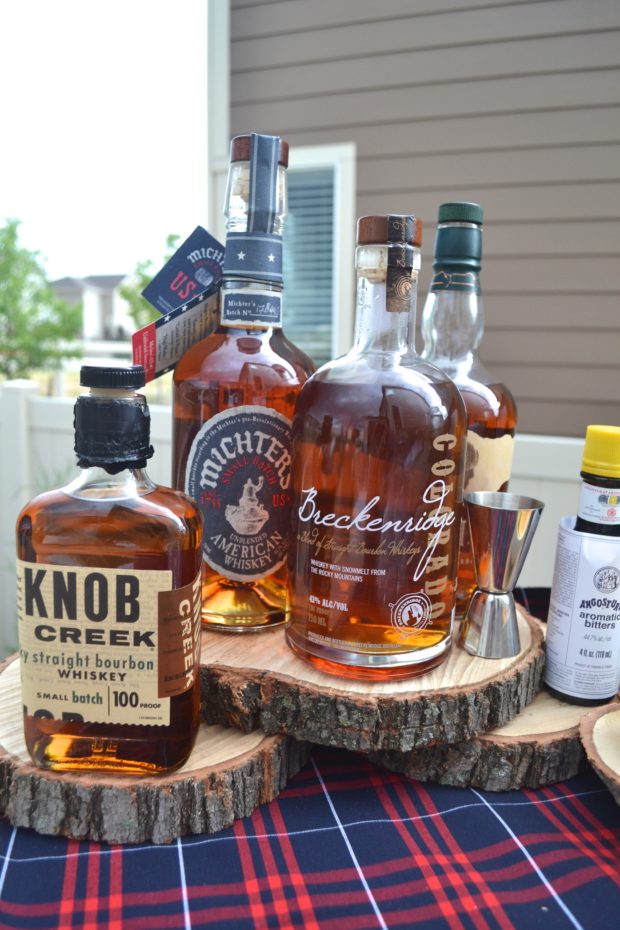 To tie into the theme, I brought some more plaid fabric out to the bourbon bar.  This classic cocktail look so sophisticated with a skewered cherry and orange peel.  Probably the only time my husband will drink a cocktail with fruit in it.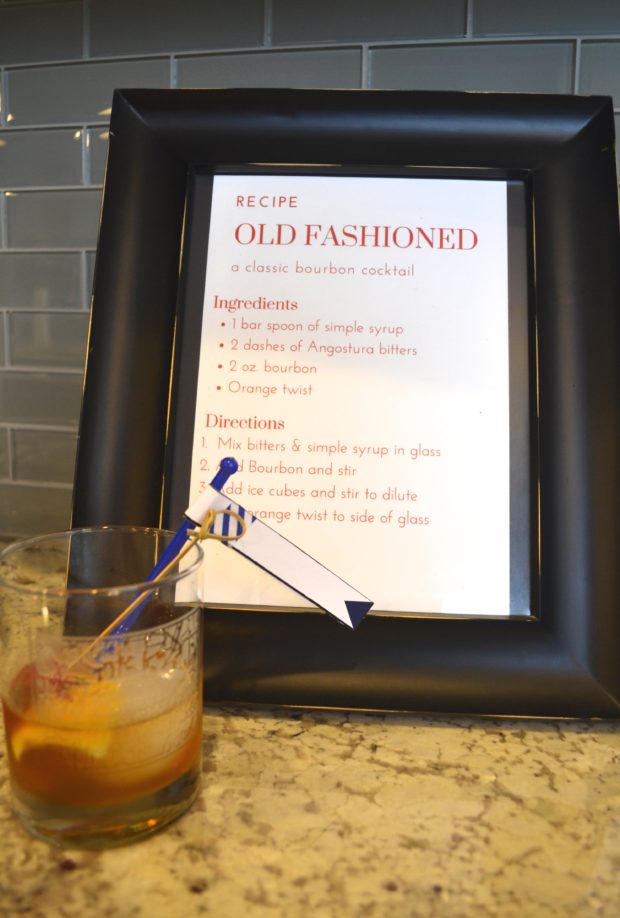 If you're looking for a great theme for a guy's party this will surely be a hit.  You can even mix it up a bit based on what type of drink the man in your life prefers.  I know my husband enjoyed having a guys only party where he got to eat and drink something manly.  And I enjoyed setting up the party and bringing my inspiration to life.
Another great birthday in the books!  What was your favorite part of the party?  Don't forget to download your own Old Fashioned drink recipe.  Just click the picture of the recipe above.