We're less than one week away from Christmas people! This is not a drill!
Do you have all of your gifts purchased?
There's bound to be someone you're forgetting, so I'm here to help you out with Amazon Prime gifts for the procrastinator.  Or for the person that you forgot like your boss, the teacher, your neighbor, your nieces boyfriend that's joining you on Christmas.
Everything in this gift guide can be at your house in two days and you can use this tutorial to wrap it professionally.
Enjoy and I hope you find something for everyone.
Amazon Prime Last Minute Holiday Gift Guide
What I like about these gifts is that they are gender neutral, age neutral, and great for anyone.
Gifts for entire families or individuals that aren't super specific.  So they are great for that person that you maybe don't know that well or aren't sure what they are into.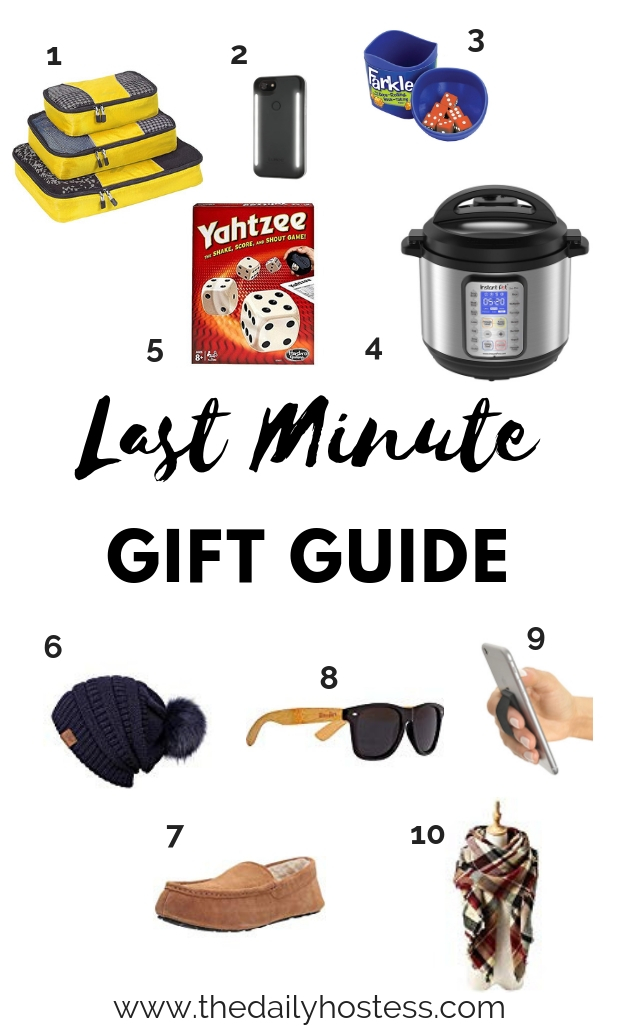 1// ebags: Great for anyone who likes to travel.  Gender neutral and can be used as a whole family gift.  Even if someone doesn't travel very often there are so many uses for these like gym bags and to organize your car trunk.
2// lumee case: Perfect for anyone like 30 and under.  Everyone is on their phone all the time and taking pictures so let them be well lit when they do it.
3// farkle: Such a fun, quick, and easy game to play.  Plus this is so cheap it would make a great stocking stuffer.
4// Instant Pot: Great for a family or someone who loves to cook.  It was on super sale on Amazon yesterday, so keep checking the prices.
5// yahtzee: Classic family game for anyone.
6// Winter hat: Great seasonal gift for any woman.  And if you need a men's gift, find the version of this hat without the pom pom on top.
7// mens slippers: Always a great cozy idea for any guy in your life.  I love that these have more of a sole on the bottom because let's face it, slippers tend to go outside the house pretty regularly.
8// sunglasses: These sunglasses are gender neutral so they'll be a hit for anyone on your list.  The wood sides make them a little fun and different.
9// phone loop: Again, another perfect gift for anyone with a phone.  Teen, tween, young adult.  But the one person I love this for the most is a mom of little kids. We have so much to hold onto all the time that this allows us to hold our phones and the kids, and the diaper bag, and and and.
10// scarf: $12 for a huge blanket scarf!  Such a deal!  Great for any woman on your list.
Well I hope that this gift guide helps you finish up your list.  Remember, give yourself about two days and all of these will be at your door before Christmas!  Don't forget to give yourself time to wrap them too!
And if you have the gifts on lock down but are worried about everything you need to do for all the guests that coming to celebrate Christmas, then just stop back by here on Friday for some great ideas on preparing your guest room.