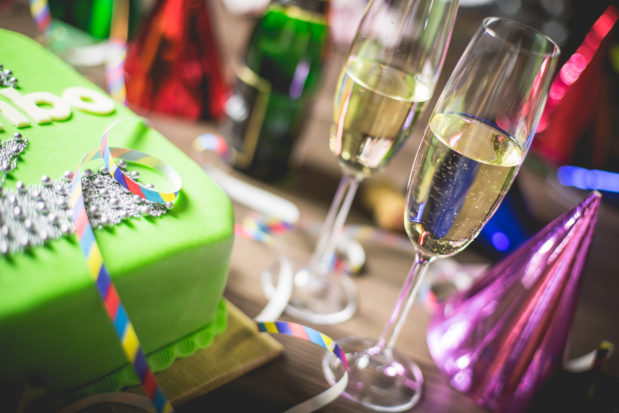 Today is the day that The Daily Hostess turns 1! Happy Birthday Blog! It's a proud moment that's for sure! It's crazy to me that I've been doing this for a year already. So much has happened in the last year that sometimes it feels like I've been doing it for much longer.
I've listed a few things that I've learned over the last year, but there are an overwhelmingly large number of things that I still need to learn.
I definitely have creative slumps. There are random times where for a few weeks I just don't feel inspired. Content on the blog usually slows during these times. Thankfully, the creative juices start flowing again and I can resume contributing to the blog.
My dreams are huge, but sometimes I don't feel like I have the time or knowledge to reach them. Can anyone add a few more hours to each day?  Or come babysit for me for a few hours everyday? That would really help me out.
Technology is an interesting thing. It obviously does great things for us, but sometimes it's almost too much. There is so much to learn and it's always changing, so I feel like I'm always chasing the next thing.
It's funny how priorities shift. You end up making time for the things that you want and need to get done when it's something you love.  I've definitely been better about spending my time wisely so I can get things done for the blog, instead of wasting it watching TV or scrolling through Facebook.
I need to accept compliments, encouragement, and praise better than I do. I always kind of brush them off, when I really just need to own it.
It feels amazing when others tell me that they've been inspired by something I've written.  I've had several friends try out a recipe, or feel more prepared to host guests, or even ask my advice about something party related.  Knowing that I've helped someone open their home to others is why I keep doing this!
Most importantly though, any and all successes that this blog has made is solely because of you, the readers. So I want to say thank you from the bottom of my heart for your support, comments, likes, pins, and shares. You all rock!
Here's what the future holds for The Daily Hostess. You can definitely expect more content like the past year, but I'm hoping to add more services for you. Things like virtual party planning, live parties, and design services. It's a lot and a big dream, but I know with your support I can achieve it!
Thanks so much for everything!  Don't forget to tune into Facebook at 2 p.m MST to see who won the party prize box!