Hey there everyone!!  I'm going to brag a bit today.  I'm really proud of how my home looks for this Christmas home tour.
Is that ok to say? I hope so, because it's true!  But I don't think I felt that way until I started looking at the pictures I took for this post.
Isn't it funny how seeing something in a picture works wonders for belief and understanding?  I think that's why before and after pictures are so powerful.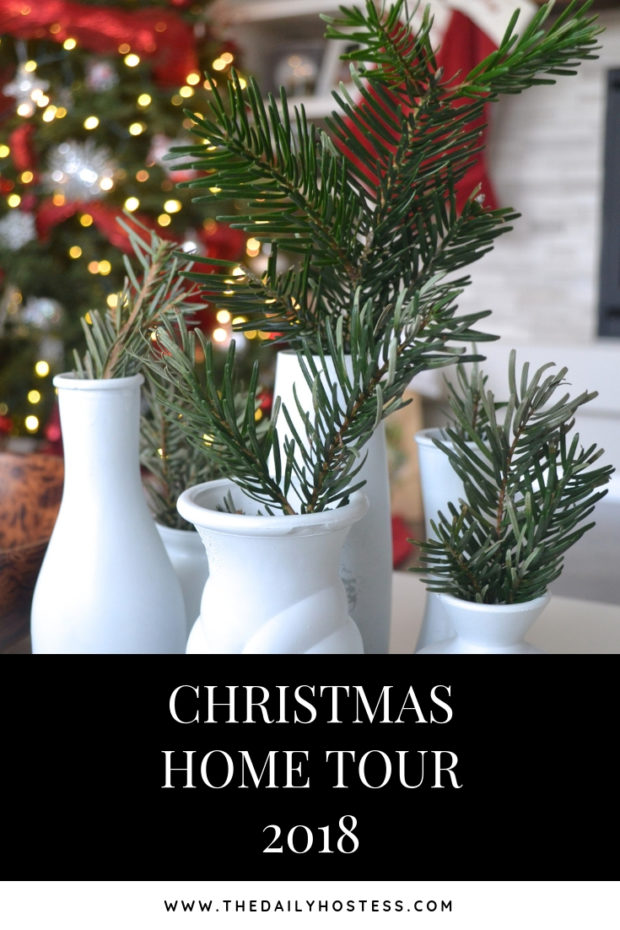 Another realization I've come to accept is that I tend to decorate for Christmas in a very traditional red and green way.
It's so easy to fall into comparison mode and the impostor syndrome when reading blogs that are doing these over the top themed Christmas tress and decorations.
I don't know about you, but I'm not made of money and can't afford to switch out my Christmas decorations every year.
So I've been sticking to the basic traditional red and green decor year after year.  Plus, this year I'm using some FREE decorations that I think are so pretty.
So enjoy the Christmas home tour today.  I've covered the main part of my house, my living room and kitchen.  The dining room will have to come at a different time because there was a toddler making a mess with lunch when I took these photos, ha!
Traditional Christmas Home Tour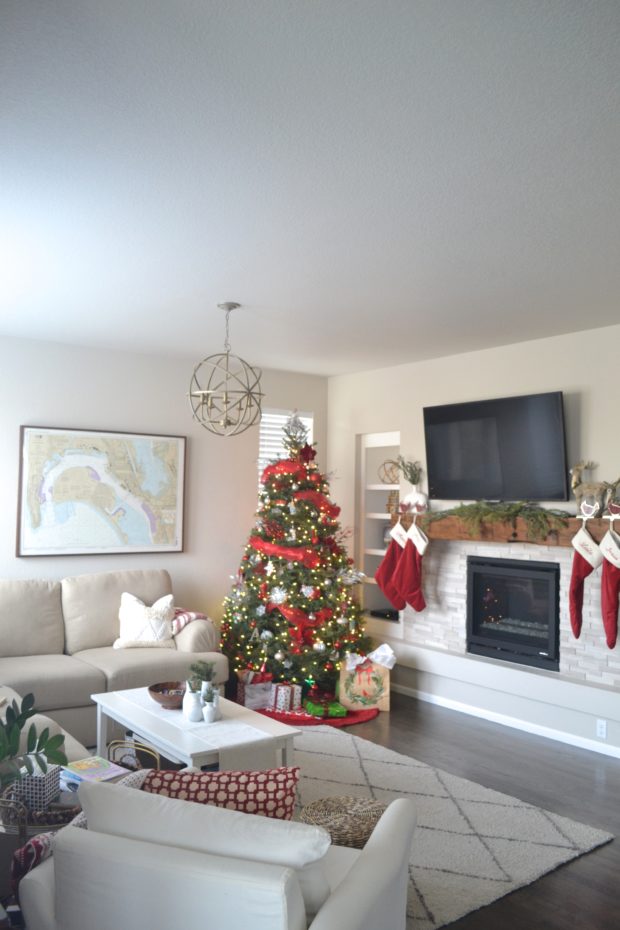 Such a beautiful view everyday!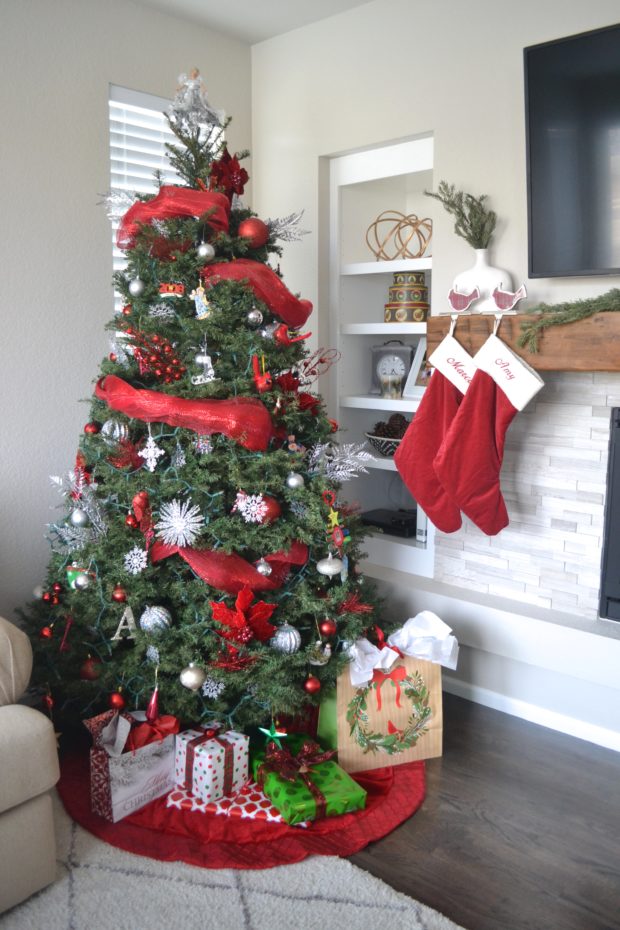 Loving our real Christmas tree this year.  It's full and pretty symmetrical so it doesn't look real.  But it smells amazing!
There were several big gaps in the tree, so I used some large ribbon and bigger ornaments to fill them in .
I'm loving the way the ribbon looks, but ran out because I used most of it on our tree in the basement.  Yeah, yeah, all this talk of not falling into the blogger ways with Christmas, yet I have two Christmas trees.
We spend a good portion of the winter in our basement and we want to enjoy a Christmas tree when we're down there too.  So the artificial tree is set up there.
The mantle looks similar to our previous Christmases in this house.  I just added some fresh, free greenery.
Now it seems so silly, but I'm just absolutely loving the way the coffee table turned out.
It's so simple, but the white, greenery and warmth of the wooden bowl just look so peaceful and wintery to me.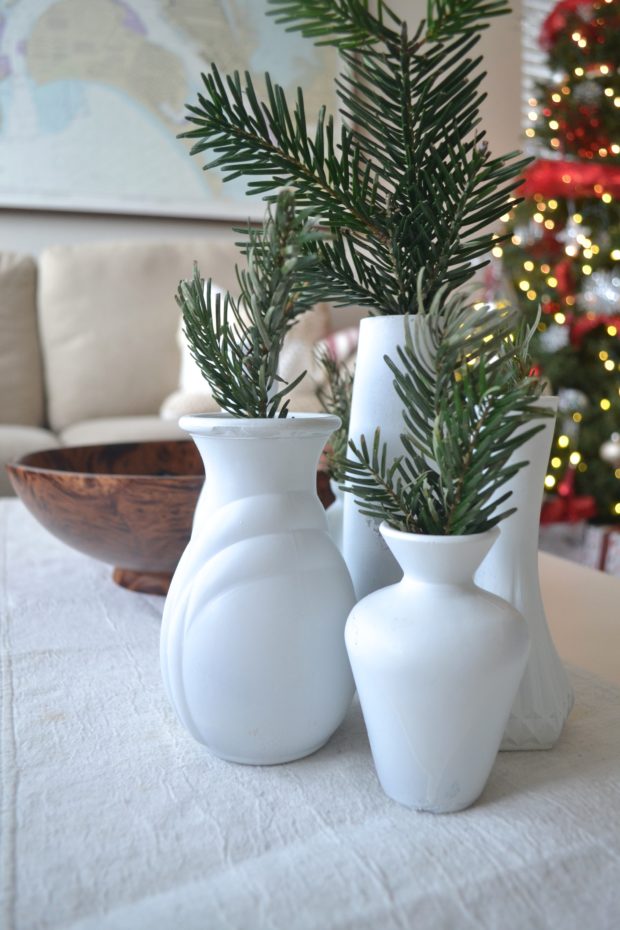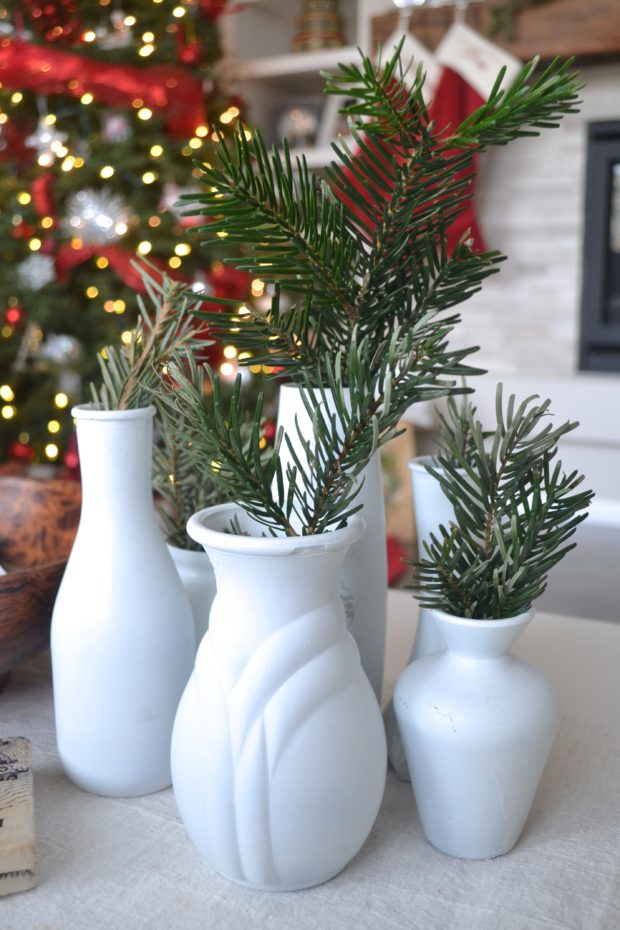 I used more free Christmas tree clippings from The Home Depot to fill these little bud vases.  I got them at Goodwill and spray painted them years ago.
These branches are such a great resource when you're trying to decorate without spending much money.  Plus, they smell amazing.  Just be sure to keep them in water and they'll last all Christmas season.
For the branches on the mantle, I just spray them with some water every couple of days to keep them as fresh as possible since they aren't in water. 
I also got a little festive in the kitchen this year with garland and wreaths.  Love the symmetry of the whole thing.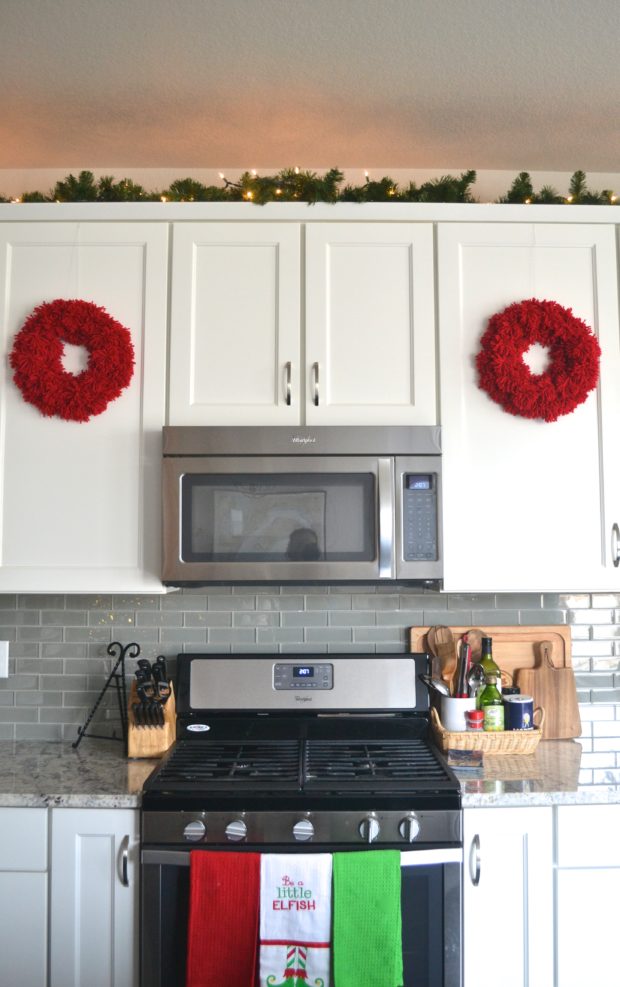 The glow of the lit garland at night is so cozy.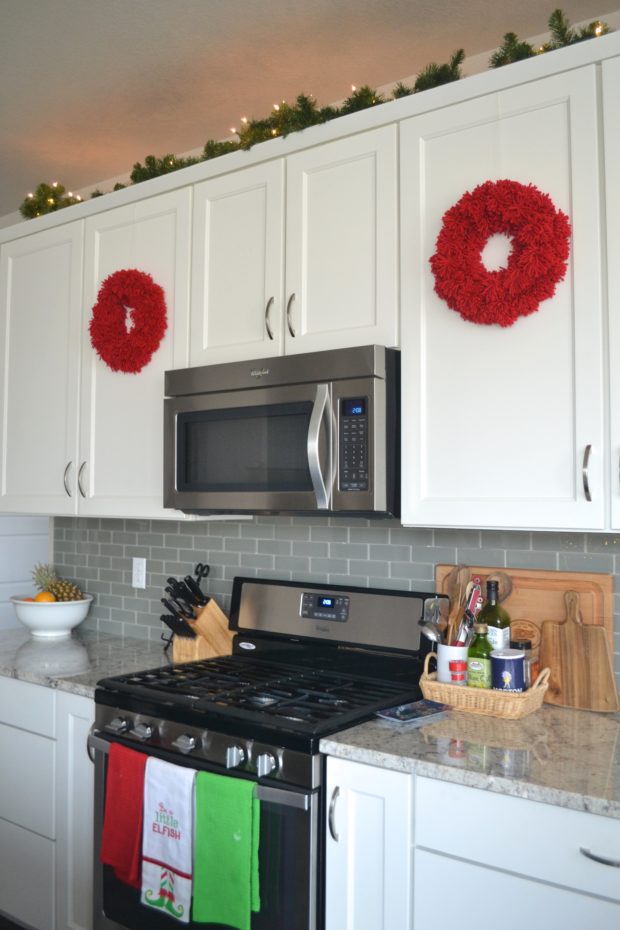 That's a wrap on the tour.  What was your favorite part?  Are you like me and just loving how cozy your house feels decorated for Christmas?
I'm sure once January hits I'm going to be in a purging fury and want cleared off spaces and rooms again. Until then, I'll be admiring the tree with the lights on!

*Affiliate links used in this post, but all opinions are my own.  Thank you for supporting The Daily Hostess and our sponsors!