May is such a fun month isn't it?  It's full of preparation for summer and lots of reasons to celebrate!  Cinco de Mayo, the Kentucky Derby, Mother's Day, graduations, end of school activities to name just a few.  I want to give you some ideas of how to be thoughtful this Mother's Day instead of just buying a gift.
I'm still at the point of getting handmade cards and pictures that are difficult to decipher.  But I know I'll treasure them for a long time.  However, sometimes it's hard to get your mom something that you know they will truly love.  This is especially true if you feel like your mom doesn't need another bouquet of flowers or piece of jewelry.
I was talking with some friends recently about love languages and found them so interesting.  Have you ever figured out what love language you have?  You can do so here.  Mine is quality time, although I feel like my love language could change depending on what's going on at the time.
There are five different love languages;  acts of service, receiving gifts, physical touch, words of affirmation, and quality time.  If your mom is an act of service kind of person this is a great list for her this Mother's Day!
But I feel like there is something on this list for all the different love languages though.  Take a look and figure out if you could do any of these things for your mom this Mother's Day instead of the typical gift.  She may like it even more!
Thoughtful Ideas for Mother's Day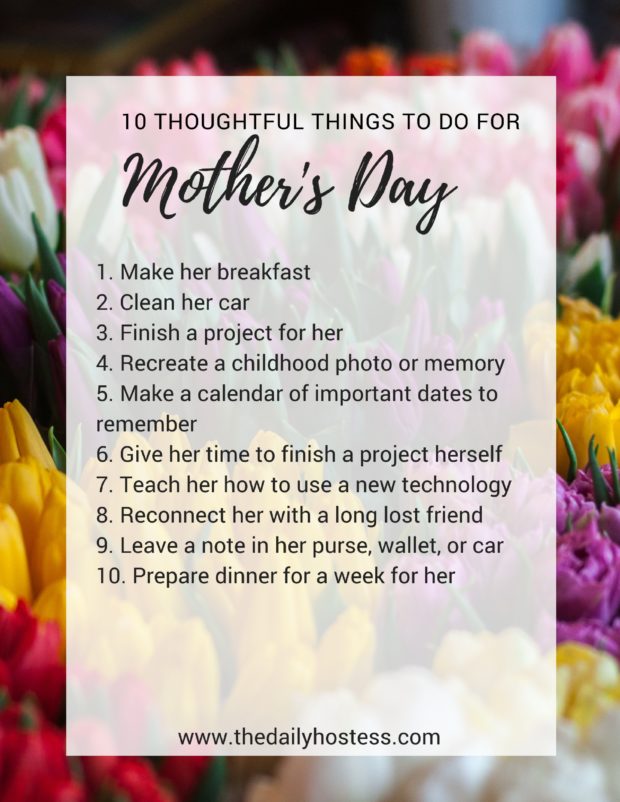 I love so many things on this list, but would be pumped to receive number six!  Lord knows there are things on my to do list that never seem to go away.
If you want to help ease the burden of all the things your mom normally does, try an act of service like numbers one, two, three, or ten.  Your mom will appreciate the actions you take to make her day or week easier.
If you know your mom just wants to spend time with her kids, then do something together.  Teaching her something is a great way to spend time together.  You'll have to work one on one and she'll come out happy that she was with you and with a new skill.  Even better let her teach you something and give her your undivided attention.
Telling your mom you love and appreciate her is great, but not with just another card.  Amp up your words of affirmation by leaving her a note in several spots she'll see throughout the week like number nine.  Or if you live far away, send her a message every day leading up to Mother's Day. She will love hearing all the things you love or admire about her.
For us that like to celebrate, it's hard not to give a gift sometimes.  So if you're feeling like you physically need to give a gift, make it a thoughtful one.  Try making something like number four or five.  Sentimental moms will love the look back at childhood or to have a handy reminder of when everyone's birthday and anniversary is.
These are just a few things I put together.  I think all of them are so thoughtful and would make any mom happy on Mother's Day.  Are you more of a gift giver or would you try to do something thoughtful this year?  Either way, if you're a mom, I hope you have a great day and feel loved!