Happy Hump Day!  I just have not been able to get into a regular blogging routine, definitely something I need to work on. But here I am today with a post I promised you last week.
Speaking of last week, have you been liking the posts all about hosting in the New Year?  I've given you lots of ideas of how to celebrate this year and 10 ways to make hosting your celebrations easier.
Today I'm going to give you a little help getting organized for all of the upcoming parties and celebrations this year.  My thought process is that if you're organized to throw a party at any point, then you'll be more likely to do it.  Make sense?
Let's start with getting your pantry prepped for a party.  I'm so lucky to have a good sized pantry in this house and I've definitely utilized it not only for food, but to host.
It's a great spot to keep the majority of things to throw a quick party because it's centrally located in my house and right by the kitchen which is where most parties end up anyway.
Here's a handy checklist of items to keep in your pantry to throw a party.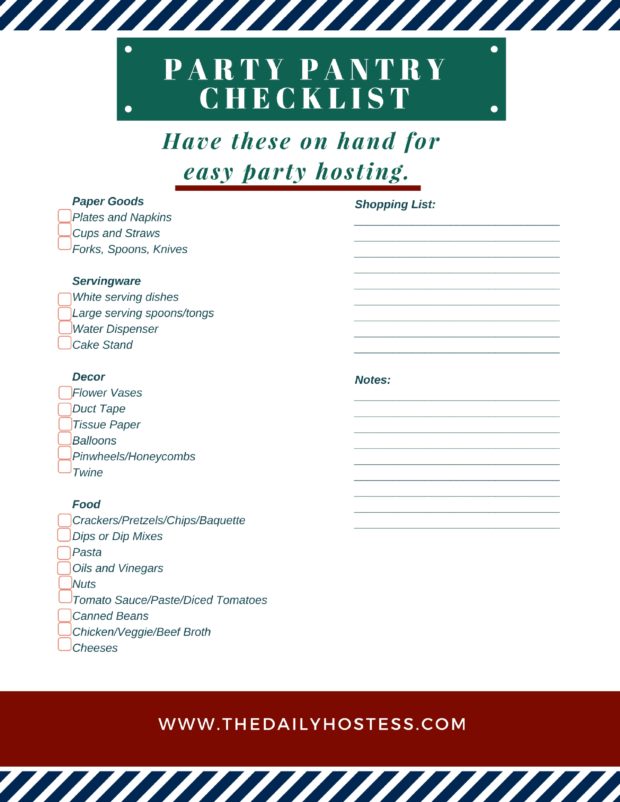 The first category makes sense to keep in your pantry for a party.  You'll need things like plates and napkins to throw any kind of party.  I like to keep a couple different neutral themed plates and napkins so they'll go with any kind of party I host.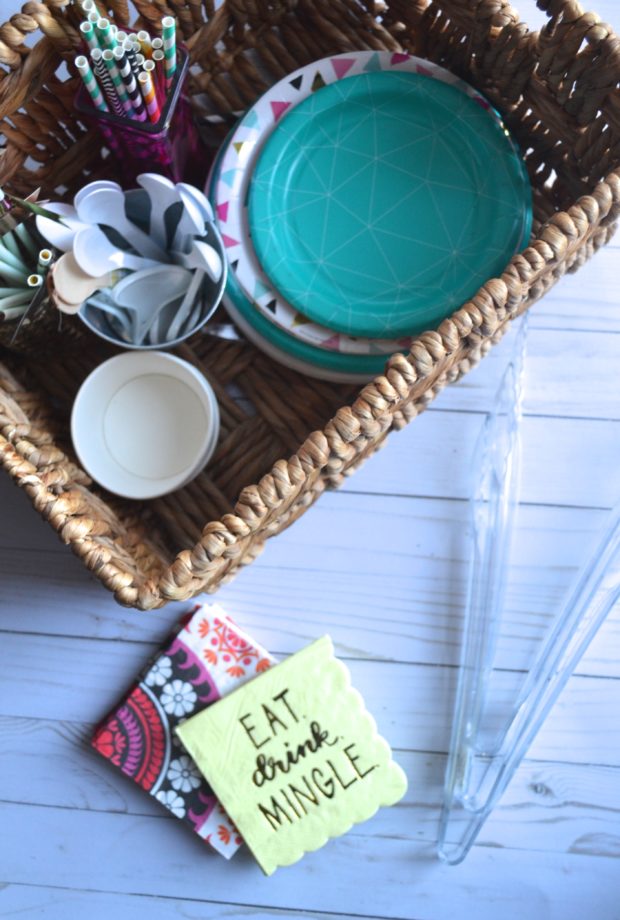 If you have space, keeping all of your serving ware in your pantry makes party set up a one stop shop.  I keep serving platters, cake stands, and serving utensils in my pantry.
The next group of items are not something you would normally think to keep in your pantry.  However, if you throw a lot of parties, it's nice to have some simple decor handy as well.  I just keep all of these things together in a large basket in my pantry.  I just pull out the basket and am able to set a table, buffet station, and decorate the party.  All from one basket!
Simple things that fold up or pack well are pinwheels, tissue paper, and honeycombs.  It's also a great idea to throw a pair of scissors, twine, or tape in your party basket too.  Having a couple different sizes of vases is great too, because the easiest party decor you can use is a bouquet of flowers.
The last category is all about food and drinks.  There are just some things that are good to always have in your pantry or kitchen to help you quickly throw a dinner or party appetizer together.
I always make sure I have some pasta and any kind of pasta sauce.  There's nothing easier (or more well loved) than throwing together a quick spaghetti dinner for a dinner party.  You make the spaghetti, and have your guests bring a salad, bread, and dessert.  Super easy dinner party idea!
Also having crackers and cheese is a must in our house.  I love to whip up a quick charcuterie and with those two things, it's pretty easy.
I also like to keep a variety of drink mixers in my pantry.  It's nice to be able to mix them for a signature cocktail or to make a kid-friendly party punch.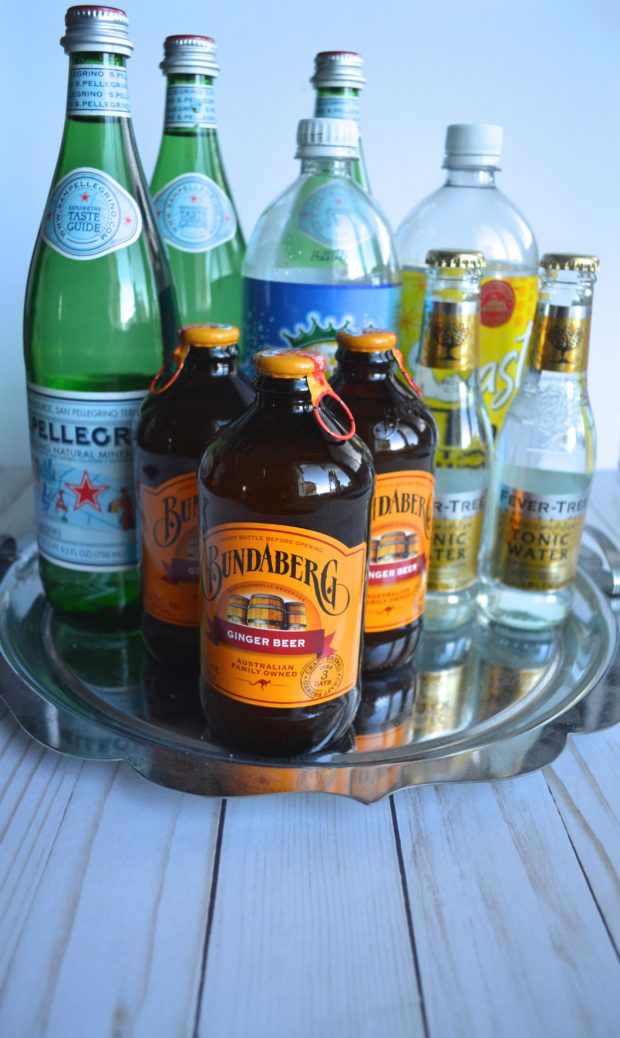 What do you keep in your pantry to help you host more easily?  Were any of these tips helpful to you?
Be sure to click on the checklist above to print out and help you organize your pantry to host.

*Affiliate links are used in this post, but only for products I highly recommend.