Welcome back to the first full work week of 2016 and the first post of the new year!  Today is another episode (is that the right word?  Probably not, but speaking of episodes, I'm so glad TV is back from the holiday break, my DVR has been woefully empty lately.) of Tablescape Tuesday.
In the Tablescape Tuesday series, I show you options to dress up your tables. It could be your dining room table, coffee table, gift table, or buffet table. I think putting a little extra effort into how a table looks and is designed can make your guests' experience so much better.  Today's post is putting a twist on the ever popular Kate Spade, preppy, pink and gold trend.  Don't get me wrong, I love the trend, just look at the blog color scheme, but changing it up can be good too.
So, I'll be showing you a pink and gray/silver tablescape today.  I think this is a great option for a not so girly Valentine's Day tablescape or just a way to use some fresh new colors for the new year.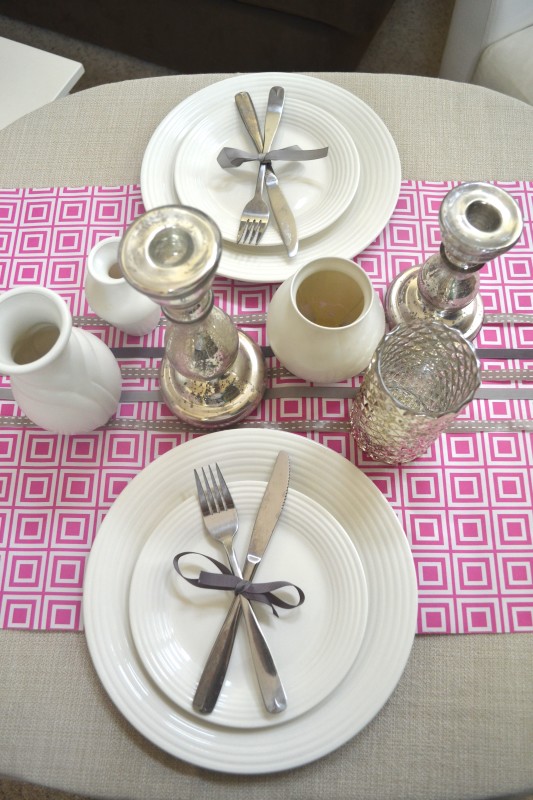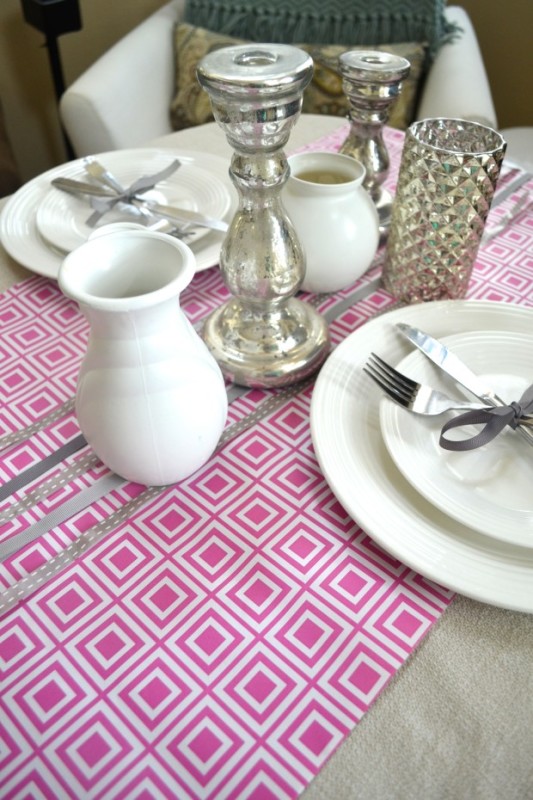 To make the tablescape, I used some Target Dollar spot wrapping paper as a runner and then ran some gray ribbon down the center of the table.  It's such an easy, cute, little touch, plus it's a great way to use up those holiday ribbon scraps you have.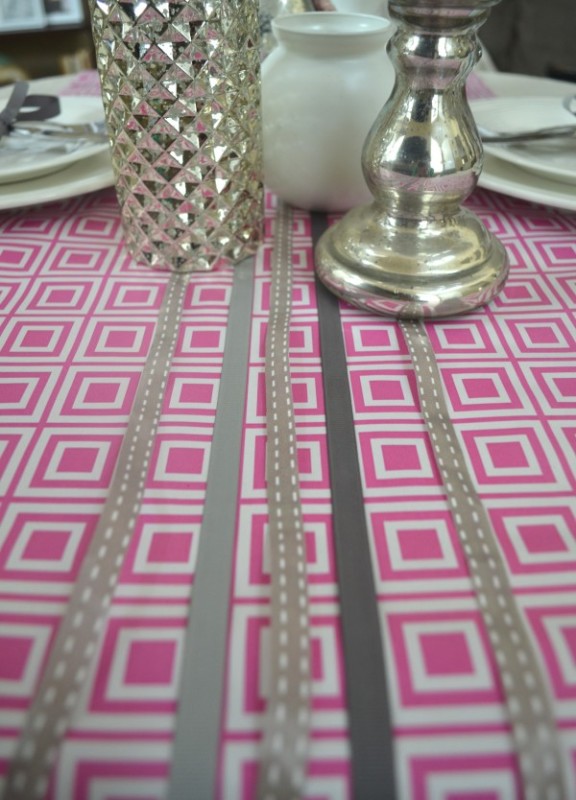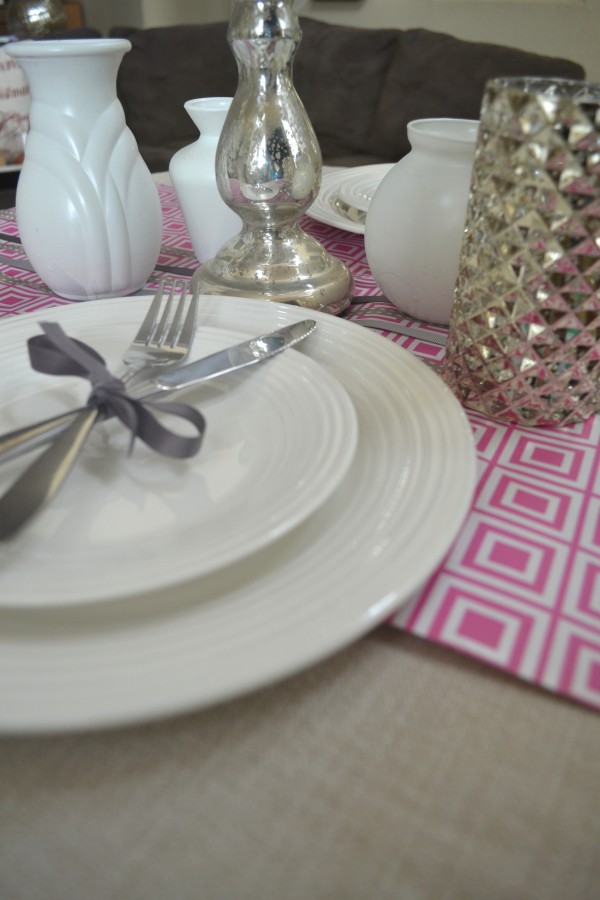 For the centerpiece I used some mercury glass candle stick holders, a shiny silver faceted candle holder (a great hostess gift I received), and some thrifted bud vases.  To make the bud vases all I did was find some glass or other material bud vases at my local thrift store and then just spray painted them white.  So it really doesn't matter what the vase is made of because you're just going to cover it with paint anyway.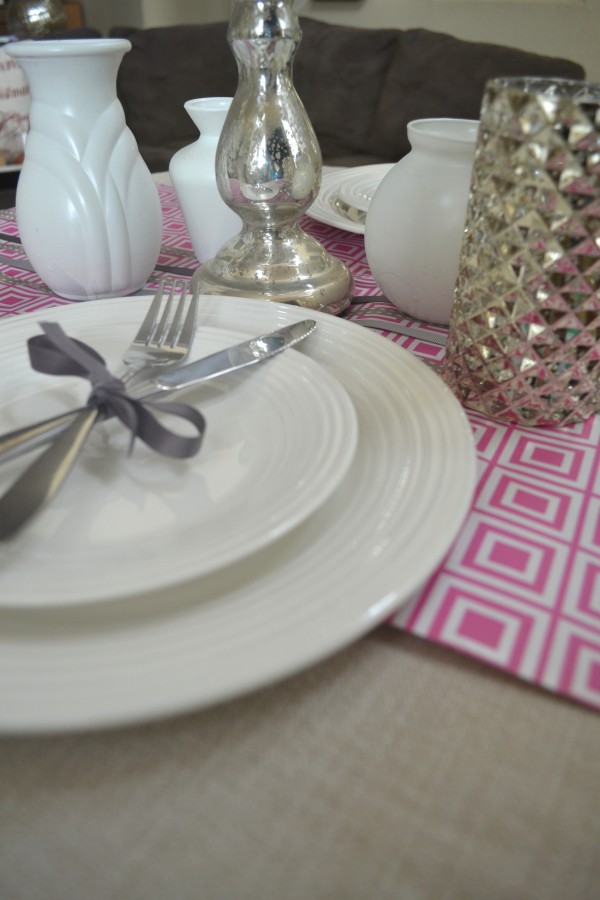 I tied the silver ware together using some leftover gray grosgrain ribbon.  Don't they look so cute!  And yes, if you can't tell this table is set up right in the middle of my living room, haha.  Just searching for the best light on a rainy day!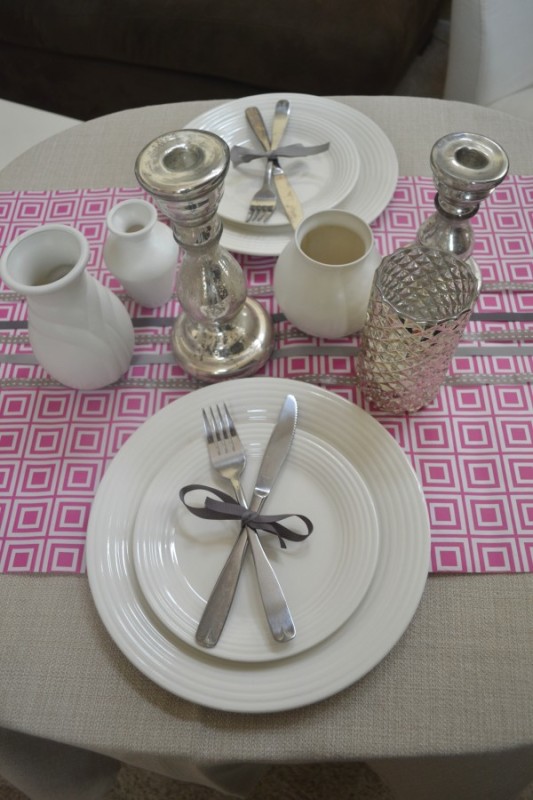 Do you think this pink and gray color combo is going to be as big a trend as the pink and gold trend?  What TV shows are you glad are back on your DVR?  Hopefully this first full week of the New Year will fly by for you because Saturday is another Simple Celebrations post!  Keep celebrating!