Happy March!  I feel like we're getting into the time of year where we're having warmer days and spring is around the corner.  St. Patrick's Day is a great way to kick it off! And why not make some easy memories while you're at it?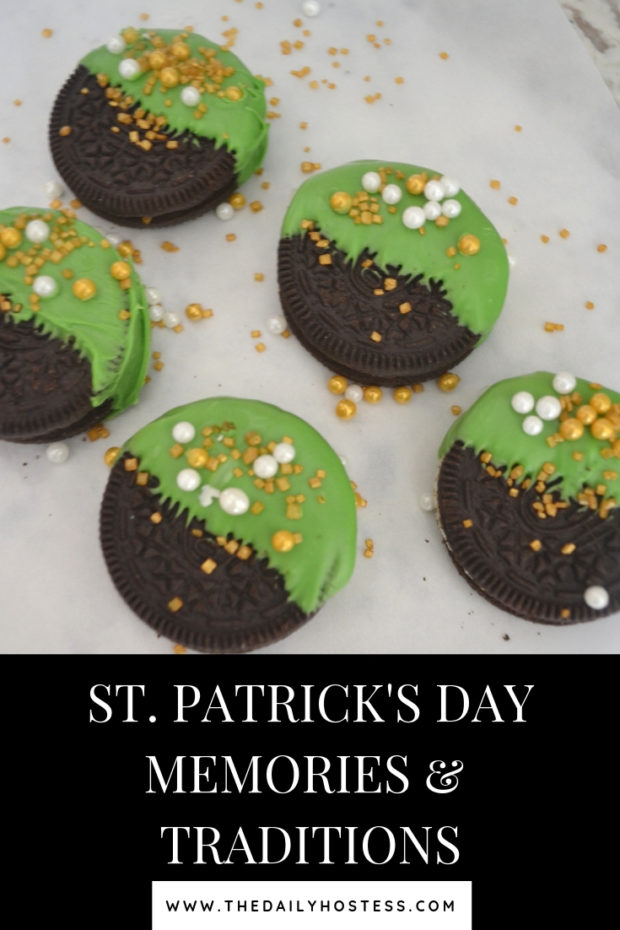 I had a realization recently.  It's going to take a minute to get there, so sit back and read through the backstory.
My husband and I try to regularly work on our marriage.  This has taken the form recently of asking the question "what is something I could do better for you right now?"
We ask the question knowing that whatever the answer is might upset us.  But we have to hear each other out and take the constructive criticism.
On Valentine's Day my husband asked me that question and it prompted an answer I hadn't thought of before.
I told him that I felt like creating memories and gifting fun things to our kids has fallen mostly on my shoulders as the mom.  He took it well and gave me some advice that we both could work on.  Shocker, it boils down to communication.
See, I had gotten a little gift for each of our kids for Valentine's day and had made pink pancakes for breakfast, heart shaped pizza, etc.  Little things that I hope they will remember.  Or traditions we can do every year.
All of that to say, I realized that I like celebrating the "little holidays."  You know the one's like Valentine's Day, St. Patrick's Day, Earth Day, etc.
So if you're like me and want to make some family memories or celebrate a "little holiday" today's post is for you.
Little Ways to Make St. Patrick's Day Memories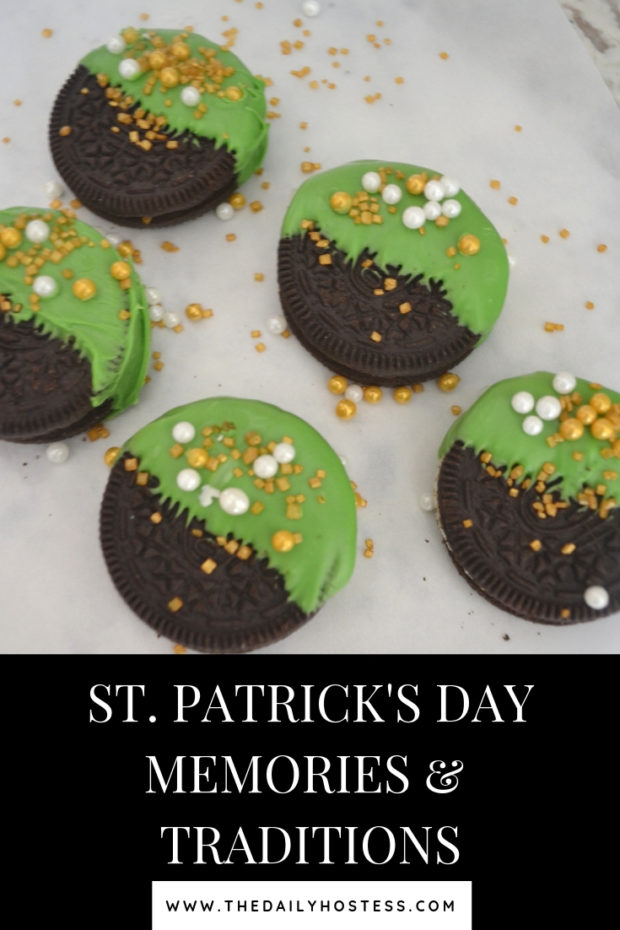 St. Patrick's Day Memories with Food
One of the first ways to make a memory with your family is through your food.  St. Patrick's Day offers so many great options to make something that fits the theme of the day.
This is also a great way to make a tradition that you and your family look forward to every year.
One of my favorite ways to make these little holidays extra special is with pancakes.
We do pink pancakes for Valentine's Day, green for St. Patrick's Day, and sprinkles and whipped cream on birthdays.
It's a simple way to do the same thing every year because we already have to eat, so it doesn't take much extra time or effort to jazz up some pancakes.
Green Pancake Recipe
Here's my quick green pancake recipe:
Blend 1 cup of water or milk with a couple handfuls of spinach until there are no pieces of spinach.  Just green liquid.  I use my immersion blender for this.  I love that thing.
Mix green liquid with 1 cup of pancake mix and 1 egg.
Once it's mixed and smooth, cook pancakes on a griddle or pan.
Super easy addition to the pancakes you're already making for breakfast.  Plus, you're getting some vegetables in your family without them even knowing.
Don't have spinach?  You can always just add a few drops of food coloring to your pancake batter.
Make them even more fun with whipped cream and green sprinkles.
Dinner Ideas for St. Patrick's Day
There are a ton of ways to incorporate a fun St. Patrick's Day tradition with food.  Try some of these:
Classic corned beef and cabbage
Shepperd's pie.  I love this recipe and use it frequently.
Pot roast with carrots and potatoes
Shamrock shaped pizza
Pasta with a pesto sauce (great way to make something green;)
St. Patrick's Day Activities
Long gone are the days of drinking green beer with droves of people after a St. Patty's parade.  Now with kids, I'm trying to find appropriate fun things to do with them.
I haven't done any sort of activity in the past, but created one for you today.  I think it's going to be a big hit and doesn't require much work from you.
Just click on the picture below and download the printable.  Once you have a hard copy cut the shamrocks and rainbow out.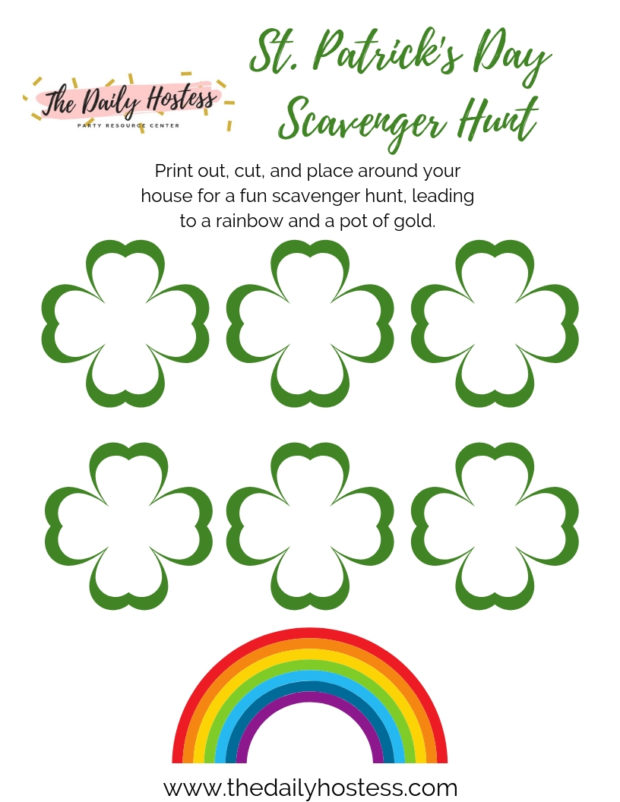 You'll use the shamrocks in a scavenger hunt around your house that leads to the rainbow.  Put a little treat with the rainbow and your kids will find their own version of a pot of gold.
I'm not planning any elaborate rhyms or clues for my scavenger hunt.  I'll be doing something age appropriate for my four year old.
Some options I'm thinking about:
Writing the letters of her name on each shamrock and she'll have to find them and put them in order to spell her name.
Numbers that she'll find and put in order
Her sight words
Her birthday or our address (that's what they're working on in Pre-K this month)
For even younger kids try this:
Colors
Shapes
Animal pictures
Cartoon characters
And let's be clear.  By scavenger hunt, I mean that I'm going to place the shamrocks around one area of my house (like the living room) in very visible spots that they can't miss.
We've done some activities like this before and both my kids love it, so I'm sure they'll think this is fun too.  And bonus that they'll get a little treat when they're done!
St. Patrick's Day Treats
Another way I like to make a memory on these little holidays is by doing a themed treat.
I love sweets, so this might be my favorite way to make these memories.  Plus, my daughter usually helps me and it's a great way to bond together.
We tried our hand at some green and gold themed Oreos earlier this week.  They'll make the perfect sweet treat for St. Patrick's Day and they're super easy to make.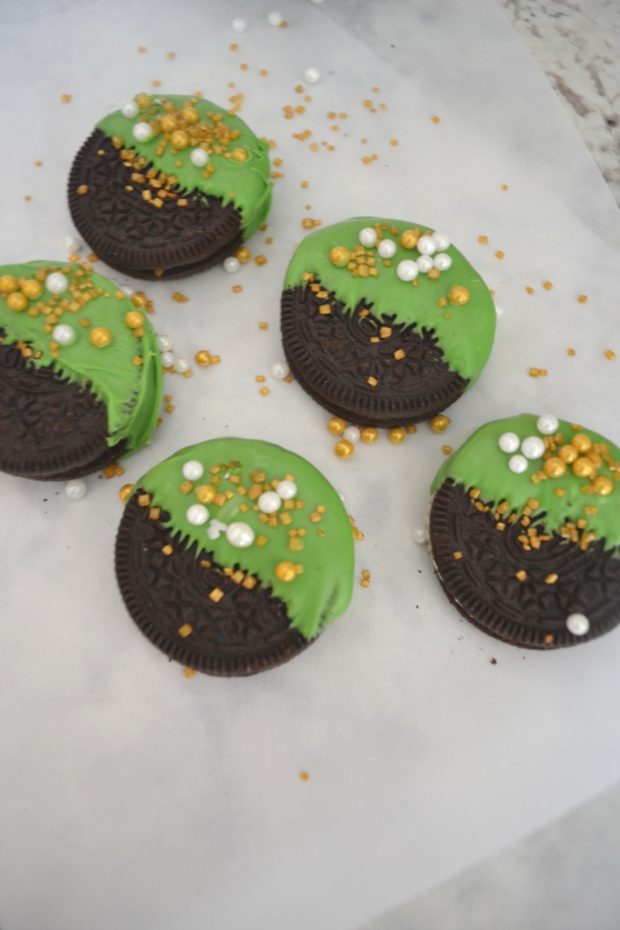 We just bought a package of double stuff Oreos and some green Wilton candy melts.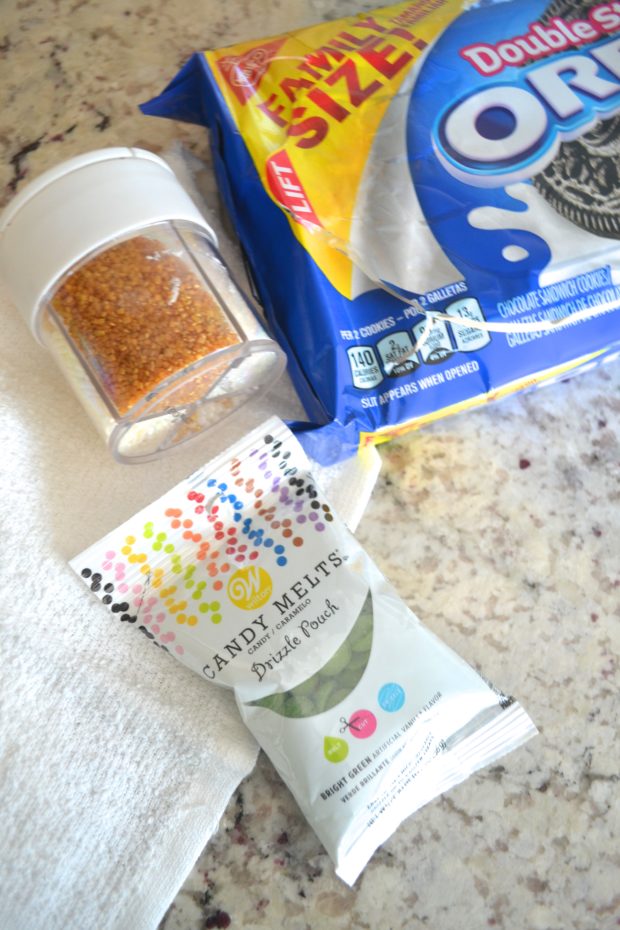 I love those candy melts because you can just warm them in the microwave for about a minute then snip the corner of the package and use it to drizzle onto anything.  How easy and convenient is that?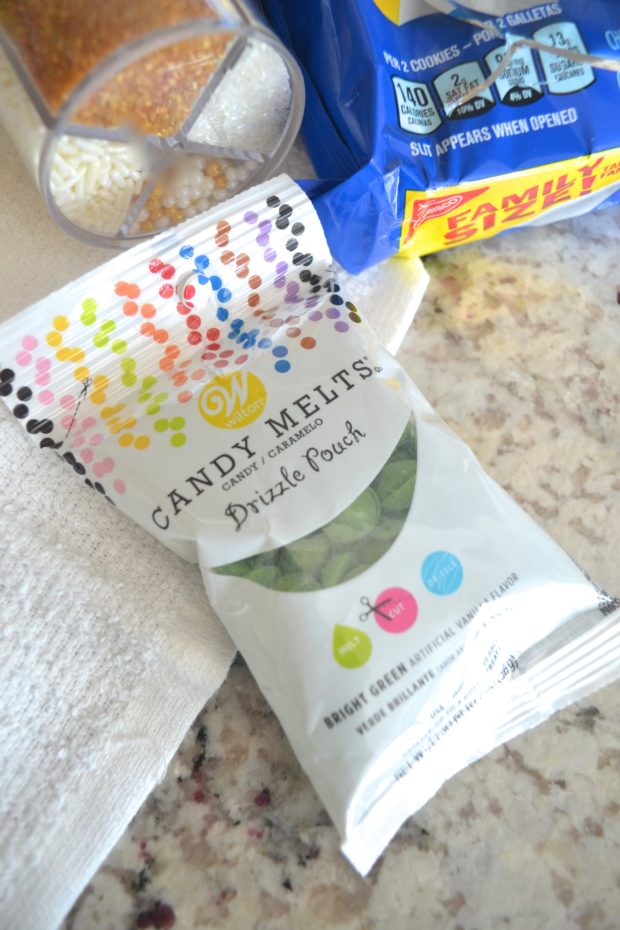 I actually opened the package all the way to pour the melted chocolate in a bowl making it easier to dip the Oreos in.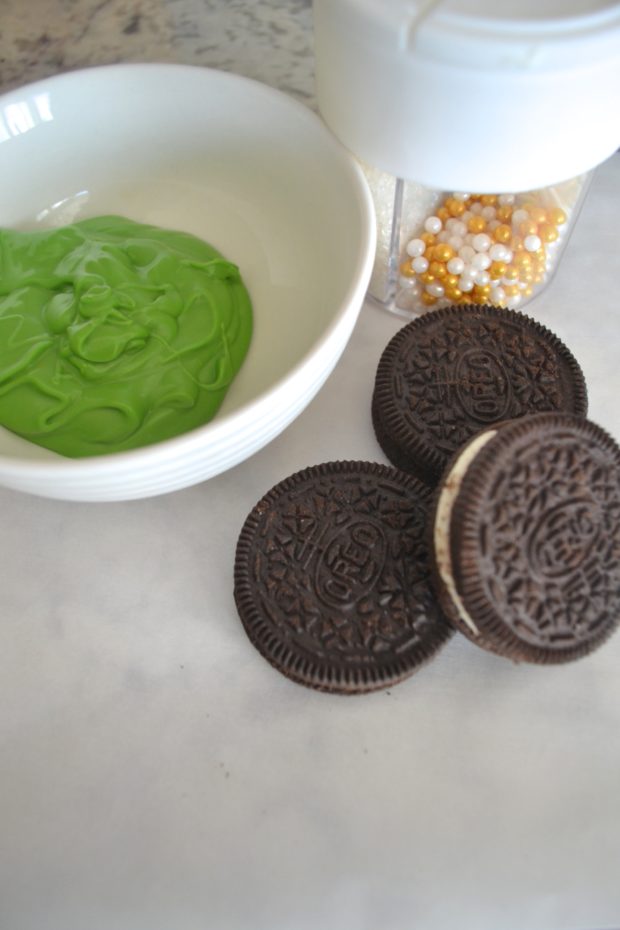 Super easy directions to create your own green Oreo St. Patrick's Day treat below.
Melt green candy melts according to the package
Pour melted candy melts into a bowl
Dip half of an Oreo into the melted candy ensuring you cover both sides and the gap between the cookies
Place on parchment paper and sprinkle with gold sprinkles
Let dry and firm up for a few minutes
Enjoy!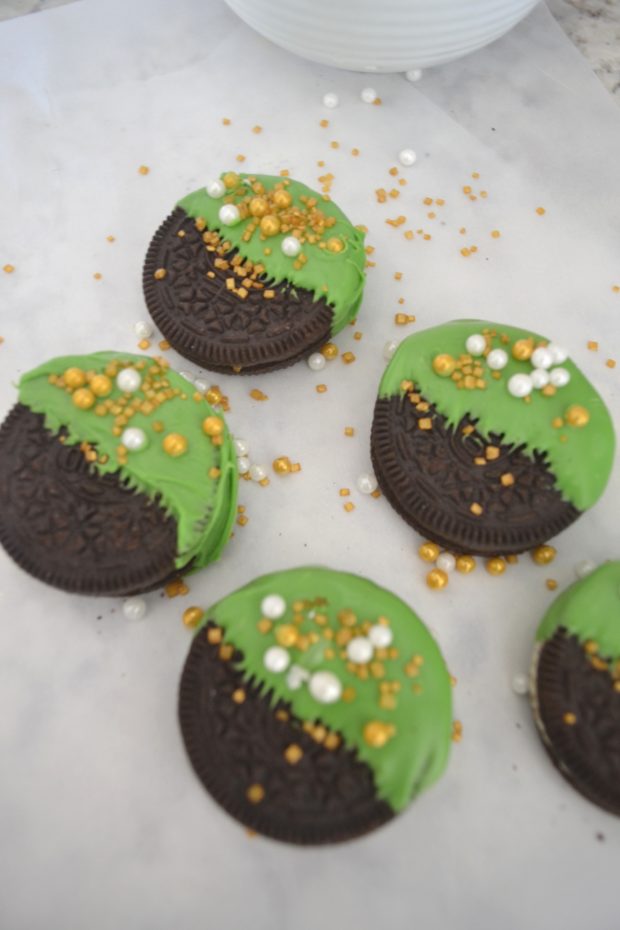 My Thoughts on Making Family Memories
Just to wrap up I wanted to make sure I shared that it's easy to make these family memories and celebrate the "little holidays."
All you need to do is jazz up one or two things that you're probably already going to be doing for the holiday or theme.
It doesn't take much time or money to do them either.  And if you do them year after year, your kids will love the tradition.
I'm firmly embracing the realization that I enjoy celebrating these little holidays and plan to do all three of the things that I suggested above.  But here's permission to do you.  If you don't have time or don't care about making a St. Patrick's Day tradition, it's totally ok to pass on these ideas.
If you do try any of these, I'd love to see what you do.  Print out the shamrock printable, make a sweet treat, or jazz up your meals.  What are you planning on doing?