Is it starting to feel like spring where you live yet?  It's definitely starting to where I live in Colorado.  It's getting me so excited for warmer weather and all the celebrating and entertaining that comes along with it.
Today I have such an easy DIY, that I kind of feel silly even posting about it.  But, I just want to show you that party decor, or seasonal decor for that matter, don't have to be difficult or time consuming.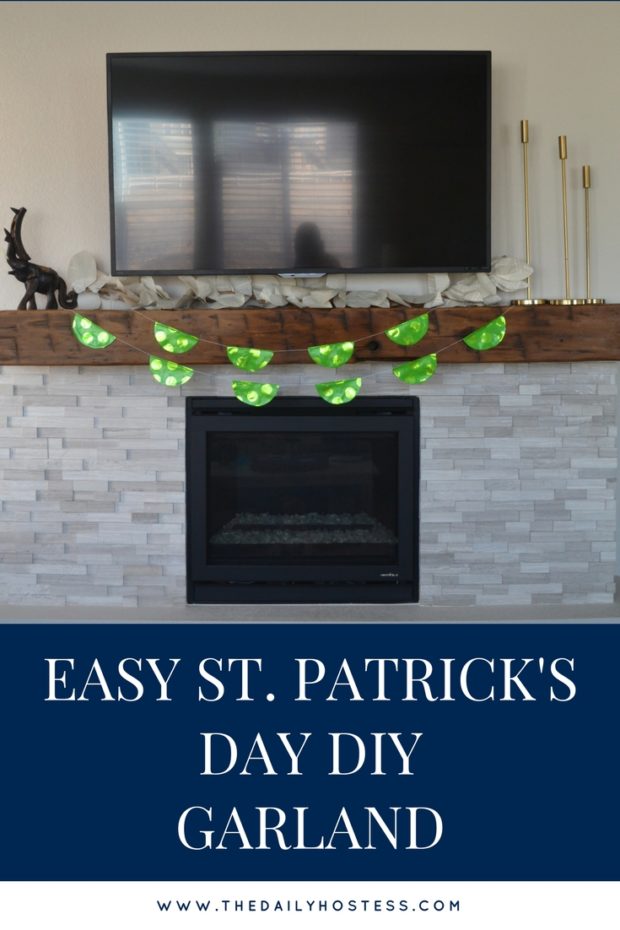 I wanted to do  a little something for St. Patrick's day, but green decor is not something I have on hand.  So I decided to make my own.  Thanks to some after Christmas sales, I found this great solid green wrapping paper.  Knowing I had that, I figured I could make my own St. Patrick's Day Garland.
I took a tip from the wrapping paper itself and decided to do something with circles, since the paper has polka dots.  Once I had my idea, I knew I only needed a few items to make the garland.
DIY St. Patrick's Day Garland Supplies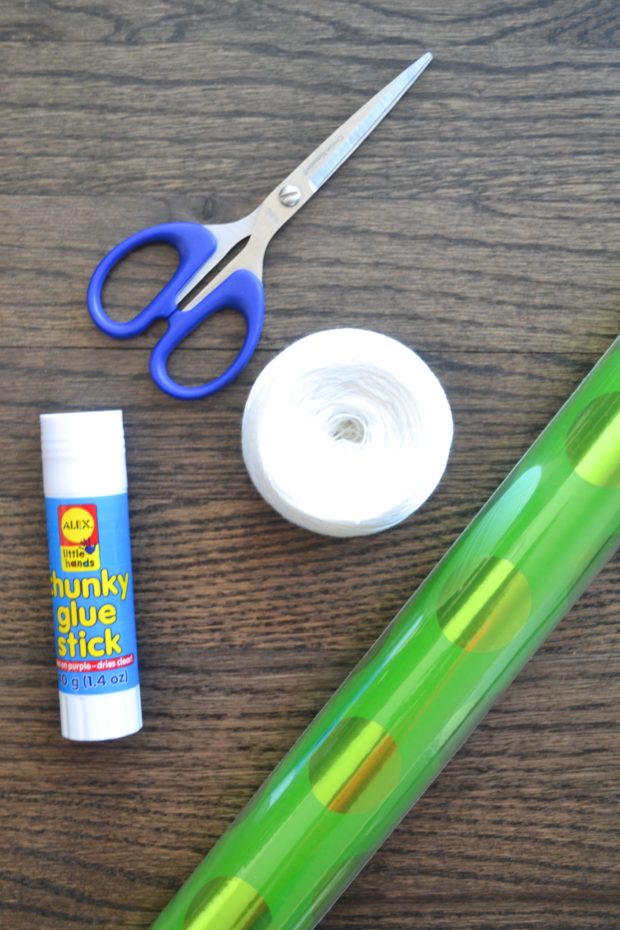 Besides the wrapping paper I only needed a few things.
Green Wrapping Paper
Glue (I used a glue stick, and so far is holding up great)
Scissors
String
Not pictured: pencil and something circular to trace around
DIY St. Patrick's Day Garland Tutorial
Like I said at the beginning of this post, this is a really easy DIY.  I knew I wanted to make a bunch of circles and fold them in half over string to make my garland.  It's really simple.
Step 1: Make Circles
I used the bottom of a vase to trace circles on the wrapping paper.  There are so many things around your house that could be used to trace.  Plates, pot lids, vases, a kid's toy, bowls, really anything that's circular and the size you're looking for.
Next, you'll want to cut the circles out.  I just freehanded cutting them.  And I didn't take any pictures of this part, but you get the idea right.
Step 2: String up the Circles
After I had cut out my circles, I started adding them onto the string.  I did this by folding them in half, then gluing them onto the string.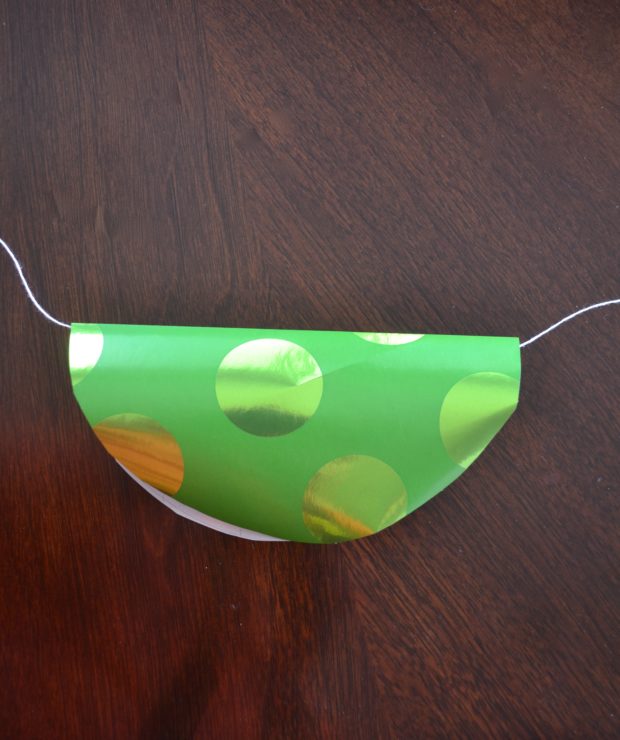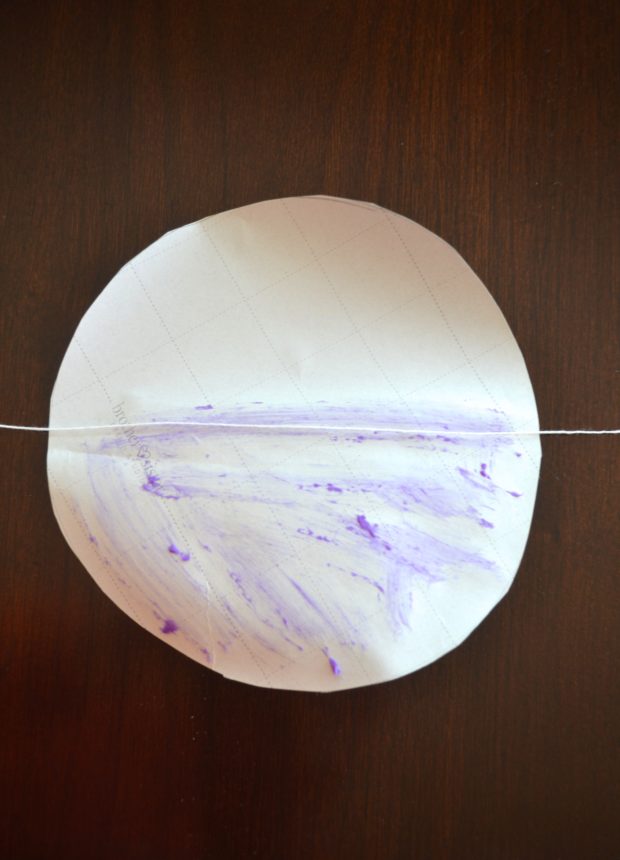 I recommend just adding glue to one side them folding the top over the string onto the glued side. Be sure to get glue into the crevice where the string is going in order to hold the paper onto the string.
That's pretty much it.  I did these same couple of steps for all of the circles and just eye-balled the distance between the circles on the garland.
Once all the circles were on the string I hung them up on my mantle.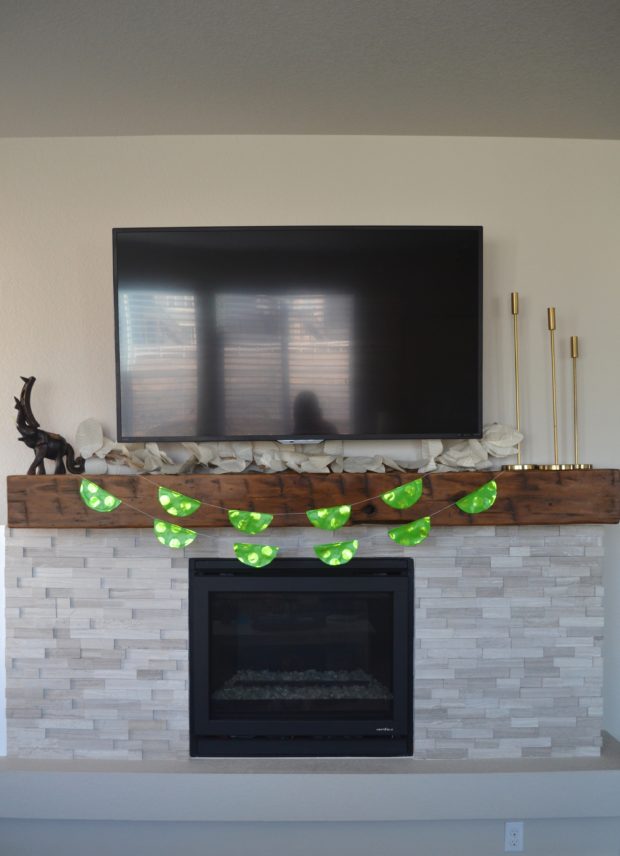 I would recommend that once they are hung up to do a little trimming.  Because I just cut the circles out myself, they weren't perfect.  Some of the white inside of the wrapping paper was showing through, you can see it below.  I just trimmed it off after I had hung it up.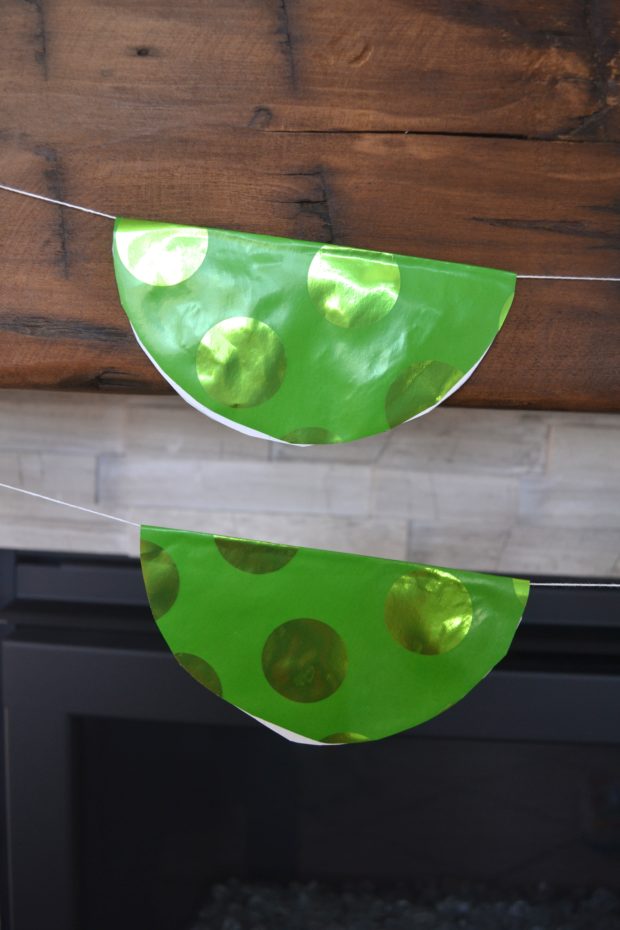 Once that was done, I feel like it's a pretty cute little garland!  The best part was that it took me practically no time at all to make.  Which is why I think it's so easy to make parties a little extra fancy and pretty.
It doesn't take much time to make your own party decor.  Your party will look so much more cohesive it you make themed decor and try to make everything looked tied in together through the decor.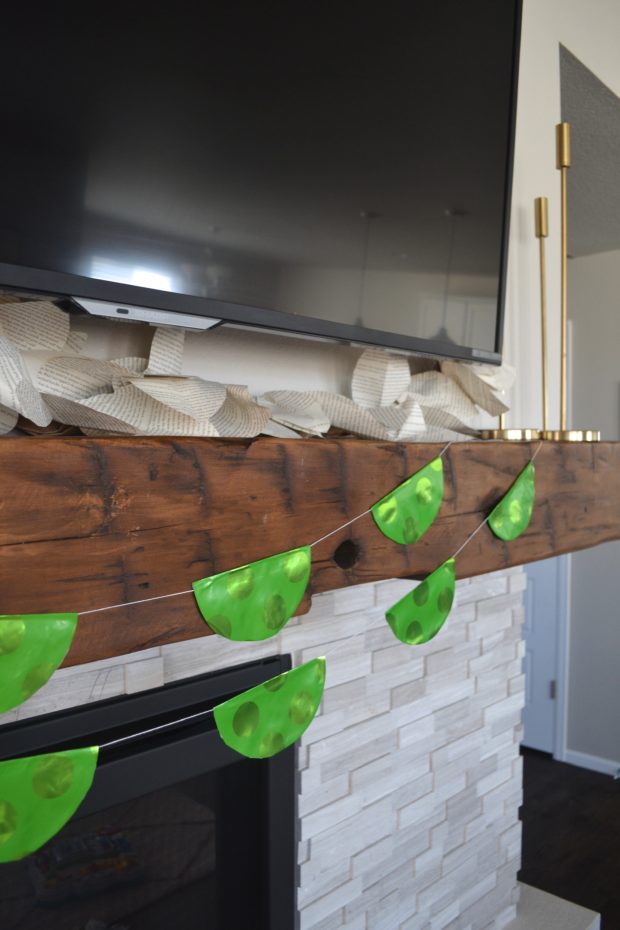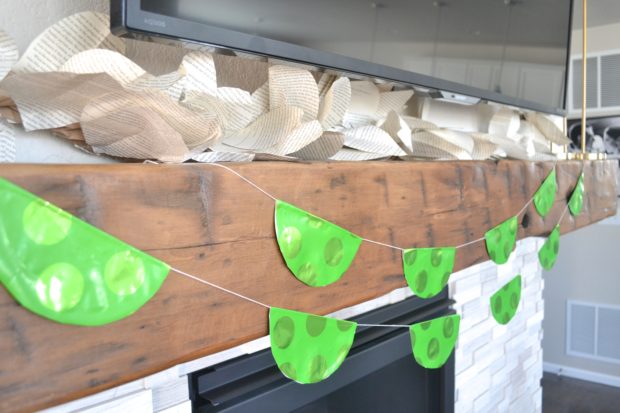 I hope this quick garland inspires you to make your own party decor for your next party.  Or even just inspired to celebrate St. Patrick's Day. Be sure to come back tomorrow for some free printables that will help you celebrate this weekend!