According to the title of this post, this was supposed to go out yesterday.  It didn't, so just pretend it's still Wednesday when you're reading this.
Every now and then, I like to put together a post about what I'd wear for various celebrations.  Valentine's day is the perfect time to put on everything pink, red, and girly.  I've put together a little collage of a few things I found that would be perfect for Valentine's Day.
More than likely, I'd just end up in the heart pajamas because my husband and I don't typically do anything special for Valentine's day.  I think that all started when we were dating in college and decided to make something for each other for Valentine's.  I made him a photo book and he wrote me a poem.  It was perfect and not over the top.  Since then, no big plans for Valentine's, and that's just fine with me.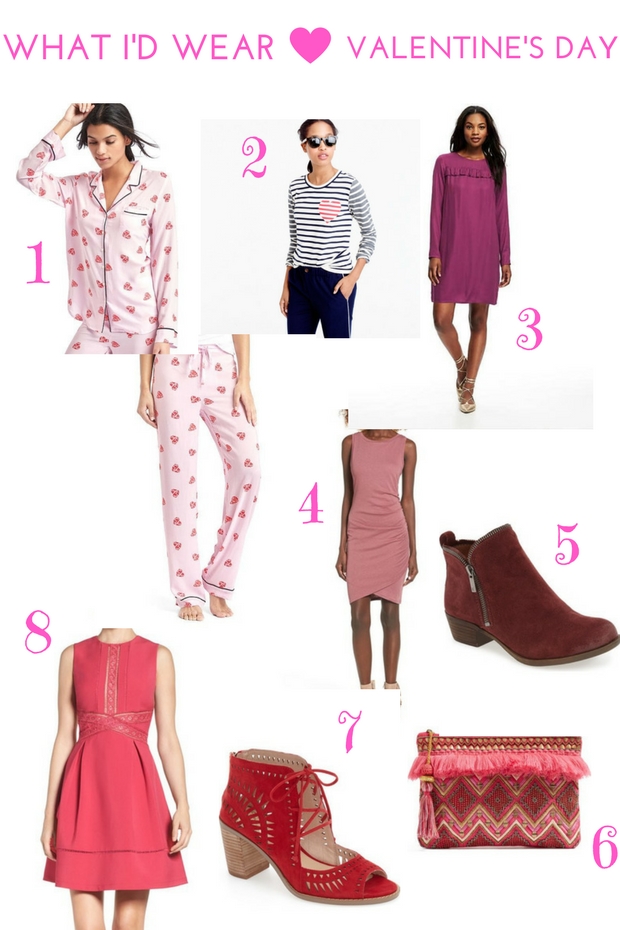 1-Heart Pajamas (Pants & Shirt)
I was just telling my husband that I don't feel like a "real" grown up because I don't have any "real" pajamas.  These would fill that gap in my wardrobe!
How perfect would this long sleeved t-shirt be to wear to your kids school Valentine's party?  I like that it's obvious, but not over the top red and pink.
If you want to eat a big meal when you go out for Valentine's Day, this dress is for you.  The ruffle details and the under $15 price make it extra cute.
This dress would work better for a smaller meal, ha.  But the ruching will help to hide any food babies.
Pretty sure if I had these booties, I'd be wearing them year round.  How fun is that deep red color and the lower block heel makes me think they would be pretty comfortable.
If you add fringe to anything, I'll pretty much love it.  This pink clutch is adorable with the fringe, chevron detailing, and that tassel!  #hearteyes
Hubba, hubba!  These heels are super sexy without having to balance on a sky high stiletto.  The lace up is great and the cut outs are super fun!
I've decided a while ago actually that fit and flare is my go to dress shape.  It just seems to work the best on my body.  I love this sweet pink dress and the lace detailing makes it special and a little sexy.
So what are your plans for Valentine's day?  Do you normally go out and do something fun or keep it more low key?  Which item is your favorite to wear on Valentine's?