I am so excited to share this party with you guys!  As I posted on Instagram, I'm going to toot my own horn a little bit with this flamingo birthday party.  Mostly because I feel like this party has a lot of Pinterest wins, haha!  Have you ever seen those Pinterest fails?  So funny.
My daughter is pretty obsessed with flamingos, mostly I think because they are pink.  You can see her flamingo themed room here.  But the love of flamingos carried over to her birthday party this year too, and I kind of took it to a ridiculous level.  Keep scrolling to see all of the details and a ton of pictures!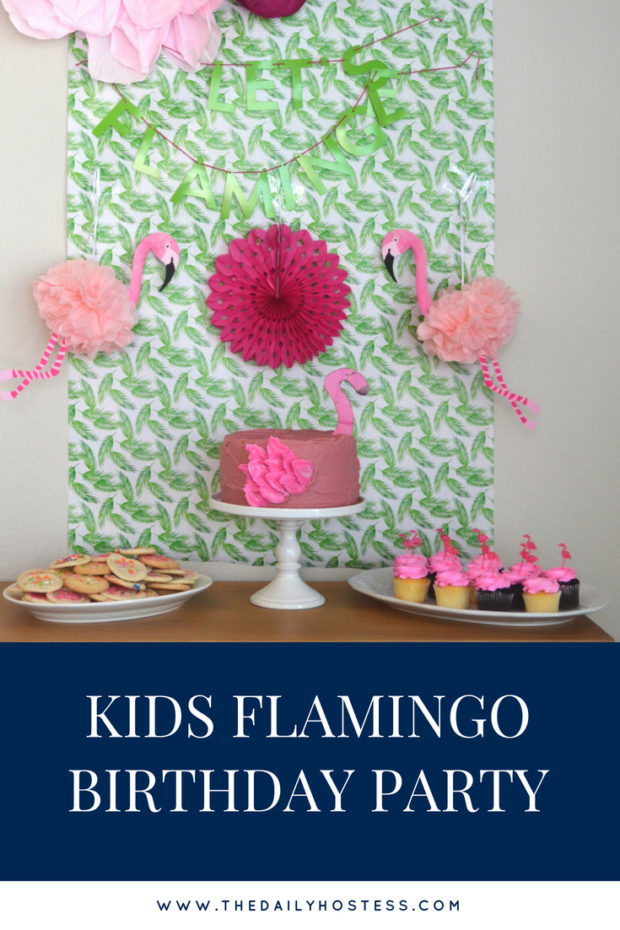 Flamingo Birthday Party Decor
It was pretty easy to come up with a color scheme for this party as everything started with pink.  But in order to not have pink overload I mixed in a tropical twist with pineapples, palms, and a little green and blue.
I was able to find a mix of things over time since we had the theme picked out months ago.  So as I went to places like Michael's, Hobby Lobby, and Target, I'd pick one or two things up.  It was nice to do it over a period of time.  However, I did kind of forget what I had as it got closer to the party and ended up not using a couple of things.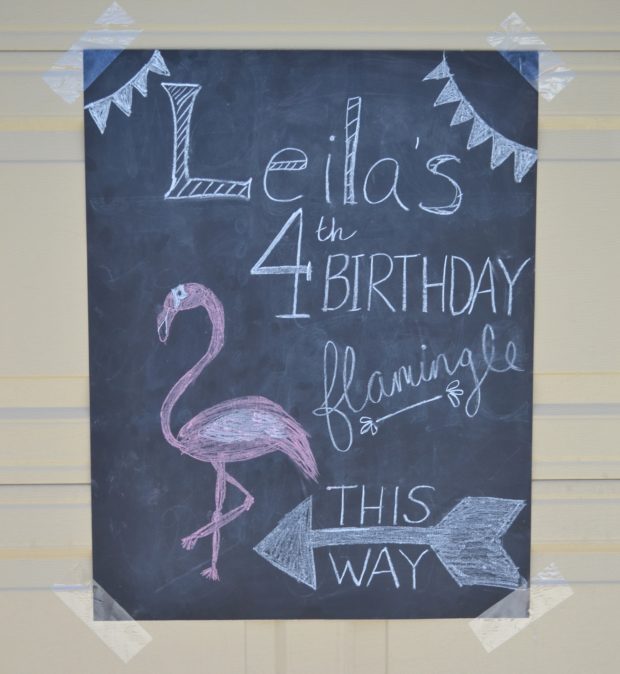 I love using a piece of black posterboard for a "fake" chalkboard.  A little searching on Pinterest and you can be totally inspired to create your own masterpiece.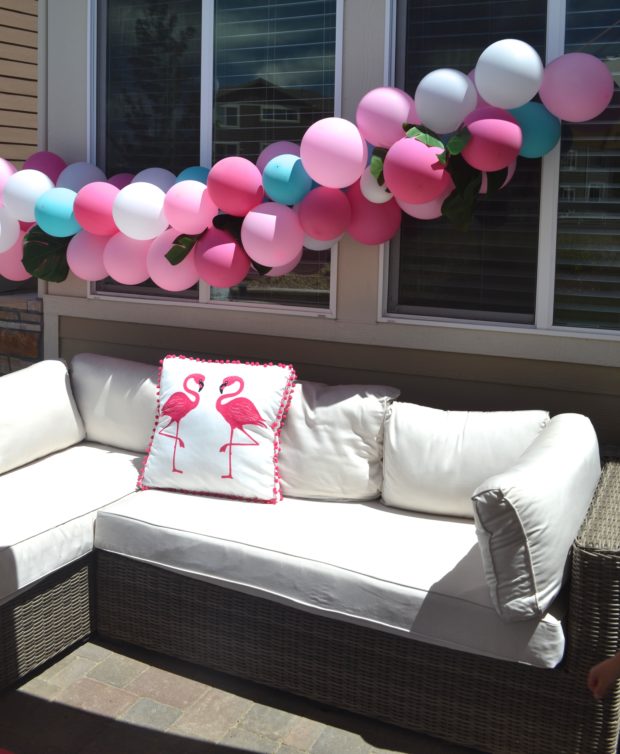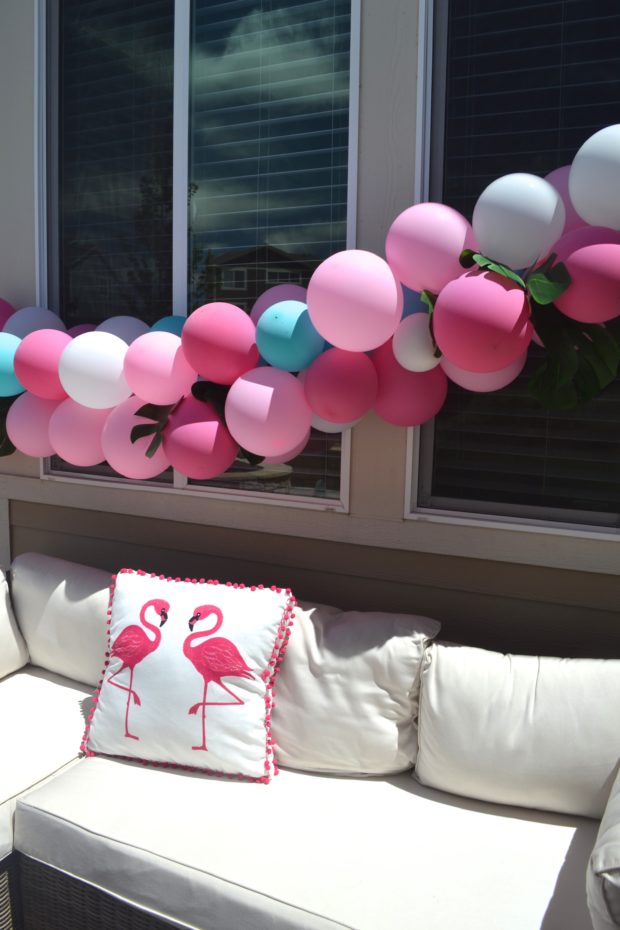 I used my tried and true balloon garland technique to make this installation above our outdoor couch.  See how to do it for yourself here.  And all you need to buy is one $8 piece of plastic to make it happen.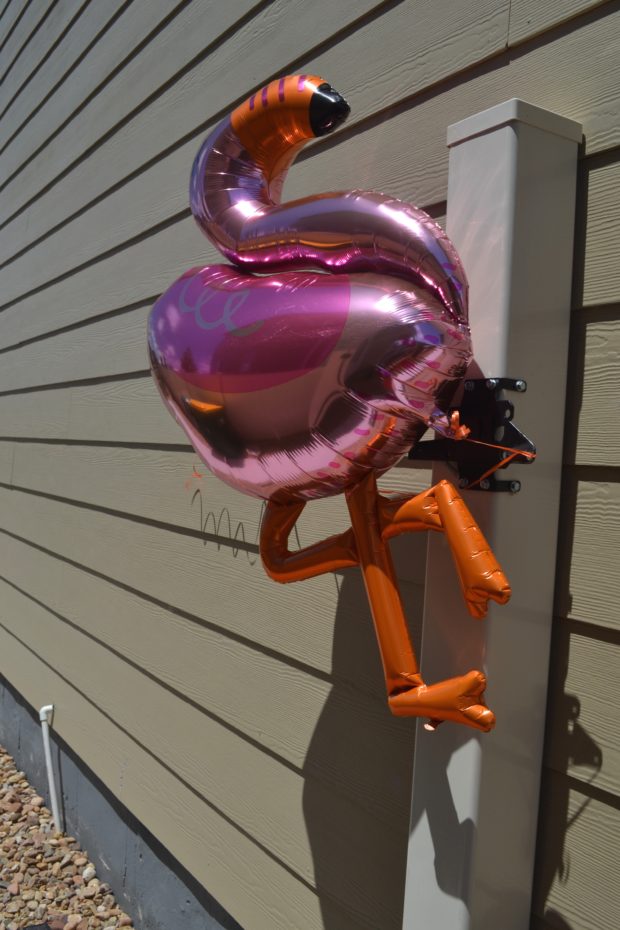 Flamingo Birthday Party Tablescapes
We set up two different tables for this party.  A kids table on the patio where all 13 toddlers could sit to eat snacks and cake.  Plus another one inside where all of the food was.  These were a great focal point and allowed me to showcase the theme in a big way.
I used some short Ikea tables combined with my coffee table to create a table low enough for all the kids.  It's super tropical and the place settings were a colorful combo.
Another Pinterest win was painting the leaves of the pineapples.  I've seen it several times on Pinterest, but didn't do it until this party and they turned out great!  I'm now accepting recipe suggestions with all the pineapple at my house though, haha!
As far as the food table goes, I wanted it inside to cut down on the bugs.  The party was hosted between meals so we just served some kid friendly snacks.
After digging through some of my party decor I found some fabric for the tablecloth and cups to put the popcorn in.  I really need to organize all of my party supplies so I know what I have before buying more.
Flamingo Birthday Party Dessert Table
The dessert table area is what I'm really proud of, specifically the birthday cake.  I made the backdrop using some palm print wrapping paper and a flamingo party set I found at Michael's.  Too bad I didn't realize the words were all jumbled up before taking pictures.  Or that the green letters wouldn't really pop in front of the backdrop.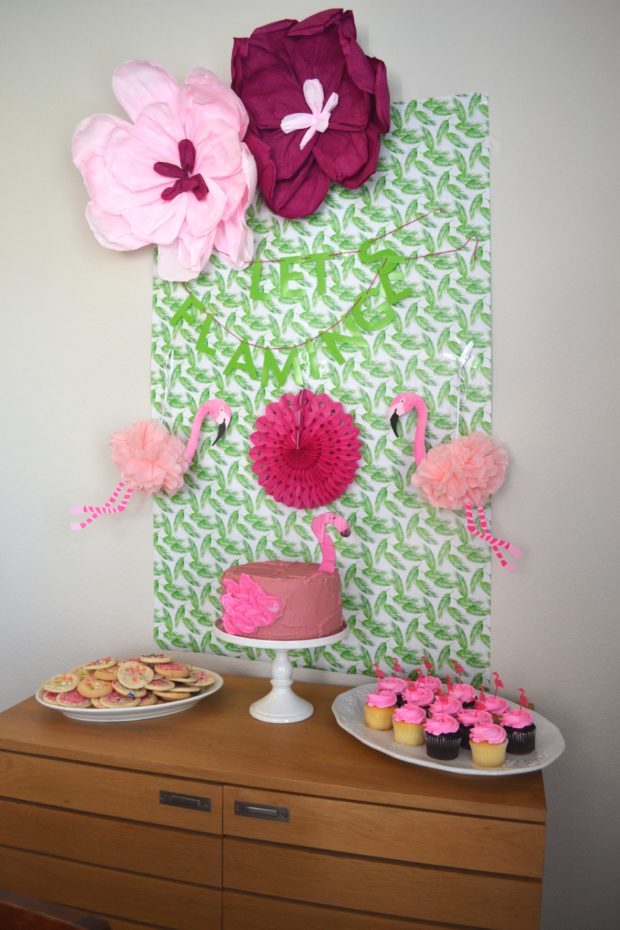 As far as the actual dessert goes, there wasn't anything too crazy.  I made the cake, got some cupcakes from the grocery store and plopped some flamingo toppers in them.  Then I put out the leftover cookies from the lemonade stand that didn't sell.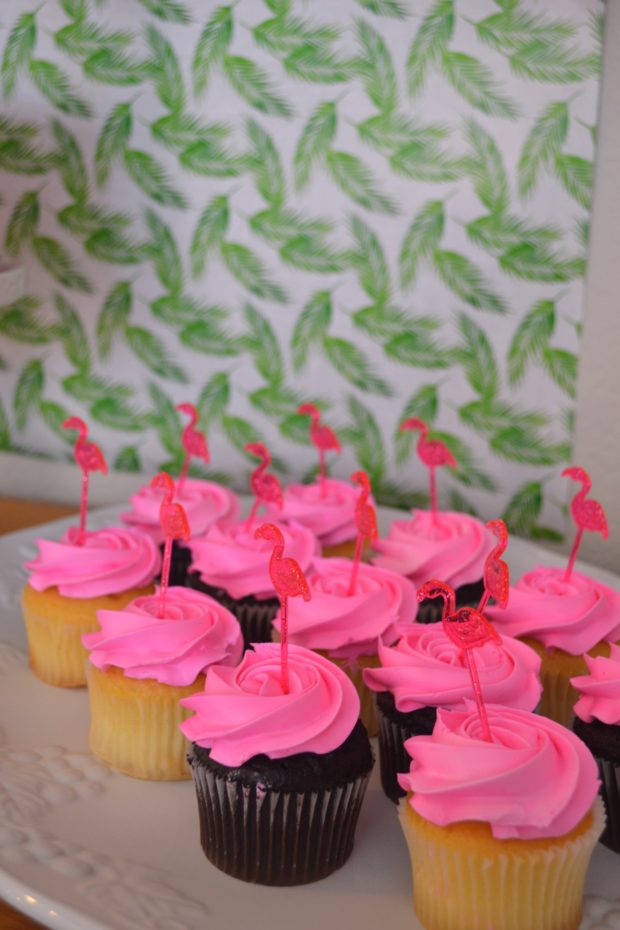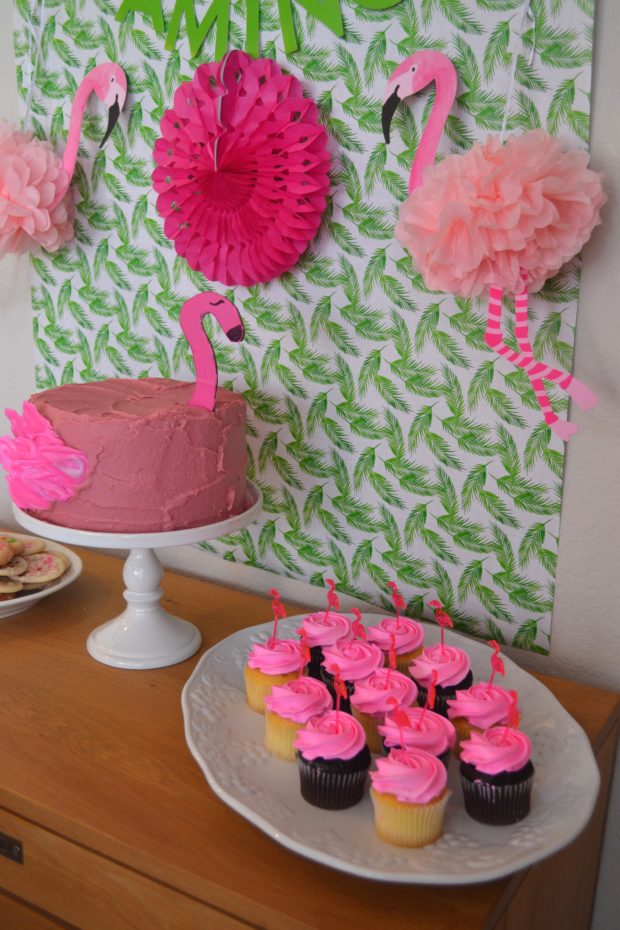 Now, let's talk about this cake for a minute.  I gave my daughter a few options of what she wanted her birthday cake to look like.  Several options were very elaborate, where I would have to hire someone to make them, and there was one simple one.  She chose the one simple one, surprisingly.  It was so simple that I figured I could make it myself.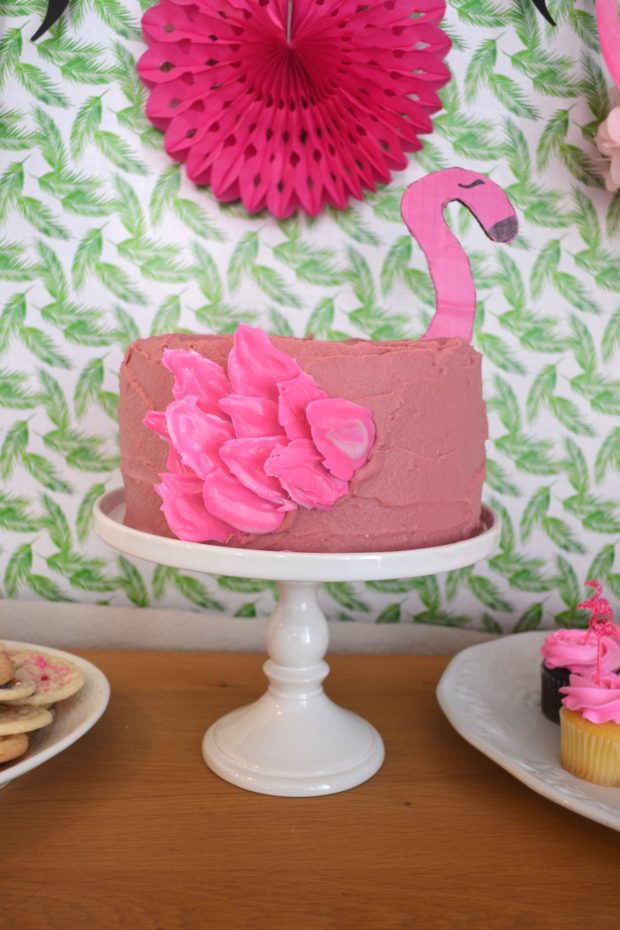 I used two vanilla boxed cakes and made each box into it's own layer using an extra deep cake pan.  I then used this recipe to make my own buttercream icing and colored it pink.  For the feathers, I bought pink chocolate melts and melted them on parchment paper until they were soft enough for me to use the back of a spoon to squish them out into a feather shape.
The best way I found to melt the chocolate circles was to heat a sheet pan in the oven, then put parchment paper on it, and drop the circles on top.  After a couple minutes the hot pan melted the candy melts enough that I could smash them.  I think it turned out so cute!  It's simple, but makes a big statement.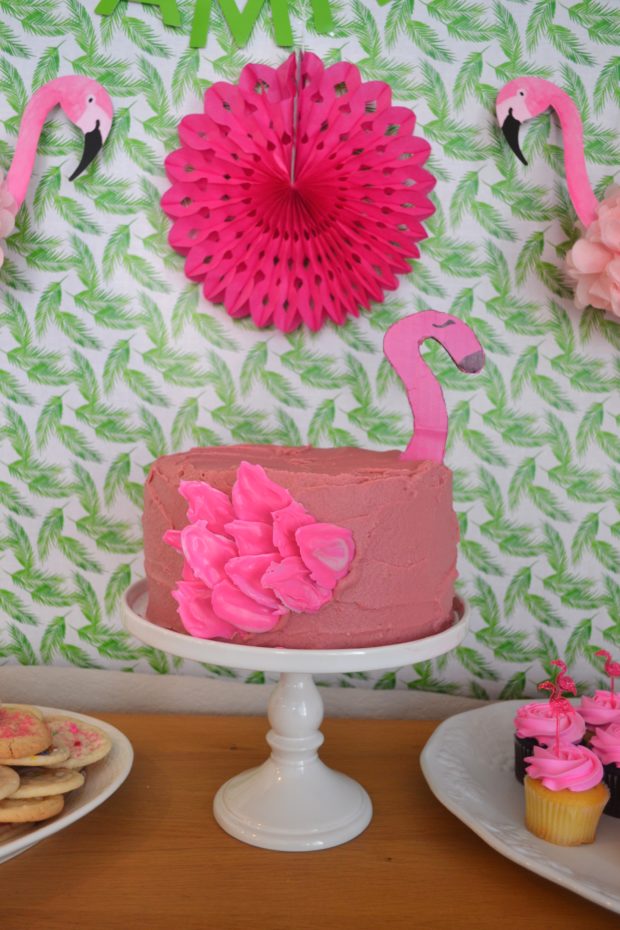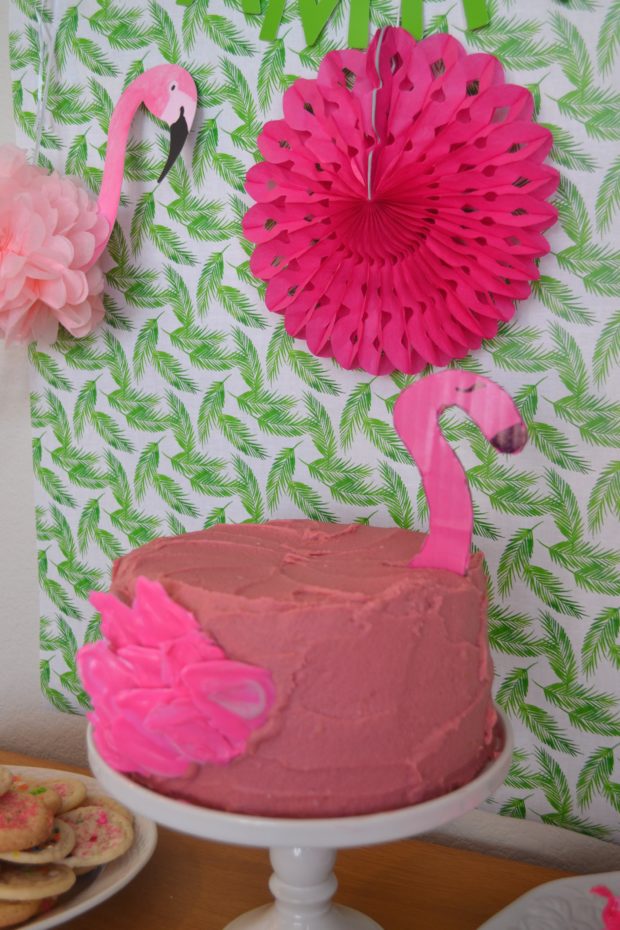 For the flamingo head, I just cute out a piece of pink cardboard and drew a simple flamingo face on it.
Flamingo Birthday Party Activities
To keep all of those toddlers and kids entertained, I had set up a few activity stations in our backyard.  One was a flamingo ring toss, another a hand painting station, and the third a water gun cup race.
For the flamingo ring toss, I got lucky and found yard flamingos at the dollar store, so it didn't cost much to get a bunch and put them in the yard for the kids to try and lasso with some rings.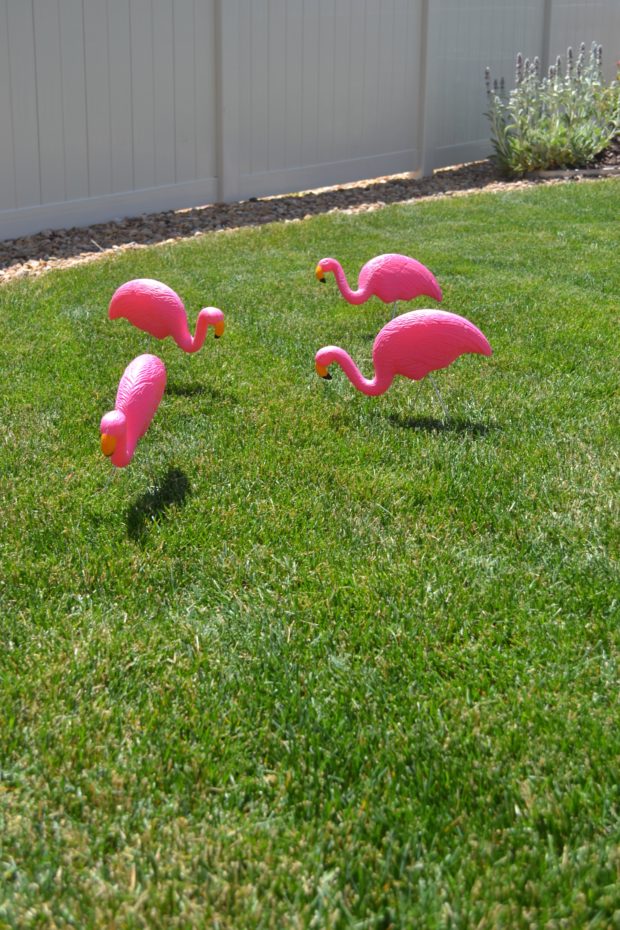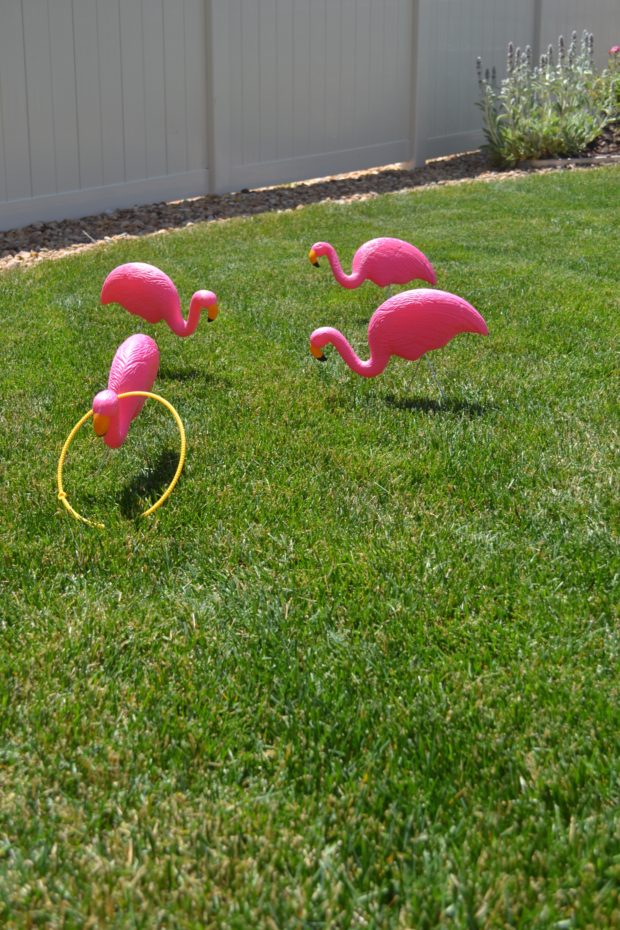 I just love how the hot pink flamingos pop off the green grass.
We also blew up some large flamingo pool floats and put ball pit balls inside.  I didn't get any pictures of it, but it was pretty fun to see those big flamingos in my backyard.  I'll probably do another post on how we made the handprint flamingos too, because I was too busy to take pictures.
That wraps up this fun, colorful, and tropical party.  Overall I think everything turned out really well, but most importantly I think my daughter had a good time with a bunch of friends.
Tell me your favorite part of this party in the comments below!