Hey there friends! I'm writing about a very special tea party from one of my favorite places today! I'm in San Diego for work and I just love this city.
We used to live here, it's where I started my blog and had my first baby. I'm pretty excited because my babies and husband got on a plane to spend part of the week with me here.
I'm hoping to make some fun family memories and enjoy old friends in sunny warm weather. Such an escape from the cold, snowy winter we've had in Colorado.
Speaking of all these different places we've lived makes sense because today's blog post isn't just about a tea party.
It's a fun way to incorporate a tradition of the newest place we're going to live.
Yes we're moving! And not just a regular move, which thanks to the military we're used to every few years.
We're moving countries! We're moving to England!!
We're so excited for all of the adventures ahead. Especially my daughter who asks almost daily if we're moving to England the following day.
That being said, the blog may look a little different for the next few months. Turns out moving countries involves a lot of things that require time and attention.
We're selling our house, so I've been busy getting that ready, there are a bunch of passport things to do, finding a new place to live, enrolling in international schools, and the list goes on and on.
So I may not be posting as much as usual and I hope that's ok with you. I certainly may not be posting much this summer because that's right in the middle of our move and life just gets crazy then.
So now that all the big news is out of the way we can get back to this tea party.
I'm so looking forward to the potential of a daily tea party. Who wouldn't want to get people together and celebrate with little cakes every day?
So to break the news I wanted to put together a proper tea party.
I did a bit of research to find out what needs to be included and realized that British tea parties are pretty simple when it comes down to it.
Great news to those of us that don't want to have to stress over party details.
The 5 Things You Need to Host a Proper Tea Party
Tea Required
The first thing you need to host a proper tea party is of course the tea.
There is a cute little tea shop in our town that has such an assortment of teas, but I just used some that we had on hand.
It was a pineapple tea that my husband and I picked up in San Francisco on a work trip several years ago.
I thought it had a slightly sweet taste to it, but my daughter needed an added touch of honey to sweeten it up.
I'm pretty sure she associates tea with lots of honey. So it's a fun way for her to get more sugar in her day, haha!
Tiered Serving Trays are Handy
The second thing you need for a proper tea party is a tiered stand to hold all of the little bites you can serve. 
I found that adorable glass tiered stand at Goodwill for a few dollars, but I love the look of some of these below.
And if you don't have a tiered stand at all you can easily make one with things you probably do have at home.
Try placing a wine glass in the center of a plate. Boom, you have one tier on the plate, and you can place cookies and other treats in the wine glass. Easy!
Savory Bites To Start
Now, moving onto the types of treats to serve at your tea party.
There are three kinds or categories to work with for a tea party. A savory bite, sweet breads, and then sweet treats.
The first, and usually the bottom layer of your tiered stand is a savory bite.  Typically tea sandwiches are used for this. 
I put together a really simple tea sandwich recipe. Read on for the recipe below.
Simple Tea Sandwich Recipe
Ingredients:
1 block of softened cream cheese
Juice from 1 lemon
1 Tbsp of Dill
Salt, 1 tsp or to taste
1 English cucumber cut into thin slices
Slices of your bread of choice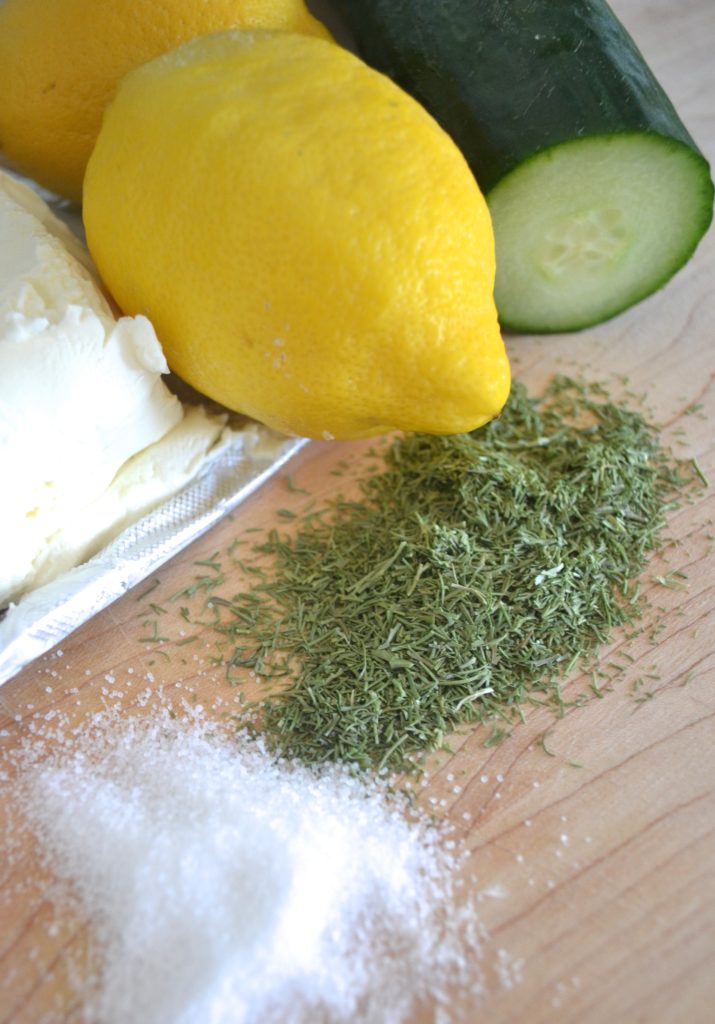 Recipe Directions:
Mix cream cheese, lemon juice, dill, and salt in a bowl
Spread cream cheese mixture on one slice of bread
Then layer the thin cucumbers on top of the spread
Top with another slice of bread and cut the crusts off of each sandwich
Then cut sandwiches into triangles
Placing these cute sandwiches on the bottom tier of your tea party stand doesn't just look cute, but they are really tasty as well.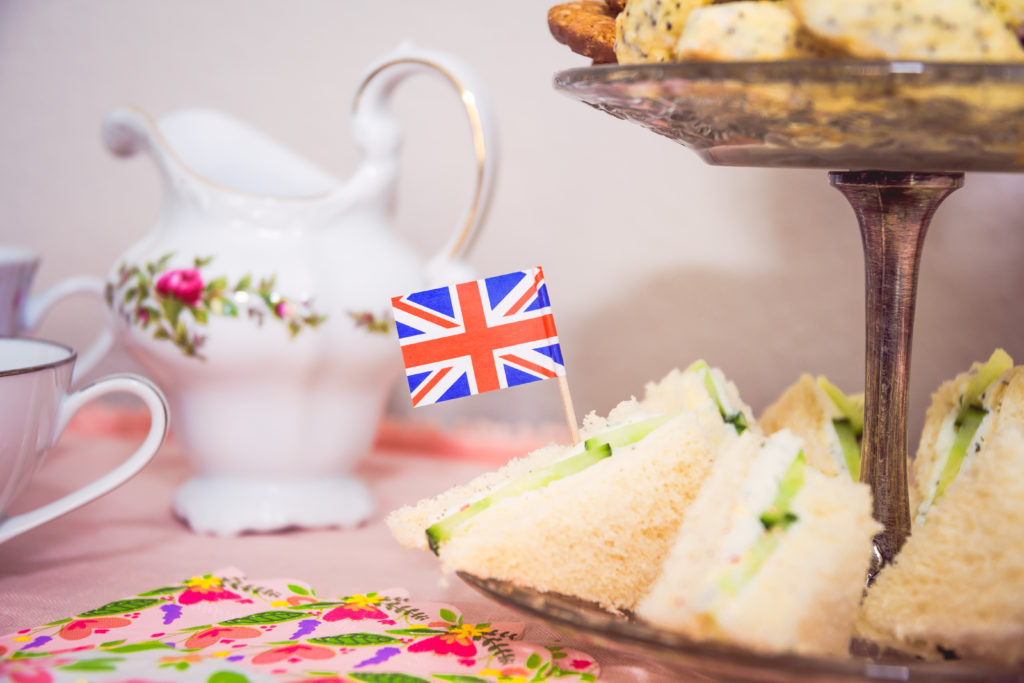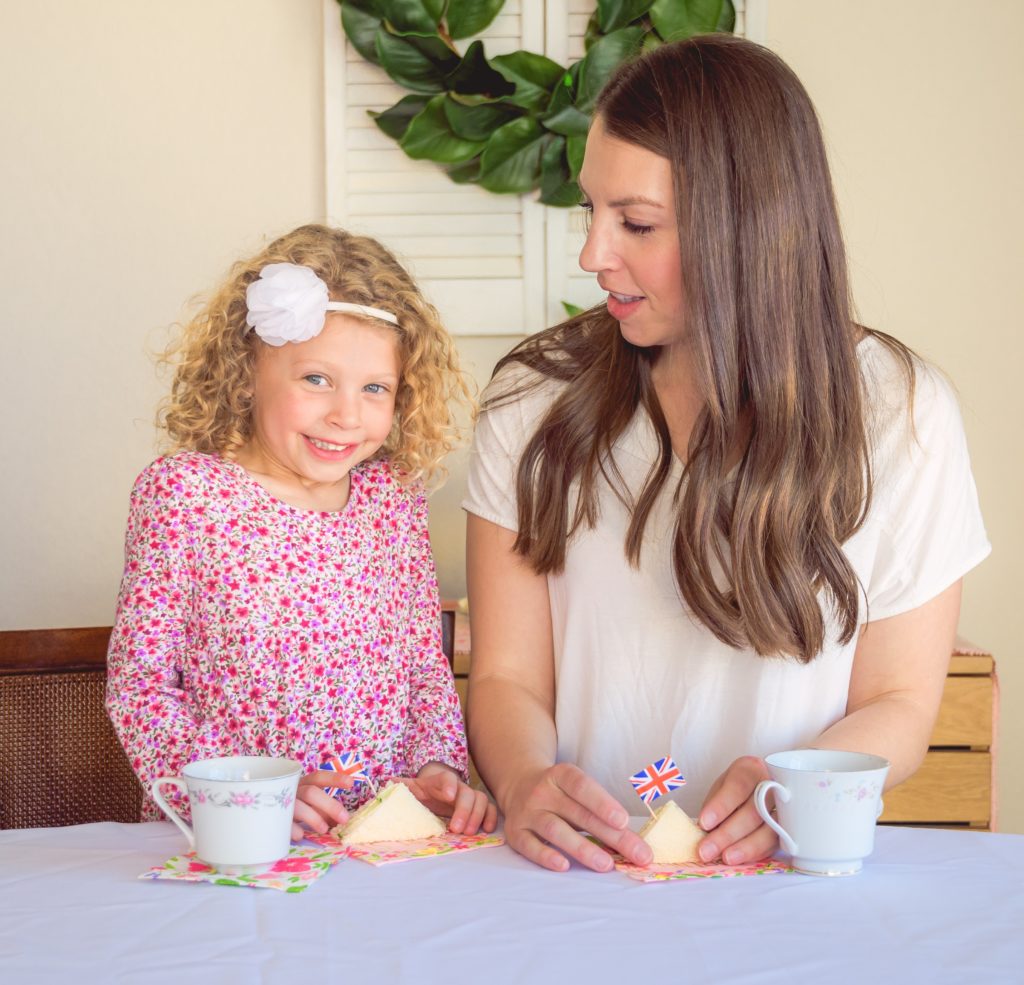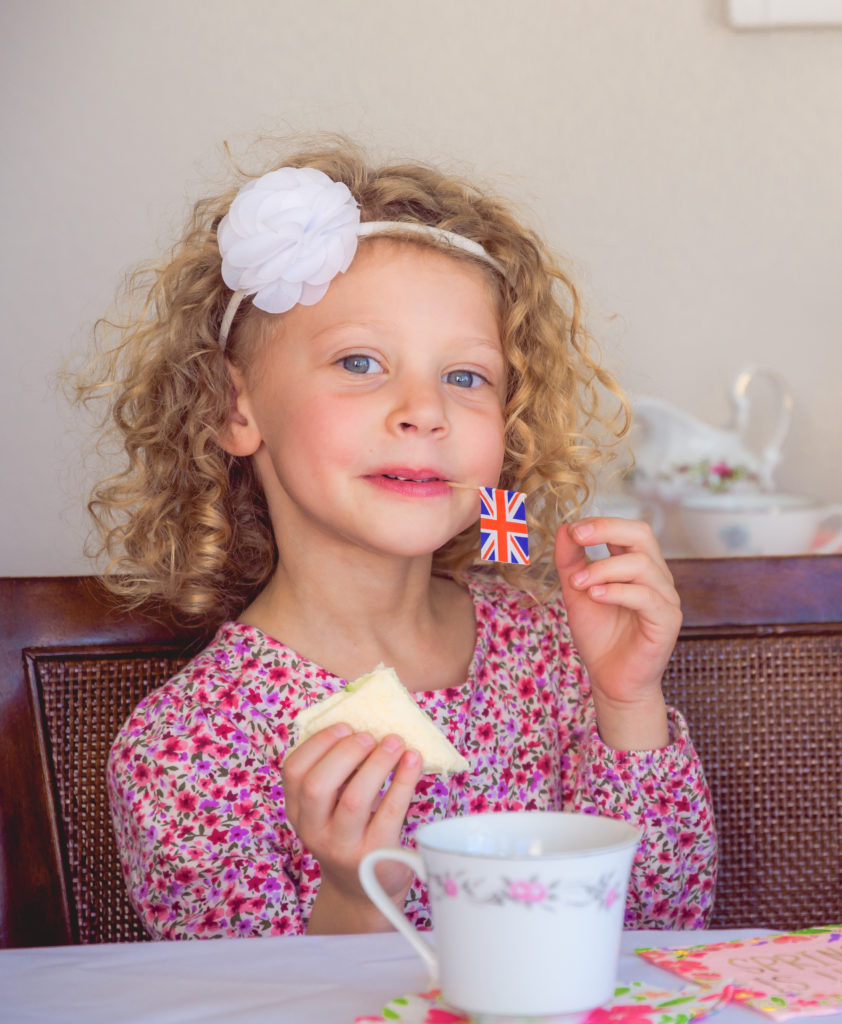 Sweet Bread Second Course
The second tier of treats are heavier breads, muffins, scones, and biscuits.
This is where my local Safeway came to help. I didn't want to take the time to make my own scones so I just purchased some lemon poppy seed flavored ones from the bakery department.
Because my cake stand only had two tiers I doubled up the top tier with those scones and the third round of treats.
Finish with a Sweet Treat
Typically the top tier of your tea party cake stand is reserved for cakes and cookies.
I picked up a large single serving of cake from my local Safeway bakery and cut it into little triangle pieces.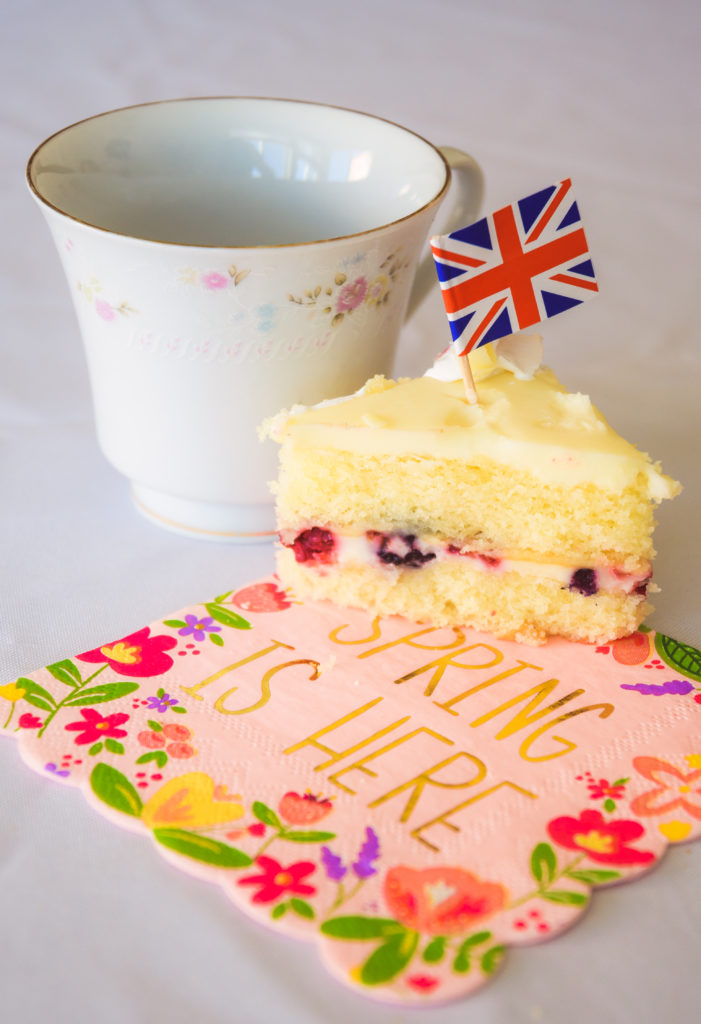 The thought is really just to have small bites that accompany the tea and not a full meal.
Including variety in your sweet offerings is great at a tea party. So you don't just want to have cake, but things like cookies, macaroons, and custards are great too.
I was really amazed at Safeway's selection of English cookies. I purchased some Hobnob cookies straight from their cookie aisle.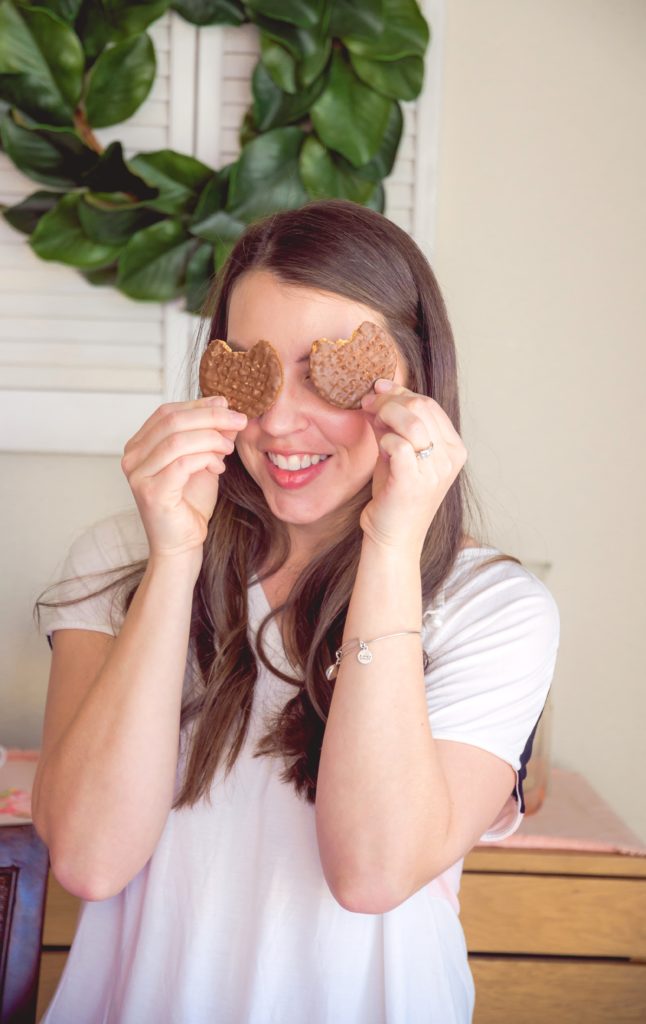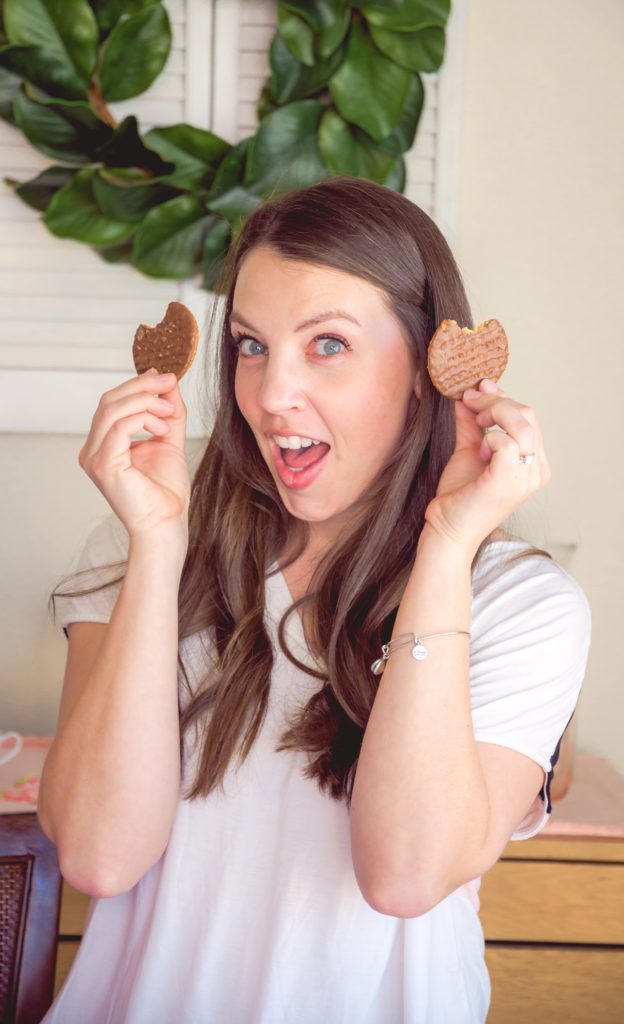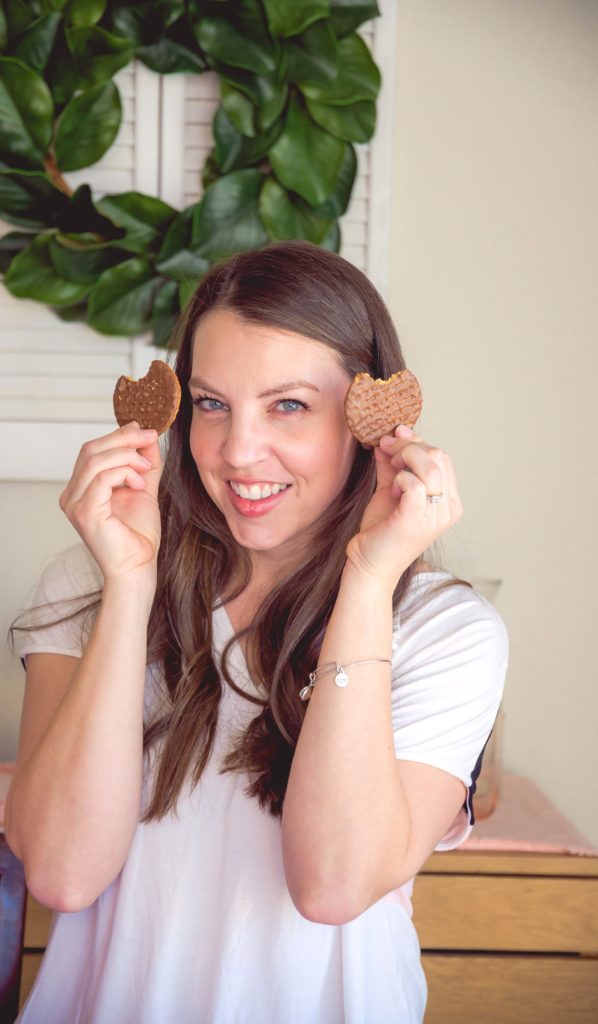 My little helper and I thoroughly enjoyed an afternoon of snacks, treats, and tea!
And I'm looking forward to meeting new friends to enjoy afternoon tea with in our new hometown.
How to Celebrate Our Move with a Proper Tea Party
So I hope you're just as excited as we are about our big move to England. And understanding that there may be a few periods of time where I'm not posting as much.
One of the best ways you can celebrate this big change with us is to host your own tea party.
Just use these five things to have a proper tea party.
Tea
Tiered Serving Stand
Savory Bites
Bread Course
Sweet Treats
And to document this adventure I'd love for you to follow along on Instagram at our new travel account @adventurealong. It should be a fun way to document all the fun adventures we have coming up!