Hey friends!  I've been busy this week working on fun holiday posts for you that are coming up in the next few weeks. Think gift guides, bakery fun, and all the things you need to prep for holiday parties.
Today, though, I'm being real honest.  I've only bought one Christmas gift so far.  I'm usually much further ahead than this.
But I've finally filled out my list, so now I'm organized and have a plan ahead of me.
I tried to look at a few things for Black Friday and Cyber Monday but I kind of just ran out of time and didn't get anything purchased.
Where are you?  All done or still have a ton of things left to get?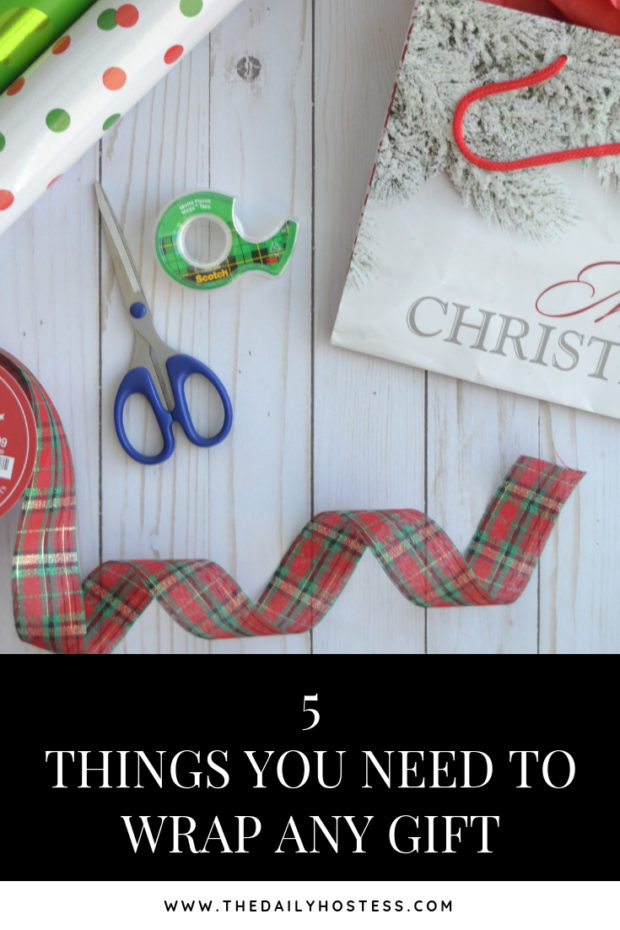 Now that you've either got all of your gifts or have a plan on what you are purchasing, you're going to have to wrap them.
So today's 5 Things post is all about the five things you need to wrap any gift.
5 Things posts are a list of 5 things in a certain category that can help with different aspects of hosting.  I've done a couple others here and here.
5 Categories of Things You Need to Wrap Any Gift
I've divided up these five things into categories.  You'll need one category for pretty much every gift, but only one or two categories for other gifts.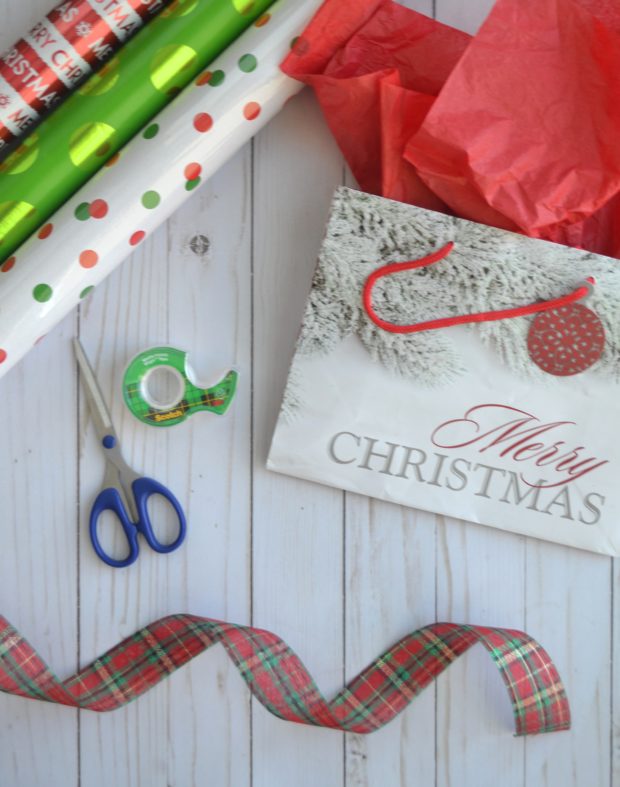 Which ones are must haves for you to wrap gifts?
Tools
The tools category is all the things you need to make the wrapping work.  So this includes scissors, tape, ribbon shredders, tags, and bows.
I pretty much only use tape and scissors so that's all you'll see in my pictures.  I don't know if I even own any bows.  I just make my own with ribbon.
Wrapping Paper
I love wrapping paper.  It's so versatile.  You can do so many things with it.
I use it for WAY more than just wrapping gifts.  I use it for dessert backdrops and table runners just to name a few.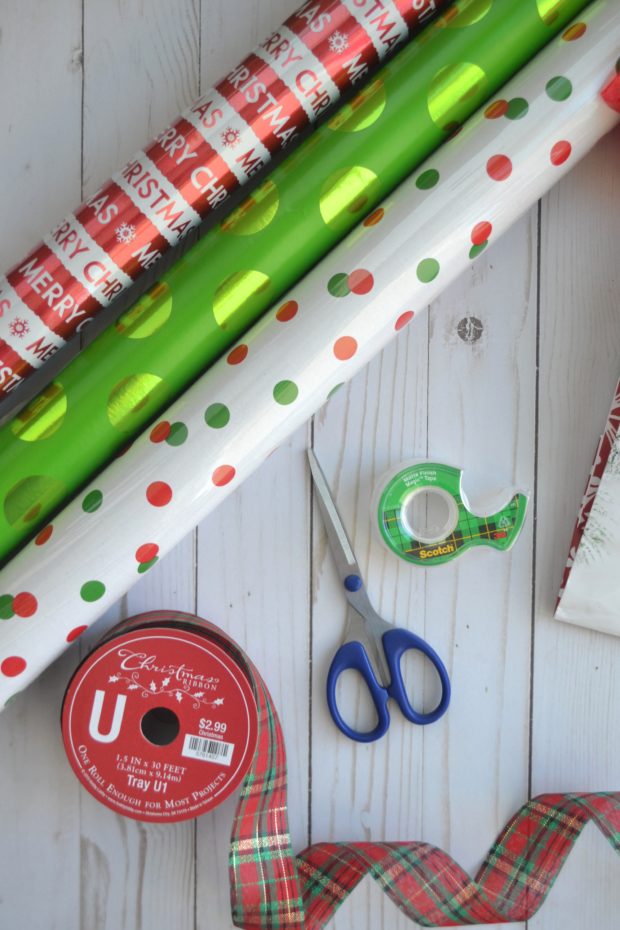 I like buying seasonal wrapping paper, like Christmas wrapping paper, after the holidays when it's like 50-80% off.  I typically buy specifically seasonal wrapping paper from Hobby Lobby.
Hobby Lobby has a great selection of classic, modern, and fun prints.  But what I like most is that all of the wrapping paper is very quality.  It's thick and there is a ton of it on each roll.
For other occasions, I love getting very on trend patterns at places like Marshall's, Homegoods, and TJ Maxx.
Obviously, wrapping paper is great for boxes and square gifts.  I also use it to make gift tags and bows too.  Did you know you can make a bow out of wrapping paper?
One tip for purchasing wrapping paper is to get multiple papers that are in the same color family, or that are coordinated.  I stuck to a red and green theme this year.  There's also a theme of polka dots.
To make things a little more coordinated I'd recommend staying away from lots of patterns.  The simpler the paper is, the easier it is to mix a few different ones.
Ribbon
My name is Amy, and I have a ribbon addiction.  I love ribbon.  It's one of  the easiest ways to take that more simple paper and dress it up. Think fun patterns, sparkles, and themes.
I use ribbon on basically every gift.  There's just something about untying a ribbon to make it feel like you're "opening" a present.
I highly recommend getting ribbon that's wider and with wire in it.  The wider ribbon makes a bigger statement. The wire helps to make perfectly shaped bows.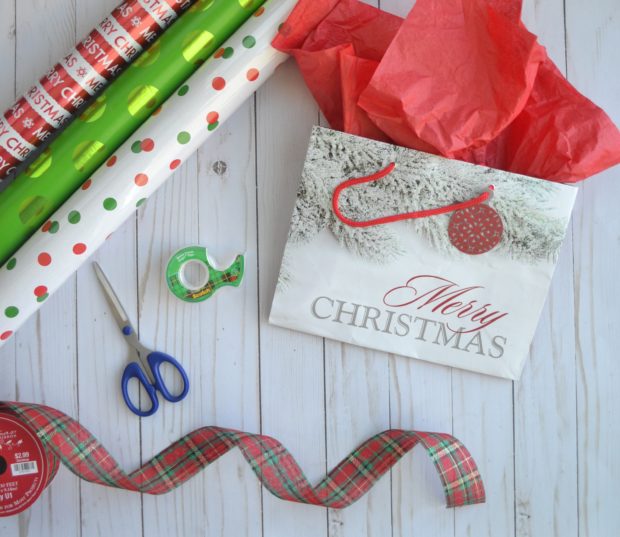 Gift Bags
So, if wrapping is not your thing.  Either you aren't very good at it.  Or probably the more likely case is that you have an odd ball shaped item to wrap.
The easiest way to wrap an oddball shaped gift is to pop it in a gift bag.
So easy and so fast!
But, I always like to make those gifts look extra special too.  So in addition to adding the gift into the bag, I also add in tissue paper to keep the surprise alive, and I tie the handles of the bag with ribbon and make a fun bow.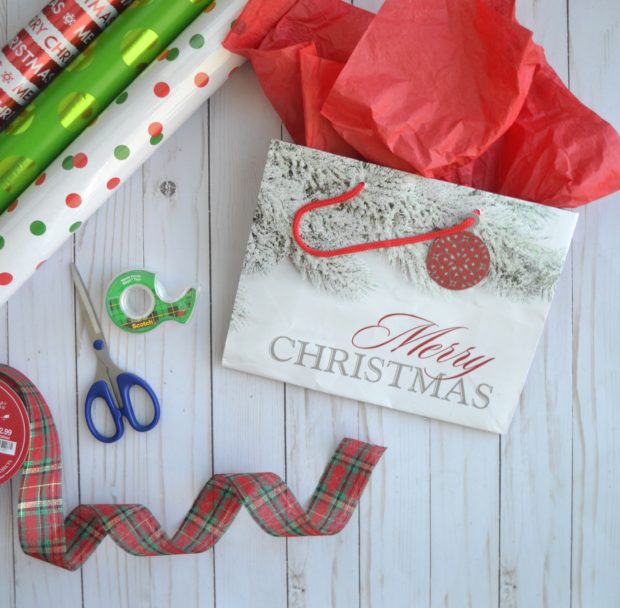 I also love that you can get gift bags with all different patterns, sayings, designs, and colors.  This is another way to stay within your color scheme of gifts.
Tissue Paper
Tissue paper is a category that could be used for every gift.  Add tissue paper to gift bags.  Add it inside a gift box to cover up the gift. Or if you have another oddball shaped gift, wrap it up in tissue paper because it's so malleable.
But, again, add that ribbon to make it extra pretty and give the recipient the chance to untie or open the gift.
Wrap Up and a Tutorial You Should Watch!
There are the five things I think you need to wrap any gift.  What are your must haves?  Do you have any tips or tricks when wrapping gifts?
If you want to see me do a live gift wrap tutorial, be sure to tune into The Daily Hostess Facebook page today to watch.  I'm really excited to do it, so I hope you watch live or on the replay!
And you may just learn a couple things on how to wrap a gift.