Hi friends, it kind of feels like I've been away for awhile, but I guess that's what happens when you have a busy weekend.  Is everyone in full blown Christmas mode yet?  It's only two weeks away!  So much to do before then, right?
I wanted to get a little ahead of the curve and created my Christmas tablescape early.  On Christmas I'll be busy enjoying the kids with their gifts and cooking Christmas dinner.  The table is now one less thing I'll have to deal with.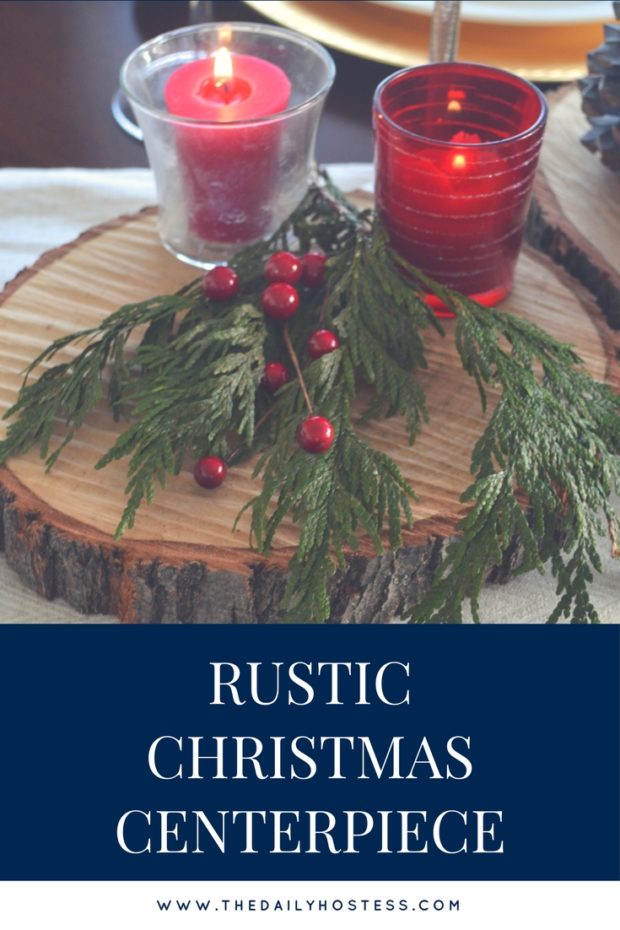 I wanted to use a lot of candles this year to really reflect the season of light we're in.  Some candle holders and votives I've had add a touch of light while a few red candles make it festive.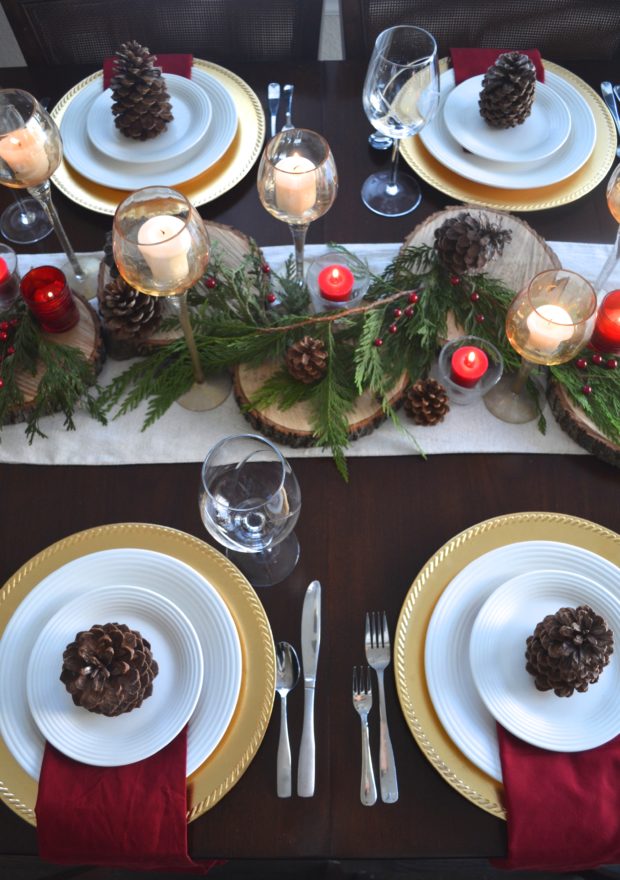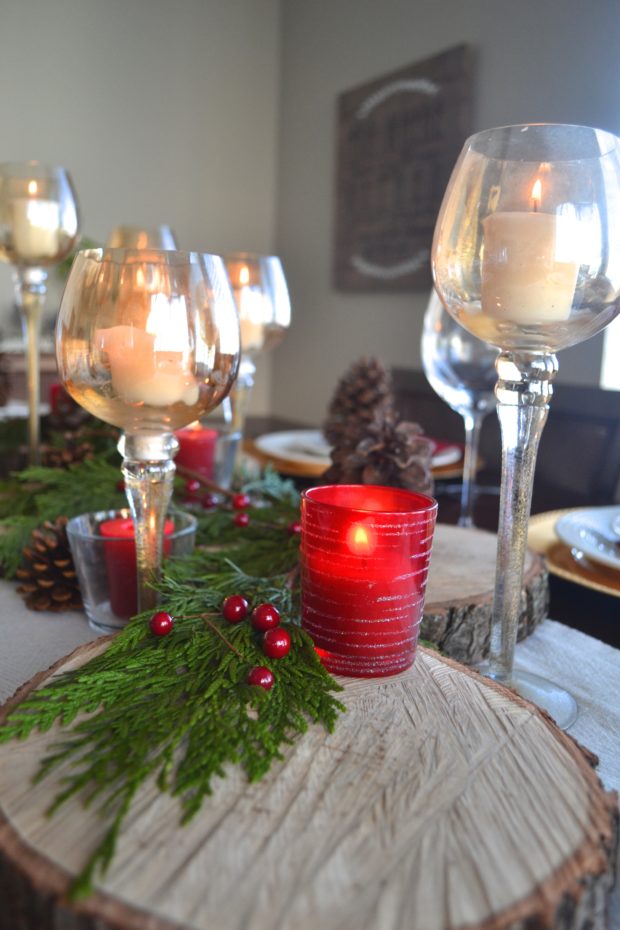 You'll see that the wood slices from this party and this dessert table are getting used again.  I love how rustic and versatile they are.  Plus, when it's time to put hot dishes down on the table for dinner they can double as hot pads!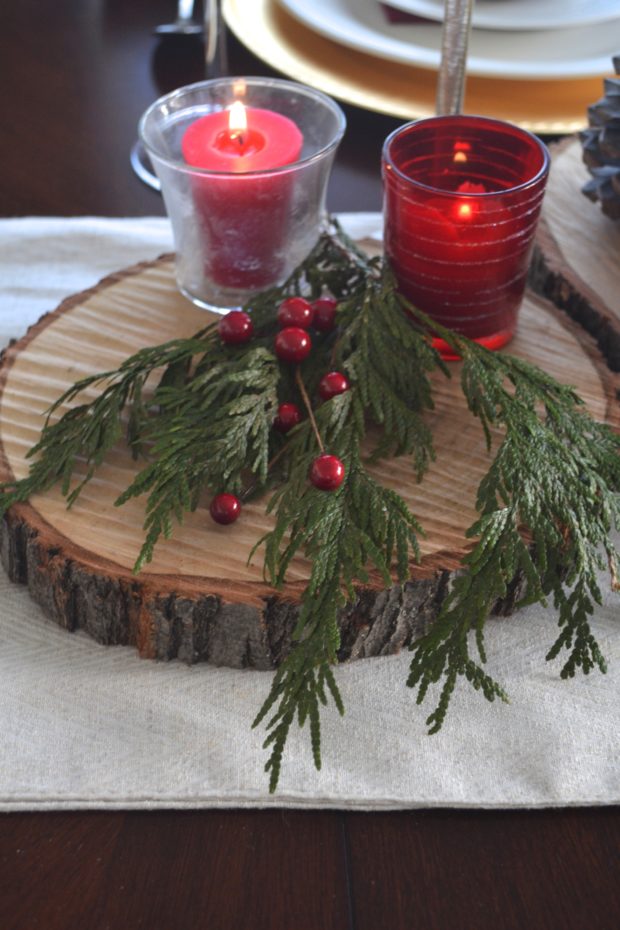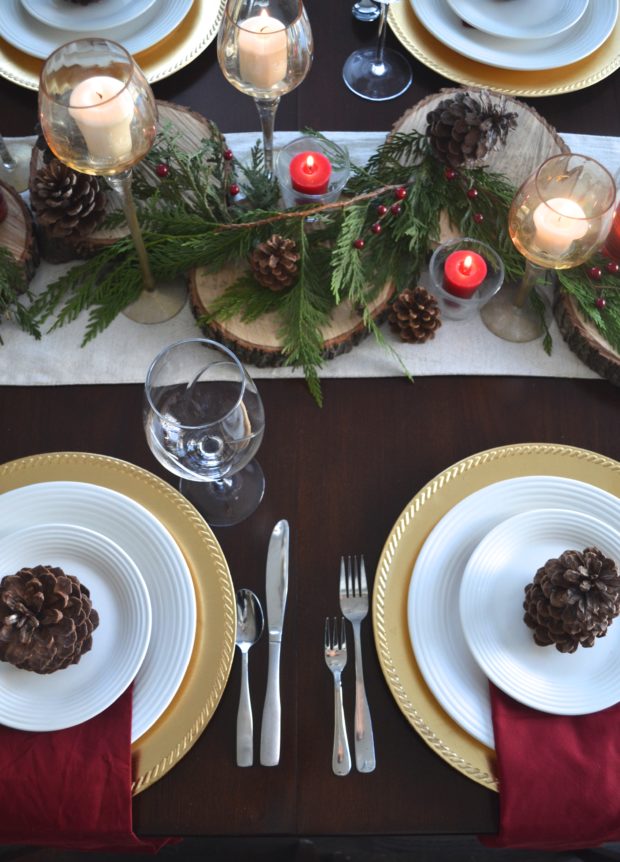 I also added pine cones to the centerpiece and place settings.  Right before dinner, I'll add name cards to the pine cones. I'll just stick the name cards between the different "branches" of the pine cones.
Thanks to the garland I bought for another area of the house, I was able to snip a few branches off to add some greenery to the centerpiece as well.  I'll be posting a full Christmas home tour coming soon.  I just need the lighting to cooperate long enough to take pictures.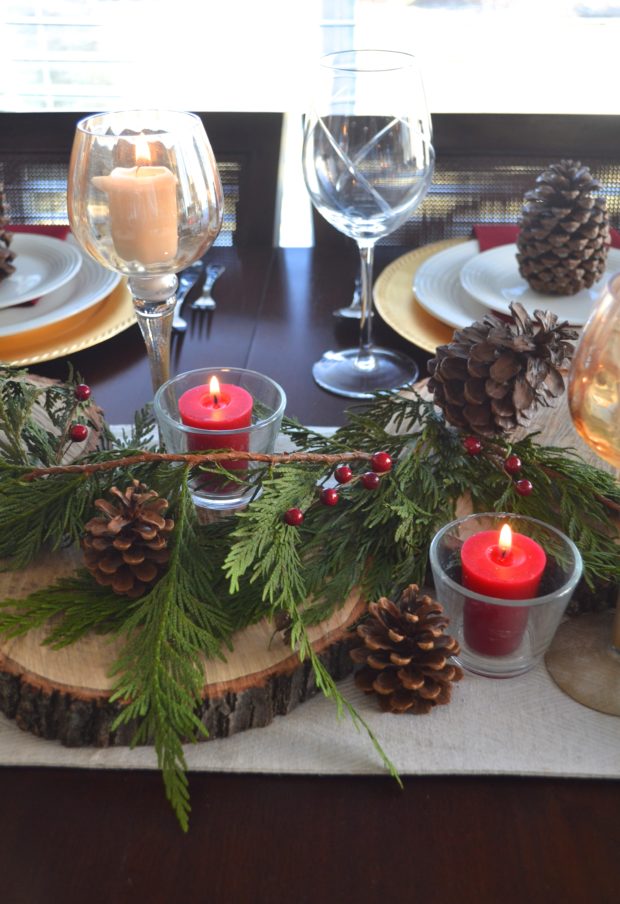 I had a few fake berries in my Christmas decor so I stuck those throughout the garland to add in a bit more red.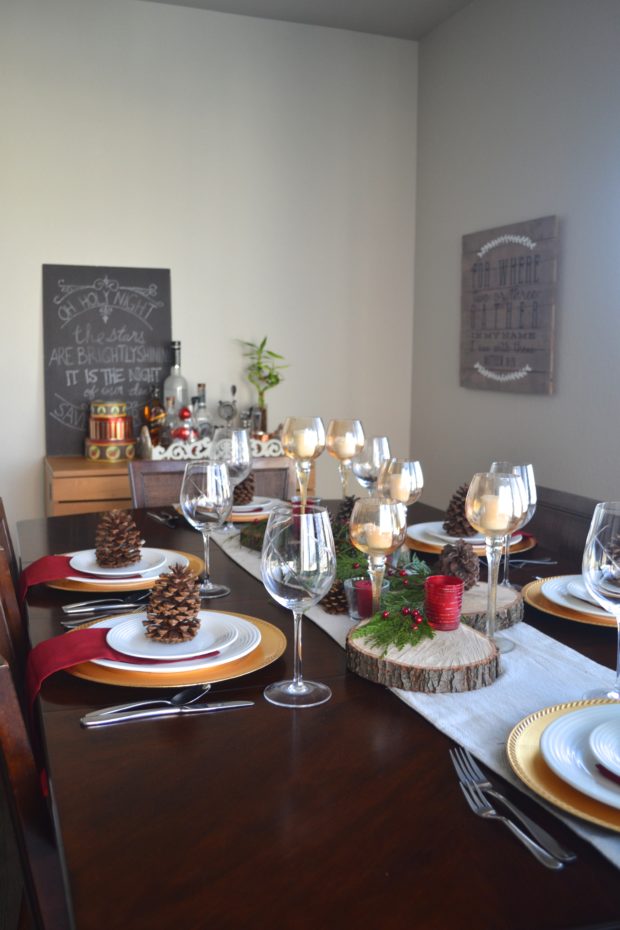 And a full shot of the dining room so you can see how the Christmas tablescape works with the rest of the Christmas decor.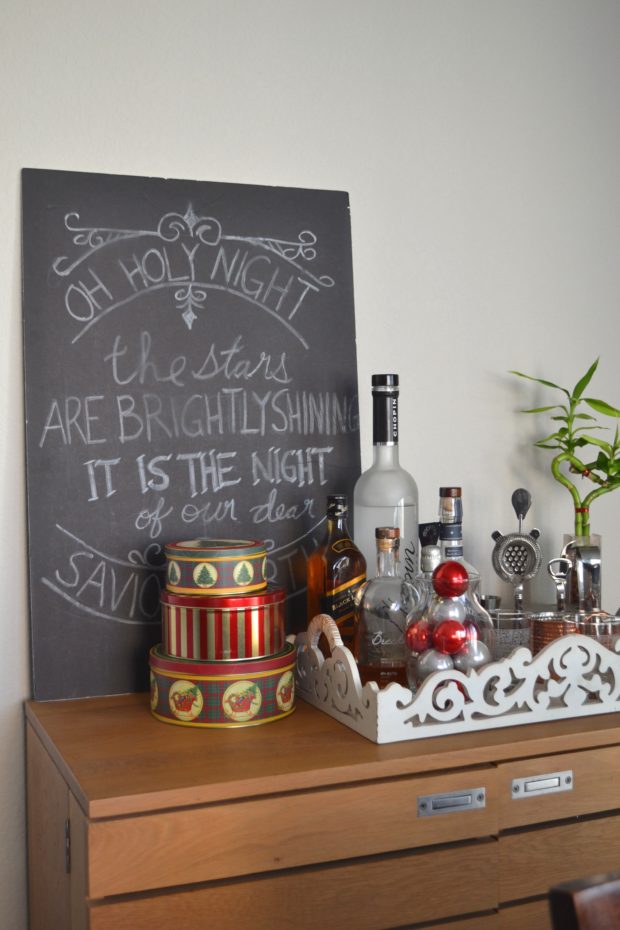 I jazzed up the top of our bar with some Christmas tins and extra ornaments.  I made the chalkboard sign a few years ago and it's still holding up.  Although it could use a bit of touching up.  This is a really easy way to fake a chalkboard.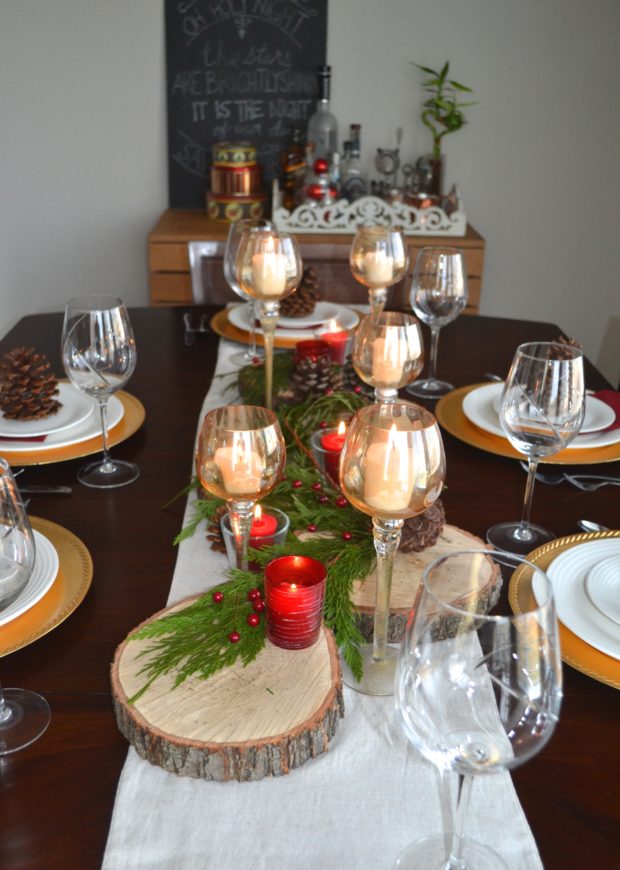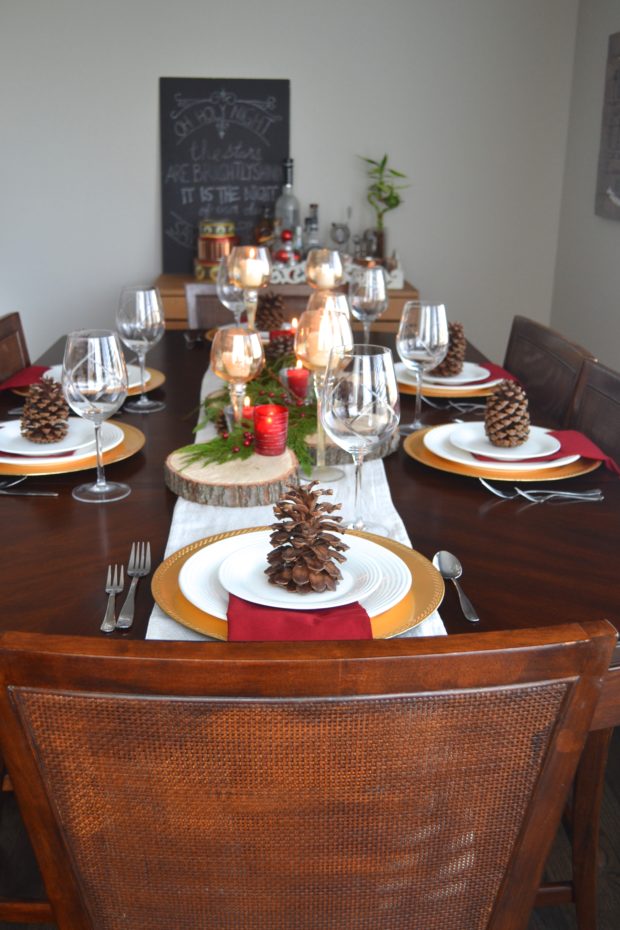 I'm pretty excited to gather around the table and celebrate Christmas with friends that are like family.  Now if only I could finalize my menu.
I'd love to see what your Christmas table looks like.  Do you decorate it or have a centerpiece?  Do you leave your table empty and let those gathered around it make all the memories?