I'm back with another Tablescape Tuesday series today.  Last time a simple refresh of my coffee table had me encouraging you to rearrange yours as well.  Today I'm talking about another table in my house.  Specifically the console table at the top of my stairs in the landing area.  You can see the console table in my living room here.  Although it looks a little different these days.
I knew from when we first viewed this house the exact table I wanted to use in the landing at the top of the stairs.  However, since the movers put the table in place, I haven't done much with it at all.  Our whole upstairs hallway area is pretty bare actually.  Now that most of our bedrooms are completed, it's time to pay some attention to this area upstairs.
I've put together an inspiration design plan with a ton of resources if you are looking for something similar.  But before we get to that let's start with the bare bones before photos.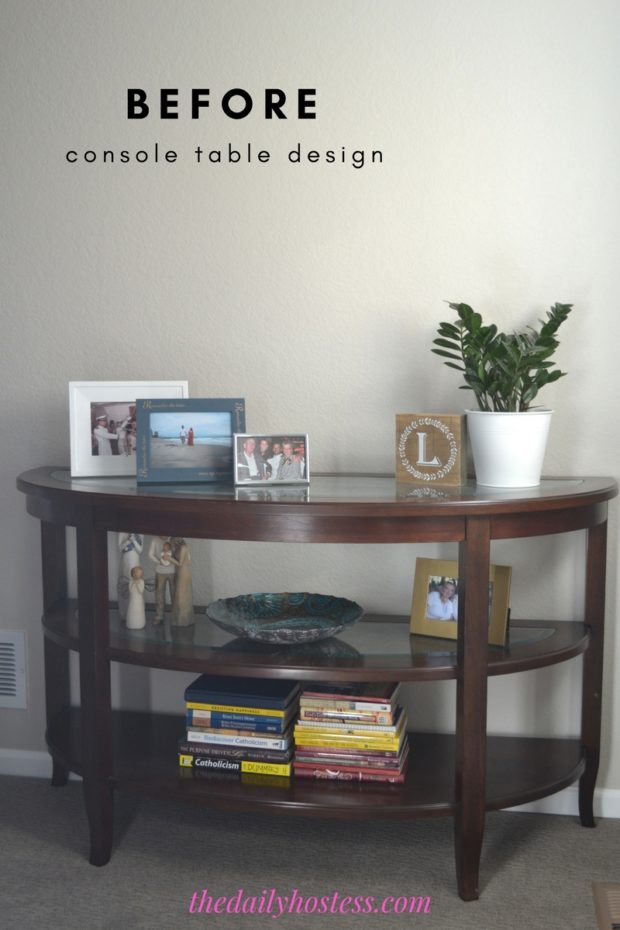 This table is at the top of our stairs and right outside our master bedroom.  Other than adding a few books, photos, and a plant I really haven't done much with the space or table.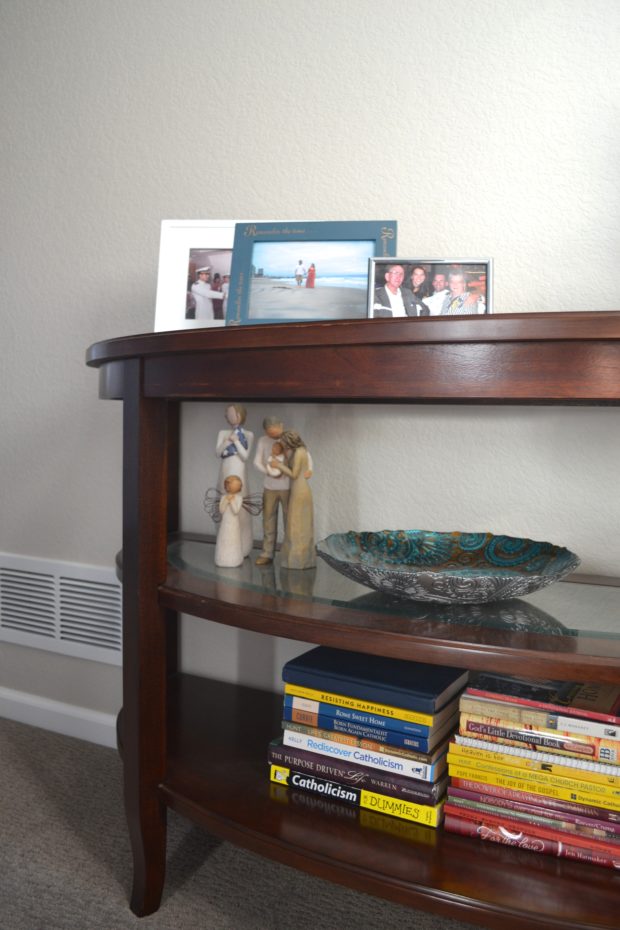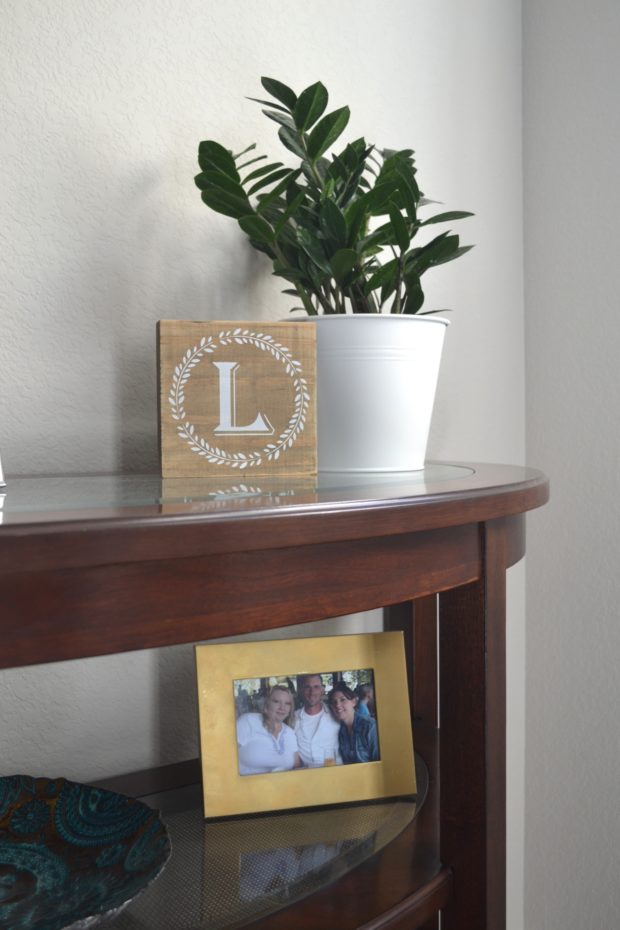 I think I'm looking to make this area a little more cohesive and less hodge podge-y.  Carrying the coastal theme that's throughout the rest of our house to this common area is important for cohesiveness.  I also like having some family photographs here because I don't have a ton throughout other places in my house. However, I want to streamline the frames and get all matching photo frames.
There also used to be a great mercury glass lamp on this table, but after breaking the matching one in the living room I moved the one from here to my living room console table.
Here's the design plan and links to the resources.
I want to use a large piece of art above the table to utilize the wall space.  The one in the design plan is great because of it's abstract, coastal look and colors.  I also found a ton of other options on Minted.  Like this one, this one, this one, or this one.
I love the Minted Art section.  It's great if you're looking for a specific piece of art and they do a great job of showing how the art is going to look with other frames.  After picking your art, there are options for matting, frames, glass, and sizes.  It comes shipped right to you just as you chose.  I also love that you get a lot of information on the artist and can see all of their other work.
I'd love to bring back a mercury glass lamp to the table and found one similar to what we had before on Wayfair.  I plan to keep a plant on the table for some greenery and life.  I found this ZZ plant at Ikea and highly recommend them since they are really hard to kill.
Like I said before streamlining the photo frames is on my list to do and these simple silver matted frames from Target are perfect.
I plan to keep some books here as well, but want to bring in some more of the blues and greens that are in the art print so these geode bookends are perfect to corral the books and bring in those colors.
So that's the plan, now to get the funding to make it all happen.  Thankfully this area has sat untouched for so long, I'm not really in a rush to get it finished.  Now that I have sourced out what I want I can wait for sales and coupons to get the things to complete this tablescape.  Once it's done you know I'll do a follow up post showing you how it all turned out.
Thanks for stopping by today!  Be on the lookout for more real life parties and some back to school posts over the next few weeks!