Wow!  How long has it been since we've had a Tablescape Tuesday?  A long time!  Today's is super simple too, but it's funny how getting one new thing can make you look at things totally differently.  That happened when I got a new tray for my coffee table.  I'm loving how the new tray made me do a little coffee table styling refresh. But I especially love the outcome!
I've seen tons of pins like these on Pinterest with inspiration and how to's for styling coffee tables.  They are a great resource that are pretty detailed but simple with how to style a coffee table.
Coffee Table Styling How To
The basic concept for coffee table styling is to use the following items:
A tray to corral things
A candle
Something living (plant, flowers, etc.)
Varying heights which can be done through books or objects
Something odd shaped
That's it, sounds simple enough right? I think if you can utilize at least three of these things you're doing pretty good.  I mean you have to have some place to actually put your coffee on your coffee table right?
So here is my interpretation of how to style a coffee table.  I was doing most of these things before, but this whicker tray really amped up the texture of my coffee table.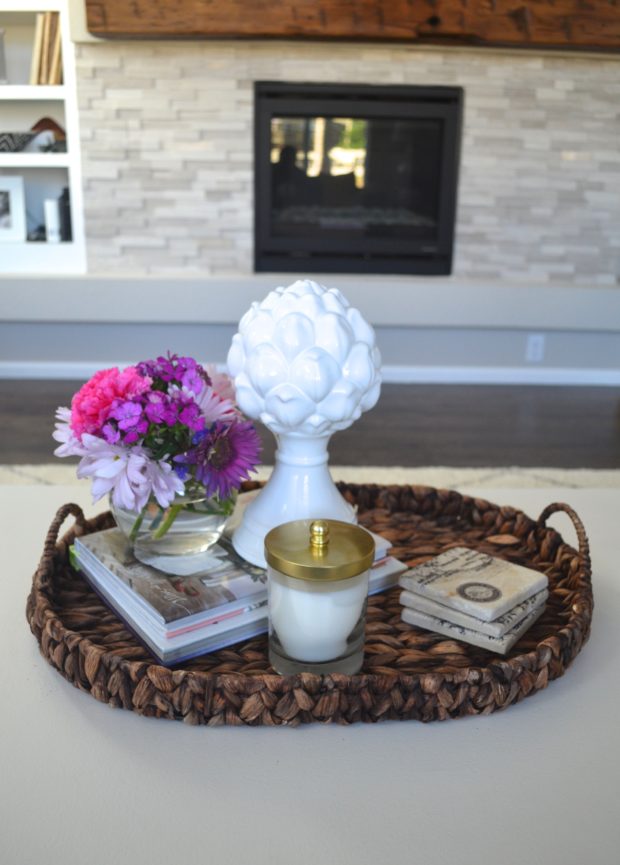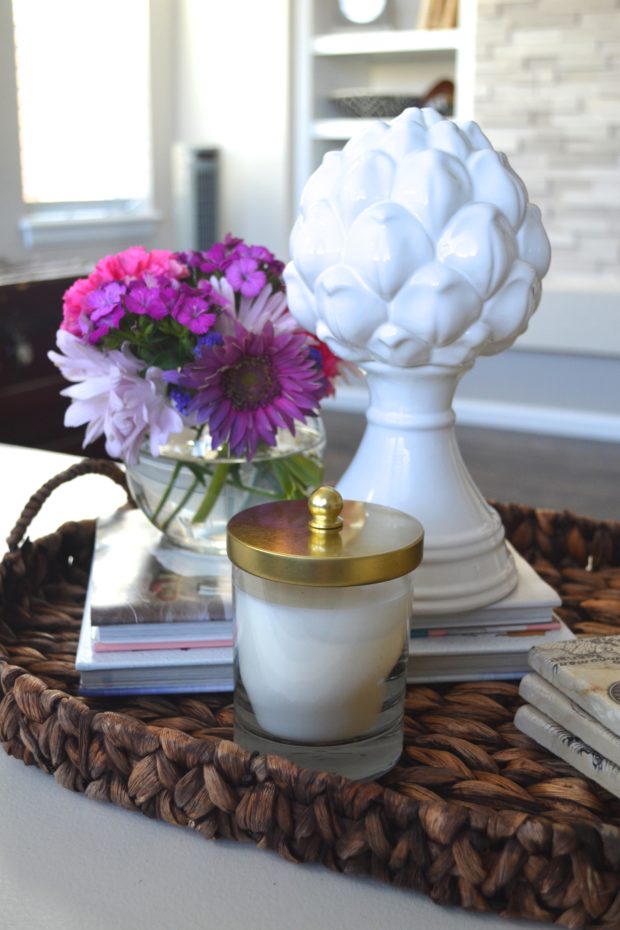 I just love the chunky woven whicker of the tray.  A couple decorating books are typically on my coffee table or in my living room.  I recently picked up a new candle from Target and it smells amazing.  I would link to it, but I pulled the label off pretty quickly after I got home.  At this point, I can't even tell you what scent it is.
Thanks to hosting a party, I had some leftover flowers that I rearranged into a smaller vase for the coffee table.  The finial was picked up from Marshall's years ago.  Places like Homegoods, Marshall's or Hobby Lobby are great places to get something a little quirky or oddly shaped.
We also have about a million tile coasters, but I especially like the ones we picked up on our trip to Maui when we lived in Hawaii.  They are from this little wine tasting room that had the cutest grounds.
Coffee Table Styling Resources
If you want to give your coffee table a bit of a refresh I've rounded up some great options for you.  I highly recommend starting with a tray.  It's the base of everything else.  Here are three that I think would be great!
Hello gold handles!
If you want that whicker look, this tray is perfect.  Especially if you have a wooden or darker coffee table.  The washed out whicker would offer some great contrast and texture.
Love these trays because they are reclaimed.  So they won't be exact or like anything else.
Coffee table books are great to have.  You can't go wrong with decorating books.  Here are a few I recommend:
If you have a passion for something definitely get coffee table books in that genre.  It's more entertaining to look through books of things you have an interest in.
I hope these few tips have been helpful and the resources give you a place to start on your own coffee table refresh.  Just remember to add a few of the items from the styling how to and you'll be enjoying your coffee table just as much as me.