Recently, we had a get together with most of the people my husband works with.  The party started with a navy, white, and burlap theme, but because my husband is in the military, the theme really started to reflect that.  The biggest reflection was in our bar set up.
I was so excited as it started coming together because we were using things we hadn't used before to entertain with.  I love using things around the house to entertain that normally aren't for entertaining.  Options are great!  I want to show you in just a few steps how you can set up your own bar.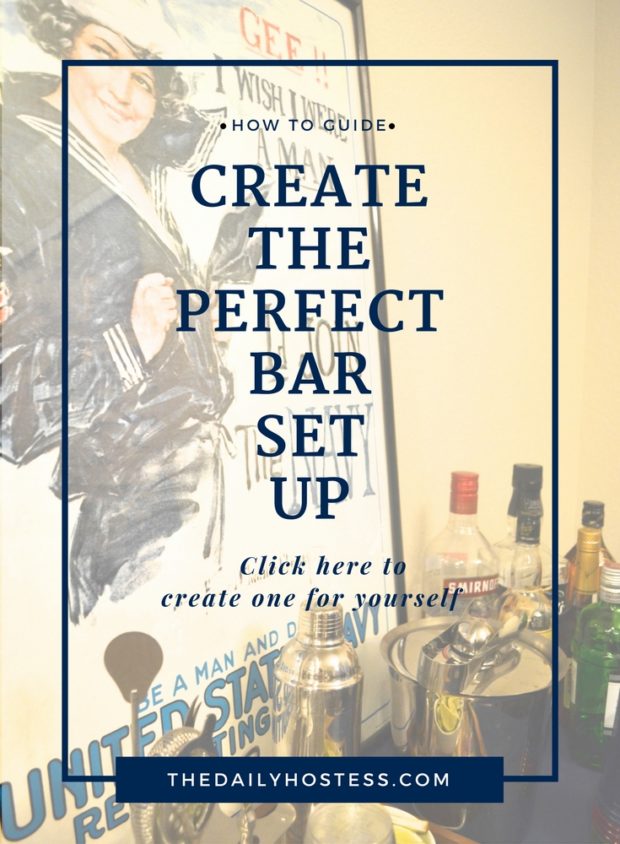 Step 1-A Great Location
Here is where we went a little wrong with our set up.  You want your bar to be in a central location so your guests can have quick access to refill their drink.  Typically, the best central location is going to be where your guests are hanging out.
During our party we had our garage set up with heaters and an outdoor couch so everyone congregated there, but our bar was inside.  Needless to say, not many people made a drink at the bar.  Don't worry though, they had beer within an arms reach!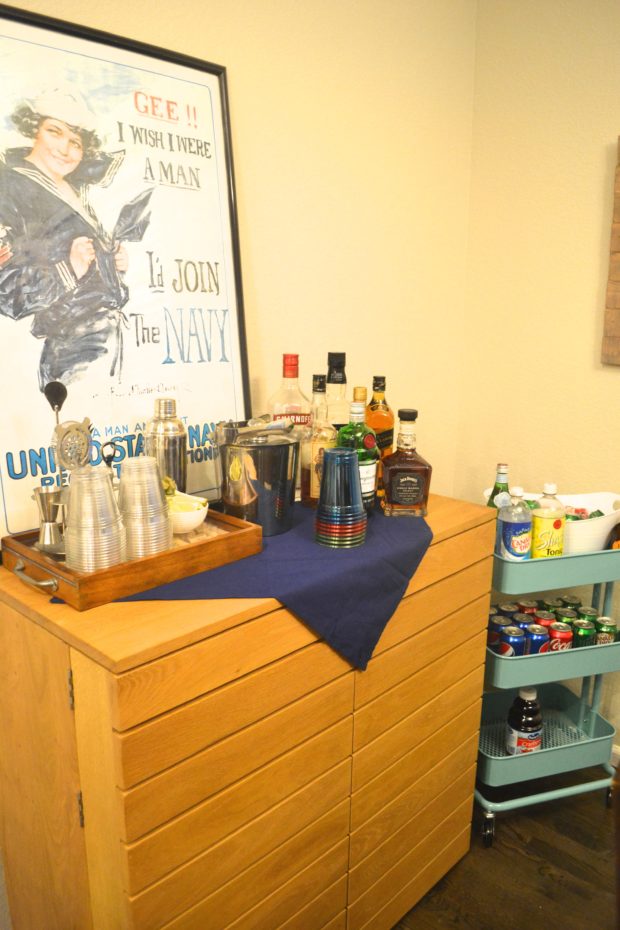 Step 2- Provide the Liquor
I recommend having a good variety of liquor becuase everyone's tastes are so different.  Some people like gin, others hate it.  A good mix is to include two clear liquors (vodka, gin, or tequila), a rum, and a whiskey.  If you have four different kinds you'll cover all of your bases.
Step 3- Provide the Mixers
There are a few things that are required when it comes to mixers in my opinion.  You need something fruity/sweet, something bubbly, and something interesting.  So for our bar set up I provided a variety of sodas (sweet and bubbly), club soda and tonic (bubbly), juice (fruity/sweet), and ginger beer (interesting).
Here's where thinking outside of the entertaining box comes into play.  I used this completely versatile cart from Ikea as a drink station to hold all of our mixers.  It helped to ensure there was plenty of room on the bar to mix up a drink.  You just have to look around your house to find things that will work.  This cart is normally in my office holding my sewing machine, but transformed into the perfect bar accessory for our party.
Be sure to include all the tools necessary to mix up a great cocktail.  Things like a shot measuring cup, something to stir with, shakers, strainers, and bottle openers.  Plus you'll want to be sure your bar is fully stocked with plenty of cups.
It may say something about my husband, but most of our bar gear was received as a gift for my husband's 30th birthday a few years ago.  Either way, they've been great gifts that we use regularly.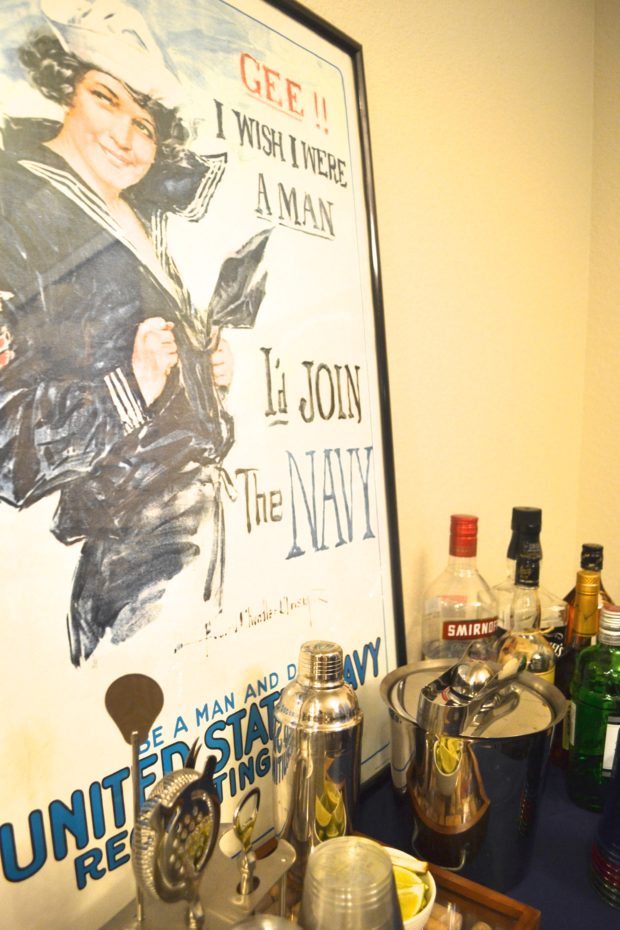 Step 5- Provide Ice
One thing that is critical to making a cocktail is having plenty of ice to chill it.  We were able to fit a small ice bucket on our bar so ice was always accessible for our party.  Putting the ice in a convenient spot to cocktail making eases the cocktail making process.  You know so when you're feeling lazy and don't want to walk across the room to get ice it's right where you need it!  Just be sure as the hostess to check it regularly in case it needs a refill.
Step 6-Provide the Garnish
Adding a garnish to your homemade cocktail really elevates it.  I recommend a couple simple garnishes that will work for almost any cocktail and make a great addition to your bar.  Cut up a lime and lemon, place in a little bowl or dish and you've instantly rounded out your bar set up.  Other options are oranges, maraschino cherries, or mint (hello mojitos!).  Adding a few garnishes adds some life and color to your bar too.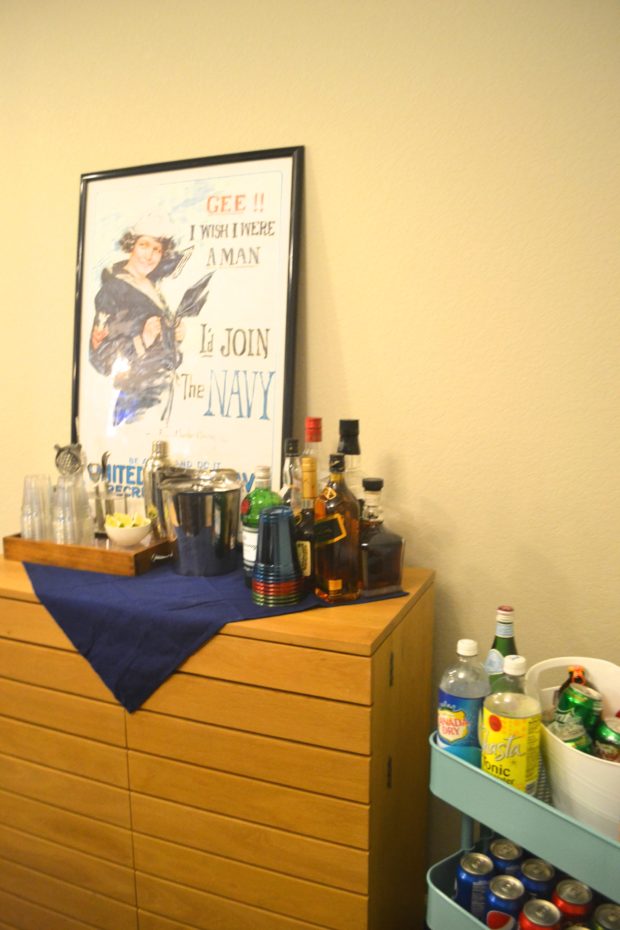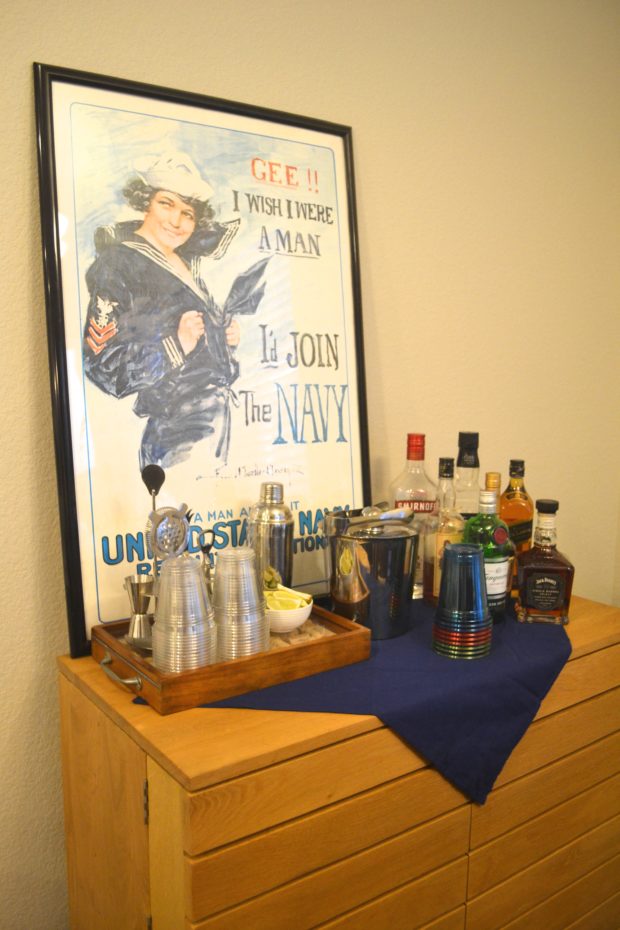 Six easy steps to setting up a great bar ready for any party and any cocktail.  What are your must have bar staples?  Who's ready to mix up a cocktail and celebrate the weekend?  I hope you enjoy yourself this weekend!