We're less than a week away from the big day!  Thanksgiving that is!  What will you be doing this weekend to get ready?  Use my planning printables to help you get the turkey on the table in time.  I know I'll be making my grocery and shopping lists!  Plus, I'm breaking tradition and probably going to be putting the tree up before Thanksgiving this weekend.  I'm just feeling in the spirit I guess.  Maybe because it snowed yesterday, so it feels like Christmas already.
If you need some more Thanksgiving inspiration, look no further.  Especially if you have kids that will be partaking in your feast.  Did anyone else grow up with a kids table on Thanksgiving day?  I didn't really, but I'd love to sit at the kids table I put together for you today!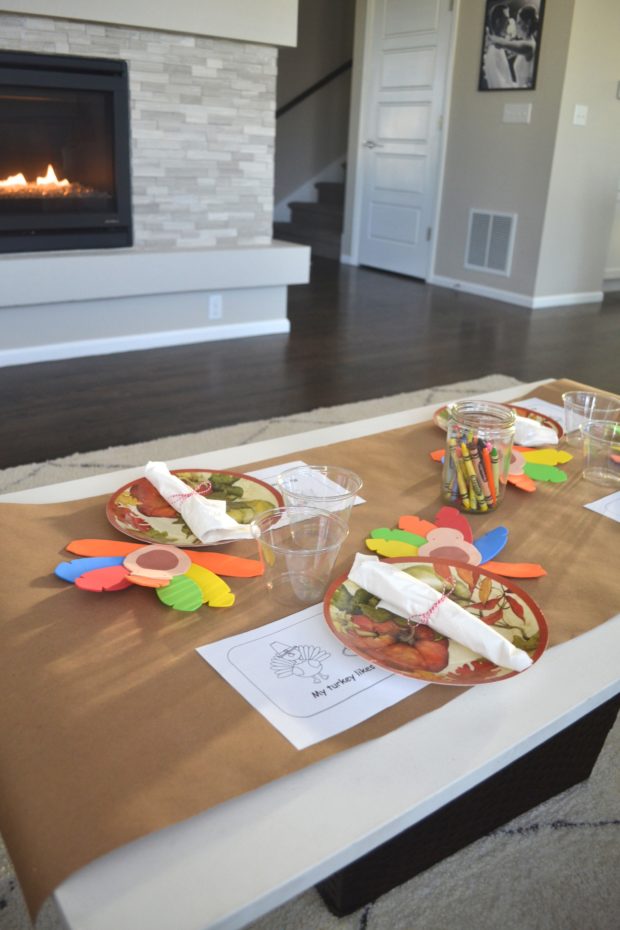 You'll need a few key things to keep the kids entertained while hopefully eating turkey and not just dessert.  First, if you have a table that is just the right height for little guests, they'll feel more comfortable in their space.  Plus you won't have to worry about them falling off of tall chairs.
Next, I highly suggest putting some butcher paper or kraft paper down as a base.  It creates an easy clean-up and allows kids to color away while they wait to eat.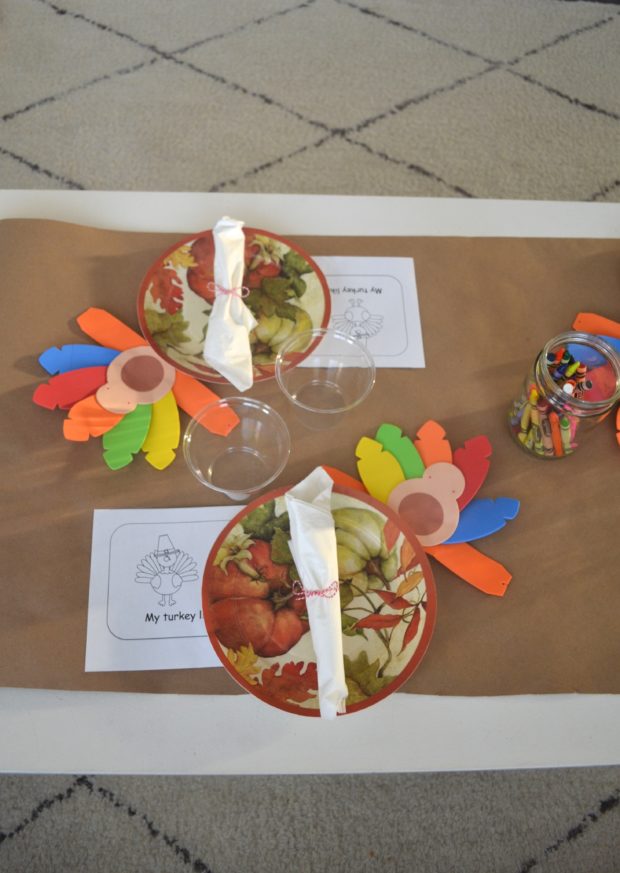 Then, be sure to use paper plates.  There is no need to have to risk your china or even casual plates getting broken, chipped, or drawn on.  I also recommend paper or plastic cups.  They are so much lighter for little hands to pick up.  Cocktail sized plastic cups are the perfect size for my two year old.
Plastic flatware is also a great choice since little hands barely use them anyway.  Why use a perfectly good fork when you have your hands?!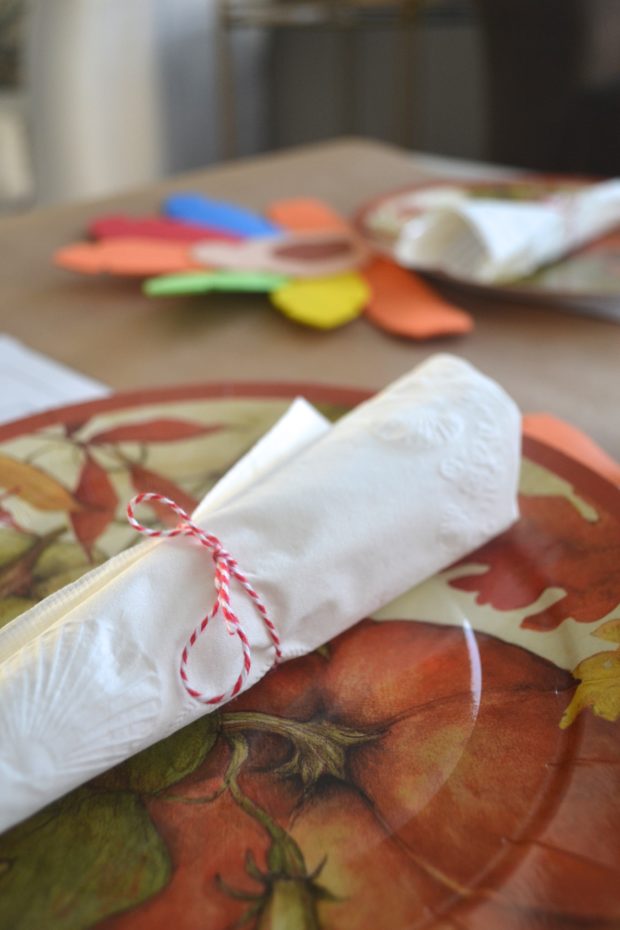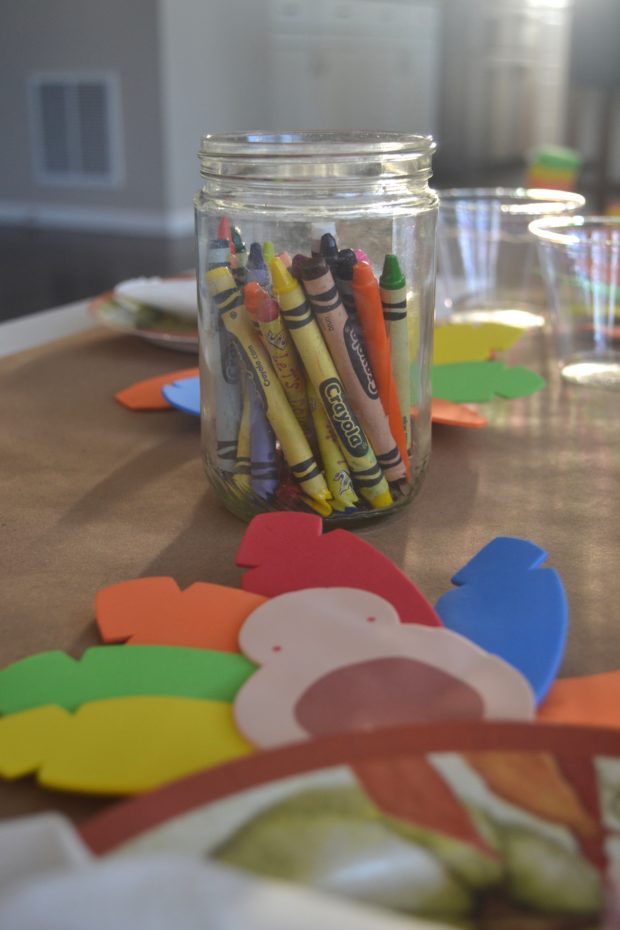 Now, I'm pretty sure restaurants are on to something with the coloring sheets and crayons they have to keep kids occupied.  So incorporate that into your Thanksgiving kids table.  Add a jar, basket, or individual boxes of crayons to the table and let the kids go wild.  They've got a great spot to color on the butcher paper.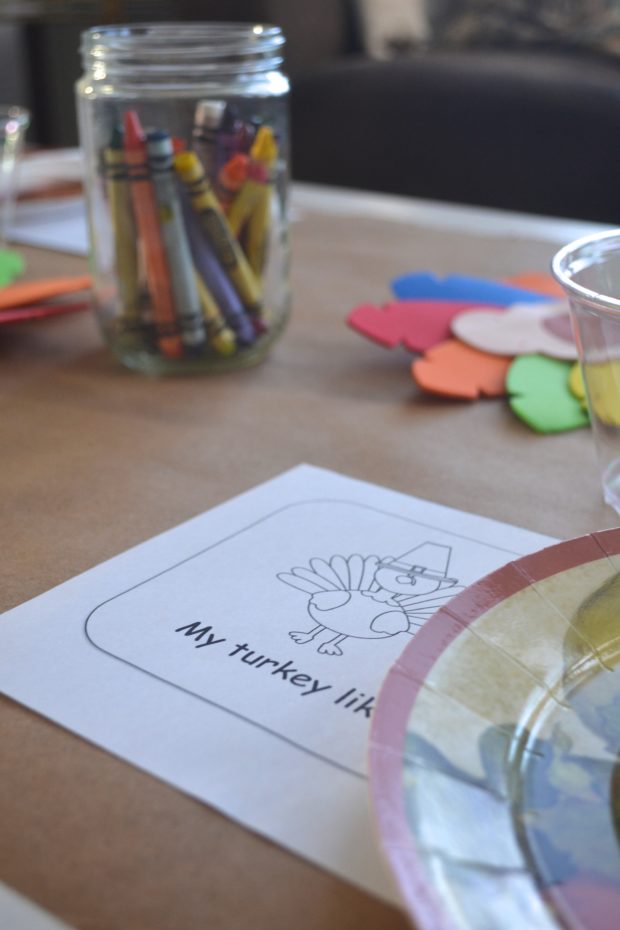 Or provide some themed coloring sheets for them to decorate.  It's pretty easy to find a Thanksgiving coloring book that you can tear a few pages out of, or just print some off after a quick Pinterest search.  Better yet, Pier 1 has these great Thanksgiving activity placemats.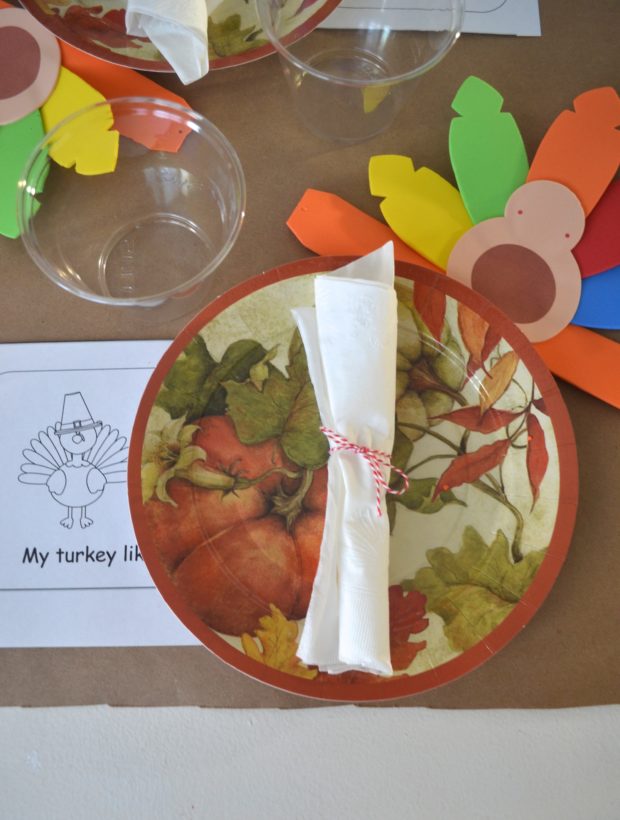 If your kids get tired of coloring, I mean their attention spans barely exist, try an activity.  I purchased these turkey headbands at Hobby Lobby.  They will let the kids at your Thanksgiving spend a few minutes sticking feathers and turkey faces onto squishy foam.  I'd recommend tying the elastic strap for them, but once they're done, it will be so fun for them to wear while eating.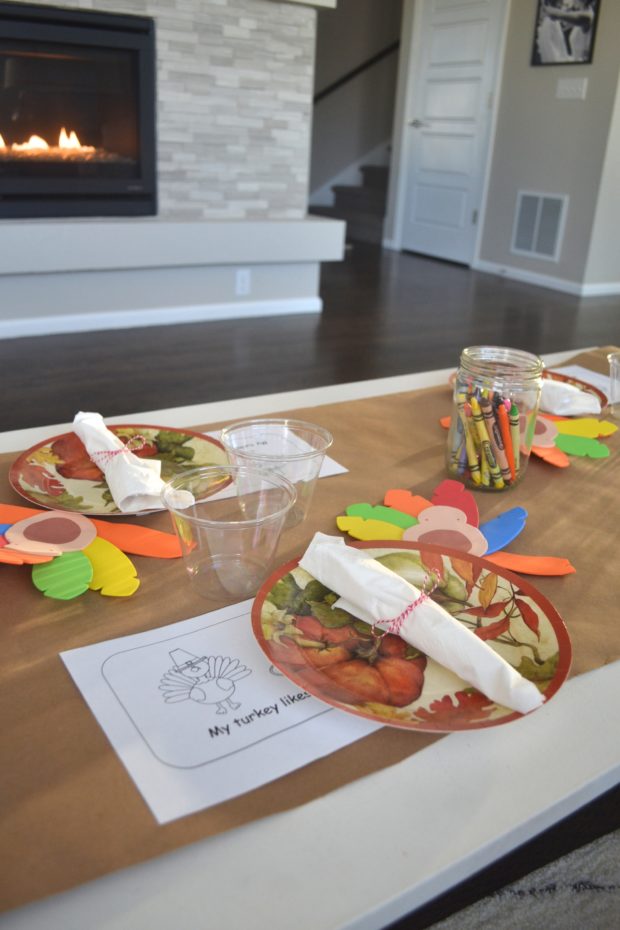 There you have it.  A few things to help keep the kids entertained so you can enjoy your wine, or second helping of turkey and gravy.  Do you plan on having a kids table on Thanksgiving?  Try to incorporate a few of these ideas to make your kids table so cute and even more functional!
There's more Thanksgiving inspiration next week too!  Hostess gifts and cocktail recipes are coming at you.  Between the planning guide and everything next week, you'll be set for a great Thanksgiving!