I hope everyone had a great weekend.  We were busy celebrating the birthday girl!  The best part is I've got all the party details for you today.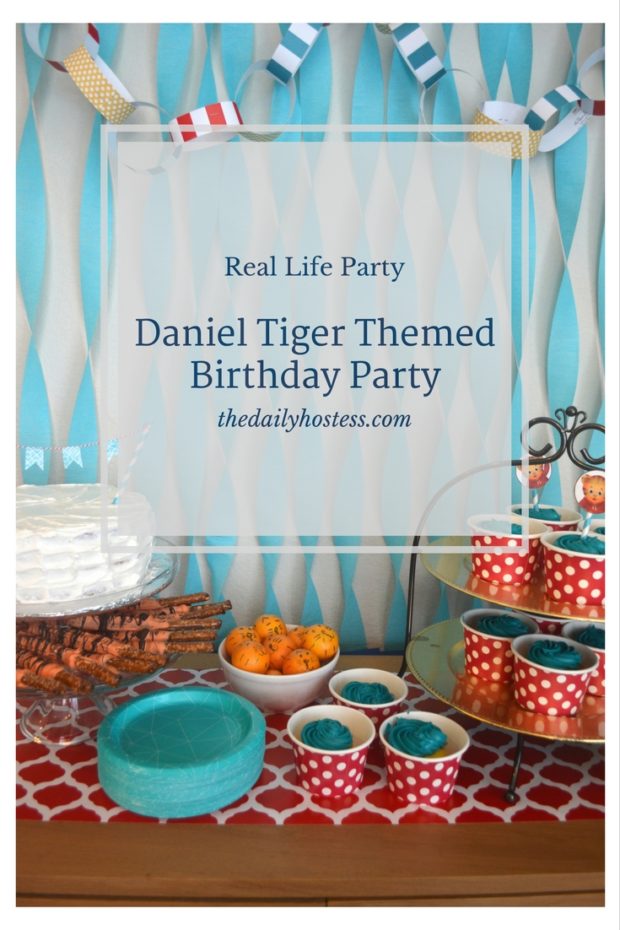 I never thought I'd be the mom throwing a cartoon themed birthday party, but our girl loves Daniel Tiger's Neighborhood pretty much more than anything.  Daniel Tiger's Neighborhood is a show on PBS that's has a modern take on Mister Roger's Neighborhood, but in cartoon form.   She won the battle, and I actually had fun coming up with ways to make the party decor not so cartoonish.  Take a look and let me know what you think.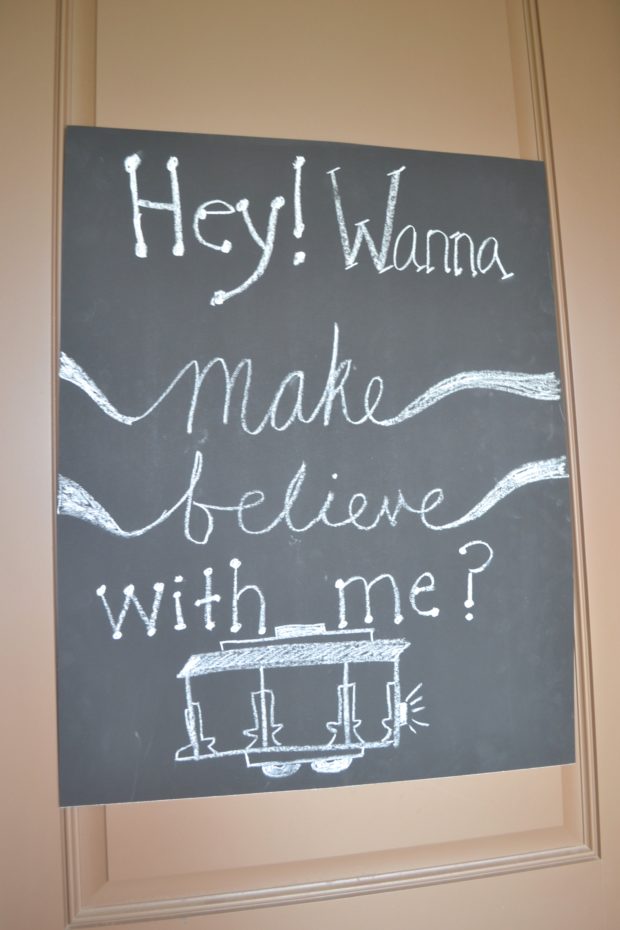 This is what guests saw on their way into the party.  Love doing this fake chalkboard method.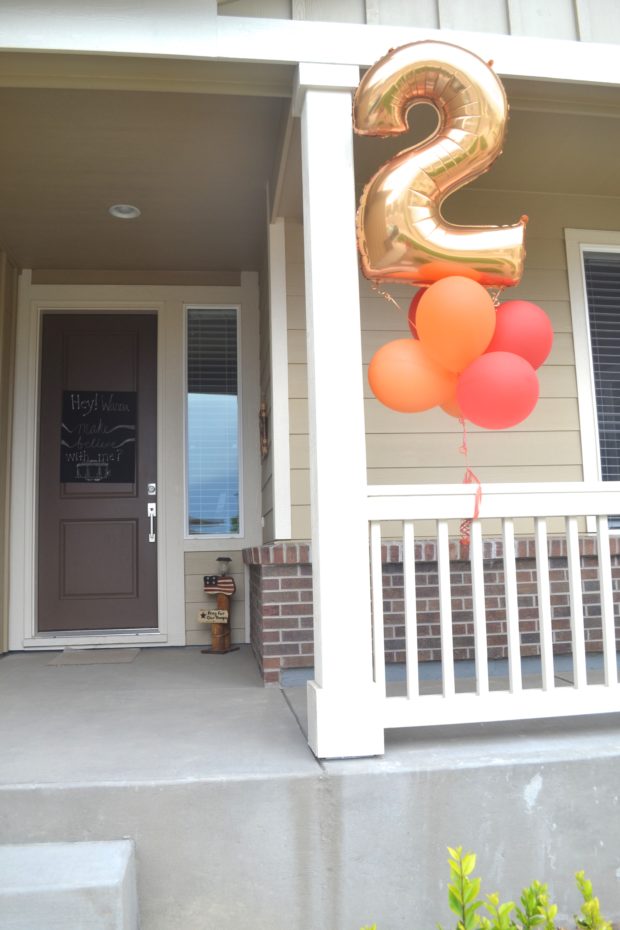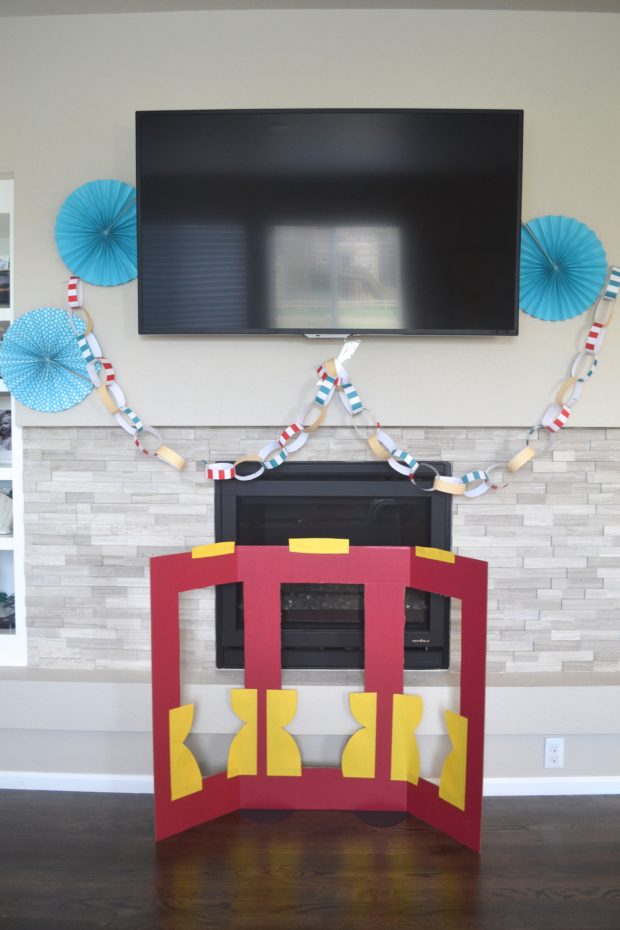 Once inside, we had some red, blue, and yellow themed decor.  The trolley photo booth was a big hit.  It was pretty easy to make using a red tri-fold cardboard poster.  I just added some yellow construction paper "seats" and black wheels, after cutting out the "windows."  I made the paper chain decor from a few pieces of scrapbook paper, then stapled them together to form the chain.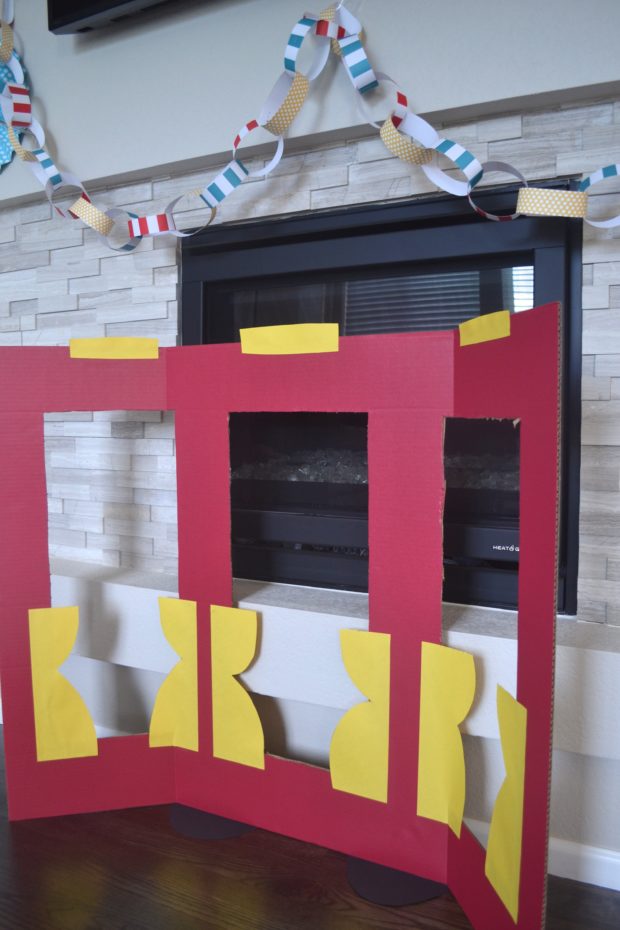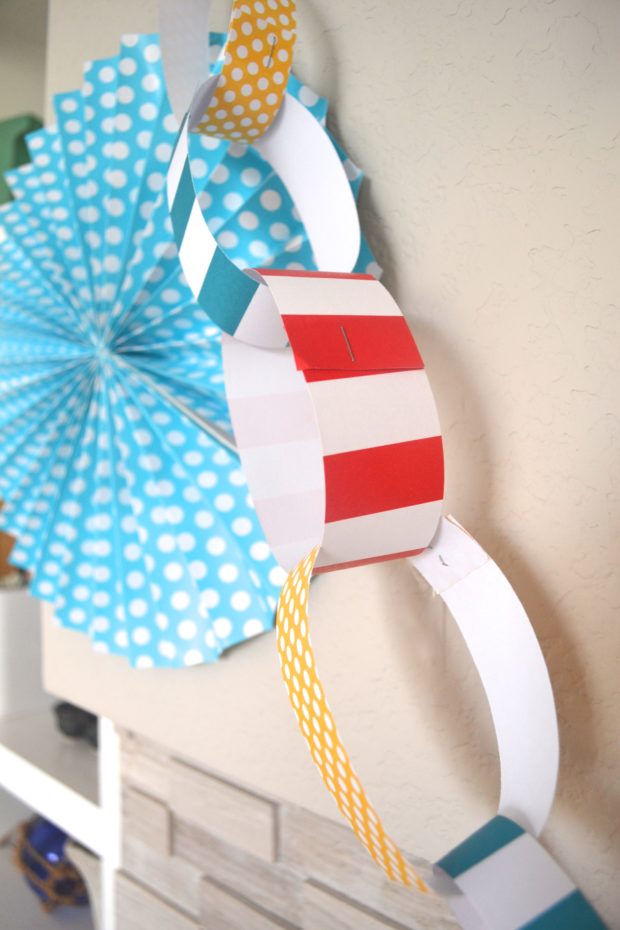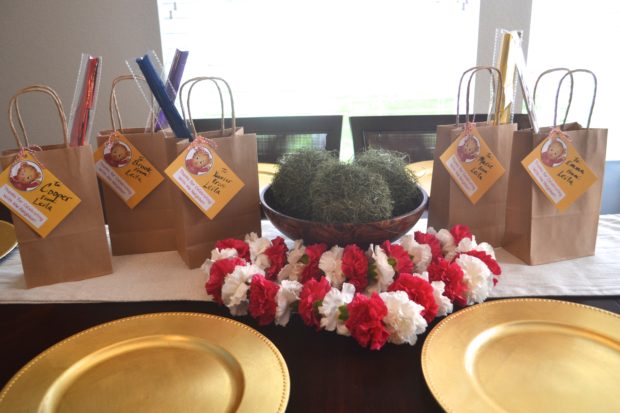 The kiddos attending the party got some yummy goodies and fun things in personalized bags.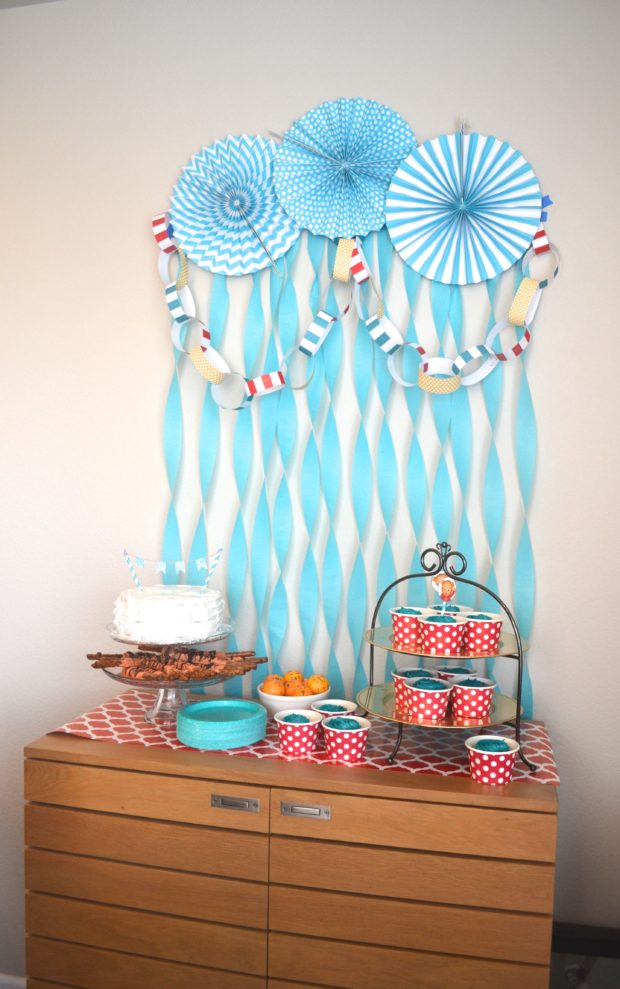 My favorite part of the party was our dessert station.  The dessert station was a major focal point, the color scheme turned out great.  I may never hang anything on this wall in the dining room so I can keep using it as a backdrop at parties.  I used wrapping paper as a runner.  Blue pinwheels and red polka dot cups were purchased at Hobby Lobby.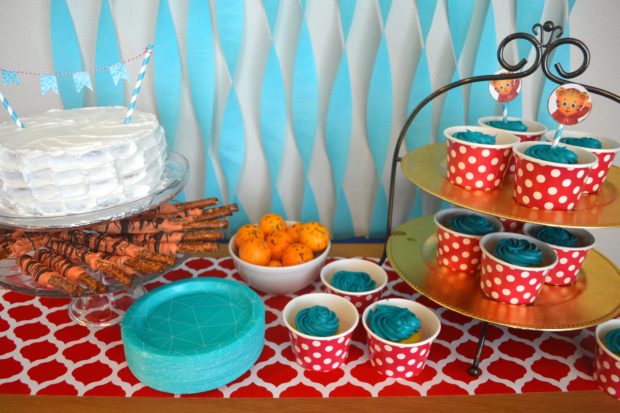 So. many. desserts!  We had to give so much away because I didn't want that much in my house for me to eat the leftovers.  I made the cake and chocolate covered "Tiger Tail" pretzels, and purchased the cupcakes from our local grocery store.  Another cute idea was drawing tiger faces on little oranges.   Surprisingly, finding little oranges was rather difficult because apparently they aren't in season right now.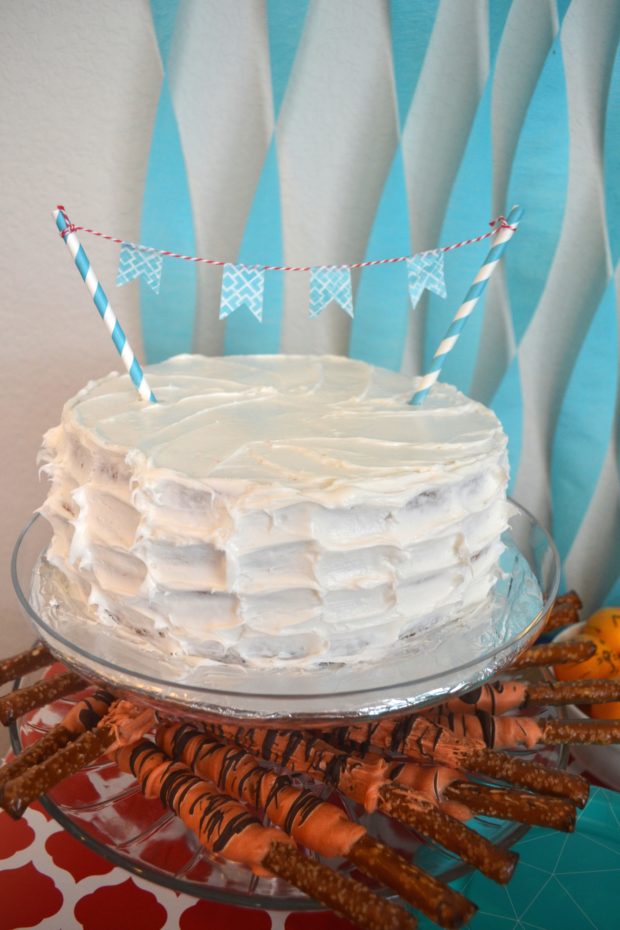 The cake banner is a straw with red and white twine tied to it and washi tape banners.  Just fold the washi tape over the string then cut out the little notches.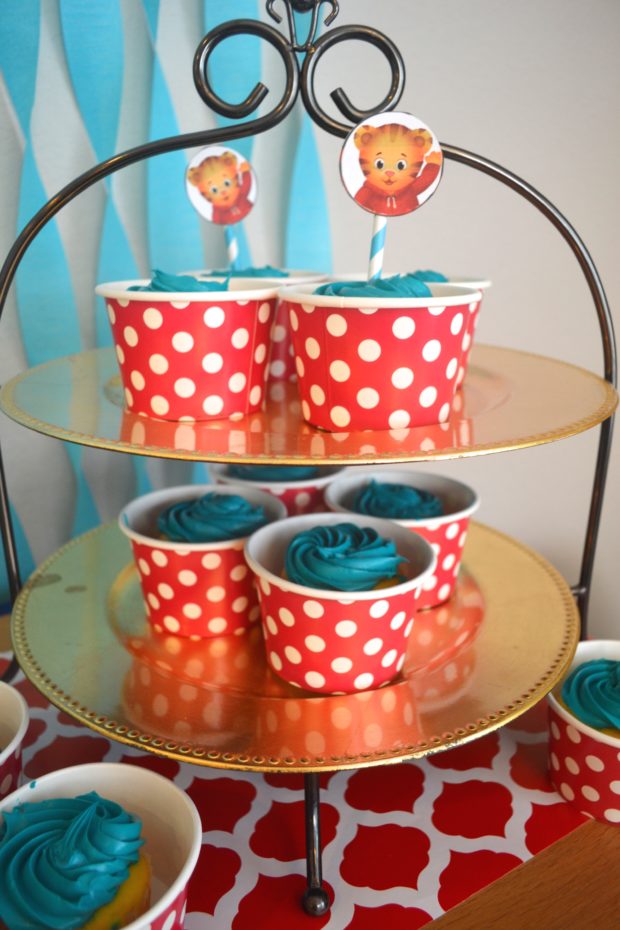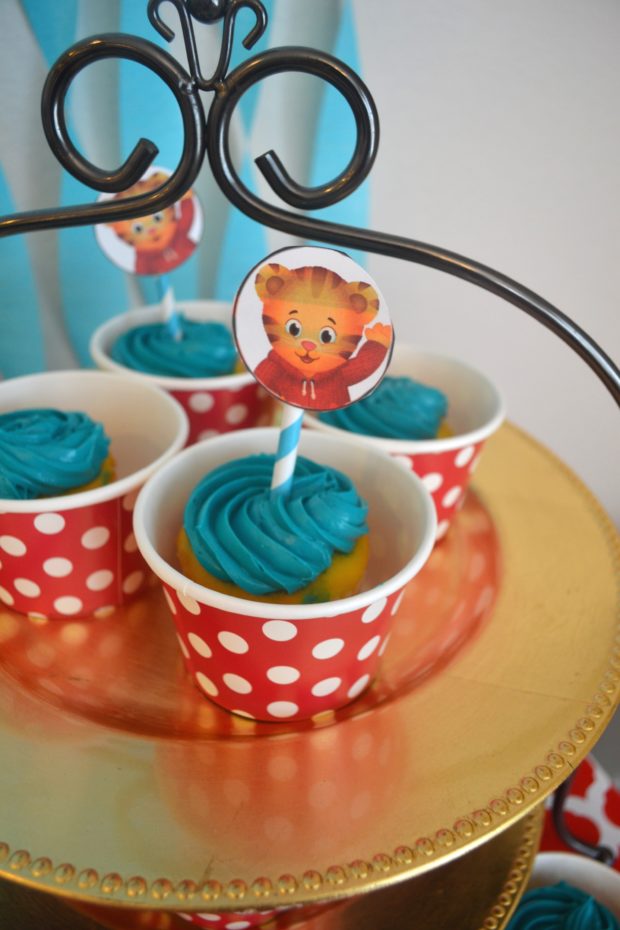 I had a couple Daniel Tiger faces left over from invitations so I put them to use as cupcake toppers.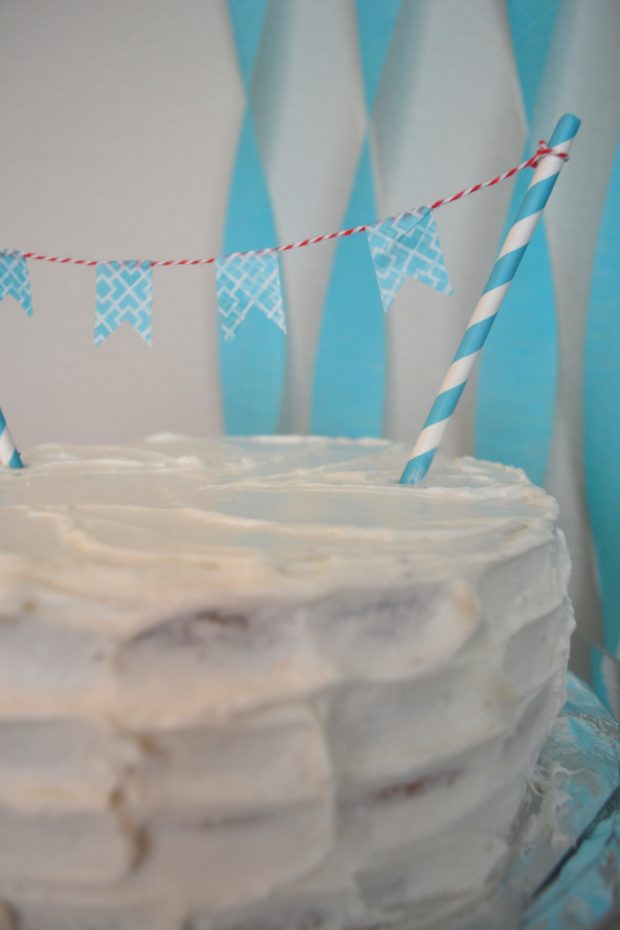 I was pleasantly surprised at how good the cake turned out since I'm not a huge baker.  I just used a boxed cake mix, but I tried to make the inside look like tiger stripes.  It didn't work out that well because the chocolate part of the cake ran into the orange part of the cake.  Either way it still tasted good.
That's a wrap on our Daniel Tiger themed birthday.  Thanks for stopping by neighbor (I just had to throw in some Daniel Tiger language!).  I wish you all could have been here to celebrate with us and eat some of that dessert!