Happy Thursday friends!  We're over halfway done with this week!  I'm super excited for a fun party I'm hosting this weekend.  You'll get to see all about it in a few weeks!  Today, though we're talking about the coat closet.  It may not sound that exciting, but it is, at least for my husband.
Recently he's been getting super frustrated with all of the shoes that were piling up in our mudroom.  I'm grateful that we have a little place right off of the garage to take our coats and shoes off. However, with winter weather and the myriad of footwear, it was getting a little out of control.  Here's the before of our coat closet.  Nothing special, just a rod of hanging coats and one shelf.  This left the bottom of the closet as fair game to throw anything and everything in there.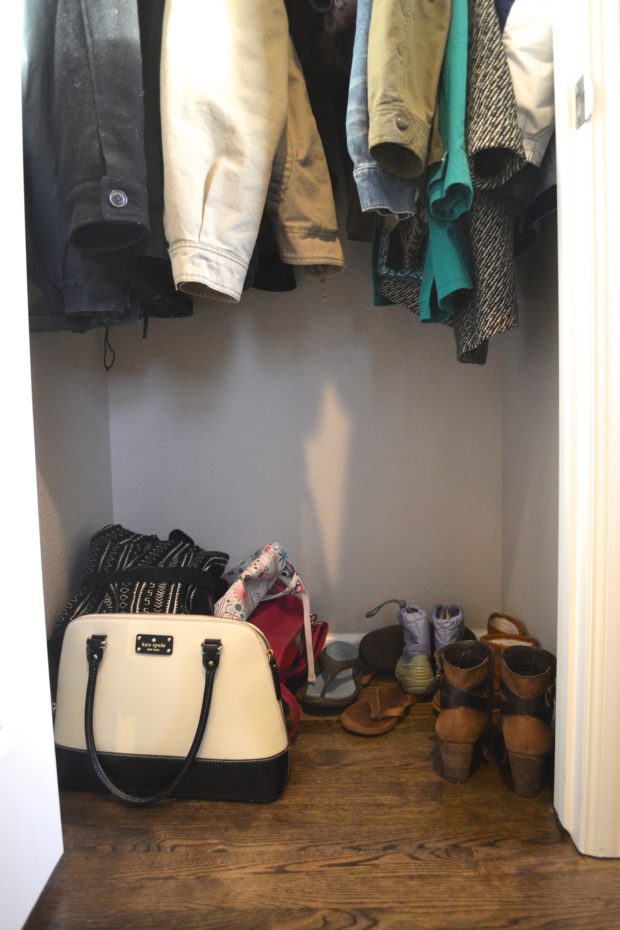 I mean there were shoes, bags, vacuum cleaner parts at one point, hats, Christmas gifts received and to be given.  Crazy!
So with Pinterest to the rescue, and my annoyance of hearing my husband say repeatedly that he hated all the shoes in the mudroom, we came up with a pretty easy solution.  Here's how we DIYed some easy shelves that solved all of our problems.  We had this super organized coat closet as our inspiration.
First, we cleared everything out and did some measuring.  Using our most used shoes we got measurements of how far apart the shelves needed to be and figured out how many shelves we could squeeze into the bottom of the closet.
We decided to add two shelves in the bottom of the closet and an extra shelf above the existing shelf at the top of the closet.  Our house has pretty high ceilings so I wanted to make use of the vertical space at the top of the closet.
List of Materials for One Shelf
2- 1″x8″ boards to create the horizontal shelf
3- 1″x4″ boards to create the bracket under the shelf.  One longer bracket in the back of the closet and two shorter brackets on either side of the shelf.
A handful of screws to attach brackets to the walls
Leftover paint
Possibly caulking if there are any gaps that need to be filled
Instructions to Create Coat Closet Shelves
Clear everything out of your closet
Measure where you want your shelves to go
Create a board list using the materials above and what the measurement of each board will be
Begin by screwing in the long bracket of your first shelf on the back wall of your closet
Then add the side brackets by screwing into the side wall of the closet
Paint/caulk the brackets
While paint is drying, cut your shelves using the 1″x8″ boards listed above in the materials.  You'll need two boards per shelf depending on how deep you want your shelves to be.  We needed two boards to accommodate the depth of our closet and shoes.
Paint shelves
When all paint is dry, lay your shelves on top of the brackets
If there are any gaps add a bit of caulking, or screw shelves into the brackets from the top of the shelf.  We didn't do this, but you can for extra stability
Repeat the process for all the shelves you're adding
Overall, I think we achieved a similar look to the inspiration photo.  The process was pretty easy too.  It can totally be completed in a weekend and we were able to add these shelves (plus three more to my daughter's closet) for under $100.  Totally worth it to get more organized.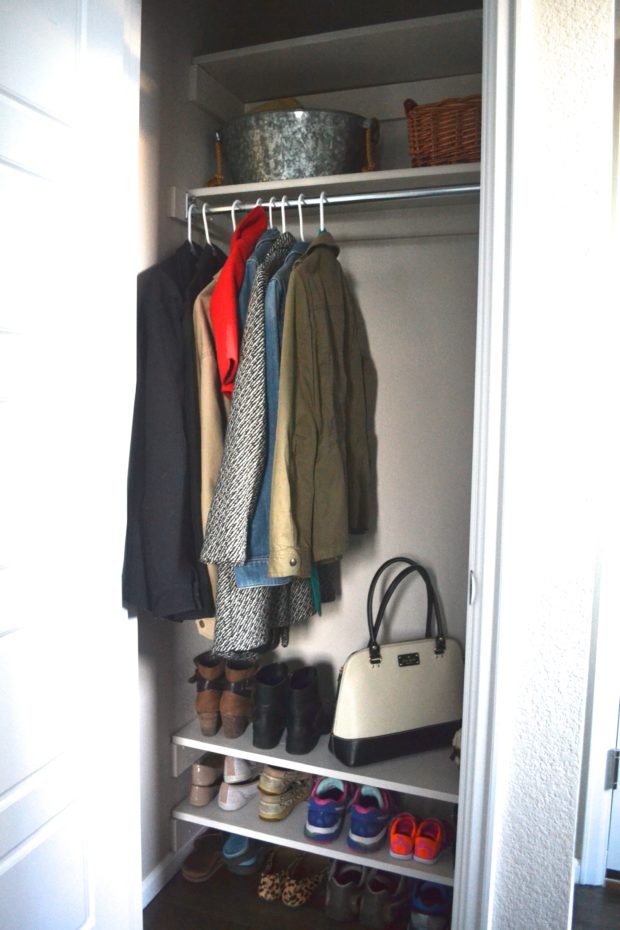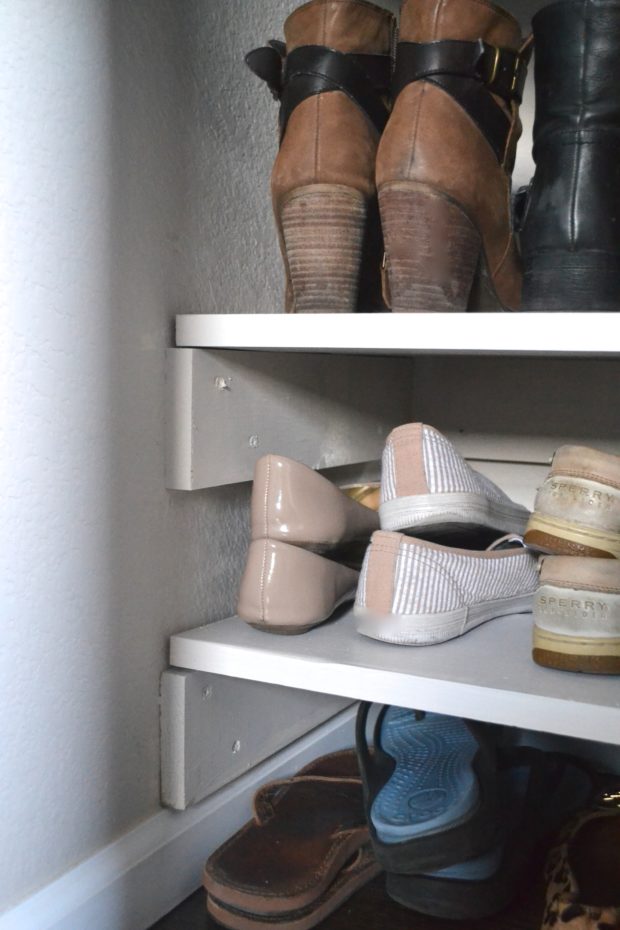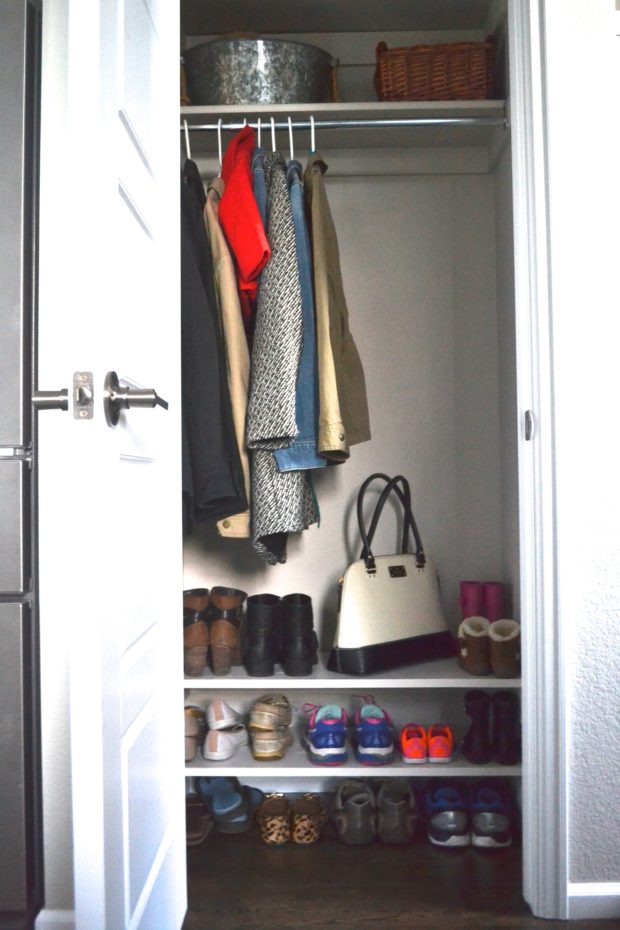 Now that there is so much more room in this coat closet, it's going to be working triple duty for us.  Holding coats, bags, shoes, and even storing hats, gloves, scarves, we've eliminated the mountain of shoes in our mudroom.  I do plan to add hooks to the inside of the door for purses and bags to free up shelf space.
Having these shelves has also helped to teach my daughter where to go to get ready to leave, and to put her shoes back when we get home.  An unexpected bonus of a little more organization and having a spot for everything.
If you have a coat closet that is being under utilized or not serving you well, I highly encourage you to add a few shelves.  It will give you so many options to organize all of your things and probably end up creating more space.  Let me know if you were inspired or plan to give this method a try.