It's the month of love and all things red and pink.  If you've checked out my Instagram lately you'll see lots of shots with those colors.  And a few sneak peaks of what's to come on the blog.  But today I've got a great kid friendly, read the kids can help you, DIY Valentine's Day valentine's holder.
We are going to be out of town with family for Valentine's day so my daughter is going to be missing her preschool Valentine's Day party.  You know how much I love a party, and I think I passed it on to my kids, because she was very disappointed to miss it.  So I decided to throw her her own little Valentine's Day party.
I went through what I already had at home and found some cute pink and turquoise plates which jumpstarted the color scheme of the party.  Plus I saw a cute valentine's holder at the Target Dollar Spot and knew I could just make them myself. So after digging through my stash of paper I found perfectly matched paper to the plates I wanted to use.
Here's everything you'll need to make a valentine's holder.  Plus all the simple steps to do it yourself.  I love the little hands in these photos that helped me make these.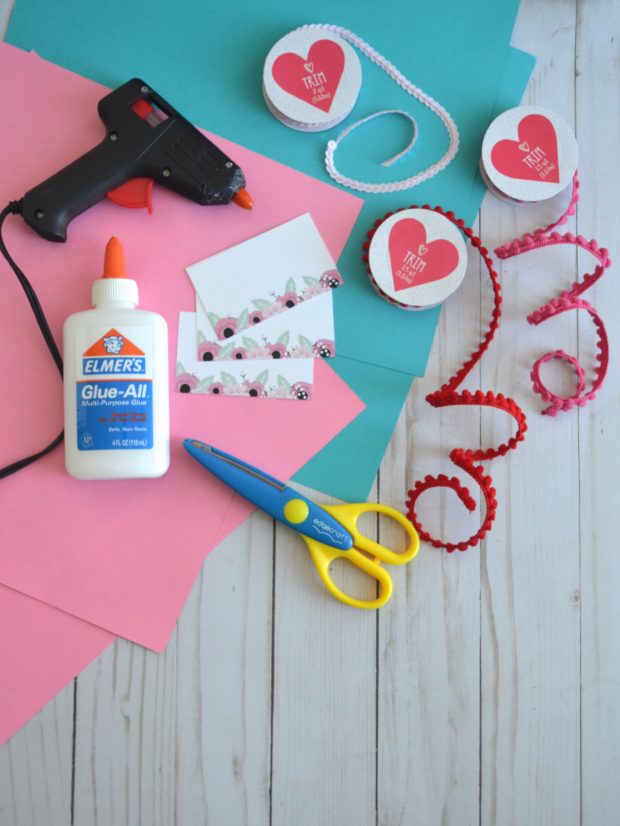 Scrapbook paper, or any 12×12 paper
Scissors
Glue, Elmer's and/or hot glue
Name cards
Trim, pom poms, glitter, markers, washi tape, anything to decorate with
Scotch tape (not pictured)
DIY Valentine's Day Valentine's Holder
Step 1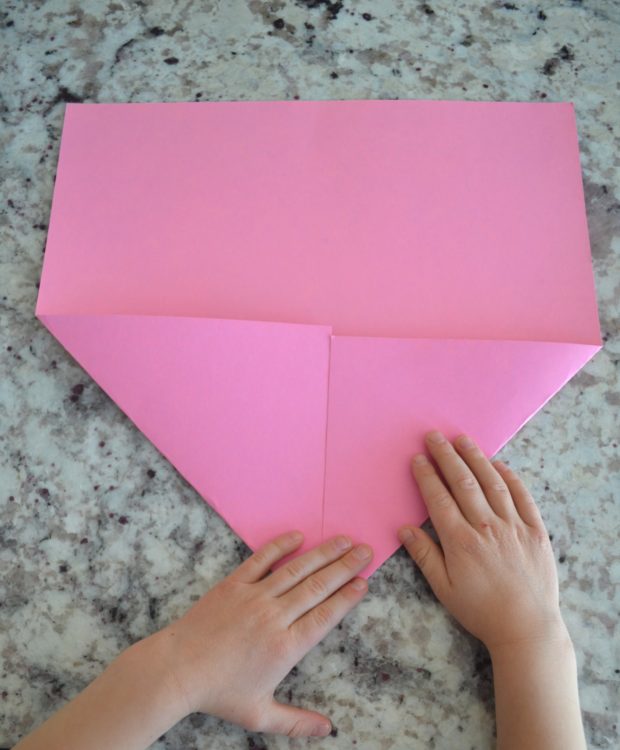 Fold the bottom two corners into the center of the paper as shown in the photo above.
Step 2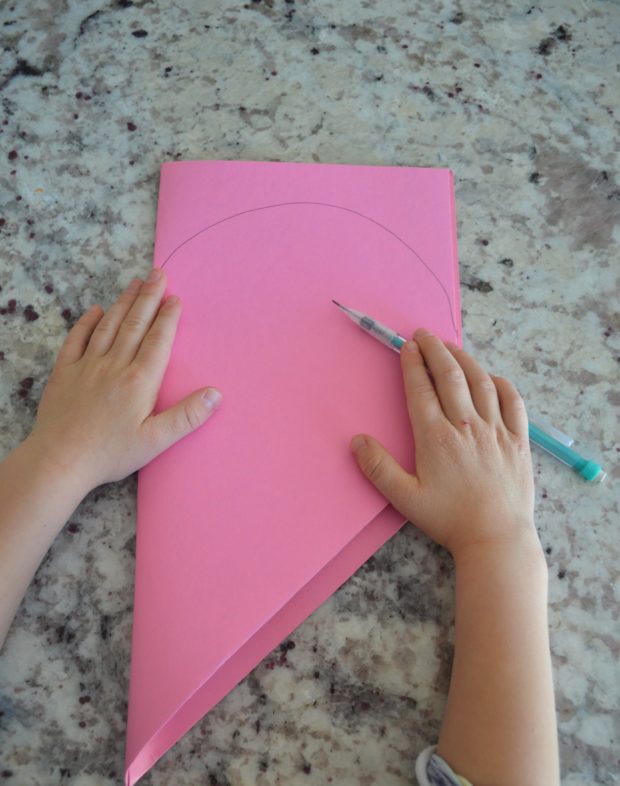 Fold the paper in half, then draw a semi-circle towards the top of the paper so you can cut out a heart shape.  Just think back to third grade art class when you learned how to cut out a heart.
Step 3
Cut the heart shape out.  Just follow the line you drew in Step 2.  We used fun wiggly scissors, but regular straight line scissors works just as well.  And can I just add that my three and a half year old daughter is all about cutting right now.  She loves to just cut anything.  So she gets all of our junk mail, haha!
Step 4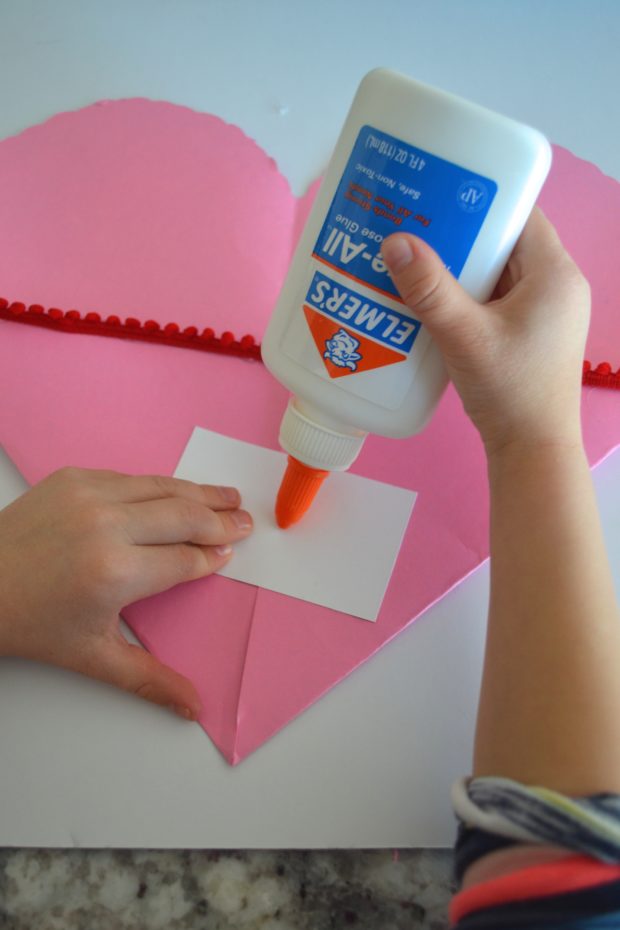 Add a name tag to your placemat.  We used some leftover food labels from a baby shower I hosted.  Just write the names on the labels then glue them over the "flaps" you folded to hold them together.  You may need a piece of tape on the back of the "flaps" to hold them together.  Just line the tape up over the seam on the inside.
Step 5
This is the most fun step.  All you have to do now is decorate your placemat. We added fun trim I picked up from the Dollar Spot at Target, pom poms, washi tape, and glitter.  Whatever craft supplies you have on had works great.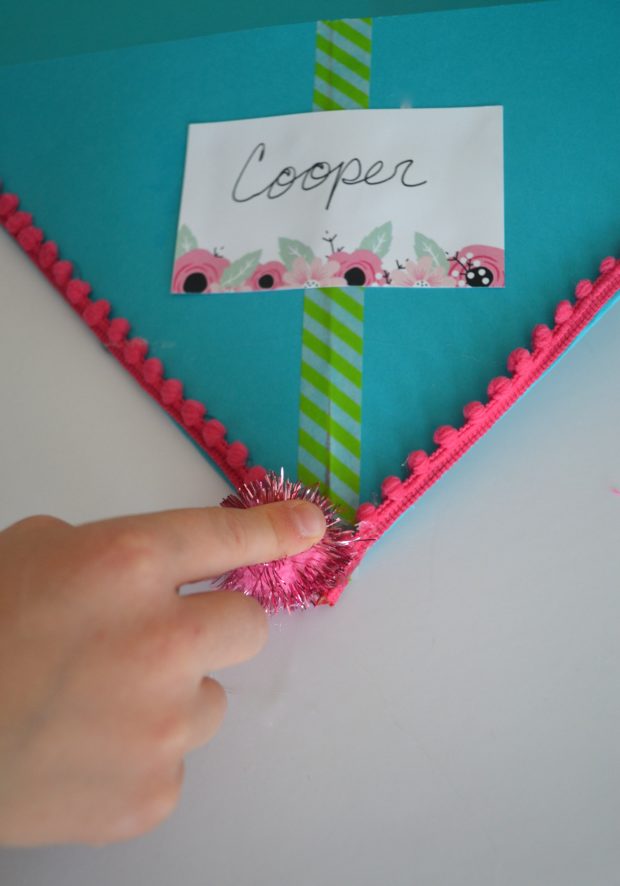 Here's how they turned out.
There's a nice pocket that will hold all of your child's Valentine's.  I think this is a much nicer version than that aluminum foil covered shoe box I always used to make growing up.  Plus, sometimes you couldn't find a shoe box.
I'm going to be using these as placemats on our fun Valentine's play date party table.  You can see that later this week.  I also love the idea of punching a couple holes in the top and using yarn or pretty ribbon to hang them from a chair to collect Valentine's.  Or if you want to spoil your kids, hang them from their bedroom door and fill it with fun surprises for them to wake up to on Valentine's day.
This is an easy, do it with your kids craft that will be perfect for Valentine's Day!  Did you ever make those aluminum foil covered shoe box Valentine's holders as a kid?